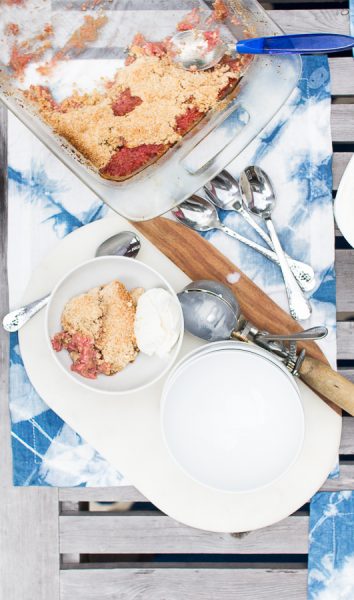 There is nothing quite like the tastes of strawberry and rhubarb, especially together.
They taste like summer to me.
We've always grown rhubarb, even in our last house. Each year it comes back better than the year before.
You guys are gonna get a lot of rhubarb recipes this summer, because are our garden is exploding with it. 😉
You may have seen these photos on Instagram.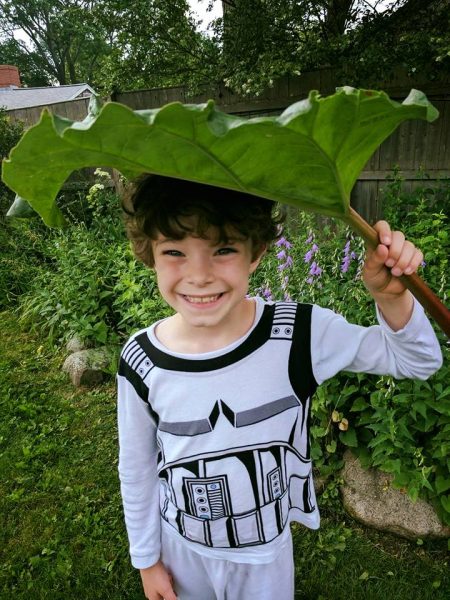 Apparently storm troopers love rhubarb too!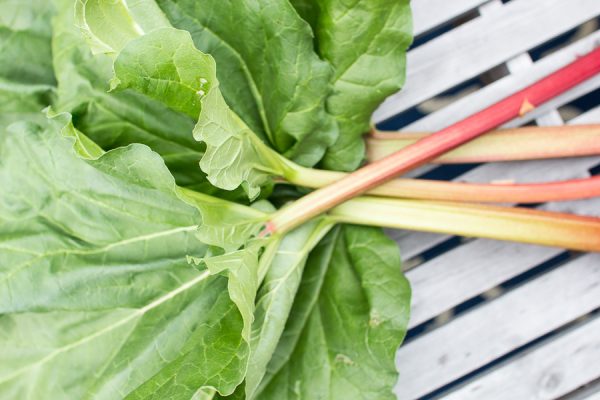 Isn't it so pretty?!?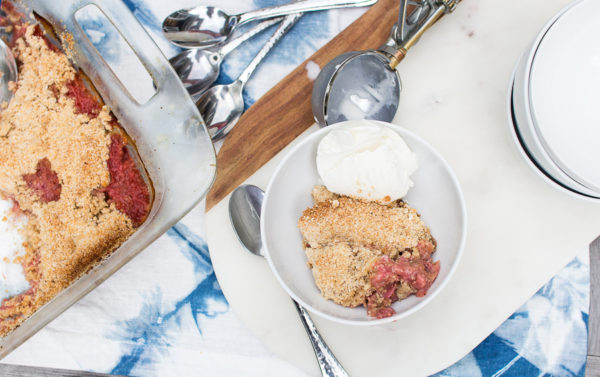 I have a confession to make, guys.
I'm not the best baker.
I can't make pies.
I've tried.
BUT I can make a good crumble. My father-in-law calls it half-baked pie. It's so easy to whip together and you can even do it quickly when you have company.
If you're looking for an easy 4th of July or summer recipe. This is it! It's so easy. You probably already have many ingredients in your home. It's mostly sugar, butter and a bit of flour. It looks hard but it's not.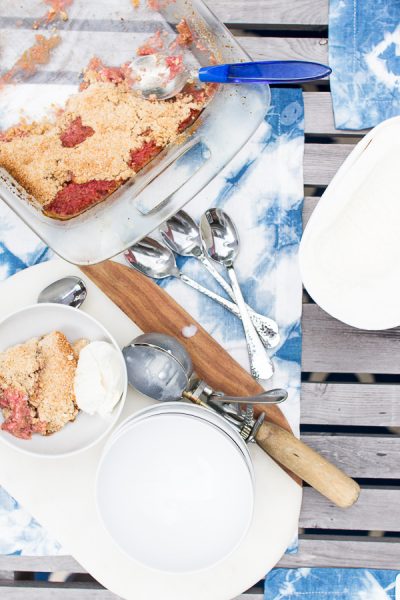 This is best served warm.
The strawberries add a sweetness to the rhubarb. The crisp top adds a little decadent touch with buttery sugar.
Of course, ice cream isn't optional. At least not at our house.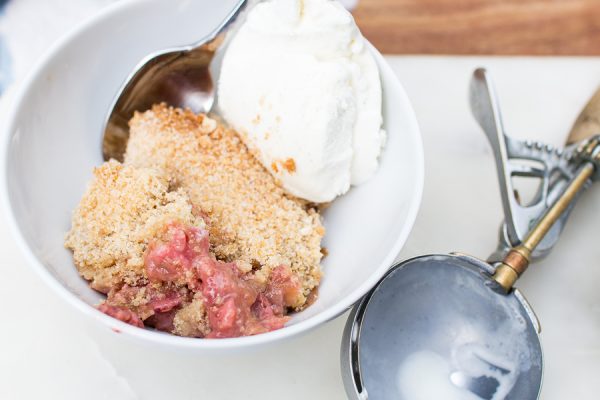 You can make it ahead and throw it in the oven to heat it up. Or, like I said, you can do it while your company is outside eating chips and guac.
I'll probably make this for the 4th. I can't believe it's next Tuesday, can you?
We keep things low-key over the 4th of July weekend. We go to the fireworks in Hingham and wouldn't miss the parade either. Then we have a meal out on the back deck with my parents. I find it so relaxing to just be home and outside with my family and the dogs.
Below is the recipe.
Strawberry Rhubarb Crumble
Nothing quite says summer than the tastes of fresh strawberries and rhubarb. This dessert is sure to be a crowd pleaser!
Author:
Danielle Driscoll
Ingredients
1 and a half pounds of strawberry - sliced
4 C of Rhubarb - chopped up
Sugar - to taste
Topping
2 C flour
⅔ C salted butter
⅔ C sugar
Vanilla Ice Cream
Instructions
Cut rhubarb and strawberries.
Spray pan with cooking spray, place rhubarb and strawberries into an ovenproof dish, sprinkle with sugar to taste.
Rub the butter into flour. When the mixture is like breadcrumbs mix in the sugar.
Sprinkle the mixture over the rhubarb and put into a preheated oven 400F for about 35 min until golden brown.
Enjoy!
When you make it be sure to have ice cream – it is even better a la mode!
I think you'll love it!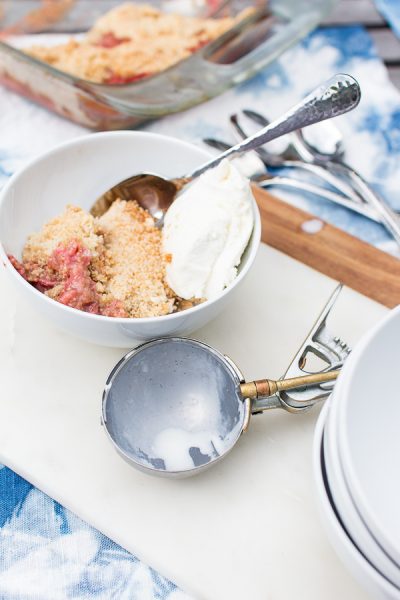 Do you have any rhubarb recipes you love? If so, send them my way! I NEED more ideas. I have rhubarb cocktail coming your way next week 😉