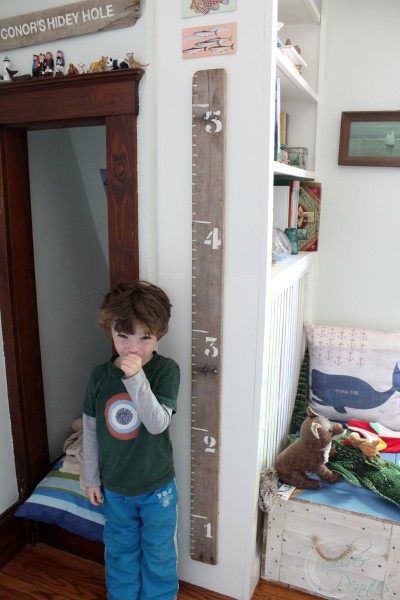 Here's what I've been working on for my Inspire Me DIY project!  A Driftwood Height Chart for Conor's room!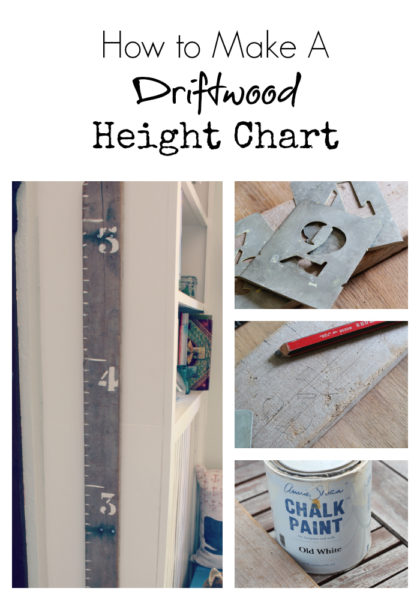 Did you guess it from the clues I've been giving you on Instagram this week?!?
This is is a really easy project but one I've been putting off!  I've actually had the piece of driftwood for well over a year.  I even packed it and moved it with us in our big move last year….
It is probably no surprise to you all that regularly follow the blog, but we love driftwood!  LOVE it.  We love looking for it on Egypt Beach and as you know we like to make signs and driftwood boats with it.
I shared these pretty ones last week: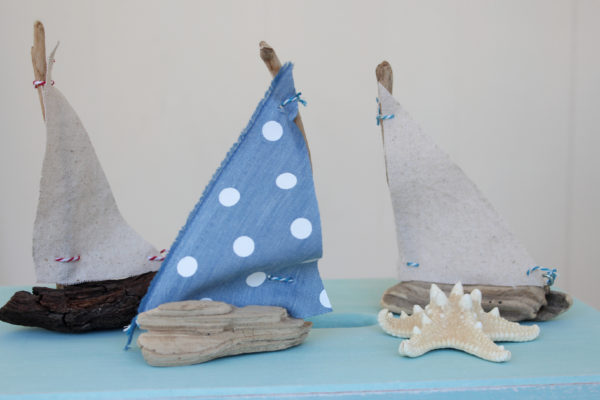 So, I'd love to share how I did this easy DIY with you!
How to Make A Driftwood Height Chart
Materials
Driftwood (If you don't live near the beach you can also use palettes or a wooden plank)
Tape Measure
Ruler
Number Stencil (only need these if like me you have horrible writing)
Pencil
Paint Brushes for detail work
White Paint
Screws for hanging
Process
1. Measure where you want this piece of wood on your wall so your height chart is accurate.  It looked about right on the wall when the wood was 5″ from the ground, so I started the height chart from there.  He loves Mo Willems and his pigeon if you can't tell from the poster in his hidey hole.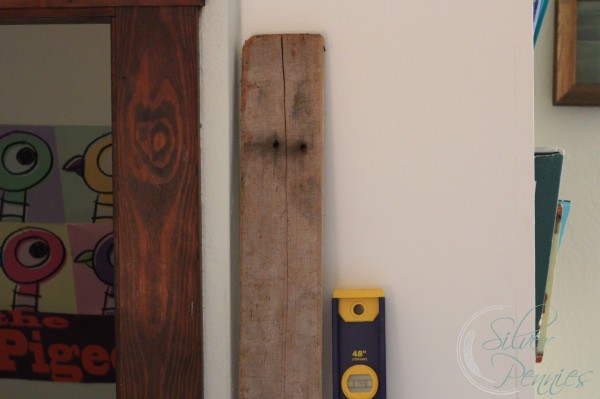 2. With a pencil mark notches for every inch and draw a longer line for feet (every 12 inches).
3. Take your stencil.  I got these from Decor Steals last year & I love them.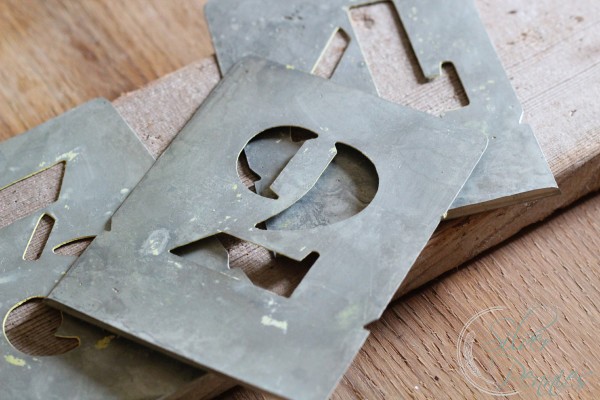 3. Line your stencil up and trace the number.  I made sure the stencils were aligned on the right side of the height chart.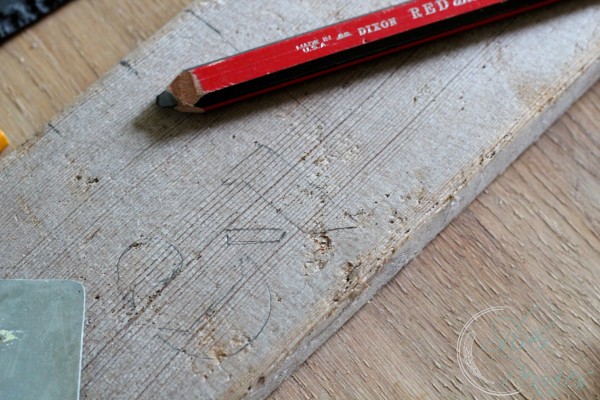 4. Once you've traced all your numbers, you want to go back over them with paint. I used Chalk Paint® in Old White, but really you can use whatever you have on hand.  I just have lots of Chalk Paint at the house.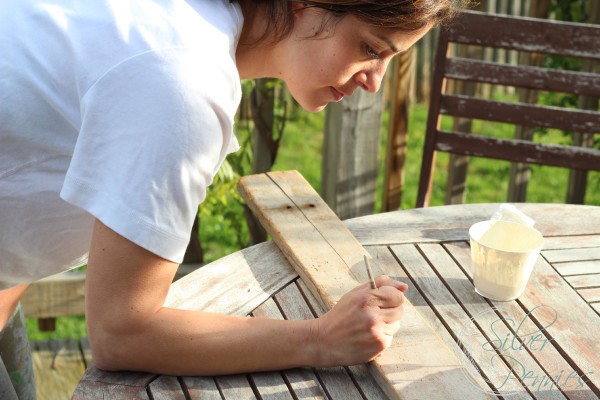 I like to line my numbers with the liner brush and then fill in with a shading brush.  The paint dried very quick and then we were ready to hang it up.
5. Make sure your height chart is lined up properly and plumb for your wall!  Luke helped me with this.  Now screw it in!  You may want to drill marker holes on the wall and use anchors, but we didn't need to do this because we screwed it into the side of a wooden bookcase.
Now it is ready to be enjoyed and used!  The whole project took me 30 minutes.  Conor loved measuring his sweet lovies.  I've been informed that doggie and liony are each 3 inches.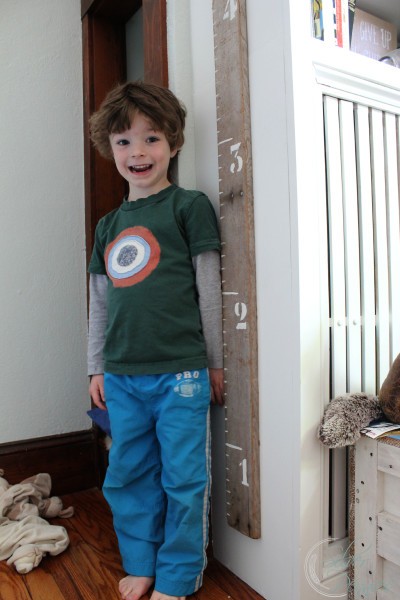 Once it was up we all took turns measuring ourselves!  It was spot on for me 5 feet and a half inch.  I can't believe John is almost my height (sigh).  At least it will take Conor a few years to get there!
I'm going to share more of Conor's room this week! I was inspired by the girls to finish his room through this project.
Have we inspired you to work on a DIY project you've been putting off?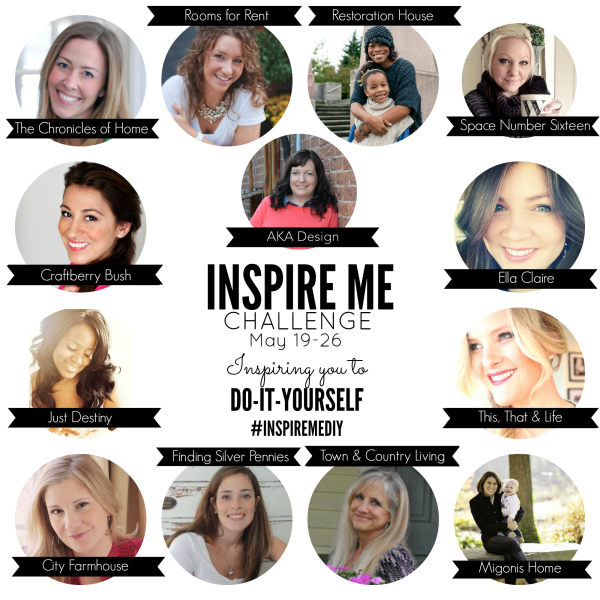 Be sure to check out all the other bloggers projects too!  I can't wait to see what they've been up to.  You can click below to see their projects:
The Chronicles of Home * Rooms for Rent * Restoration House
Space Number Sixteen * Craftberry Bush * AKA Design
Ella Claire * Just Destiny * This, That & Life
City Farmhouse * Town & Country Living * Migonis Home
Sharing with: