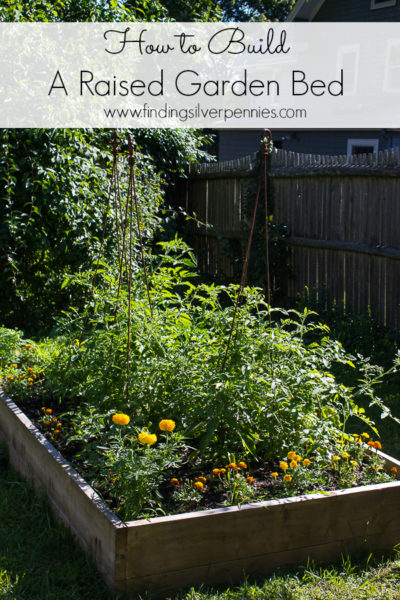 "How lovely the silence of growing things."
The greatest thing we did last year was to build a garden. The whole family was involved in the building process of the raised beds, the selection process of plants, the planting and of course the eating.
This little area in our back yard.  It get sunlit for the majority of the day and if you're looking at the back of our house it is right behind our deck: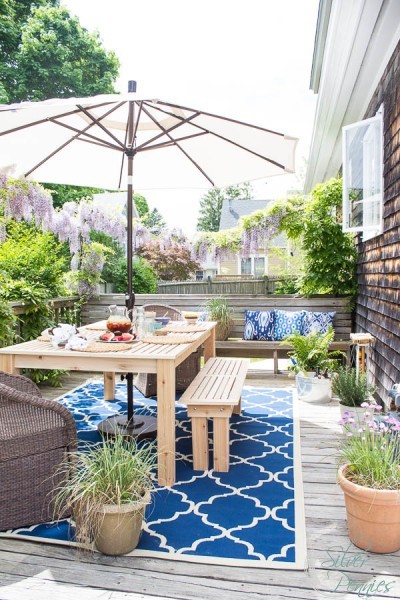 Just beyond the wisteria are our raised beds.
We only built one for last summer thinking that might be enough room for us, which it wasn't.  Conor selected about 8 varieties of tomatoes and some chili peppers. We also planted a watermelon which grew and grew but then it got too cold before the melon could grow.
John spent last year learning about gardening, and organic gardens, at school.  His grade tended the school garden.  Over the year, they learned helpful tips and we put many of them to use when planting our own garden. We get bunnies in our yard even with Poppy out there, so wanted to make sure the bunnies wouldn't eat all our veggies. John recommended planting chilis and marigolds as a deterrent!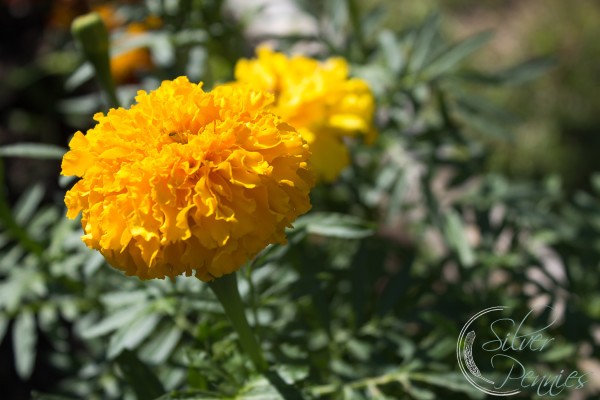 John's idea worked! No bunnies ate our veggies and we had so many tomatoes for salads, salsa and eating right out of the garden bed: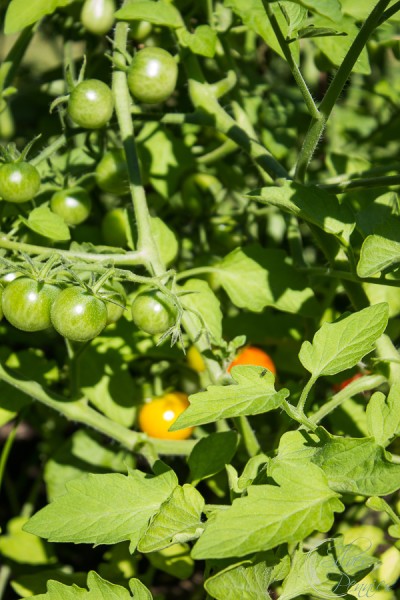 The tomatoes thrived and loved growing up these reclaimed fence posts that we got at the Vintage Bazaar, the people who own Ginger Blue Decor were set up right across from us. I actually wish I bought more!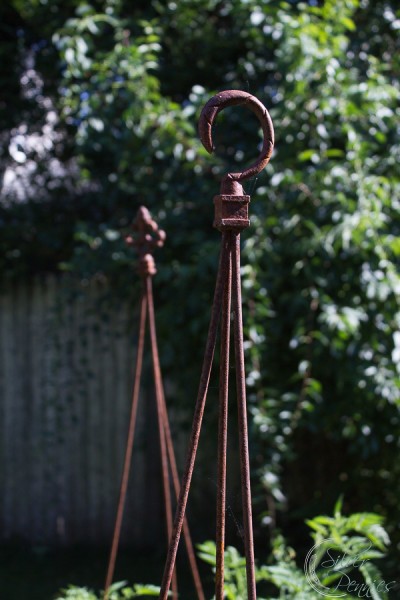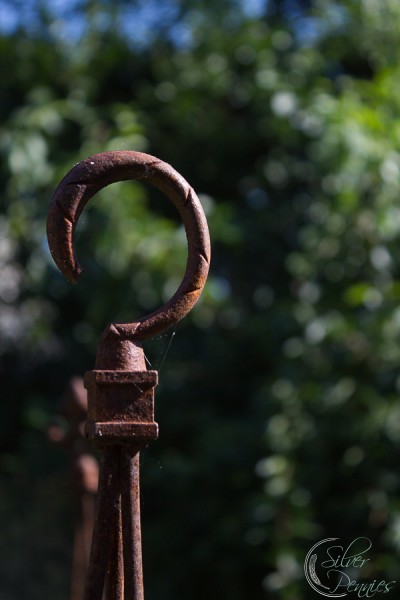 I love the rusty patina in with all that greenery.
We're really looking forward to getting our garden going again this year and trying out new vegetables.  It was a great learning experience for the kids and for me.
There is something magical and so rewarding about growing your own food.
They loved planting and tending the garden and also watering with the hose.
Here you can see a photo just after planting the garden. We did it at 6:30am (still in our jammies). I took these with my phone.
Would you like to build your own raised beds?  It's easy and you can get this project done in a day.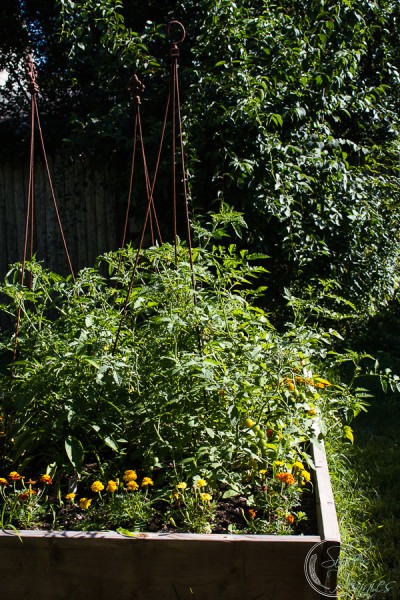 How to Build Raised Beds
Note: I've included a few affiliate links in the materials. The affiliate link does not change the price you are charged but it helps me afford to keep this blog going.
Materials
6 x 8'x2″x8″ (Preferably cedar, as it stands up outside)
Soil
Plants (of your choice)
Method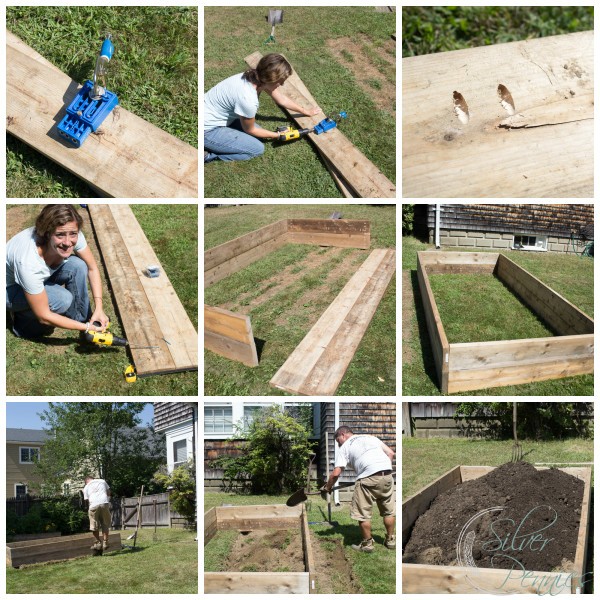 Step 1 – Find a fairly level area in your yard that gets plenty of sunshine.  Your veggies are going to need A LOT of sun. Dig out an area measuring 8'x4′, and make that level.
Step 2 – Cut two of your 8′ boards and cut them in half; these will be for the 4′ ends.
Step 3 – Using the Kreg Jig, drill pocket holes along one edge of each board.
Step 4 – Facing the pocket holed edges towards each other, clamp the boards and screw together.
Step 5 – On the same face as the current holes, drill pocket holes in to the ends of the 4′ boards.
Step 6 –  Screw the frame together, taking care to put all of the edges with holes towards the inside of the frame.
Step 7 – Place in your leveled area (and level some more!).
Step 8 – Fill with good quality topsoil and natural fertilizer.  You're ready to plant your garden.
I LOVED letting the kids choose what they wanted to grow, even though the watermelon didn't work. We got our plants from local organic garden sales and from The Home Depot.
I can't wait to here how your garden comes out!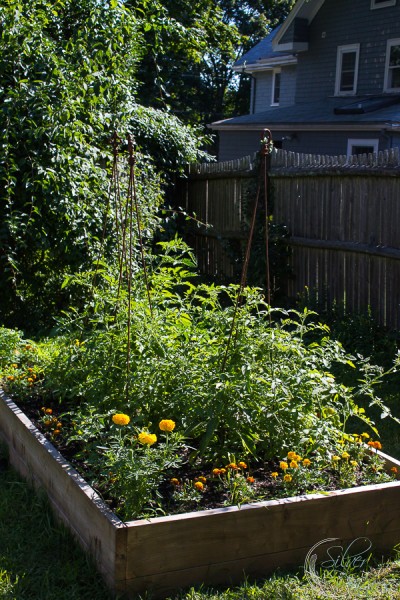 You might also like my Beach Stone Garden Markers.  My boys LOVE collected rocks from the beach so I thought they'd be fun to include in our little garden by the sea!

They worked great!  I'm happy to report they really stood up to with the Sharpie Paint Pens and Artisan Enhancements Top Coat. I left them our on the raised bed all winter under snow and sleet and they look just as they did the day we made them!
Sharing with: