The temperatures have felt more like summer, but I'm excited to reveal our coastal fall entry.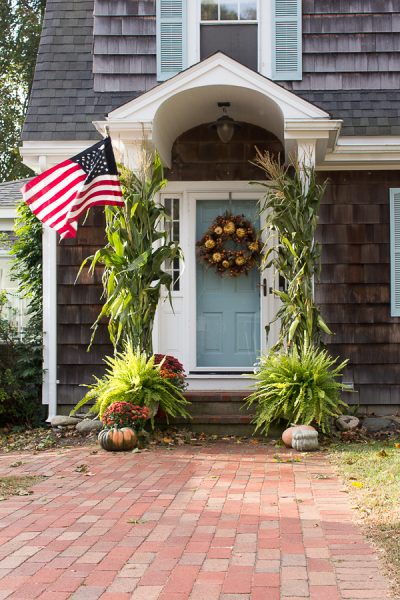 The sunlight is amazing right now. It really makes everything feel as if it's bathed in gold!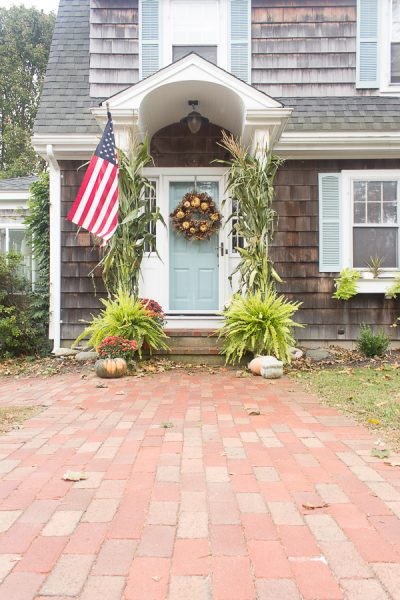 The wreath is from Balsam Hill and I used it last year. I just love how full it is and the richness of the colors.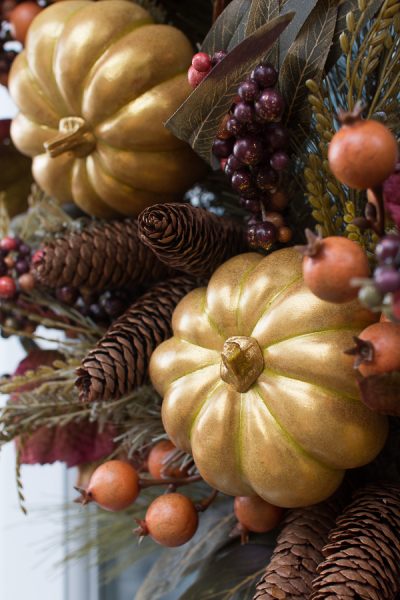 The colors of the wreath are so inviting. I love the golden pumpkins mixed with the real pinecones.
For some reason, I'm drawn to warm colors this year.
EVEN ORANGE!
This is surprising to me as I don't particularly like the color, but I'm loving how happy the colors feel and pop against our blue door.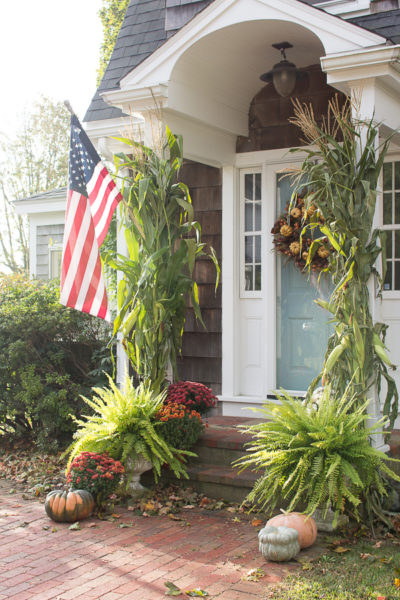 See look at all those russets and coral tones in the mumms and pumpkins.
One thing that is new this year is corn stalks. I saw them at the garden center and knew I wanted to incorporate them this year. I thought it would add a softness and draw your eye into our entry. We are big corn lovers here, but I don't think we'll be eating this corn. I actually wanted to use this in my family friendly Halloween post but the corn stalks weren't out yet so I'm sure I'll share some more Halloween photos with the corn stalks. 😉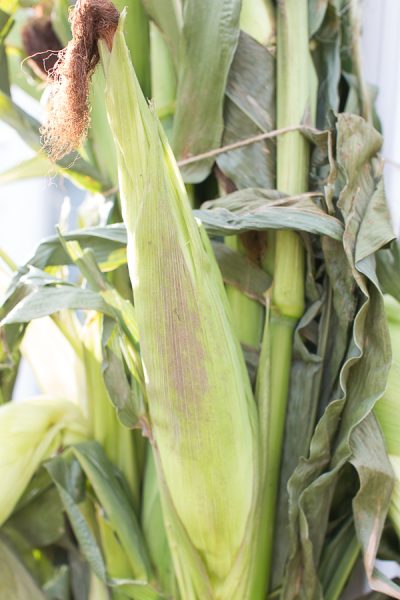 I think these were 14 ft tall and we cut them down. Luke sang to me while loading them into the back of the truck:
"There's a bright golden haze on the meadow. There's a bright golden haze on the meadow. The corn is as high as an elephant's eye. An' it looks like it's climbin' clear up to the sky."- Oh, What a Beautiful Morning, from Oklahoma
We simply cut them and tied them to our posts with string. I love the warmth they add to the entry and I think they were on $7.99 per bunch.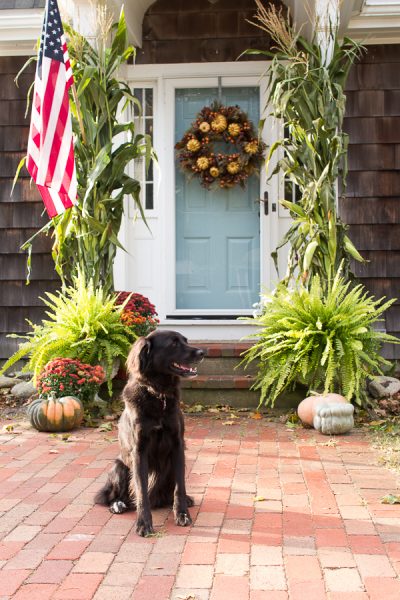 Of course, sweet Poppy wanted to welcome you to our home too! She loves sitting out here and watching the world go by. But her favorite thing to do, with Max in the backyard, is chase a squirrel who treats the walnut tree as an all you can eat buffet. It's so funny to watch them in the morning race down to the walnut tree to search for the squirrel.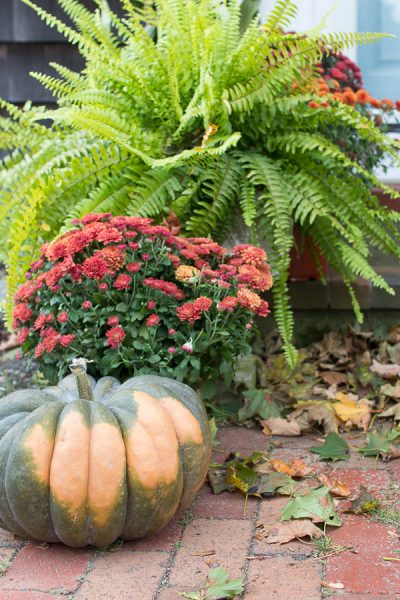 Mumms and pumpkins are scattered around our brick steps. These were just from garden centers and I think the mumms were from Whole Foods – 3 for $12.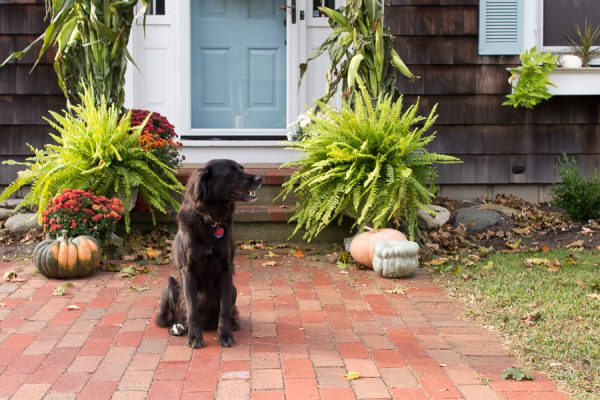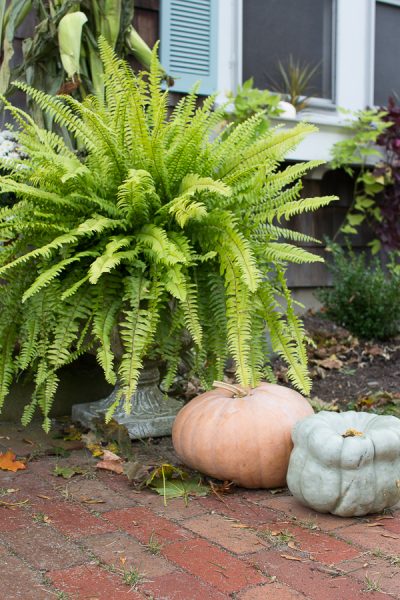 The only thing left in the window boxes are trailing potato vines, sea grass and faux white pumpkins 😉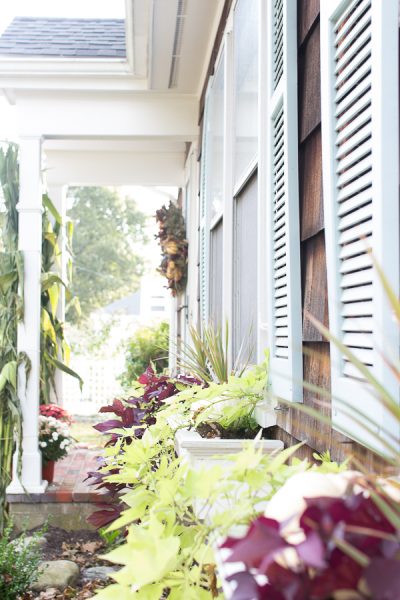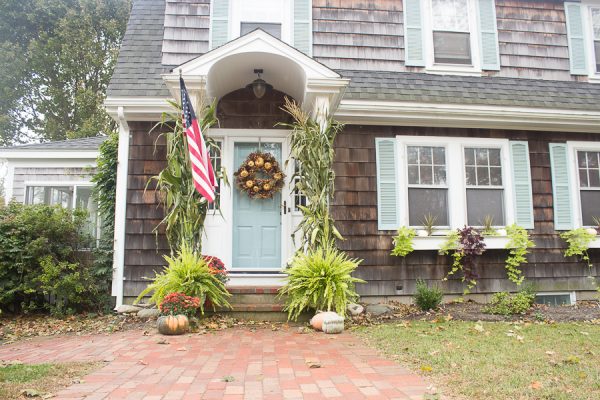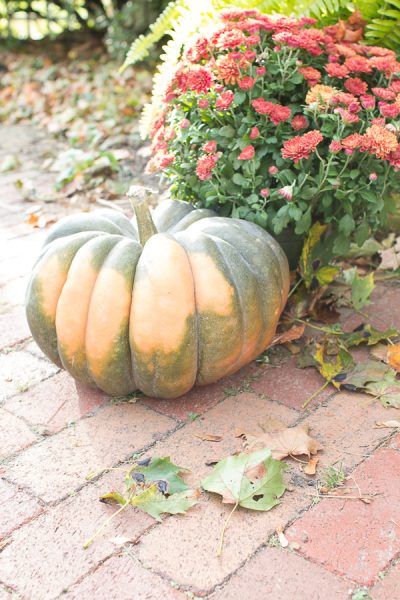 Keeping things simple leaves more room for all the things that are important.
Family
Love
Spaces to Gather.
I hope this inspired you to decorate your home with love.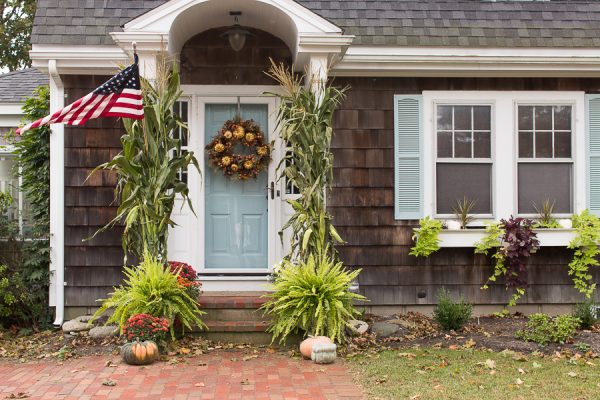 I'll be back tomorrow with a fun decor project with privet hedge and a fun announcement!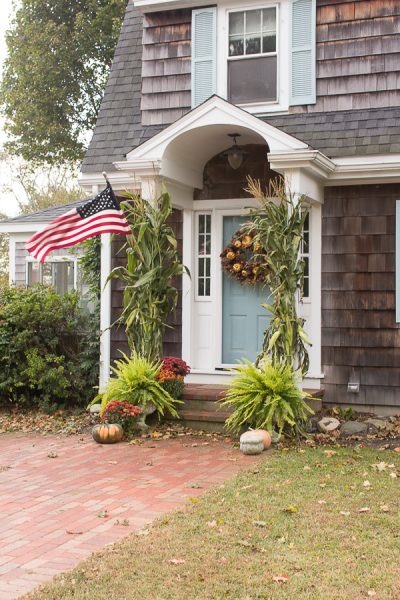 Hope you have a beautiful day!
I often get asked about sources and colors, below is a source list.
Entry Source List
Door and Shutter Color – Buxton Blue in High Gloss
Cedar Shingles – original to the home
Cornstalks, Pumpkins, and Mumms – local garden centers and Whole Foods
Front Door Mat – Balsam Hill
Wreath – Balsam Hill