In decorating I'm always inspired to create from nature. My pear and privet mantel is directly inspired by the lush greenery still growing in our backyard.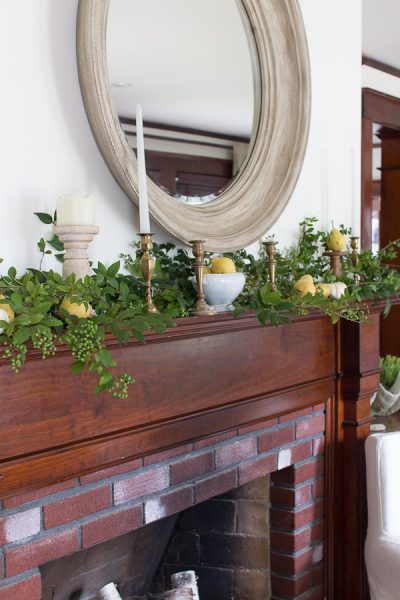 I wish you guys saw me with my secateurs hacking away at the privet in our back yard. I love the teeny tiny berries that are growing on it and it just said autumn to me. The dogs surely were giving me strange looks – "there she goes again!!!" Ha! Ha!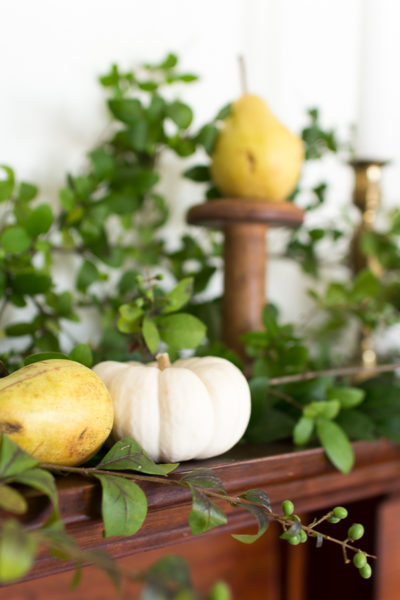 The bright green looks so pretty against the rich wood of our mantel.
I really love decorating our mantel several times each season. I think I'll probably LOVE it even more once we get around to doing the fireplace over but for now this is what I've got.
I think I've told you guys this before but my parents owned a restaurant when I was growing up. It was called Baldwins and it was in a colonial mansion. There were many fireplaces in the mansion and mom made them look beautiful with each season. She'd dry hydrangeas and gather things from our yard, and the woods. One time she tried to dry milk pods in the microwave which didn't really work too well.
I think those warm and inviting mantels are what I remember and why I love to decorate the one in our living room.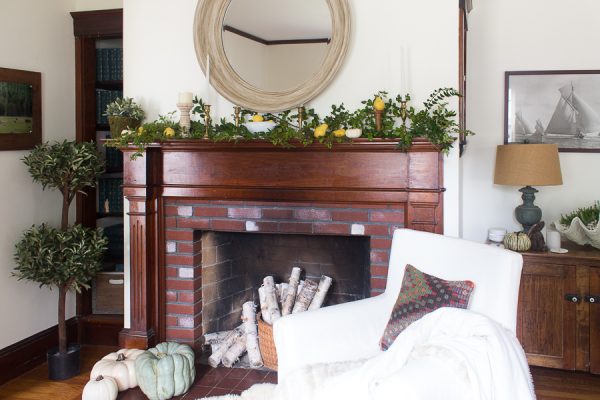 Our mantel is very long so it's sometimes hard to get good shots of the whole thing.
I started first with replacing the birch logs in the fireplace. The previous owner had huge birch logs but after almost 5 years they didn't look white any more. I got a bunch of smaller birch logs and piled them into an antique basket and scattered some inside the fireplace box.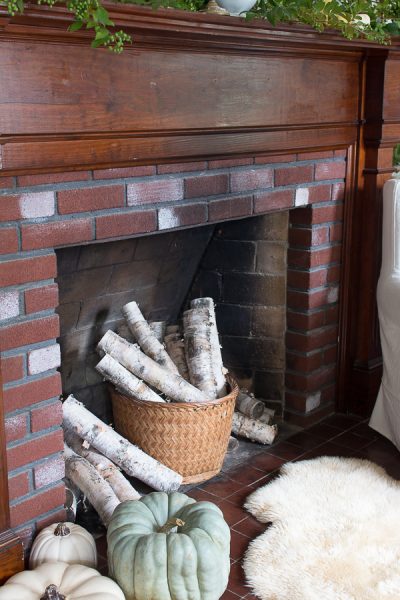 I'm not a huge fan of the brown floor tile so I tried to cover it with a sheepskin my parents gave Conor when he was born. I also used a few real and faux pumpkins.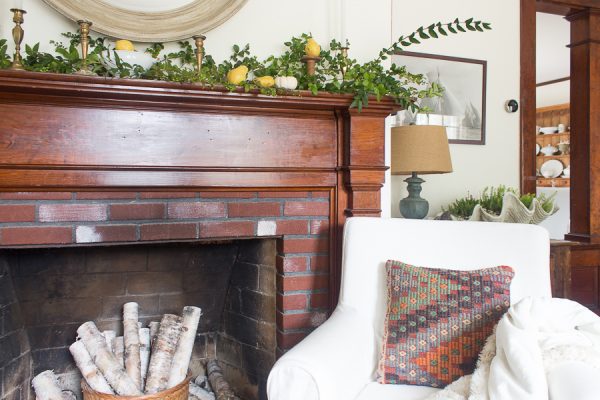 The mantel is decorated simply with a heavy dose of privet hedge branches, a few brass candlesticks, some white pumpkins and golden pears from the grocery store. I wish I could tell you I picked the pears in our yard….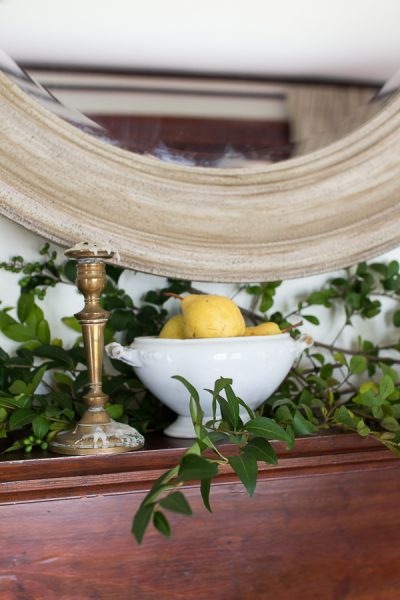 Some found their way into this vintage ironstone while others found their way into Conor's tummy.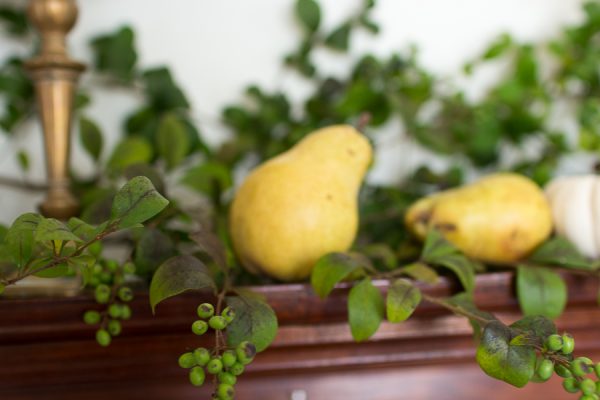 The best decor is edible decor! Don't you think?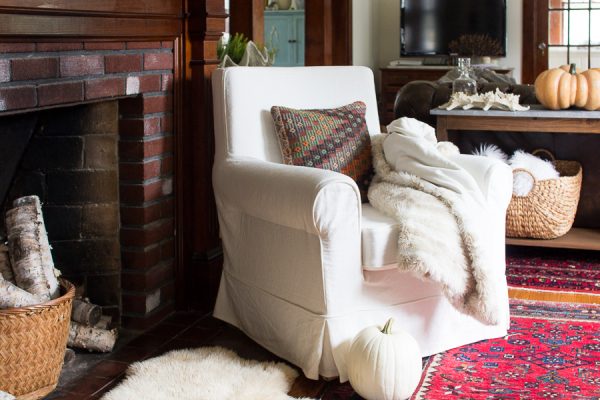 I pulled our white Ikea chair cozy into the fireplace.
It's the perfect spot to sit and read. Both boys came and perched here, reading books when they came home from school.
The gorgeous Kilim pillow is by Revival Rugs which will be launching soon.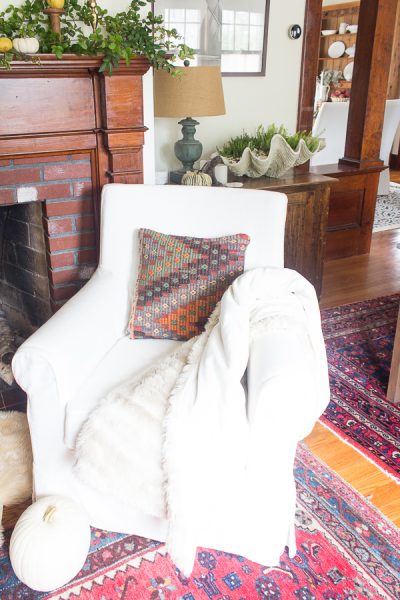 Here you can see all our oriental rugs. I love how much warmth they add to our living room.
What do you think of the mantel? A great option for affordable decor is starting in your own back yard.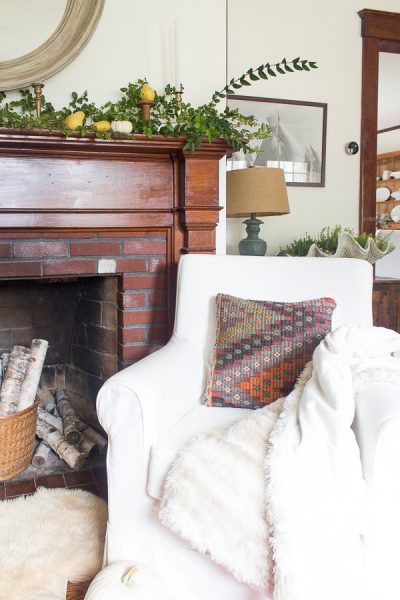 The leaves will dry and you may have to replace the pears after a while but it's such a lovely way to decorate your home for fall.
***
I promised you all something exciting!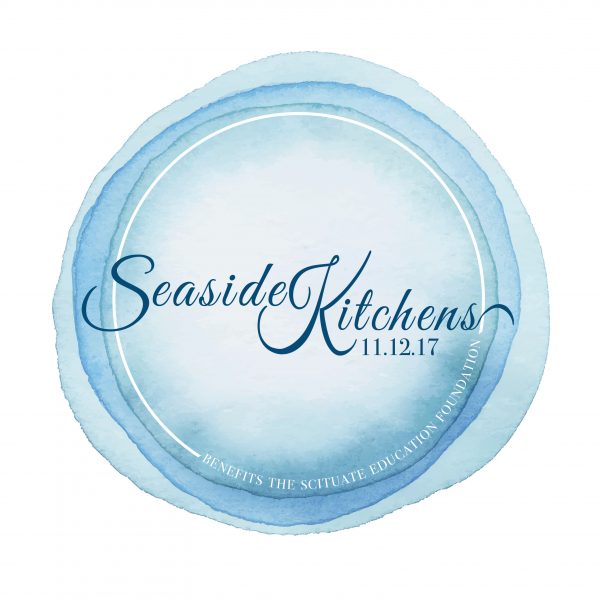 If you love homes and decor and autumn, you don't want to miss Seaside Kitchens. I'm so honored to be a part of this unique event by Scituate Education Foundation. My home is not on the tour, but I will designing one of the homes. On November 12th, guests will be able to take a self-guided tour offering an opportunity to visit five beautifully designed kitchens in Scituate's seaside community with tastings from area chefs, pop-up boutiques and demonstrations from local artisans.
All proceeds from this event will support the Scituate Education Foundation and their mission to fund educational programs for all ages.
The actual locations are a surprise so I can't reveal the home or any photos of that but you can bet I'll be using stuff from nature, like in our fall home tour (images below) to decorate the home.
There will be heirloom pumpkins.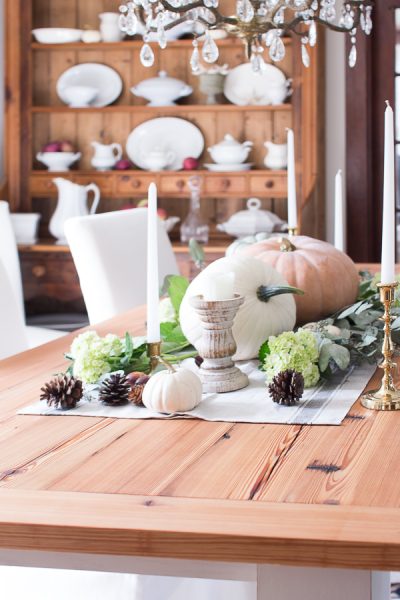 Eucalyptus and a few flags as it is Veteran's Day Weekend.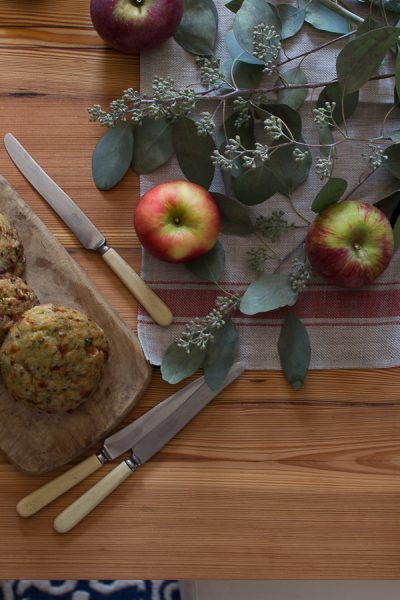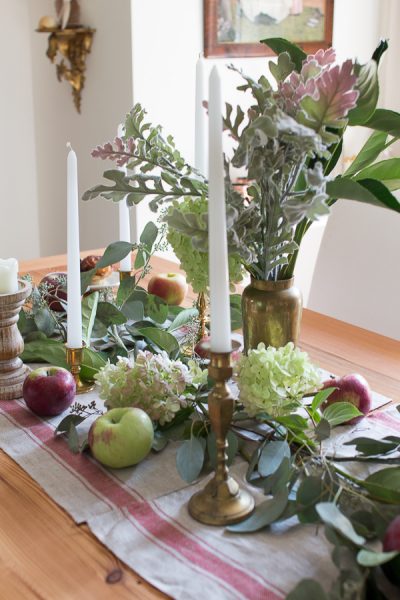 I will, of course, share some photos after the event so readers who aren't local can see what I did with the spaces I had. Eeek! I'm so excited. Hope you guys have a wonderful rest of the week. xx