Thank you all so much for the lovely comments and words about our sunroom!  We truly love this room and thanks to a stinky skunk we got to flex our creative muscles after ridding the house and Poppy of the skunk smell!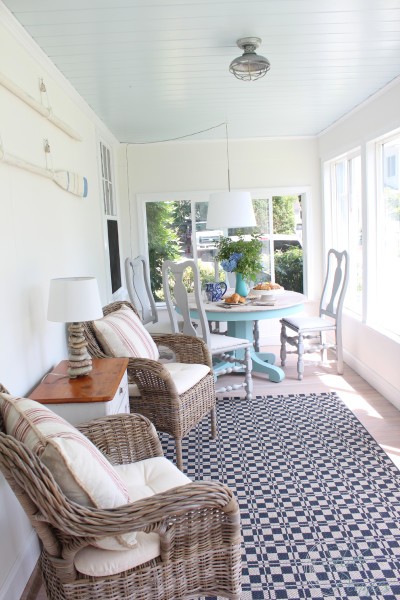 Today, I'm going to share how we did the breakfast table and chairs.  I think you'll love seeing this transformation!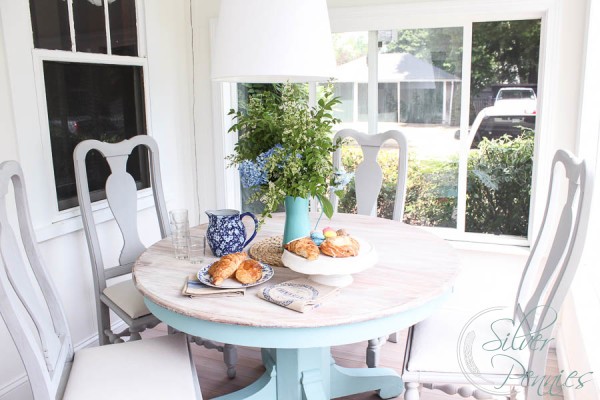 It started off with the table!  I knew I wanted a round pedestal table and lucky for me my friends over at Bent Nail Farm Antiques had one.
Here is how it looked when brought it home: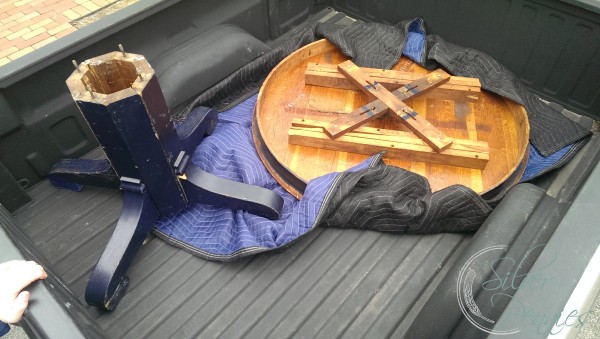 It was in two pieces when we bought it and, it was broken.  I actually didn't see it together until we brought it up to the sunroom!  Thankfully it all worked out.  I paid Colin $80 for this Empire table. It is a fantastic table – solid oak, very sturdy and I, of course, fell head over heels for the empire detail!
Lots of repair needed to be done.  I'm not sure if you an see, but one of the legs needed to be redone.  Someone (not Colin) had replaced one of the feet with a square block.  I also wasn't in love with the navy blue (despite my love for blue).  I originally intended on stripping all the old paint off and doing a limed effect on the whole thing but then I decided a soft light blue would be best especially with our driftwood floors.
Anyway, I'm so proud of my hubby because he did such an amazing job repairing this table.  This is one of those royal we moments.  We did the table but really I only did the paint 🙂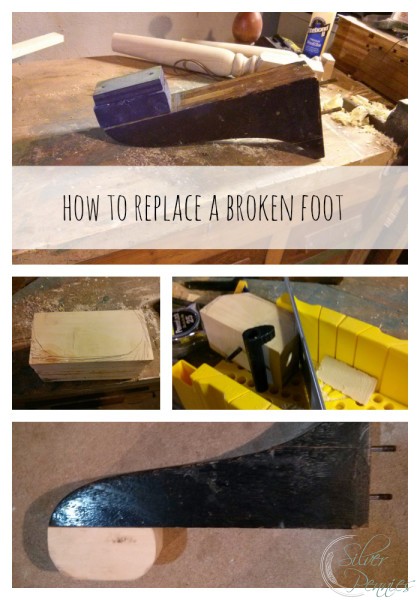 First Luke removed the block that was on the table leg.  Then he took four pieces of  1×4 pine and cut them to roughly the right size and glued them together.  He made it the same way that the other three were done.  So then he traced an outline of one of the existing feet and roughly cut around. He planed where he could and sanded it smooth.  We don't have a scroll saw but if we did this would have been A LOT easier! He drilled a hole in the top of the foot and marked & drilled a matching position on the leg.  He attached with a double ended screw.
For painting, I created a custom color for the base using mostly Pure White with a touch of Provence Chalk Paint® .  I really love this color combination.  For the top, I sanded the oak down a bit and took Old White slightly watered down and washed it along the top in long even strokes.  I wiped back a few minutes later with a Viva paper towel and then moved onto the next section.
Here's how the table top looks in progress: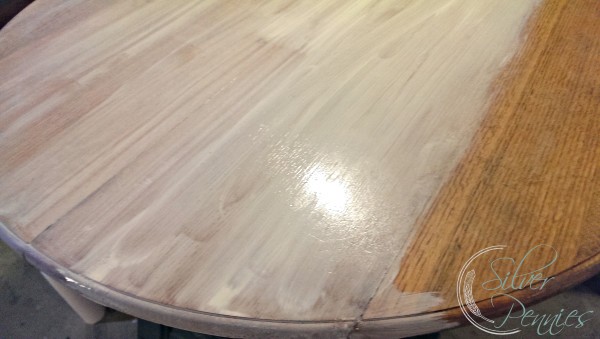 Here you can see the final result on the finished table: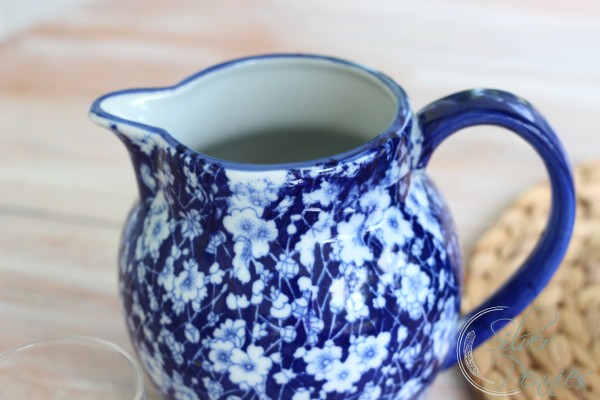 This finish gives a soft weather finished or limed effect that goes so well with our driftwood floors.
The chairs are very heavy and handmade by someone who worked at Gardner Furniture.  I found them at Goodies II in Scituate Harbor and  paid $5 a chair.  It was a bargain for these.  Sandy had them for awhile and wanted to make room.  I happily took the 5 chairs home.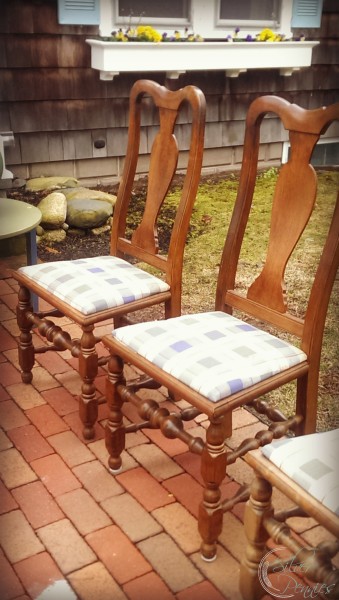 I mean look at all that carving and the graceful back!  I washed these down and used shellac to prevent bleed through.  Then they got two coats of Paris Grey Chalk Paint®.  I really wanted to do ticking stripe on the seats but realized the ticking stripe I wanted was dry clean only.  So I decide to go with good old drop cloth from Lowes.  I bought a 10 x 10 drop cloth and now have plenty of extra just in case.  I also sprayed them with Scotch Guard® to help protect the material.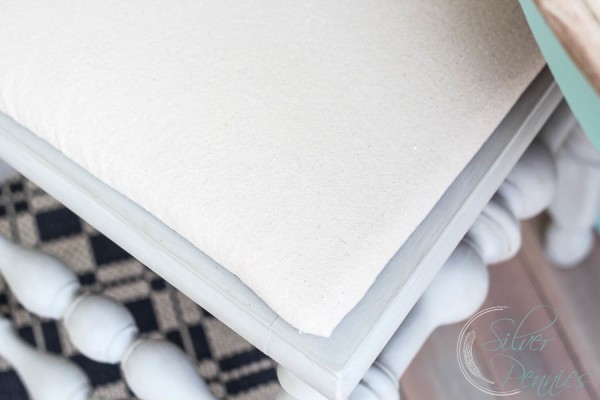 This was truly a family affair!  Even Conor got in on the action!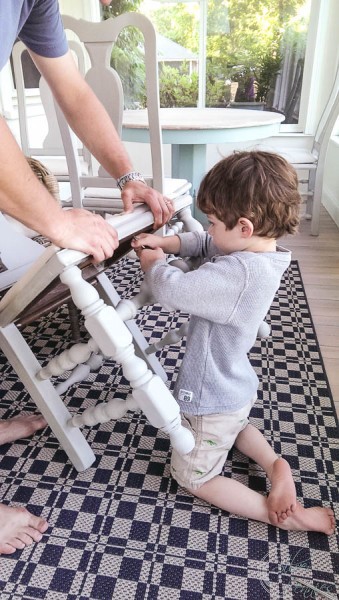 Here's how they're looking now: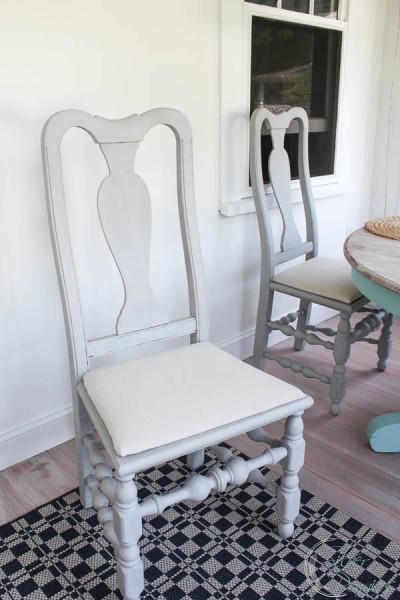 Since this room can get very warm being mostly windows and very cold as it isn't heated, I decided not to use Annie Sloan's clear wax as a top coat.  Wax can melt in extreme heat and can crack in the cold.  Instead I used Artisan Enhancements Top Coat.  I buy it at the Sea Rose Cottage and it is a wonderful product.  it is natural with a soy based and is marine grade.  It dries completely clear as long as you don't glob it on.  I've had areas turn a brown(ish) if there is too much top coat.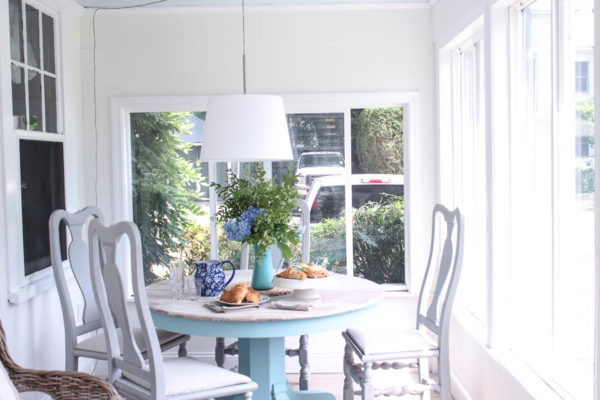 So there you have it the full before and after of the furniture!
I'm happy to tell you this room is being thoroughly enjoyed by us all and I think this furniture was happy to get a refresh!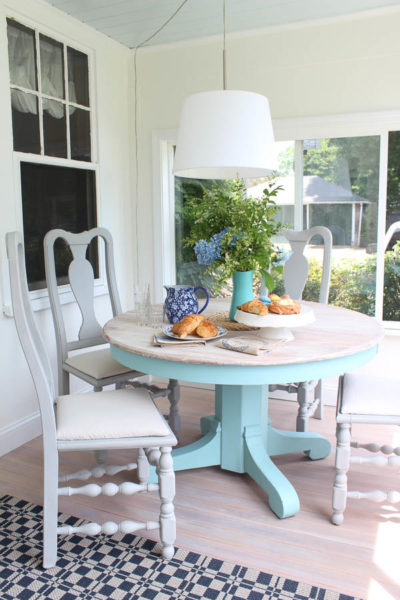 Sharing with: