I think you're gonna love this one…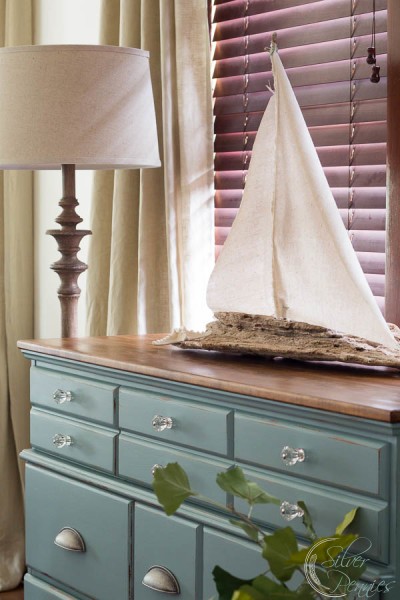 May I introduce you to the Leighton Dresser?
This color is luscious.  I swear it almost matches my front door and shutters.  It certainly is very close to the blue in my logo.  So this one makes my heart skip a beat.  What about you?
First  let me show you the before: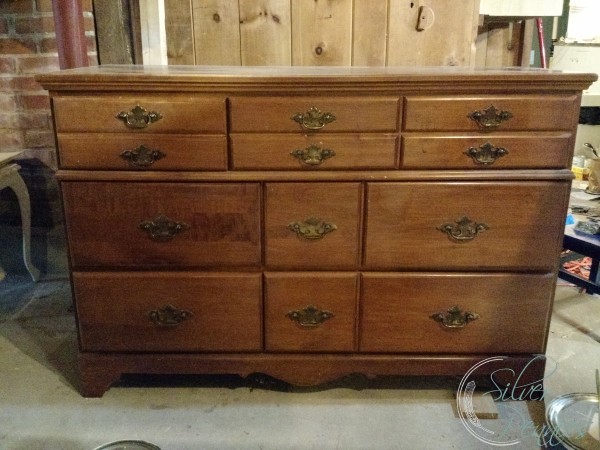 Here is the top: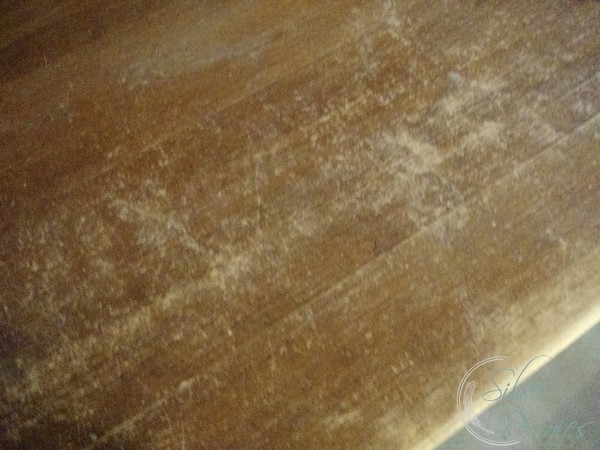 As you can see, there was some wear to the top but this piece is so sturdy and solid.  It is solid rock maple.
I knew that I wanted to keep this a wood finish on the top and paint the bottom.  I decided to sand the whole top and then stain with Minwax in Special Walnut.  Special Walnut is a color I really love for furniture.  You can see it on our headboard here and a few other Minwax stains I like here.  I sealed the top with Minwax Wipe-on poly.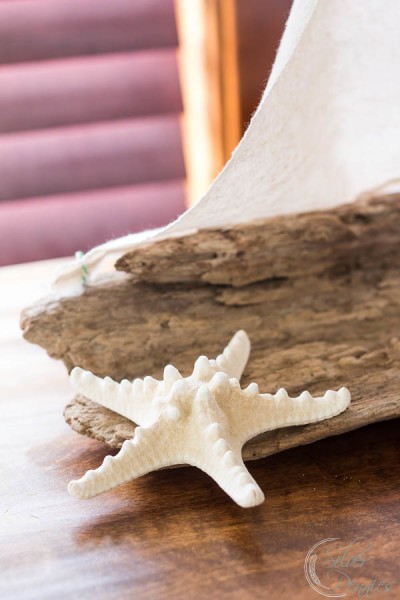 For the body of the dresser, I used Fusion Mineral Paint's new color called Heirloom.  It is part of the Michael Penney collection and is a gorgeous coastal blue.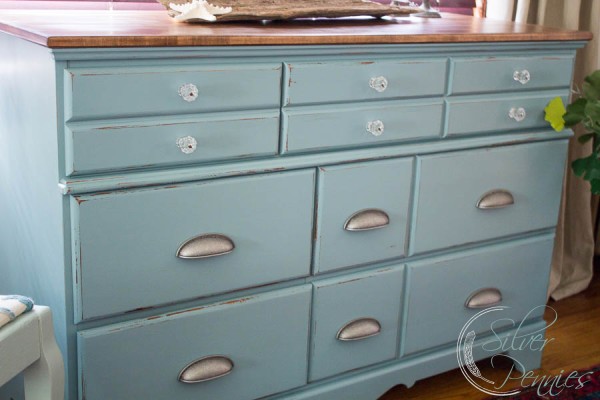 Since the dresser had a slick surface, I decided to coat the piece with Ultra Grip to help the paint adhere better. I've also heard Ultra Grip is good to stop bleed through.  I waited a day before doing my first coat of Fusion paint and then waited 12 hours before the next coat.  I distressed around the drawers and high points for a worn look. I sealed with Fusion's Beeswax Finish.
The hardware is from D. Lawless and is equally stunning.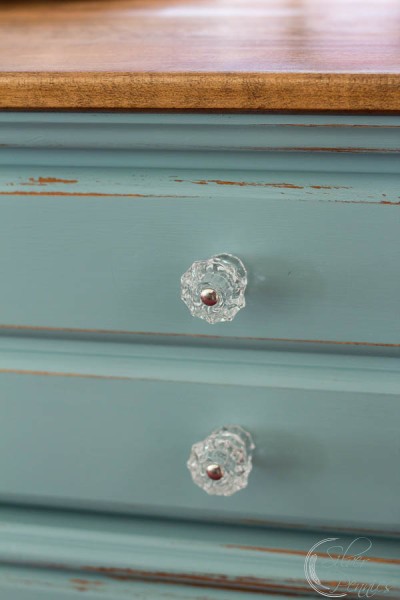 The Decagon Fluted Pulls are a bargain at $1.96 a knob.  I've used these on so many pieces of furniture because they look old and they really pick up the light.
For the bottom drawers I used D. Lawless' Pewter Cup Pulls.  I love how these look old and worn too.  They are so heavy and well made.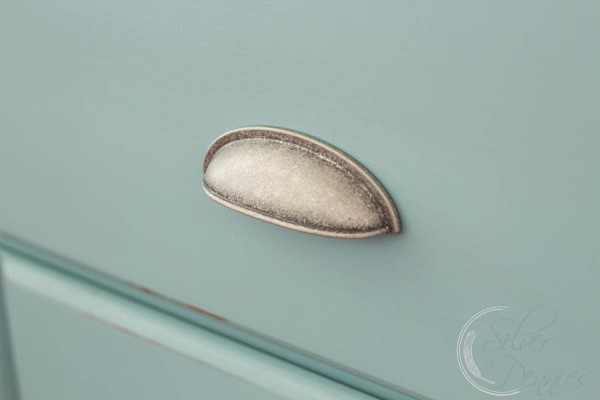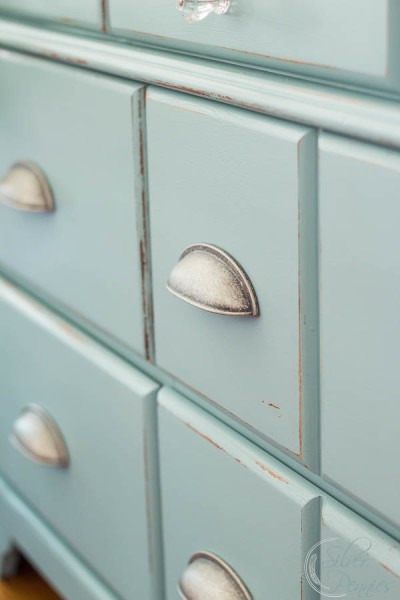 The pewter and cut glass look so crisp against the painted finish.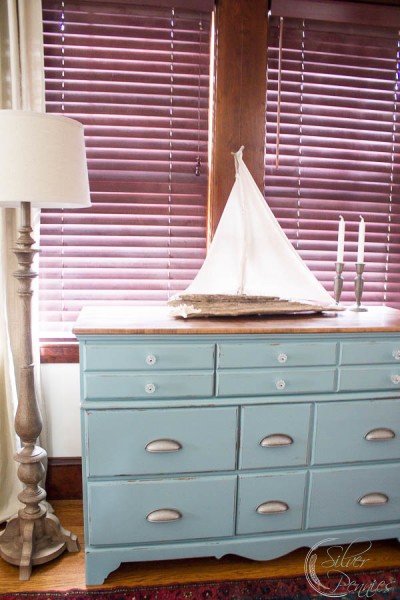 Classic and coastal and ready for a new home!
I'll be bringing the Leighton Dresser up to the Vintage Bazaar this weekend.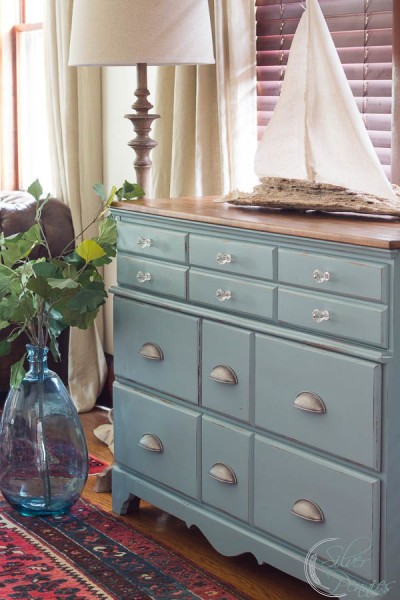 What do you think of this one?

If you enjoyed this post you might like my eBook. In this eBook I've included everything I know about painting furniture and faux finish techniques in over 150 pages. Click here to learn more about my eBook and to get your own copy!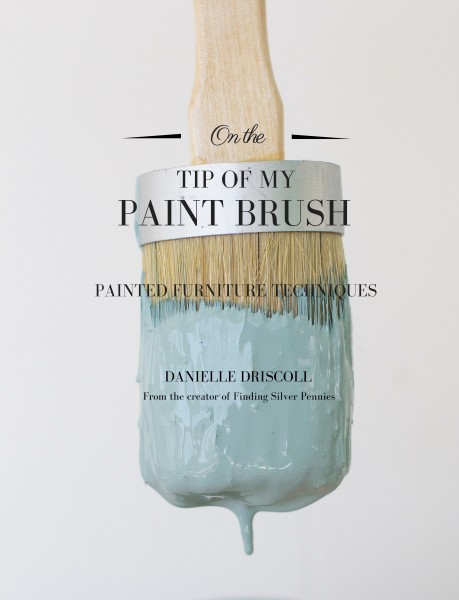 Sharing with: