I partnered with Blue Apron on this post.
Well, it's winter and with all these promises to eat healthier and be more active, I still want foods that warm me up and and, well, are comforting.  I just can't seem to eat salads in winter, can you?  Anyway, I wanted to share some healthy comfort foods we've been enjoying from Blue Apron!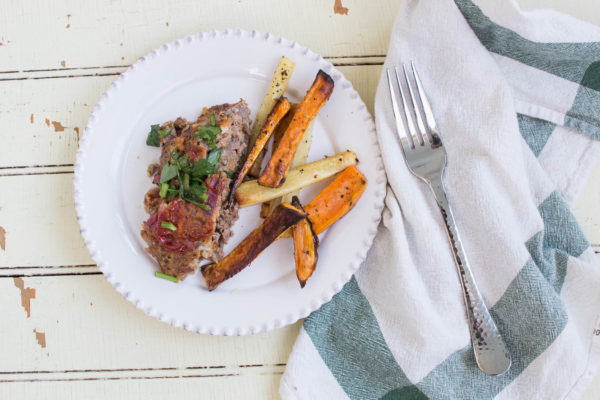 Before, I get into the recipes and such, they are offering my readers a special deal.
The first 20 readers will get two free meals on their first Blue Apron order, 
just click here.
You guys should definitely try it!  I find it so helpful when I'm super busy or in the mood to try something new.  Beyond the convenience I love receiving fresh and sustainable produce straight to my front door.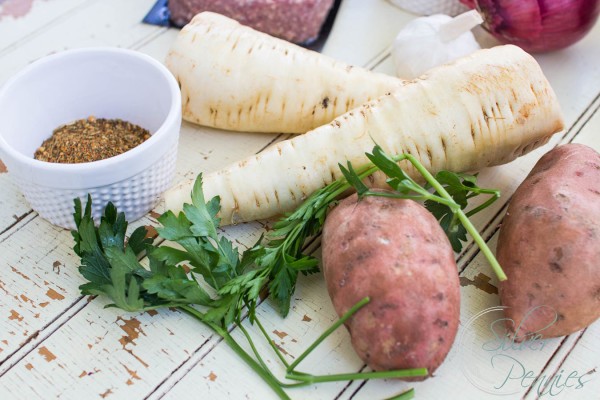 Look how big those parsnips are!  Parsnips are my favorite veg by the way!  All the ingredients come in a refrigerated box so everything stays super fresh.
The other aspect of Blue Apron I love is learning new recipes.  In the fall, I tried making steaks for the first time and they came out amazing.  For this recipe, I tried out meatloaf with parsnips and sweet potato fries.
I probably shouldn't write this because my mom reads the blog, BUT I was never a HUGE fan of her meatloaf (sorry, mom). She does make the best meatballs, cutlets and spaghetti though. So when I saw this was coming from Blue Apron, I was like, "hmmmm." It was sooooooo good. The best part was my WHOLE family loved it (even the picky eaters).
Do you want to learn to make meatloaf better than your moms?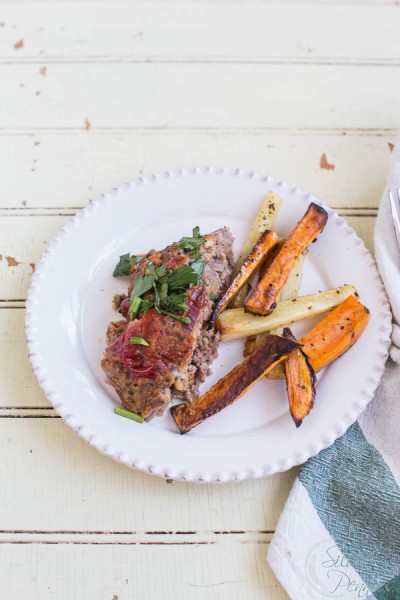 I started with the freshest ingredients: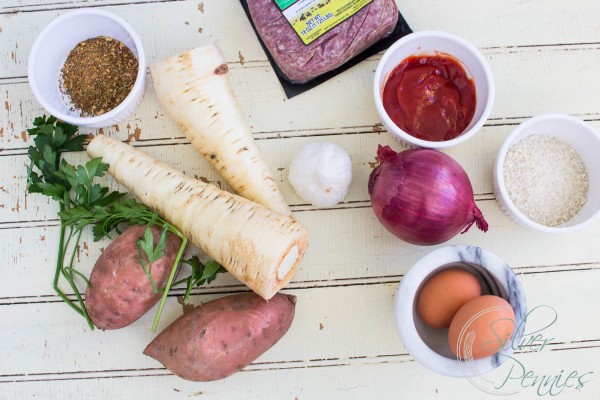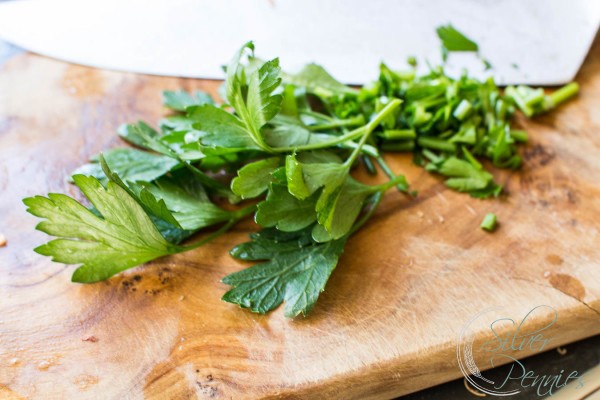 I got the most delicious meal.  I was so hungry smelling this cook in the oven.  Here's the recipe:
Meatloaf with Parsnip & Sweet Potato Oven Fries
A tasty and healthy spin on the standard meatloaf with delicious parsnip and sweet potato oven fries
Ingredients
1⅛ Pounds Ground Beef
2 Farm Eggs
4 Cloves Garlic
1¼ Pounds Parsnips
1 Pound Sweet Potatoes
1 Red Onion
1 Large Bunch of Parsley
1 Tablespoon Worcestershire Sauce
½ C Ketchup
⅓ C Panko Breadcrumbs
1½ Tablespoons Meatloaf Spice Blend (Montreal Steak Seasoning, Italian Seasoning, Ground Mustard and Crushed Aleppo Pepper)
Instructions
Prepare the ingredients. Preheat the oven to 450°F. Wash and dry the fresh produce. Peel and mince the garlic. Peel and small dice the onion. Finely chop the parsley leaves and stems. Peel the parsnips; cut the parsnips and sweet potatoes lengthwise into ½-inch-thick sticks.
In a medium pan (nonstick, if you have one), heat 1 tablespoon of olive oil on medium-high until hot. Add the garlic, onion and ¾ of the spice blend; season with salt and pepper. Cook, stirring occasionally, 2 to 4 minutes, or until softened and fragrant. Transfer to a large bowl.
Start the meatloaf - To the bowl of cooked aromatics, add the ground beef, eggs, breadcrumbs, Worcestershire sauce, half the parsley and half the ketchup; season with salt and pepper. Mix until combined.
Form and bake the meatloaf - Place a large piece of aluminum foil (or parchment paper) on a clean, dry work surface. Place the ground beef mixture in the center of the foil. Gently roll and shape the mixture with the foil until it forms a tightly-packed, 10-inch by 3-inch loaf. Transfer the loaf and foil to a sheet pan (unrolling and flattening the foil to line the pan); evenly spread the remaining ketchup on top of the loaf. Bake 28 to 30 minutes, or until lightly browned and cooked through. Remove from the oven and carefully transfer to a serving dish. Let rest for at least 5 minutes.
Make the parsnip and sweet potato fries - While the meatloaf bakes, place the parsnips and sweet potatoes on a sheet pan. Drizzle with olive oil; season with salt, pepper and the remaining spice blend. Toss to thoroughly coat and arrange in a single, even layer. Place on a separate oven rack and roast 28 to 30 minutes, or until lightly browned and tender when pierced with a fork. Remove from the oven and transfer to a serving dish.
Serve - Slice the rested meatloaf into ¾-inch-thick pieces. Serve with the parsnip and sweet potato oven fries on the side. Garnish with the remaining parsley. Enjoy!
I'd never made sweet potato and parsnip fries either and these were so tasty: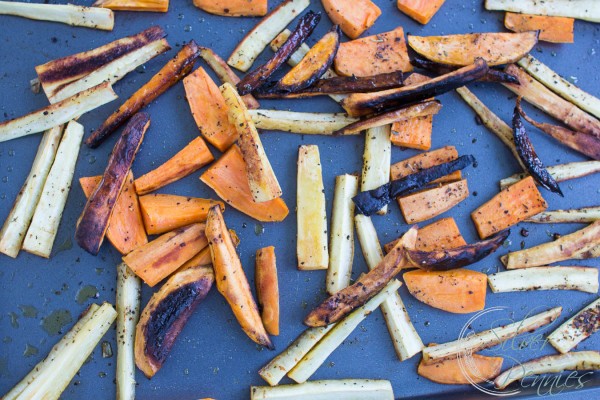 Conor and John LOVED them along with the meatloaf.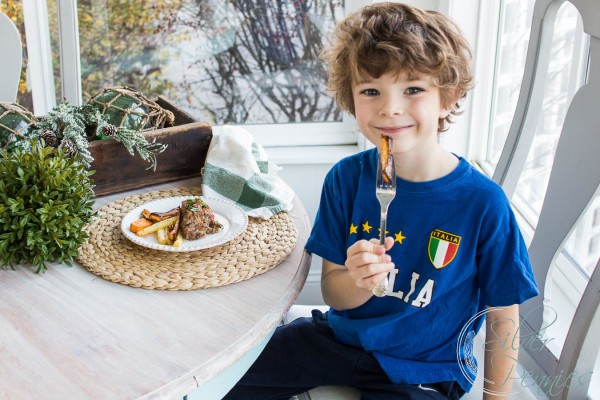 Another meal we loved was the Chicken and Kale Casserole.  This pasta loving girl was in heaven. Not sure why, but I'd never thought to put kale in a pasta bake but usually put it in soup with sausages).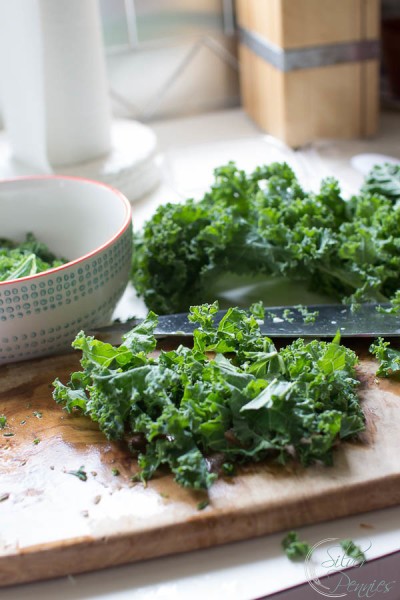 It gave the pasta bake a nice hearty flavor. The creamy sauce was so comforting. The meal made two pans of pasta which we gobbled up for dinner and leftovers for lunches. Here's the recipe if you'd like to try it.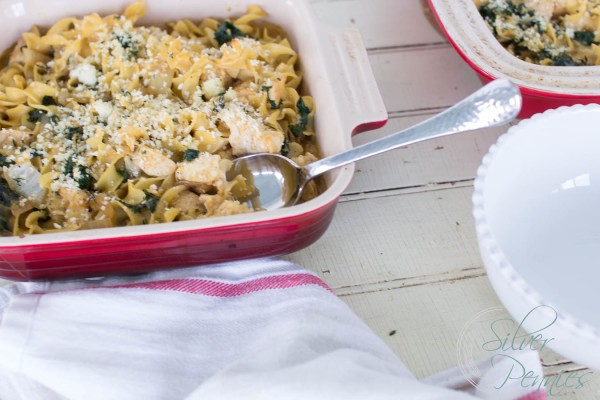 Blue Apron is always adding more meals to their schedules.  I can't wait to try the Seared Salmon and Salsa Verde, the Tamarind Glazed Cod and Chicken Tortilla Soup.  Don't those sound delicious and healthy?