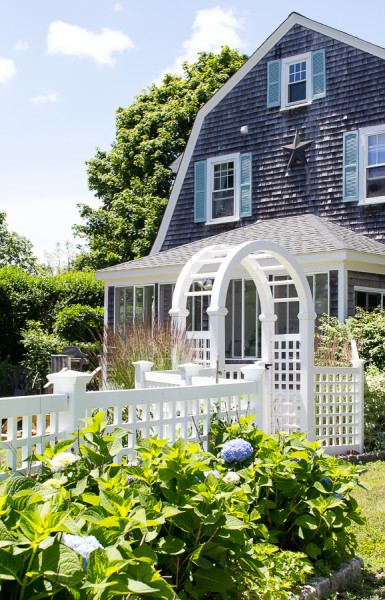 Hydrangeas are my favorite flowers! When I think of summer by the coast I instantly think of these beautiful blooms. I often get asked about our flowers.  Today I'm sharing tips for beautiful hydrangeas!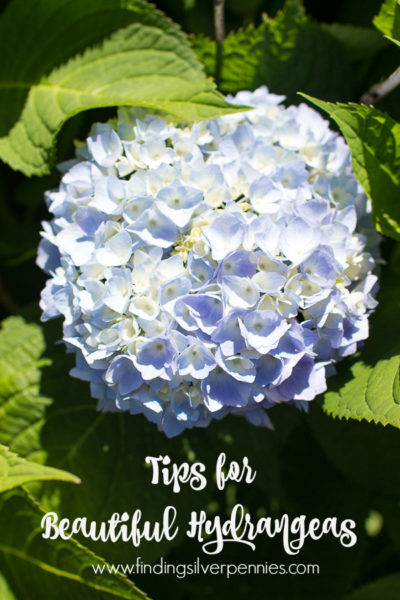 I know many of you at home are wonderful gardeners and I'm not a trained gardener I just love pretty flowers and enjoy them outside and I also like cutting them and bringing them inside.
Tips for Beautiful Hydrangeas
Water Daily
Hydrangeas NEED a lot of water, if you live in a warm climate then you'll need to water them each day. I was doing this but now our town has a water ban. If you don't water hydrangeas can look a little bit wilty in the afternoon.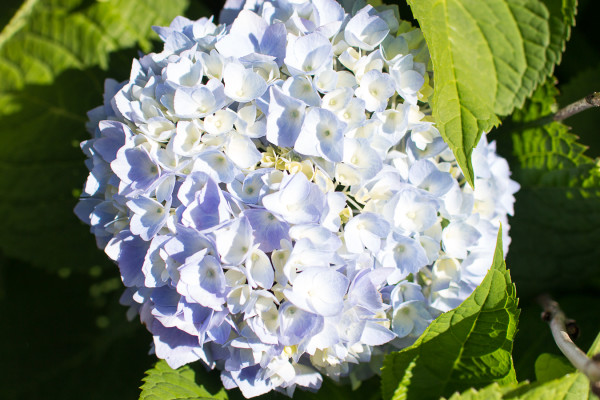 Clip Flowers Often
This sounds crazy but the more you clip, the more they'll grow! I love bringing them inside for beautiful summer arrangements: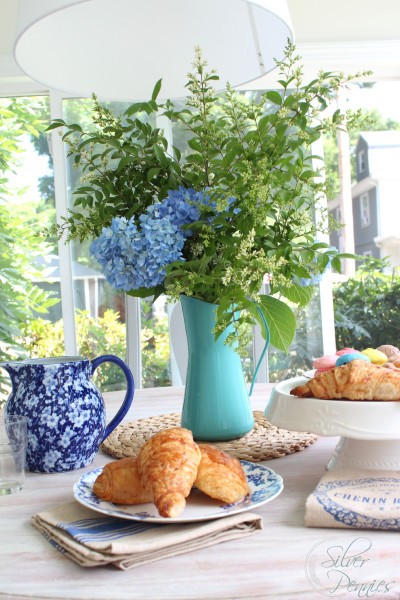 Like here in our sunroom! Doesn't this brunch seem look so much more welcoming with hydrangeas?
Lots of Light
Hydrangeas LOVE lots of sunlight. Ours are positioned along our fence and get sunlight all day long. I think this abundance of light has helped them thrive.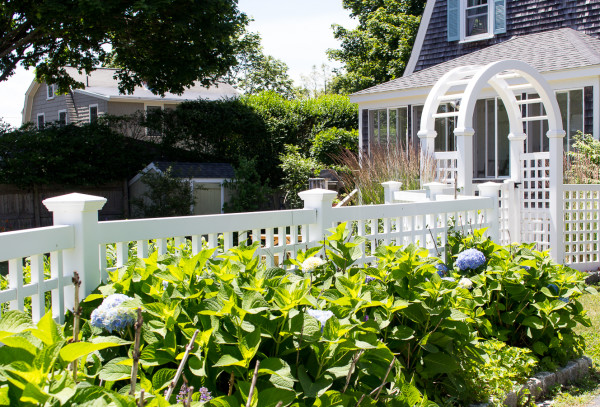 Allow Plants to Mature
These plants were already established so it will take some time for your's to grow to this size. I think this is important to realize. We had lace cap hydrangeas in our last house and it took about 4 years for them to reach full size.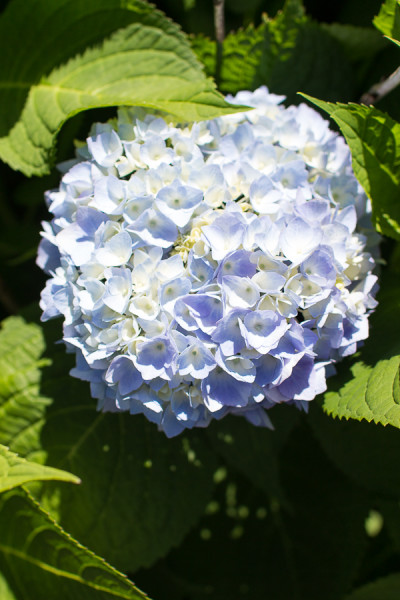 Remedy for Pests
We didn't have as much snow here in New England last winter and there were some variables with temperature and freezing which impacted many plants. For example, our wisteria didn't bloom this year and our hydrangeas and butterfly bush are not as large. I also noticed a pest on my hydrangeas for the very first time.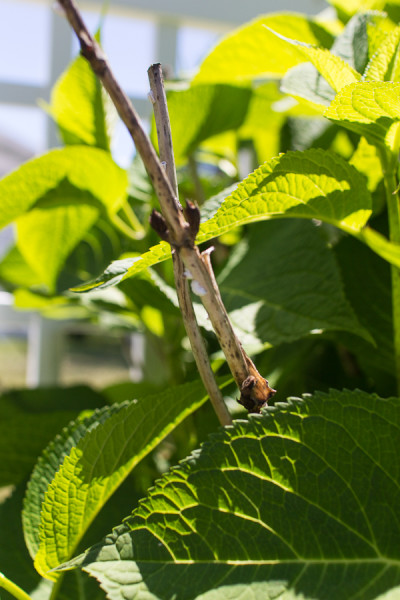 See those white things on the stalks? It's white scale and we never saw it until this year. I went to our local garden center and they were so helpful. This is a sap sucking insect and those are it's eggs. I discovered it early enough (thankfully). To remedy the issue I cut all the affected stalks (this is where they are most dangerous for the plant because once hatched the bore into the stalk). We like to keep things organic with the kids and the dog so I bought Neem Oil. If you've had this issue you might like to try it and I'm including the affiliate link here, this link doesn't cost you more but if you buy it I get a percentage of the sale. The oil smothers the eggs before they hatch but you need to do it when there isn't sunlight on the plant because it can burn the leaves. I applied once and then ten days later. When applying it's important to spray on top of and under the leaf because more eggs latch onto the underside. My plants are fine now. Phew. (big sigh of relief).
Trim Plants in the Fall
I like to trim our plants back at the end of the season in the fall and I enjoy drying the flowers and using them in fall decor.
To dry hydrangeas I clip them a distance down on the stalk (12 to 18 inches) and remove the leaves. I try to clip them when I still like the color. I use a plastic serving bowl and stand them up in it so they're supported and bring them down to our cool basement. I think everyone has their own methods of drying. I tried tipping them upside down and hanging them but this method didn't work great for me.  I've also let them dry on the bush to and clipped them and brought them in before the frost.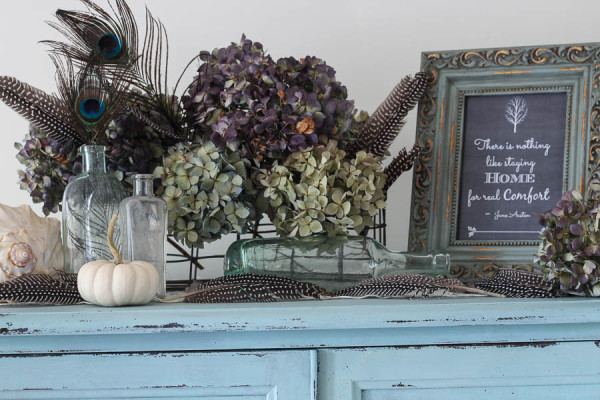 I love the purples and blues. This free printable was also very popular and you might like it for fall decorating.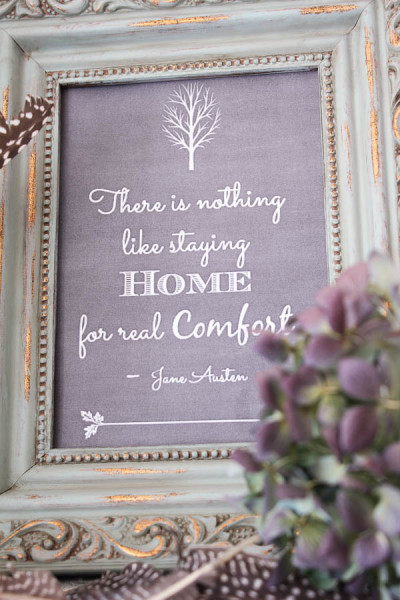 For now I'll be enjoying the beautiful blue blooms on the bushes.
The color makes me so happy!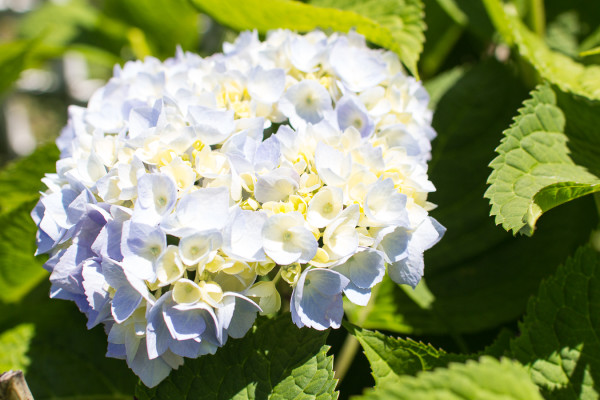 Do you have any tips you'd like to add? Leave them in the comment section! Can't wait to hear. Would also love connecting with you on Facebook and Instagram!
Sharing with: