Yesterday, I shared with you some lessons learned at Haven. Today I'm going to share more about the class Rachel and I taught, I'll be sharing six weathered finishes to try at home!
First let me show you some photos from our class. This was the second day and as you can see Rachel and I were super excited to share these techniques: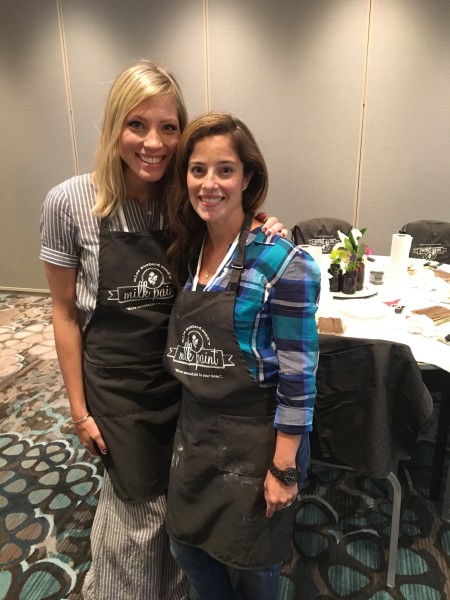 Thanks, Bre, for taking this photo before everyone started arriving. We had everything set up and ready to go: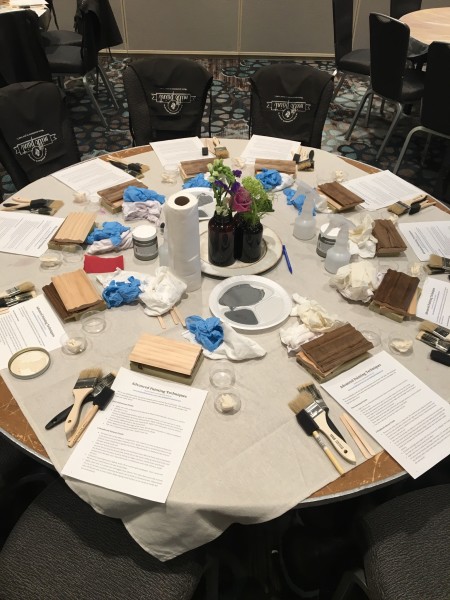 Aprons, paints, sample boards, brushes, notes. I have to say I usually paint in the basement so this was a nice step up and to also be joined by so many beautiful people.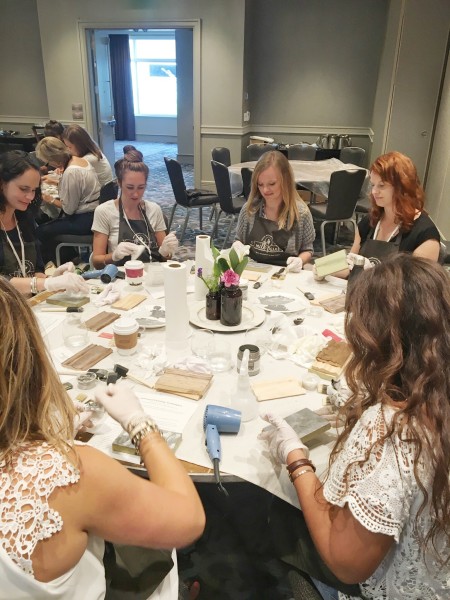 Maybe you took our class, in which case this might feel like a little recap. Or maybe you really wanted to come but couldn't. Welcome to a virtual step by step.
Six Weathered Finishes to Try at Home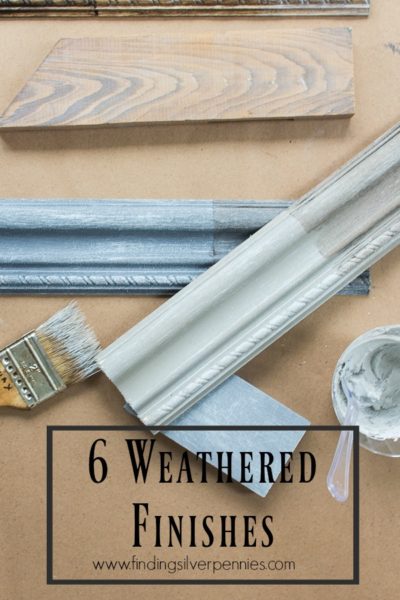 You really can use any products you already have at home and mix and match. In our class we shared 3 of these finishes and the other three are a variation.
You will need the following:
Materials
Sample Boards (molding cut into smaller pieces or spare wood you have)
Stains
Paint
Soft Wax (to tint with paint)
Chip Brushes
Rags
Paint Brushes
Clear Shellac
Weathered Wood
Paint and stains are a great way to add depth and dimension to new wood that you've stained. Maybe you've made a great desk or coffee table and you want to give an aged look to the wood. By following these simple steps you can create a weathered patina on any stained wood.
I've included a few affiliate links in this post for your convenince, if you purchase these products via the links I get small percentage but the product doesn't cost you any more than it normally wood.
In class we just used Special Walnut stain by Minwax, this is by far one of my favorite stain colors, I've used it on the top of so many dressers. Too many to count. It's nice and warm but cool and goes with any painted surface. Here you can see two versions finished.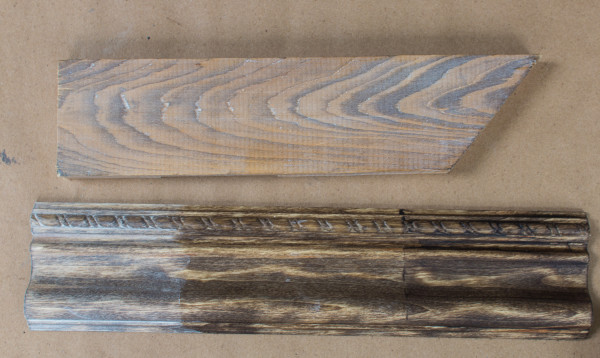 The top is a piece of cedar and the tinted wax went beautifully into the wood grain. The bottom piece is molding which I stained, on the left it's tinted with the same wax (it has Sterling Fusion Mineral Paint), the middle is just the stain and the right is antiquing wax over the stain.
Here's a step by step:
Step 1 – rough up the surface with a wire brush. This will create indentions and crevices for the tinted and antiquing wax to rest.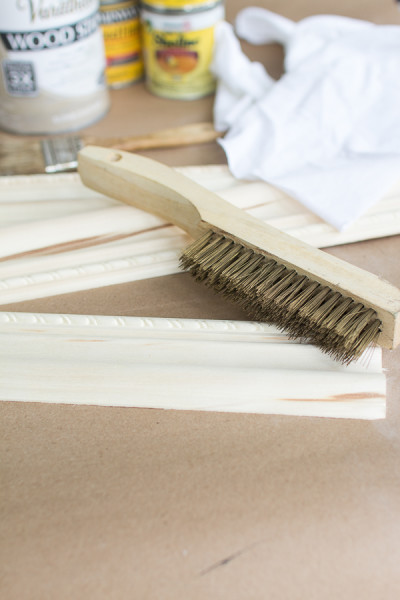 Step 2 – Use a rag or brush or lambswool to apply stain to wood and wipe excess off after approximately 15 minutes.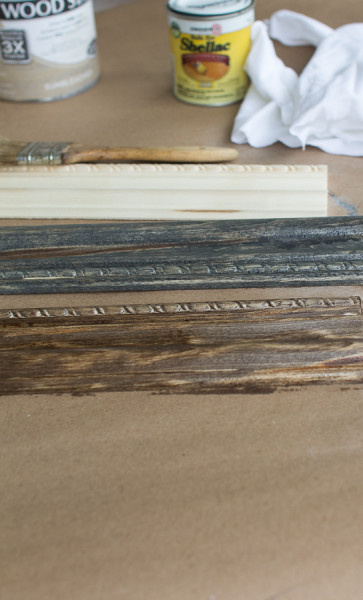 Step 3 – Wipe on a coating of clear shellac. This creates a barrier so paint or glazes don't get muddy from the stain.
Step 4 – Mix up some tinting wax. Many brands have tinted wax or you can create your own custom waxes. In class, we mixed Fusion Mineral Paint's Sterling (a light gray) with Miss Mustard Seed Furniture Wax. You can also use Annie Sloan Clear Wax or other soft wax, but stay away from paste waxes as they won't mix properly.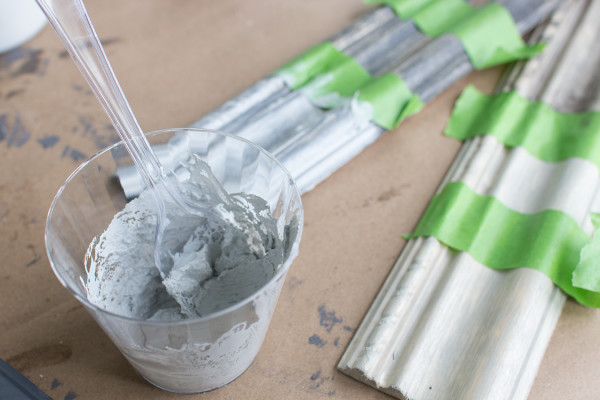 You want the consistency to be like frosting. Rub a lot on with a brush or rag and wait a few moments and then wipe off.
Step 5 – Do the same with the antiquing wax on another part of your wood.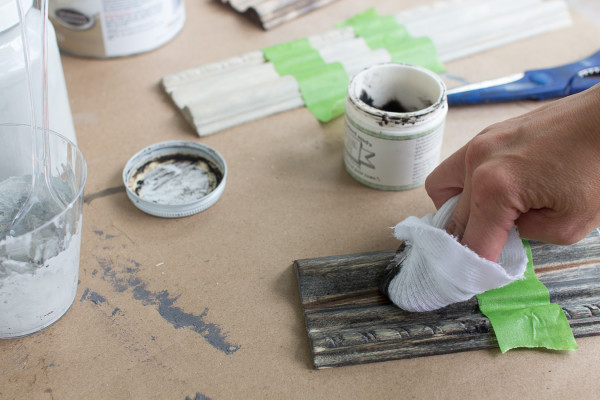 The waxes will go into the crevices and crannies. It's important to have a light touch. You don't want to wipe all the wax off completely.
Here's how this looks: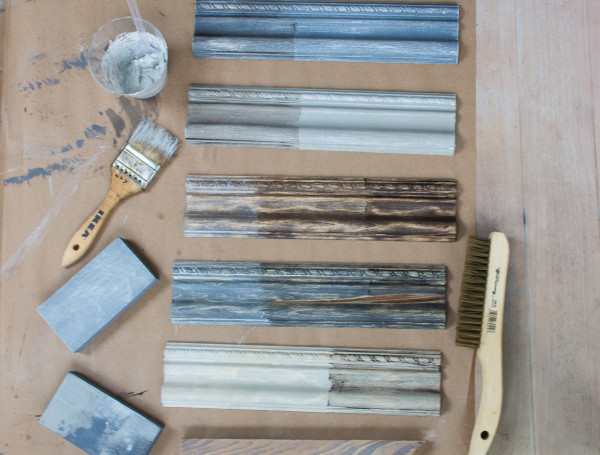 The wood stains we used are: Special Walnut (first stained piece near wire brush), Gray and Sunbleached by Varathane. You can see how the tinted gray wax and the antiquing wax really makes a difference in the colors.
Dry Brushed Rustic Finish
Take your sample boards and paint them in neutral colors. Today I'm sharing one with French Linen Chalk Paint® (bottom) and Amy Howard's A Good Man is Hard To Find (top). You can see the finished technique below.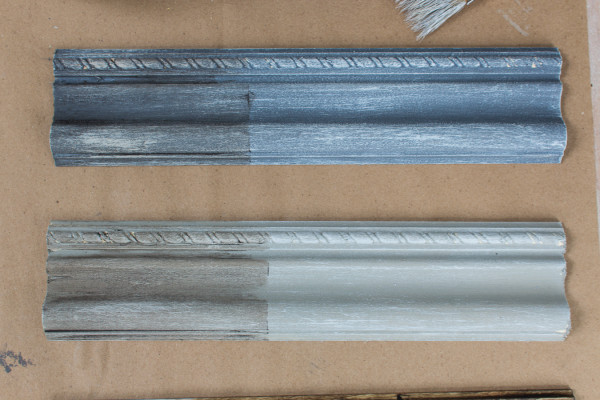 No sandpaper was used here. All that was done was lightly brushing some light gray across and some antiquing wax on the left side.
To dry brush you want to dip your brush in paint and lightly off load on a paper towel so that your brush is almost dry. Start on the edges of the board and concentrate on the molding and use long even strokes.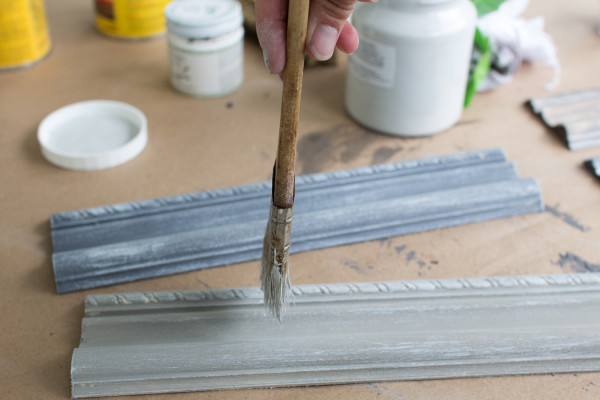 It really is amazing how authentic this looks!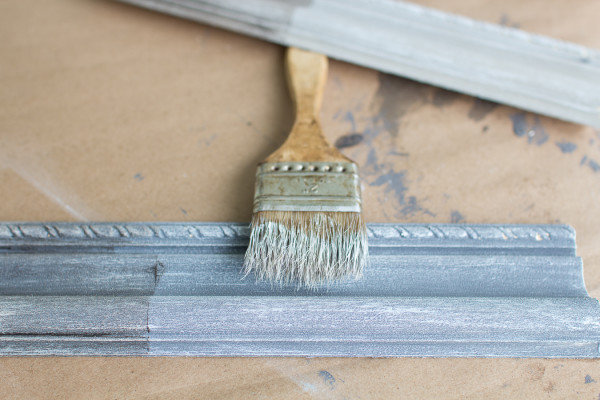 If you have a flat surface, you might want to use hashed strokes which gives a more distressed look. Here you can see the two different techniques: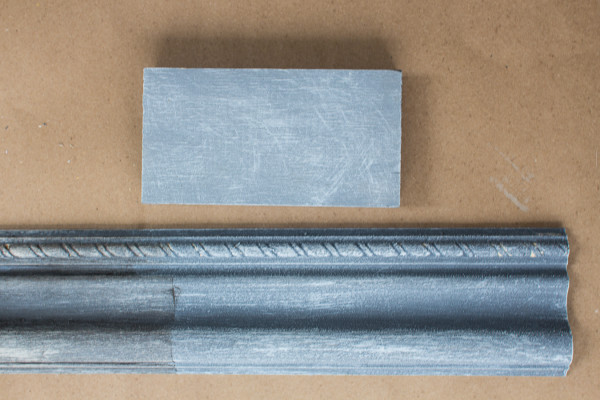 Faux Galvanized Metal
The final technique is faux galvanized metal. I created this look for our console table in our living room and it looks so real, everyone is surprised when they touch it because it doesn't feel like metal.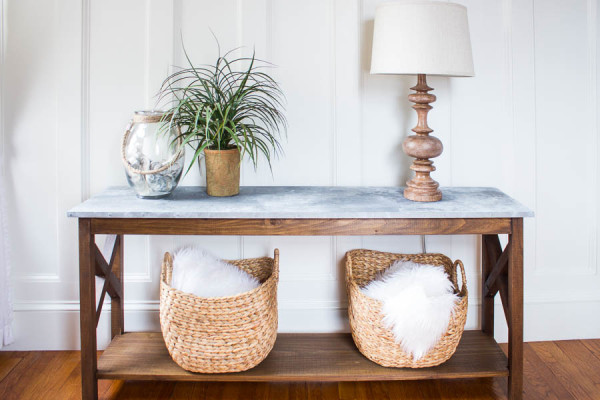 Here's a sample board done on half the board. The bottom is metallic paint and the top is the technique.
Step 1 – Paint entire surface with Brushed Steel Paint by Fusion Mineral Paint. Allow to dry.
Step 2 – Using foam brushes use two different grays to create variation in the surface. We used Sterling and Soapstone by Fusion Mineral Paint.You want to work in sections, applying paint then spritzing with a water bottle and blotting. Don't remove all the color and allow some water to settle because it creates marks like the ones on real galvanized metal.
Step 3 – Make sure to do this same technique around the edges.
Step 4 – Fusion Mineral Paint has a top coat built in but for added protection you could use wax or a Tough Coat.
You can see the finished surface here: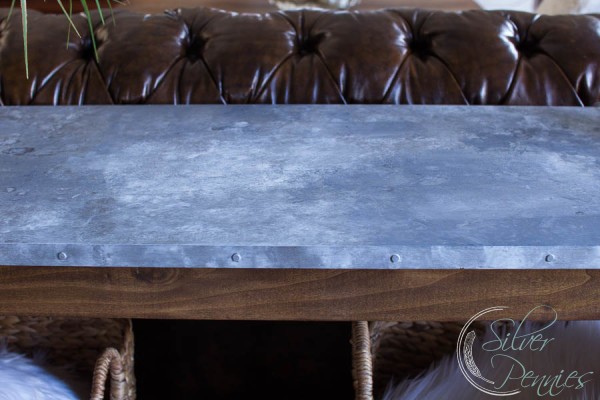 To read more about this technique or build plans for the table click here.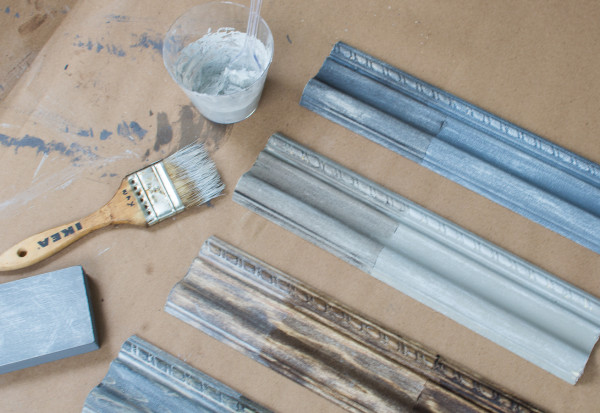 I hope you enjoyed reading these techniques! We loved teaching the class together. My favorite thing is playing with paint! Let us know if you try them at home.
If you enjoyed this post, you might enjoy my eBook filled with painted furniture techniques and tutorials. Click here for the book: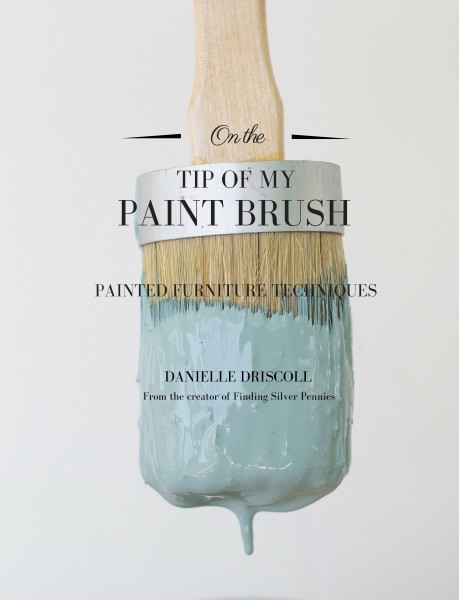 Sharing with: