Happy Monday! You guys, can you believe that today marks three years in our home????  It feels like it was yesterday that we moved all our stuff in. If you've been following our renovations then you know I've been packing up to have the work done on the ceilings.  Work is still in progress, but I thought it might be fun to share the updates we've made over the the years but more specifically in the last year.Last year, I shared this post, sharing updates over the first two years.There's been LOTS of updates since last year's post.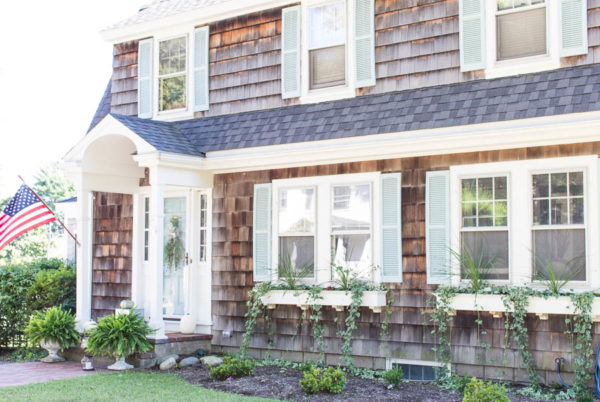 Note: Some of the links in this post are affiliate links, which allows me to make a small commission from your purchase, but your purchase price stays the same. Thank you for helping support our blog!
Where should we start? Outside????
Okay….
Our Front Yard

Last summer, we added plants to the front of our home.  We added boxwoods and white azaleas.  We'd like to add more plantings this summer.
Exterior Source List
Shutter and Door Color – Buxton Blue, Benjamin Moore
Ferns – The Home Depot
Planters – Antique
Boxwoods, azealas and seasonal plantings in our window boxes
She Shed
I think the biggest project for us EVER was the She Shed. This space has been amazing. It turned an unused corner of our yard, overgrown with trees, into a coastal oasis.  The kids and Luke have all tried to steal this away from me.  We do all enjoy it but it will always be my she shed.  Sometimes you have to get away from the sound of video games or arguing. Ha! Ha.
My goal with the shed was to make it look like a mini version of our home, complete with gambrel roof and matching blue shutters.

As you may remember, we partnered with The Home Depot on this she shed makeover.  It was A LOT of work but we loved it and this area has gone from unused to most enjoyable.  Poppy and I love it down there. The gravel patio is nice for sipping cocktails or coffee and inside is a beautiful coastal oasis.  You all know I love the coastal style and in here I could let my imagination go wild with design ideas – shiplap walls, driftwood, sea glass, nautical charts and beautiful artwork from friends.  I LOVE it out here.
Here's a peek inside (before & after) if you're new around here:

She Shed Source List
Our Back Deck
This is another area that we absolutely love! It gets so much use by just us but also by guests.  Giving this space a little "refresh" last year made it sooooo enjoyable. As an anniversary gift Luke created the outdoor table and benches for me. They are beautiful and still look great for this season. He made them out of cedar. If you'd like to make them yourself you can see the build plans here and here. One of the things that makes this area so special, I think, is the wisteria.  It smells amazing and is so whimsical. It just started growing and we can't wait for it to be in full bloom soon.

You can more about the deck refresh here.
Deck Source List:
We've made a few changes inside this year as well. Shall we head inside?
Our Living Room
I always felt like our living room was a bit hard to layout because it very long but not very deep. There are two different areas, one by the fireplace and one where we watch TV.  It used to feel like a bowling alley but now now it doesn't. I rearranged the furniture at a little dinner party with Matthew Mead and friends. You can read about that here.  Now, as you know the furniture is currently outside in a pod as we work on the ceilings, but here's how it was looking a few weeks ago.

We spend so much time in this room as a family. It's our hang out room. We love family movie nights, game nights and just chilling in here. I'm really missing this room right now.
Here's a view from the other direction:

Luke made that sofa table and I created the galvanized finish. I'm still pretty proud of that!
Living Room Source List:
Wall Color – Mascarpone in Matte by Benjamin Moore
Dark Woodwork – Original
Linen Curtains – Ikea
Driftwood Garland (on mantel) – Birch Lane
Textured Pots – Tutorial here
Succulents, branches, lavender – Trader Joe's
White Chairs – Ikea
White Fur Throw – World Market
Painterly Ikat Pillows (on white chairs) – Minted
Oriental Rugs – Antiques
Galvanized Table – Painted Tutorial and Build Plans
Mini Boxwood Wreaths – Amazon
Tommy Bahama Baskets – HomeGoods
Safavieh Faux Fur Rugs – Wayfair
Standing lamps and table lamp – Target
Black Gateleg Table – Painted in Lamp Black by General Finishes
Chesterfield Sofa – Craigslist find, Pottery Barn and domino have ones that are similar.
 Coffee Table – Painted Furniture Tutorial
Bamboo side table – antique
French Chairs – World Market
Side Table – Vintage from Italy
Rocking Chair – mine from childhood
Faux Plants – Ikea
Our Bedroom
Got a few updates over the past year, with some new sheets, new artwork and new woven blinds. The blinds have made a HUGE difference to our sleep. The black out option is amazing. I couldn't believe yesterday that I slept in until 9am!  I haven't slept that long since I don't know when.

It's hard to see the updates from just the before and after.
Here's a few more photos: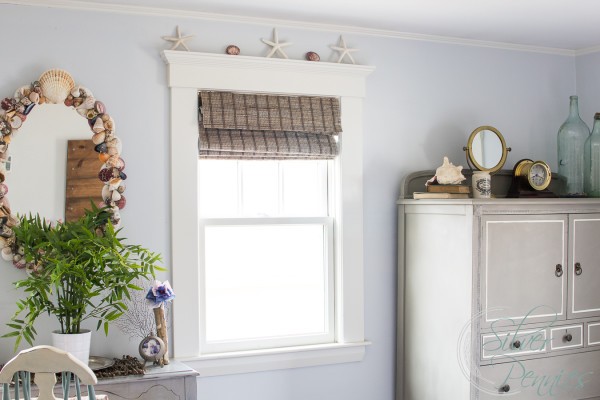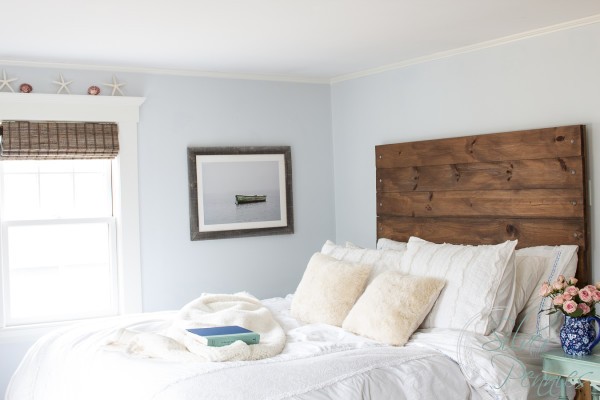 Bedroom Source List:
Wall Color – Silver Cloud by Benjamin Moore
Trim Color – White Dove by Benjamin Moore
Woven Blinds – Smith & Noble
Artwork –"Serenity" from Minted
Headboard – Click here for tutorial
Sheets – Perfect Linens
Bedding – Shabby Chic by Target
Throw Pillows – Michaels
Side Table – Tutorial here
Lamps – Antiques
Linen Curtains on Closet – Ikea
Flowers – mix of real and faux, real from Trader Joe's
Faux Bamboo – Ikea
Shell Mirror – Brimfield
Clifton Dresser – Tutorial here
Books, bottles, jars – antiques
Straw Hats – Target
Our Bathroom
We only have one full bathroom in this house and we share it with our boys.  Since moving in I've wanted to paint our gold vanity, well, this year I did just that! I also added a few affordable updates to the space. I shared the vanity painting here and some budget friendly tips here.

Bathroom Source List
Wall Color – Benjamin Moore Manchester Tan
Trim Color – Benjamin Moore White Dove
Vanity – Champlain by Fusion Mineral Paint, can see painting tutorial here.
Vanity Hardware – Anthropologie
Built In Hardware – D. Lawless
Shower Curtain (similar)- Overstock
Soap Dispenser – HomeGoods
Bath Mats – HomeGoods
Hand Towels – Target
Shower Head – Waterpik
Faucets – Kohler
Door knob – Antique
Plants (real and faux): Trader Joes, Ikea and HomeGoods
Container – Ikea
Driftwood / Airplant – I made
Kitchen
The last stop on our little before and after tour is the kitchen.  I wasn't partial to the original yellow walls so the very first project of the 2016 was covering them with gray!

You can read about that here.  The next step was painting the inside of the built in which I shared here.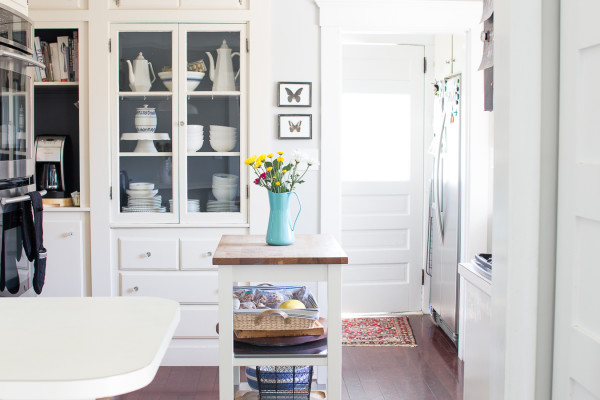 Finally, we replaced the faux metallic tiles with stick on subway tiles.  Yes, you read that right!  I wanted a quick and easy fix so I used Subway tiles by The Smart Tiles to create this look!  You can read all about that here!

The new tiles are a small but impactful change. I'd always dreamed of putting subway tiles in our home.
Source List
I hope you enjoyed this little before & after tour. I'm actually super surprised how many projects we knocked off our "to do" list.  I just said that to my hubby and he chuckled.  Oh, well.

More to come this year! Thanks so much for reading!
Sharing with: