Happy Monday, friends!  I have a furniture makeover and a special giveaway for you today!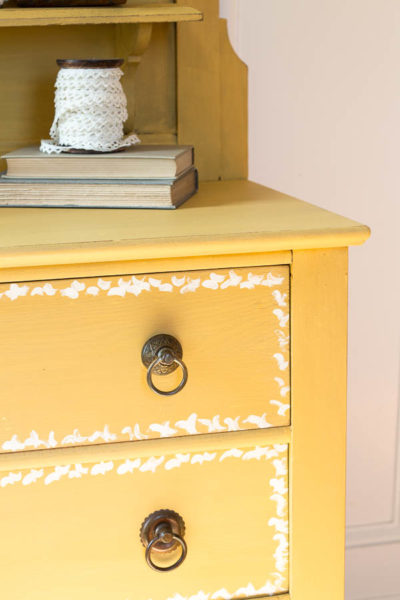 Meet the Theia Dresser!  She is named after the Greek goddess of sight and shining light.  I thought it was a perfect name for her with the warm yellow hue that she's painted.  It really glows in the sunlight.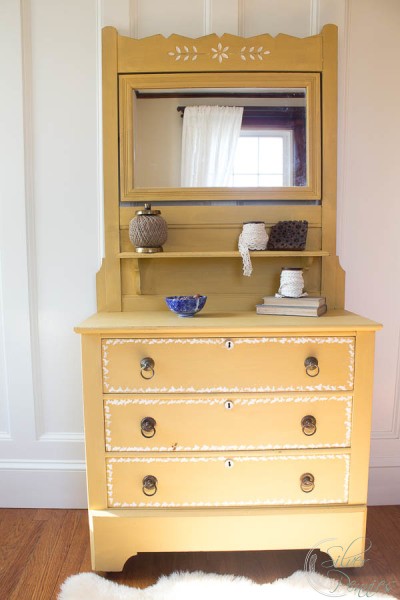 But she didn't always look like this.  Here's how she looked when I bought her: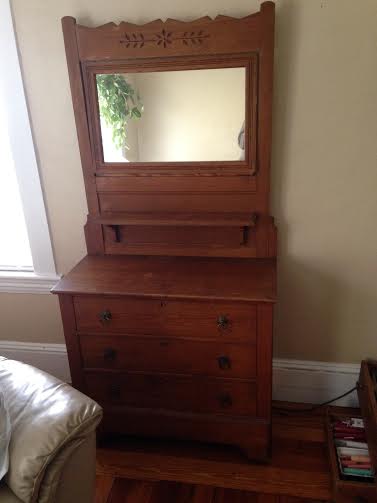 The piece is oak and wasn't in the best shape.  There was some damage to the top and there was some dripping poly.  A perfect candidate for painting!  I decided on painting her in Miss Mustard Seed's Mustard Seed Yellow Milk Paint.  She just kind of glows with happiness now.  I sanded her down a bit, then used the milk paint mixed with bonding agent (as I didn't want this piece super chippy).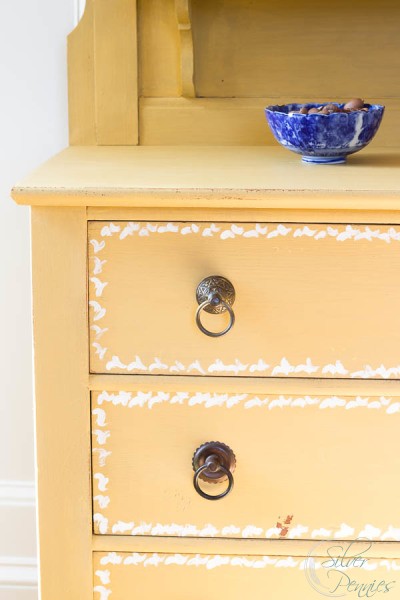 My friend Rachel over at Shades of Blue Interiors shared a hand painting tutorial on her blog and this gave me the confidence to try it for the first time on the piece.  She was going to show me when we were at Haven but we ran out of time.  It isn't perfect but I think the white detailing adds to the rustic charm.  It also picks up the detailing on top of the mirror.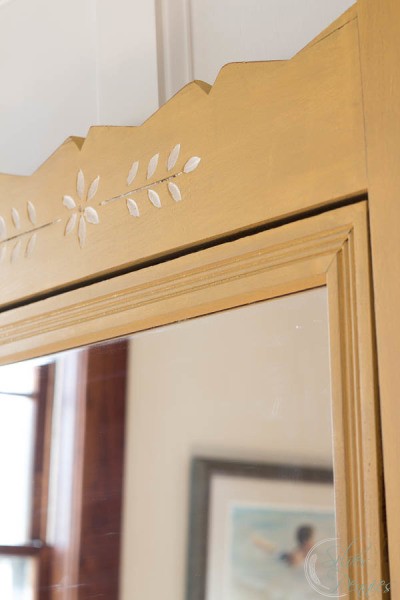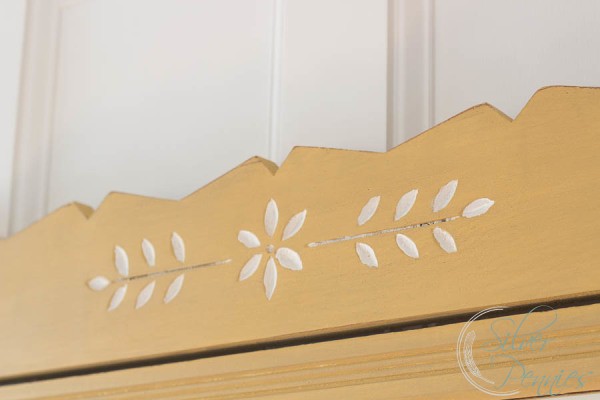 There are so many little details on this 1890s piece that I love!  The little key holes: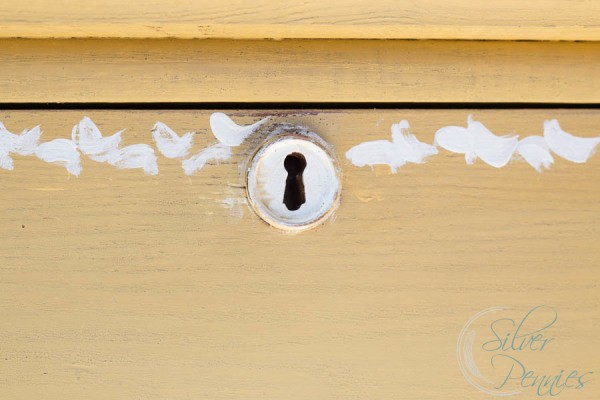 The wire mesh that has been placed to keep field mice from making a new home in the drawers: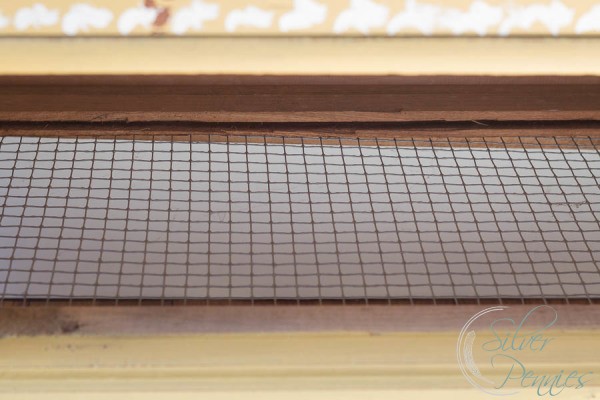 Oh, and the joints on the drawers: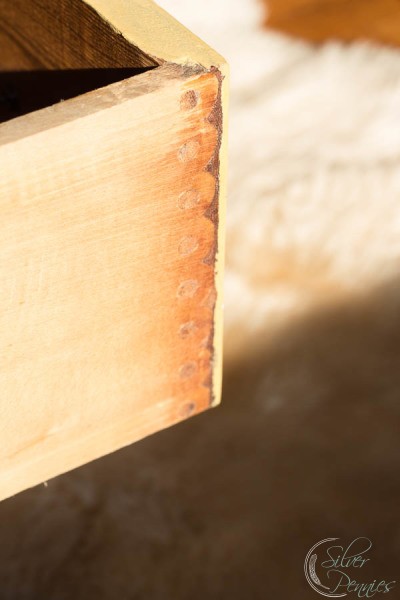 A sweet little shelf is perfect for little trinkets, bud vases or jewels.  I've placed some lace and twine which we'll be using to make ornaments for Christmas.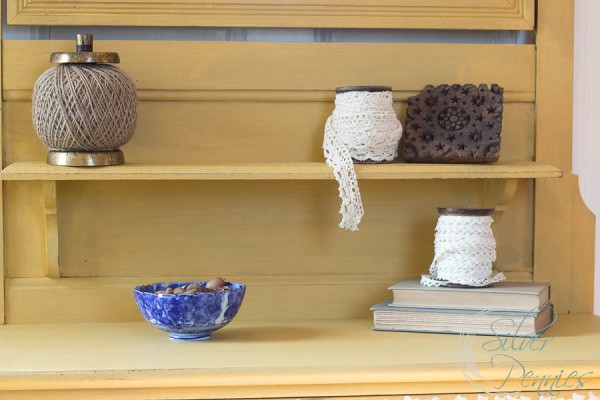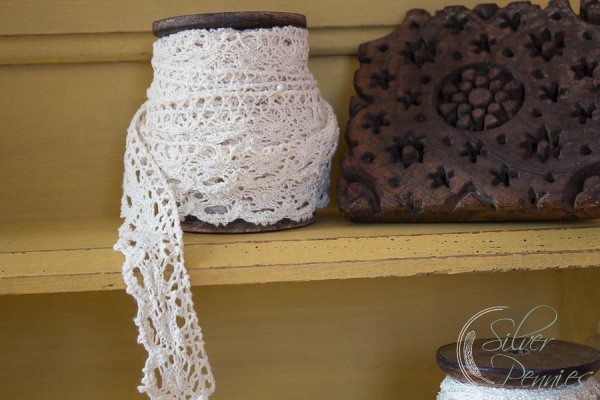 I lightly distressed the entire piece and sealed with two coats of Miss Mustard Seed Wax.
The pulls look so pretty against the yellow.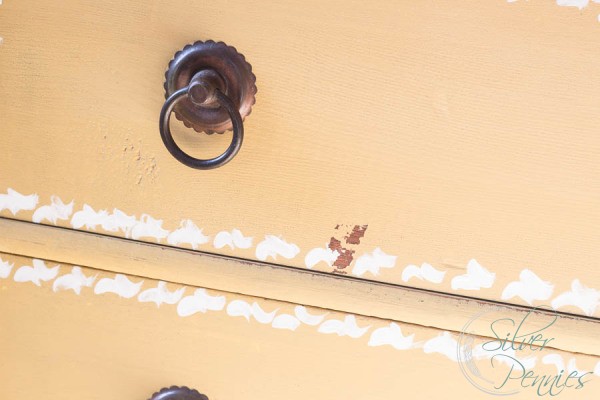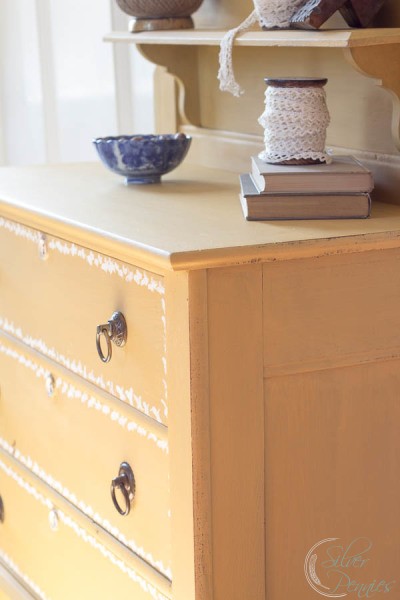 I just brought the Theia Dresser down to Dan's shop, Gentleman & Daugther Antiques!  You can visit her there!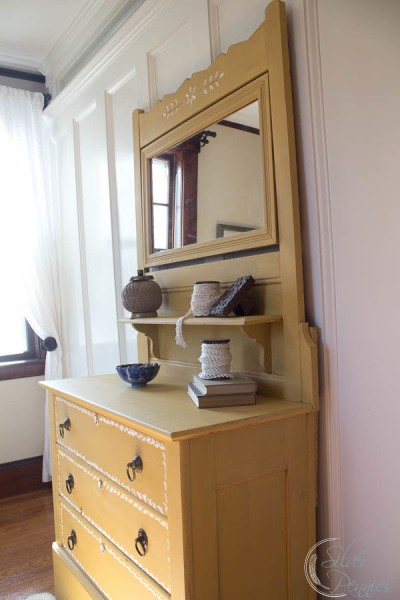 I also promised you a GIVEAWAY!
My friend Debbie Dione Hayes has a wonderful new book Color Inspiration Notebook for painted furniture!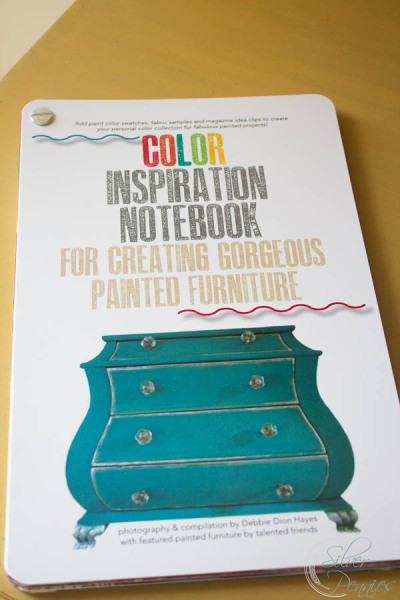 Color can be so hard and when you feel pressured to pick the right color (when there are so many choices), well, sometimes you just don't pick one at all for fear of ruining a piece.  I remember the first time I bought Chalk Paint® down at my friend Nancy's shop, I was overwhelmed and I wondered what color I should paint the piece.  I bought a few cans of paint and samples.  I get so many questions from readers on color choices so I thought Debbie's book would be an asset for everyone.
It is filled with gorgeous full color images and broken down into the color wheel for endless inspiration.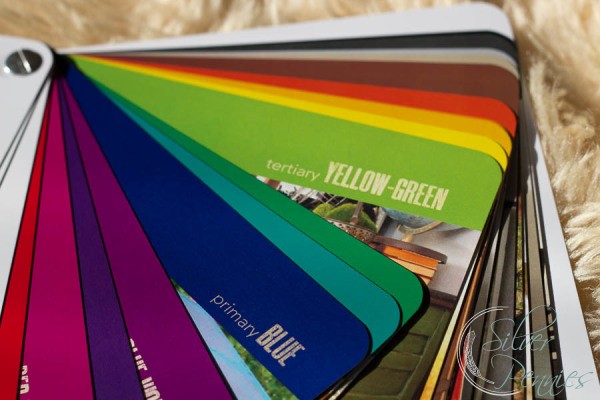 For example, with this piece I  just shared, I wanted something colorful.  I've been painting so many neutral pieces – gray, tans, blacks and whites that I just wanted to paint something a bright happy color.  This piece is pretty plain so a bright color works nicely to give some interest and excitement.
But you all know I gravitate to blue and it is no surprise that this page is one of my favorites in Debbie's book: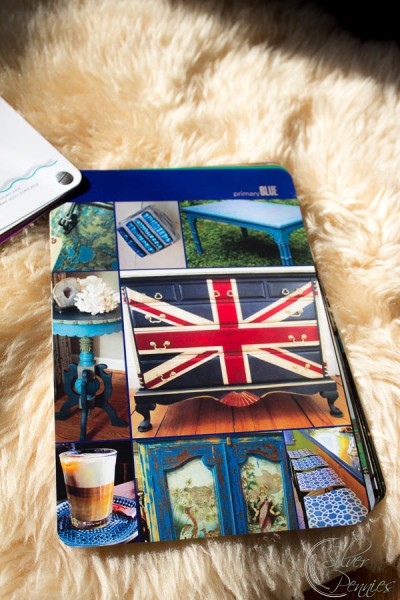 Do you see that Union Jack?!?  It is by Nancy and is  one of my favorite pieces!
She also has a neutrals page which is gorgeous: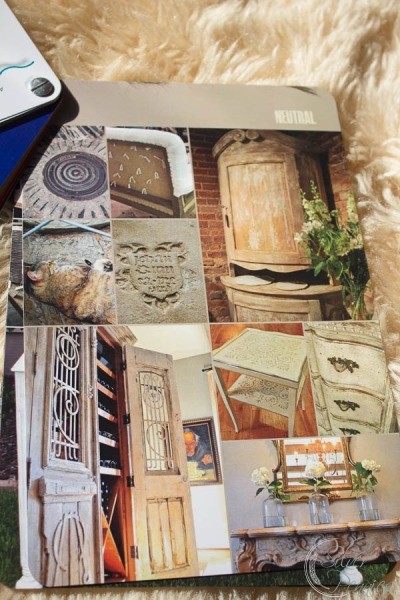 Yummy!!!  LOVE all these gorgeous images.
This little notebook would make a great gift or stocking stuffer for anybody who loves painted furniture.  There is even space in the back to write notes, staple images and fabric clippings etc.
Debbie is offering one lucky reader a copy of her book!  I'm so excited for all of you.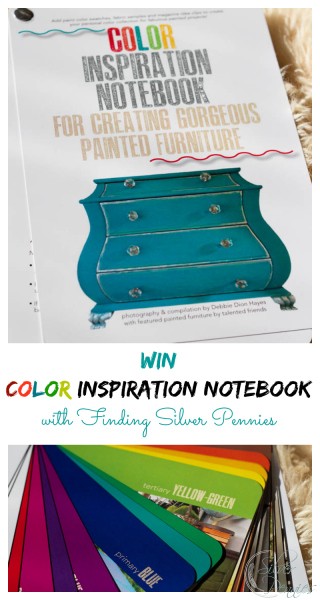 To enter the giveaway simply leave a comment.
If you're interested in buying the book you can do so here & it is sold at these retailers.
GOOD LUCK!
The giveaway will remain open for the week and close Sunday, November 30th.  The winner will be announced on Monday!
UPDATE: This giveaway is now closed.
The WINNER of the Color Inspiration Notebook by  Debbie Dion Hayes through random number generator is:
Lauren
Lauren said, "The Theia Dresser is just gorgeous in her new warm yellow hue! Great color choice! Thank you for introducing us to the Color Inspiration Notebook. Not only would I love to have a copy, but I'd love to give one to my father for Christmas as well."
Congratulations, Lauren, I'll be in touch!
Sharing with: