I've wanted to try out General Finishes' Milk Paint and their tops coats for some time. They sent me some samples to try for this post!
I'm so excited because I have a Before & After for you today!  If you hadn't guessed, these are my favorite to write.  I love taking a ho-hum piece of furniture and making it a bit better with paint. In this case, I think the new finish made it a whole lot better.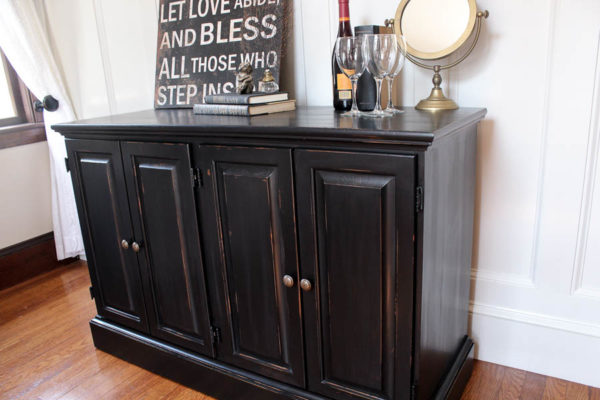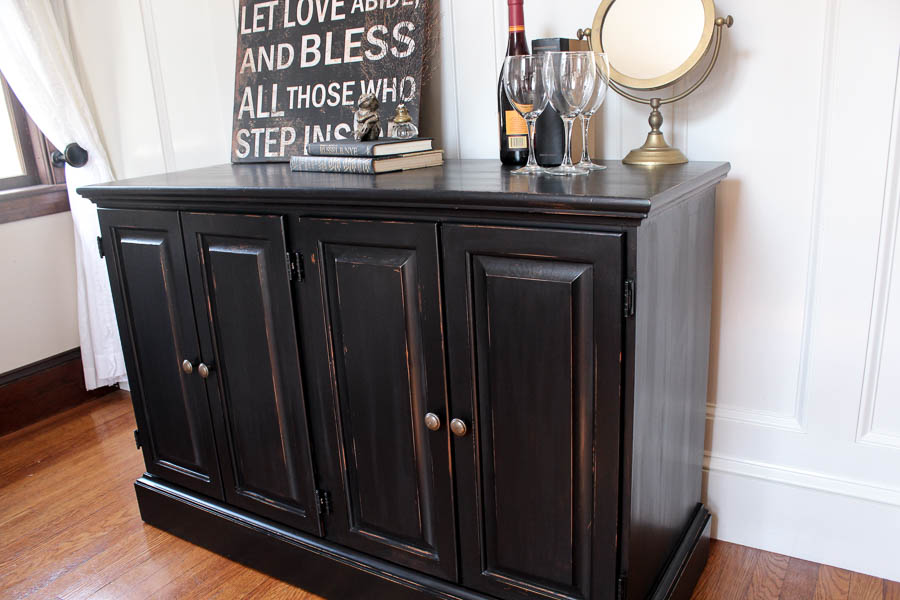 My friend Susannah asked me to paint an old cupboard she had around the house.  Here's the before: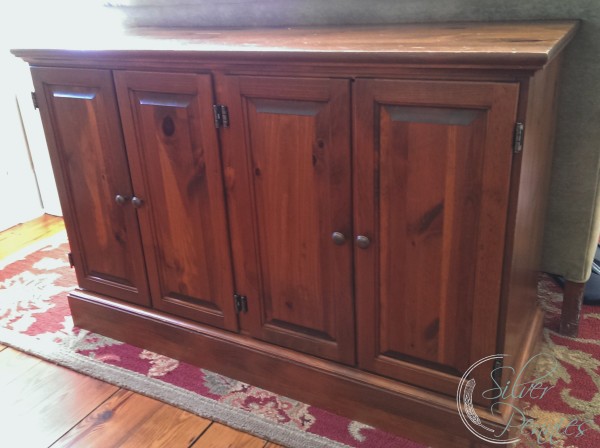 There were some scratches and imperfections and Susannah didn't want such a country look for this piece.  She wanted this piece to be painted in black with a poly top coat.
This piece was going to be moved into her dining room so she wanted a true black to match her chairs.  Some other paints I use don't have a true black color, so I thought this would be a perfect piece to try Lamp Black.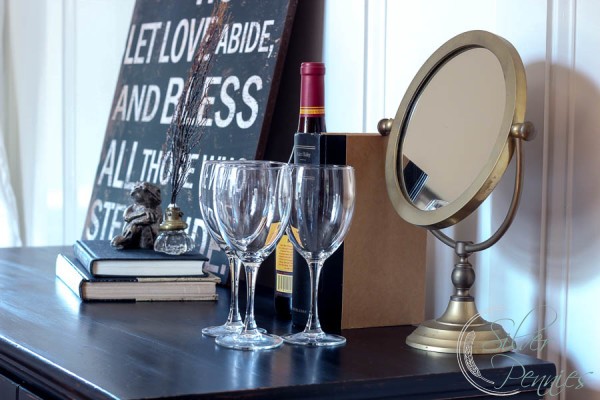 The color is so fabulous.  Rich, elegant and sophisticated.
Ready to be the spot to mix cocktails or lay out some gorgeous appetizers!
I consulted my friend Cassie over at Primitive & Proper on prep for this piece. She suggested a scuff sanding and then applying the paint.  I used a regular brush to apply the paint and did two coats, allowing to dry between coats.
Susannah wanted some light distressing.  So I distressed around the doors and edges with fine grit sand paper.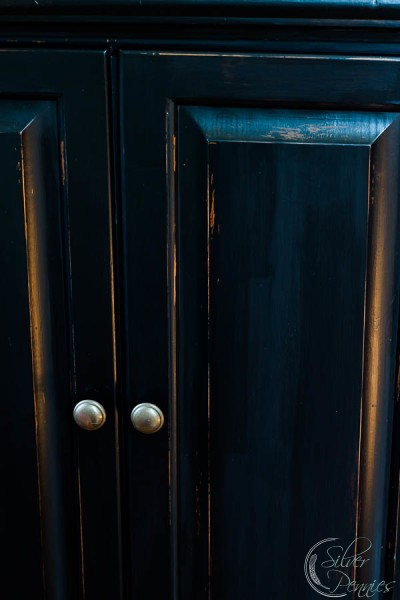 The edges also got a little distressing.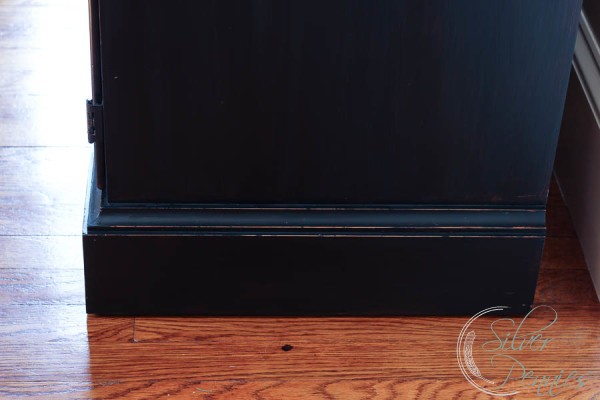 Then I coated the buffet in three coats of General Finishes Top Coat in Flat (using a foam brush).  My friend wanted a poly based top coat because high traffic use in the dining room.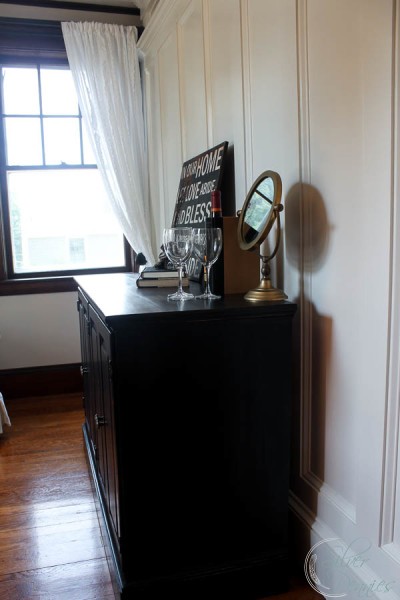 The flat has a light sheen to it which looks amazing.
The original brass pulls also look great against the black.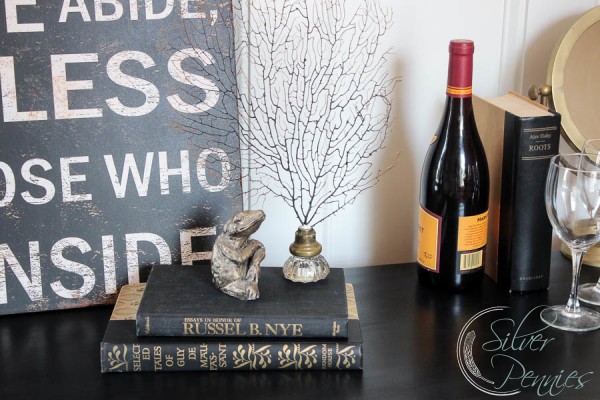 General Finishes Milk Paint is different than other milk paints I've used.  This comes ready to use in a can (you don't need to mix up powders for this) and comes in a variety of colors.  They have bright and more subdued colors.  I like the softer colors and neutrals, but on the right piece I think something really bright would be fun.  According to their site, this Milk Paint does not have milk in it but gives the same effect of the Old World Milk Paint due to it's strong mineral base.
I really enjoyed working with the Lamp Black paint and the top coat and will do so again in the future.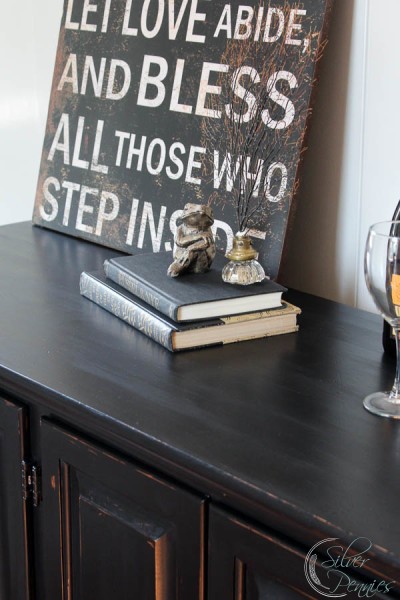 Susannah loved how it came out and couldn't believe it was the same piece.  I'm so happy I could help her get the look she wanted.
Here is one more look at it.  This time with slightly different staging (a bit more English with a literary map of England).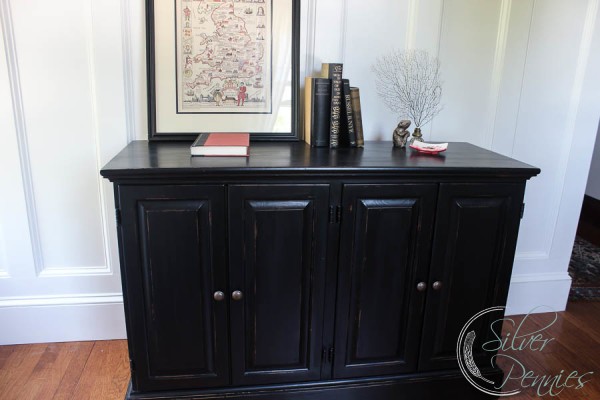 Sharing with: