Meet Jenny! This dressing table may look a little familiar as I painted her last year.
Here's the new & improved look: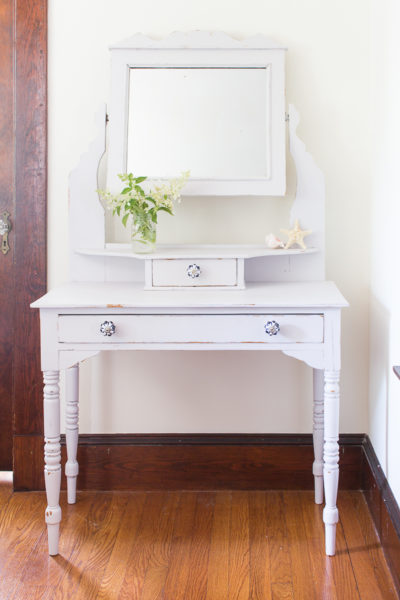 Do you remember her? She started like this: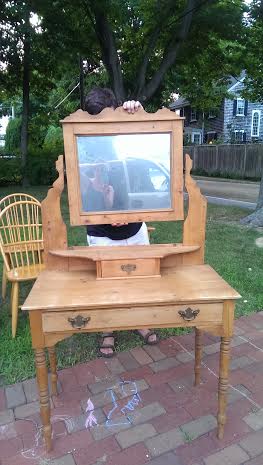 She's an antique English dressing table which needed some repair. As you can see here Luke had to hold it together for me to photograph! Here's a recap of my first time painting her. I wanted a chippy look and achieved this with Miss Mustard Seed Milk Paint in Dried Lavender followed by Ironstone. I sealed this piece with tough coat because it was really chippy.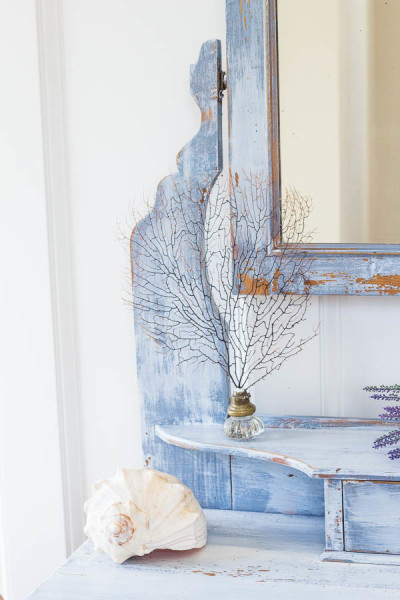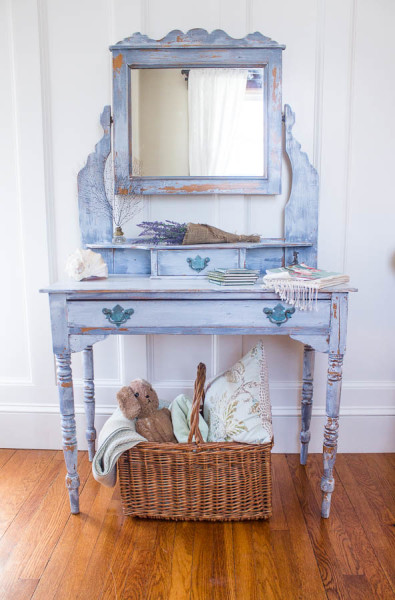 Well, I took her to the Vintage Bazaar and some ball jars made marks on the top because rain got into the tent. She sat in the basement "as is" just waiting for me to decide what to do with her.
How to Transform a Dressing Table with No VOC Paint
Fusion Mineral Paint just brought out some amazing new paints specifically made for children, Jennylyn's Tones for Tots. It's available in seven beautiful, muted tones and all are zero VOC.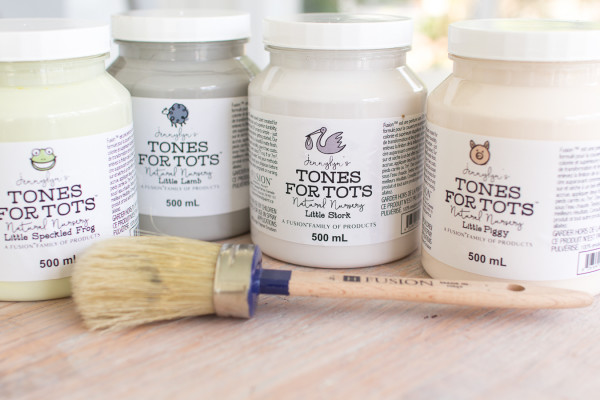 My friend Jennylyn sent me a few colors to try out and when I saw Little Stork I knew this was the perfect color for this antique English dressing table.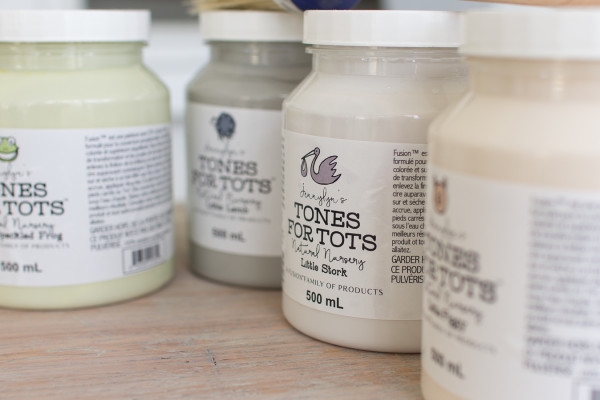 Little Stork is white but has undertones of gray and violet. It is really a beautiful color and perfect for the Gustavian look I was going for on this piece.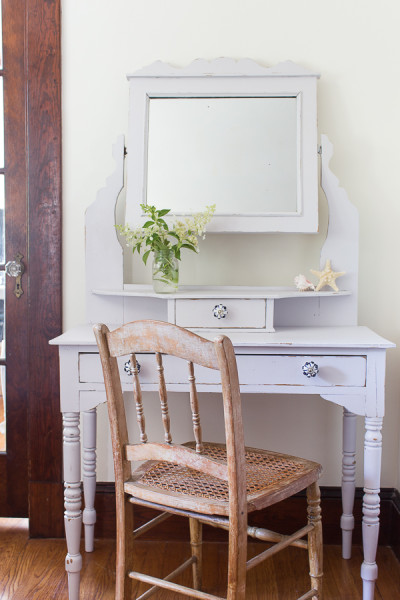 I "staged" this in our dining room where the antique blue cabinet usually is. Doesn't this look lovely against the creamy white walls?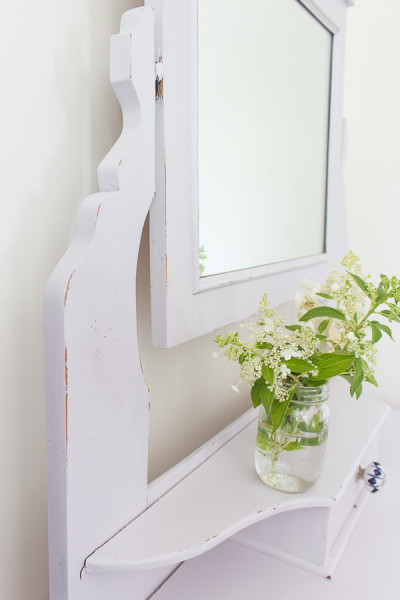 The paint glided on so easily and in my heart I think this little piece always need this simplicity. The lines of the vintage mirror and drawers all stand out now.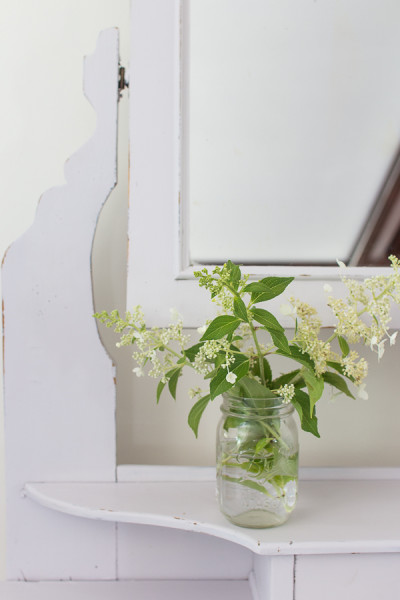 I kept the decor very simple as it would be in a child's room! Simple cut flowers from our garden, these are Mountain Hydrangeas (and smell amazing), they grow down by the She Shed and on the other side of the dressing table is a few shells.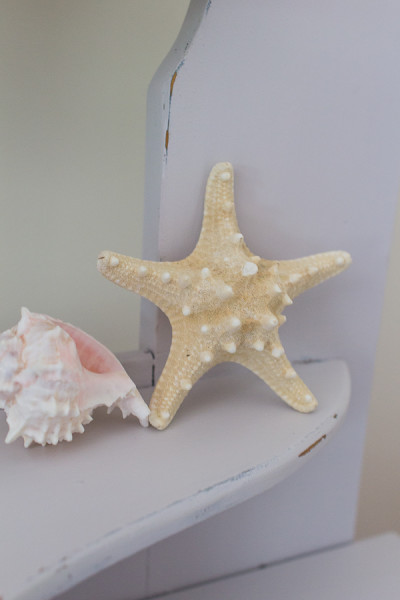 One can never have enough I say!
"Jenny" was lightly distressed with 220 grit sand paper and then I sealed with one coat of Fusion's Beeswax Finish which is also zero VOC.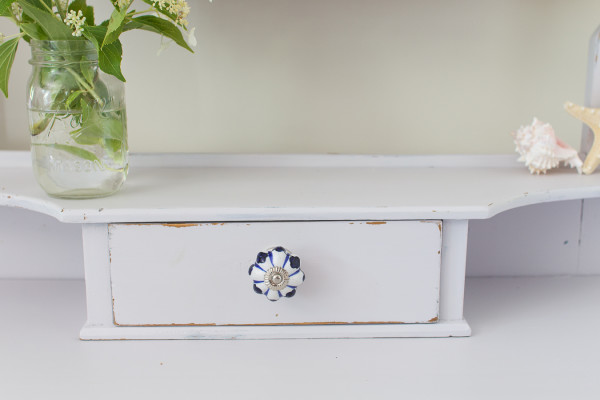 The drawer interiors are left natural wood as I wanted people to see the old wood but I lined the drawers with pretty paper.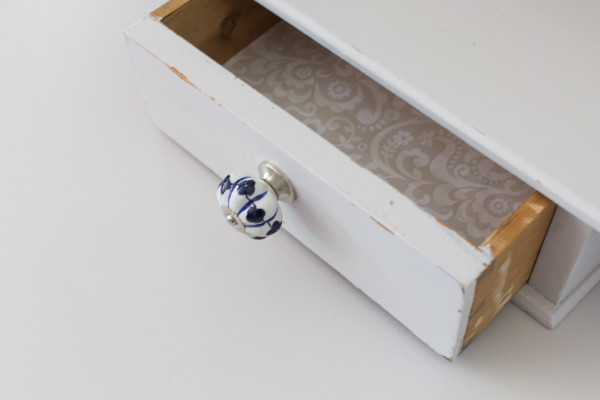 The pulls are gorgeous ceramic blue and white ones from Decor Steals.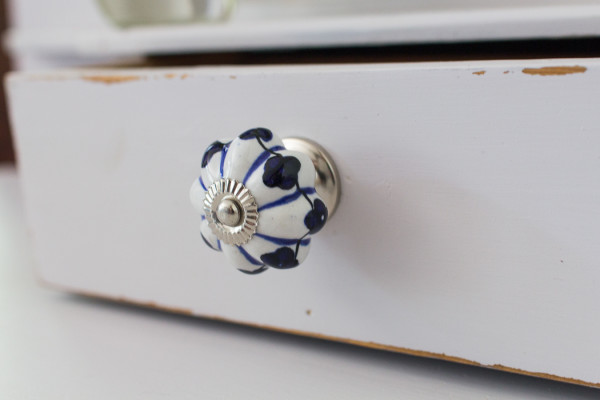 Everything about this table is sweet but in an understated way.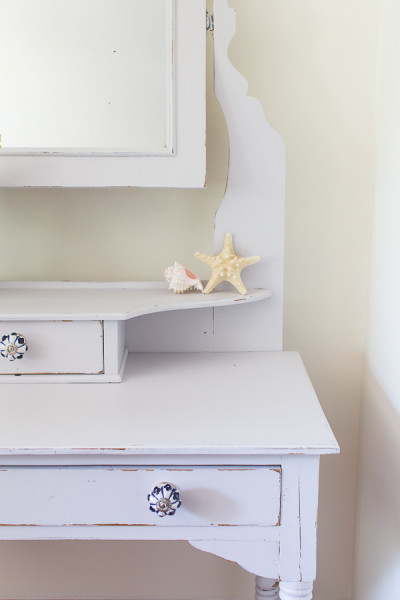 Oh, and can we just take a second to swoon over the turned legs?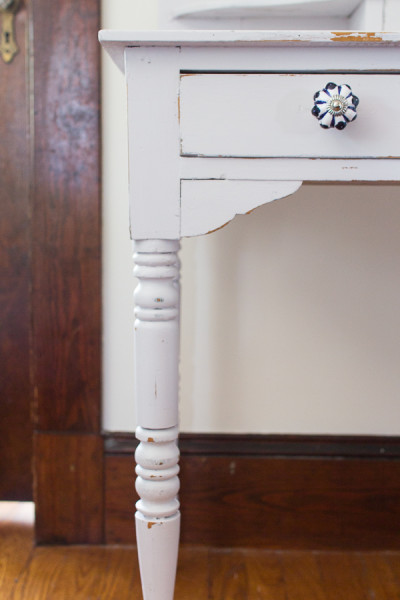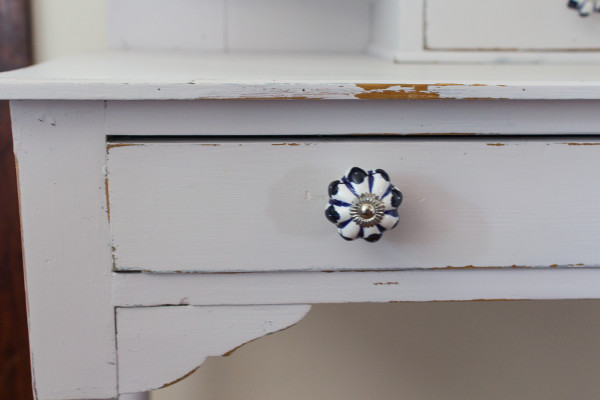 Little Stork was the perfect choice for Jenny.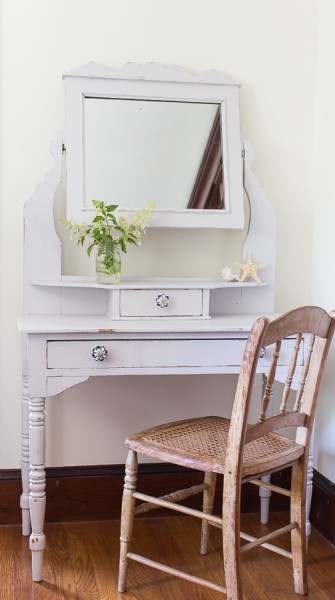 I think she'd be lovely for a little girl or a teenager and she'll be available for sale at my Open Studio this fall! I'll keep you posted on a date, but for now she's looking pretty cute here in our dining room!
Gosh, sometimes I wish my boys liked this style furniture 😉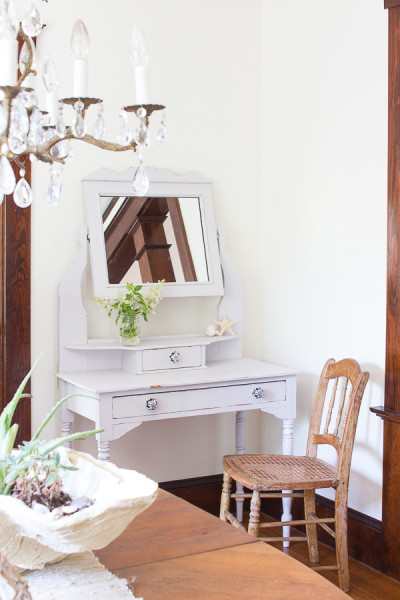 If you enjoy this post then you might enjoy my eBook – On the Tip of My Paint Brush: Painted Furniture Techniques. Click here to learn more about this comprehensive book loaded with step by step tutorials.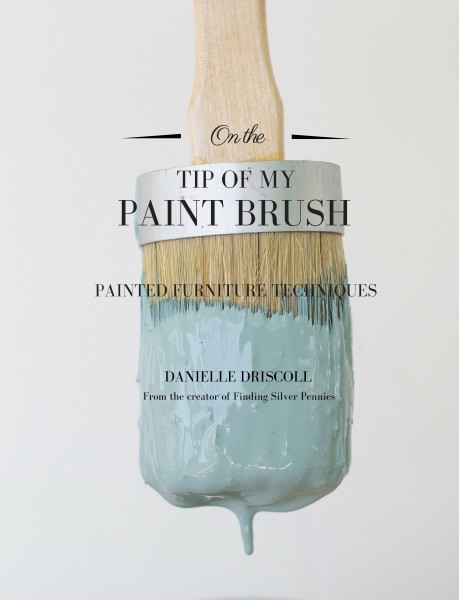 I'll also be over at The Painted Drawer tomorrow sharing a little about my painting journey in Suzanne's Tell It Tuesday series 😉
Sharing with: