This is a sponsored post with HomeRight.  They sent me a SteamMachine Plus to try out and I LOVE it.  I just have to share this wonderful household appliance with you.
With a house full of kids, a dog and sand coming in from the beach in summer months and in from the streets in winter months, my home takes a beating.  There are paw prints from the dog, sticky hand prints from boys (even big boys like my husband) and being busy with projects I like to use products that help me clean quickly!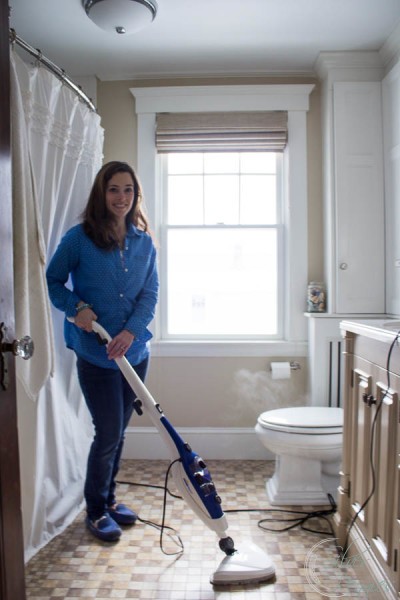 If you feel the same way and don't want to fill your house with chemicals then I think you're gonna love the SteamMachine Plus.  This little steamer is my secret weapon.  It cleans floors (tiles, hardwood, rugs), stove tops, grout, counters, baseboards, walls, ovens and can steam curtains so you don't have any more wrinkles!
This little steam cleaner is really amazing and not too bulky either.
To use you simply put water in the chamber and plug it in.  Within seconds your SteamMachine is ready to help you clean your house from top to bottom.  The SteamMachine Plus comes with a bunch of attachments to make cleaning easier – brushes for sealed on stains, pads for the floors and a lovely cover for steaming curtains.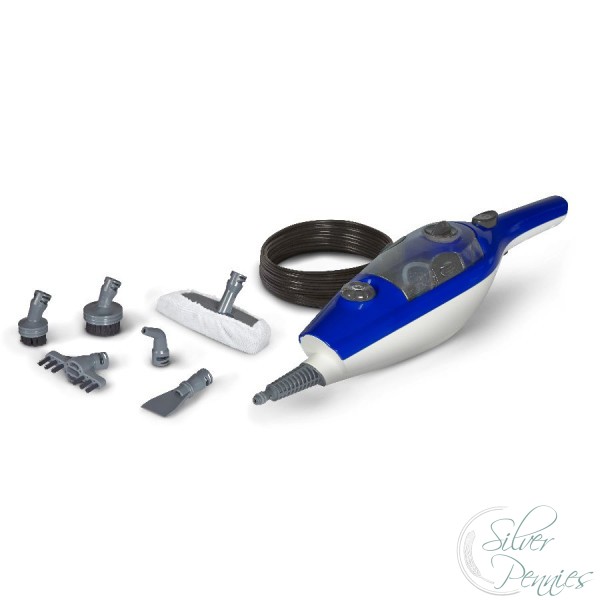 According to HomeRight, "The 205 degree temperature steam at nozzle kills 99.9 percent of germs and bacteria including e-coli, salmonella, and staph."
I tried it first on our oven.  As you know, we've been following the Whole30 in January and roasting loads of veggies in the oven.  Well, when I did sprouts with oil and balsamic some of the balsamic spilled in the oven and smoke billowed out.  Sigh.  I really didn't think this steamer could clean it with just steam.
Here's the before: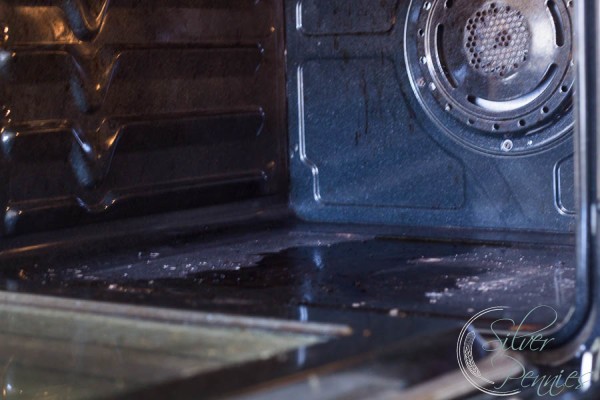 Gross, right?!?  I'd never cleaned an oven before and thought you needed all sorts of harsh chemicals.
Guess what?!?
I only needed the SteamMachine Plus and the scraper attachment: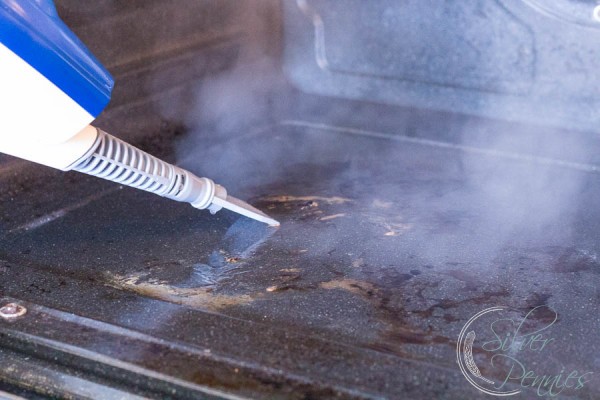 My oven now looks like I haven't cooked in it. Yay!
My kitchen floors are also looking great as are the rest of our hardwoods.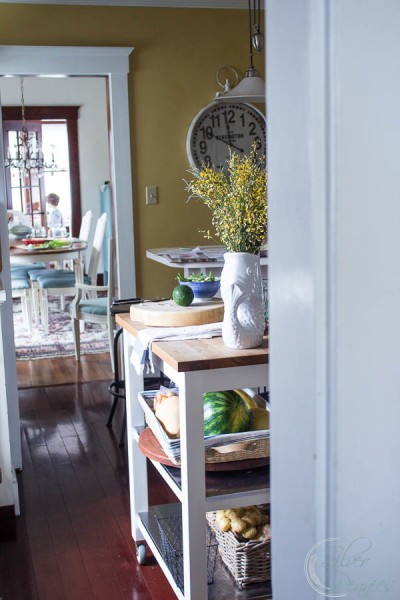 The tile floors gleam now in our bathrooms rather than being crusted in toothpaste: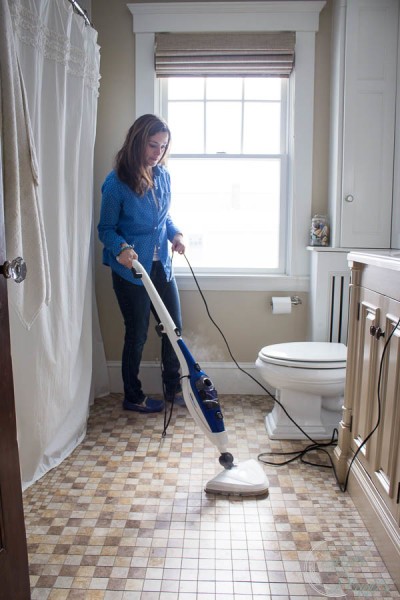 The SteamMachine Plus works magic on fabric too.  We have linen curtains in our living room and dining room: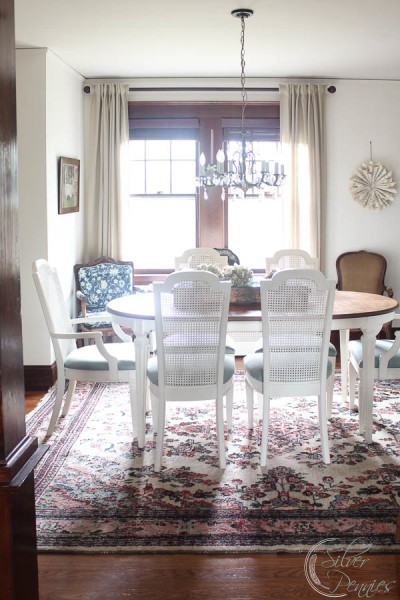 I love their texture but linen curtains can sometimes get wrinkles. These were no problem for the SteamMachine Plus.  Simply detach the hand held steamer and put the attachment and cover on.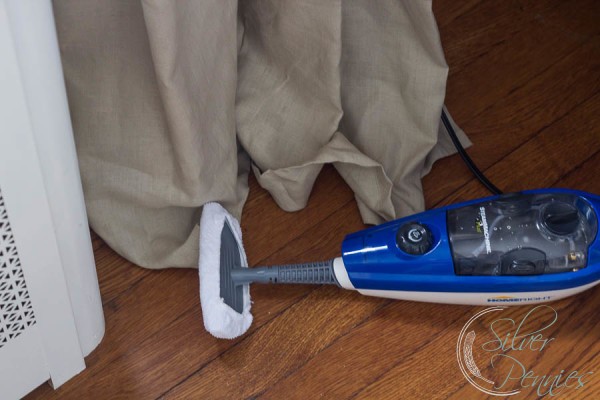 and steam those wrinkles out!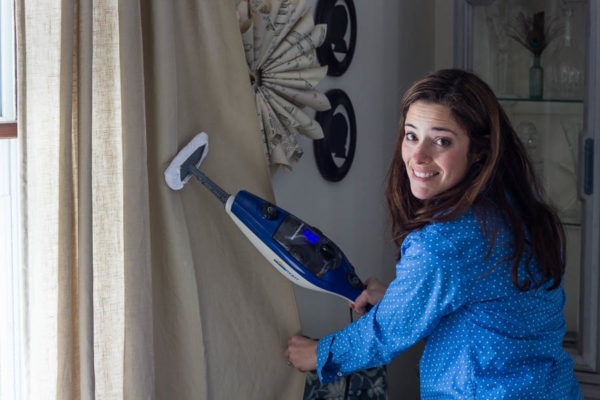 So, I think it is pretty clear that I'm head over heels with the SteamMachine Plus.  I'm soooooo excited because HomeRight is letting me give one lucky reader at SteamMachine Plus to use in their own homes!  Yay!  Simply follow the prompts in Rafflecopter and I'll be in touch with the winner!  This giveaway is only open to US residents.