Sometimes you just need to let your frustrations out and I do this with furniture.
Specifically distressing furniture. Today I'm going to share 6 ways to distress furniture with you!
** If you like the tips in this post, you might enjoy my eBook – On the Tip of My Paint Brush: Painted Furniture Techniques. Click here to learn more about it.

I love a good chippy piece or some light distressing depending on my mood.  There are a few ways to achieve this look and I thought today I'd share a couple of techniques.
Milk Paint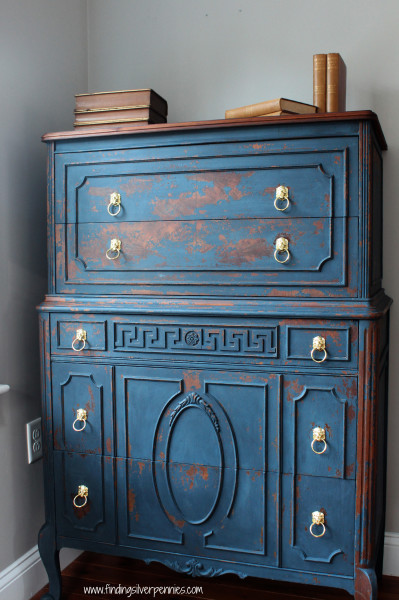 The Jameson Dresser is painted in Miss Mustard Seed Milk Paint in Artissmo.  If you apply milk paint without boding agent, the paint will chip and flake on its own in a haphazard way. Click here to see the before and after.
You can't always control where or how much the paint chips and flakes.  I really love the unknown factor of this method of distressing.
To create this look, I mix milk paint in the color of my choice and apply enough paint to cover (waiting in between coats) for paint to dry. Sometimes the paint will lift and flake.  I then take a paint scraper and remove the excess paint.  I also lightly sand and use a vaccuum to remove more chipping painting and sanding dust.
Jameson is sealed with Miss Mustard Seed Clear Wax.
The Gemma Dressing Table is also painted in milk paint without bonding agent and sealed with tough coat. Click here to see the before and after.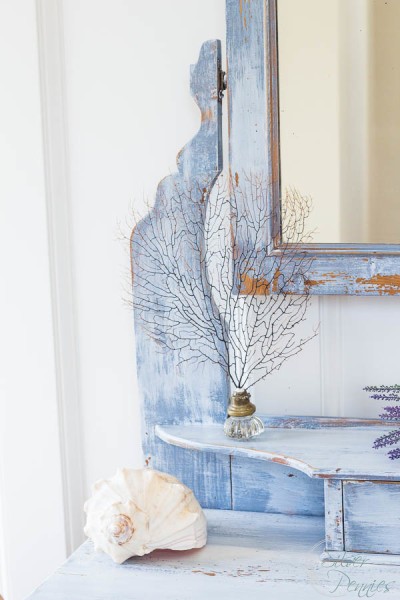 The dressing table is layered with two paints (both without boding agent) and this gave a nice rustic look to the piece.
Two Tone Distress
I love it when you can see a peek of color peeking through on furniture and this is known as a two tone distress. If you do two similar colors it can create a shabby chic look but if you do a vibrant color under a darker color it gives a nice boho look.
All you need for this is two colors of paint, a top coat of your choice and sandpaper.
The Hazel table is an example of this method, click here for post: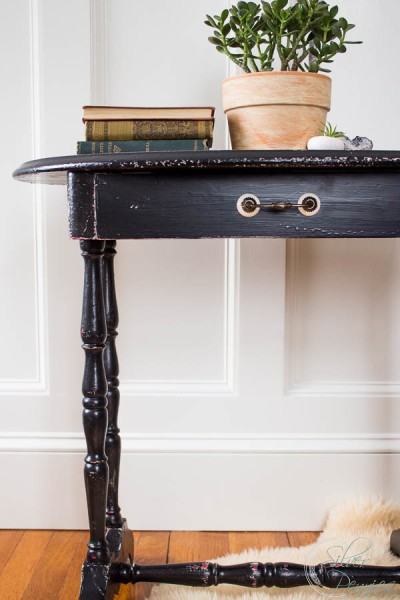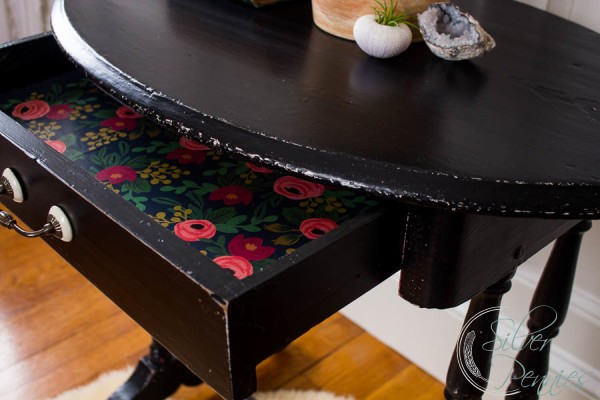 Sanding Block
Sanding with medium grit to fine grit sand paper or sanding block can give a nice weathered look.  To give an "authentic" distressed finish be sure to concentrate on sanding the high points and corners and areas that might actually get wear and tear.
My little "Jack" Union Flag table is a good example of this, click here for tutorial.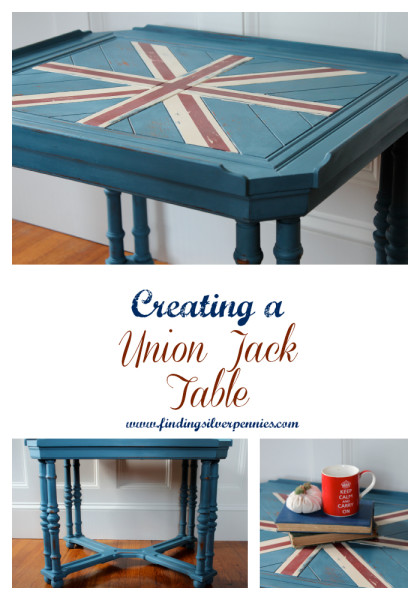 Wet Distressing
Wet distressing is using water to distress the painted finish.  You can do this with two tone distress or with just paint over wood to show the wood finish underneath. This is one of my favorite techniques because I feel like you have more control over the distressing – the pressure, the finish and the way it wears.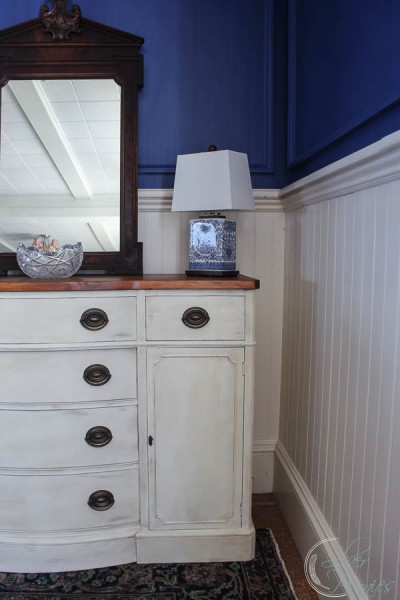 I use this method on many, many pieces of mine, including the Patricia Buffet.  Here's a close up of the side: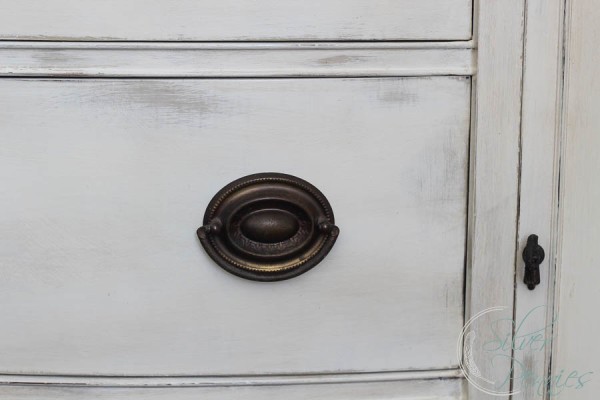 This piece is done in Chalk Paint in Country Gray and Old White.
My pretty,  Jocasta is wet distressed. This one also has a base coat of Country Grey with Graphite Chalk Paint: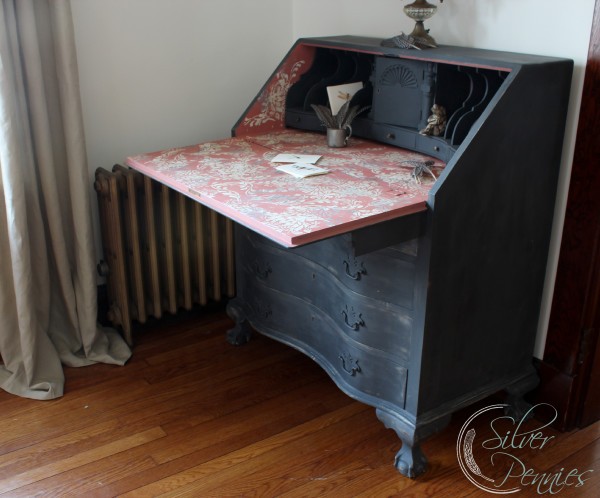 Wet distressing is also on the Dani Console Table (click here):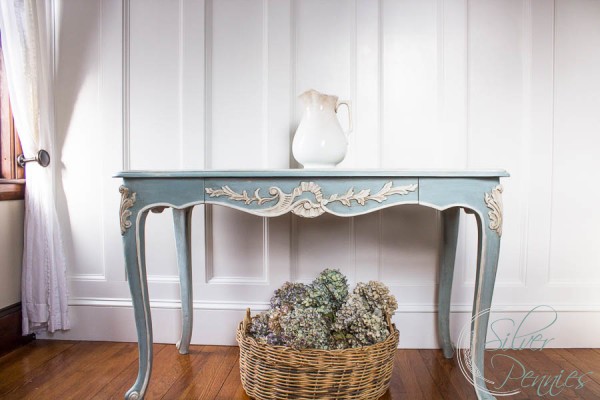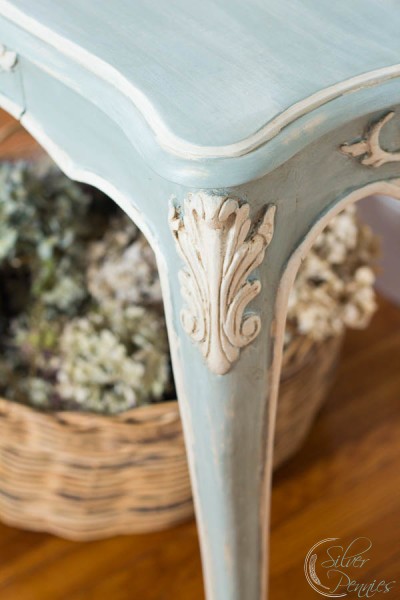 Country Grey base coat with Duck Egg Blue then a wash of Old White and solid Old White on the detailing.  Wet distressing gave me the control I needed as I didn't want to get down to the pink which was the original finish of this table.
Distressing with a Wet Brush and Clear Wax
This is another technique that I use again and again and love the natural and subtle effect.  You first apply a thin coat of clear wax all over the area you want to distress then you take your brush (a chip brush works just fine), wet it, and then add a dab of clear wax.  You keep working in one area and let the bristles of the brush and the water wear away the top color.  As you can see here: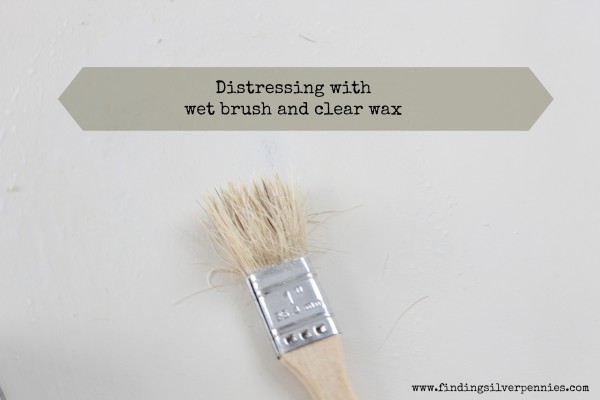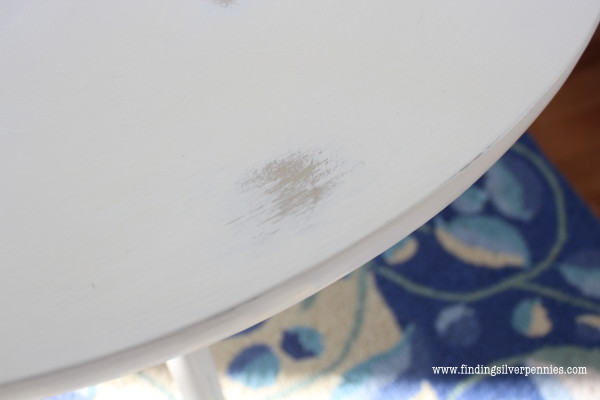 Dry Brushing
Sometimes you don't need anything more than a brush and paint to create the look of a distressed finished.
The ultra distressing on my Restoration Inspired Coffee Table (click here) is created mostly with dry brushing: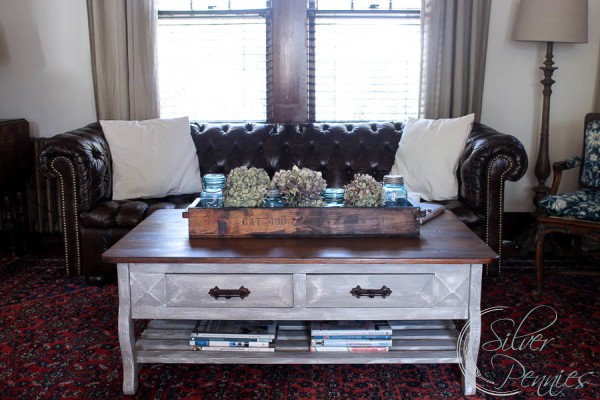 This table is painted in Pure White under French Linen Chalk Paint (and did some wet distressing) and then dry brushed lots of Pure White Chalk Paint on top.
The key to dry brushing is you want your brush very dry.  Lightly dip your brush in paint and use a paper towel to remove the excess, then very lightly brush the surface with your brush.  It will look extremely distressed.  You can go heavier or lighter depending on your preference.
More recently I did this technique on my Batik Nesting Table.  This effect gave an almost worn denim look: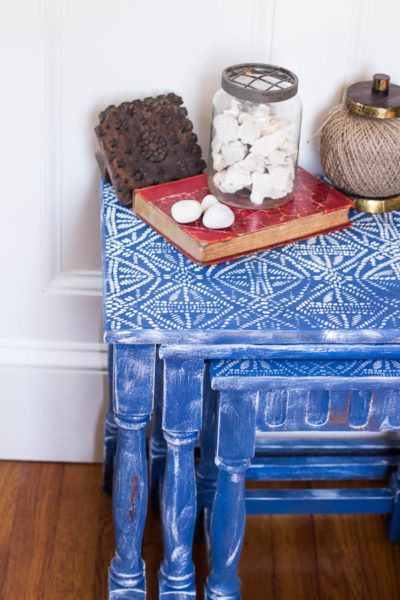 This was done with Pure White over Napoleonic Blue Chalk Paint.
As you can see from my coffee table I sometimes use a combination o techniques to create an authentically worn piece.  The main thing with paint is to just have fun.  It is only paint, after all and if you don't like the first attempt you can always paint over it.  I hope these tips were helpful!
Sharing with: