Guess what?!?  I have a furniture makeover to share today.  I think  you're gonna love her.  I know I do!
This is Lily: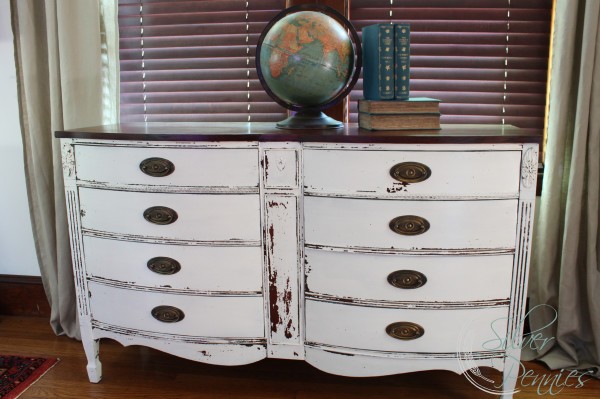 John actually helped me name her.  He thinks her color looks a lot like my favorite flower – lily of the valley.
You maybe wondering about Lily "before". This is how she was looking for quite a while in the middle of our living room.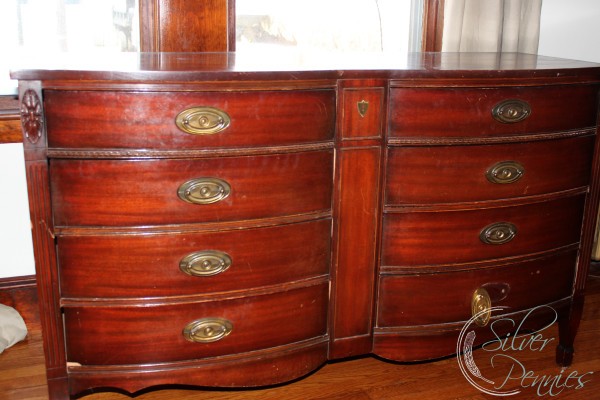 I'm not sure you can see the scratches and wear and tear in this image but she really needed a makeover.  The top was really scratched up too!
When I saw her, I knew I wanted to do her in Miss Mustard Seed's Ironstone Milk Paint.  I really love the color but haven't used it since my Isla  dresser.  This is Isla in our bedroom: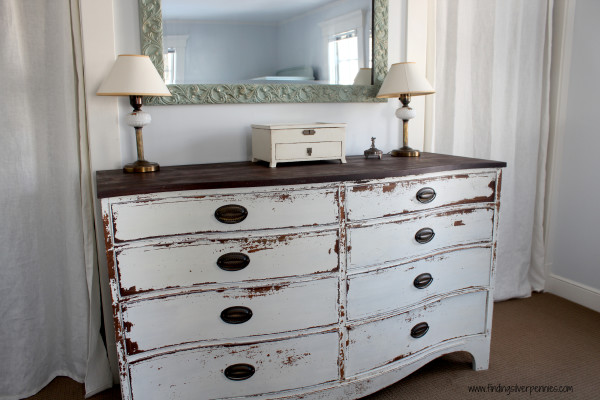 Isla and Lily could be long lost sisters, don't you think?!?
Isla is a Henredon serpentine dresser and Lily is a serpentine dresser by Dixie.  I think they are both from the 40s.  I decided I wanted this chippy look and Lily really chipped: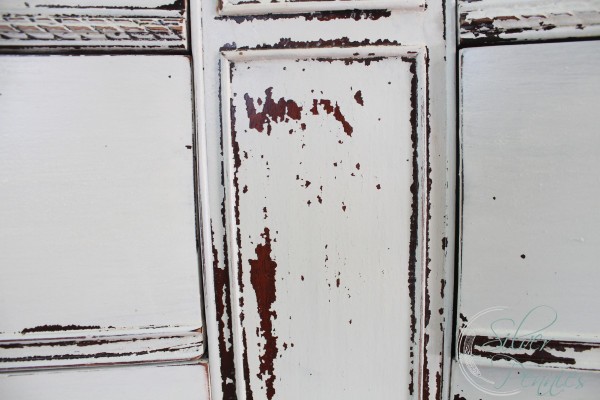 and flaked: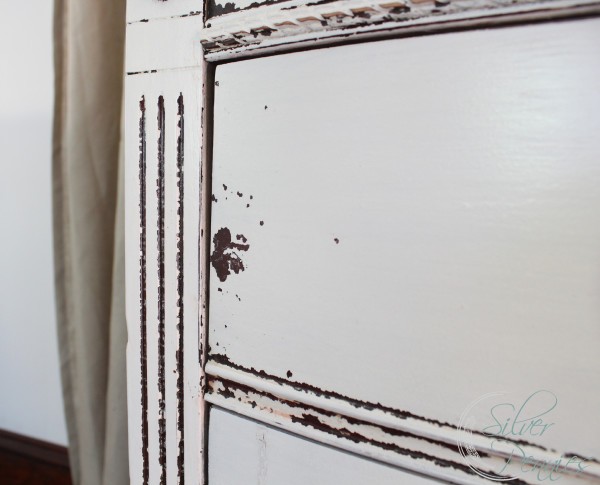 a lot!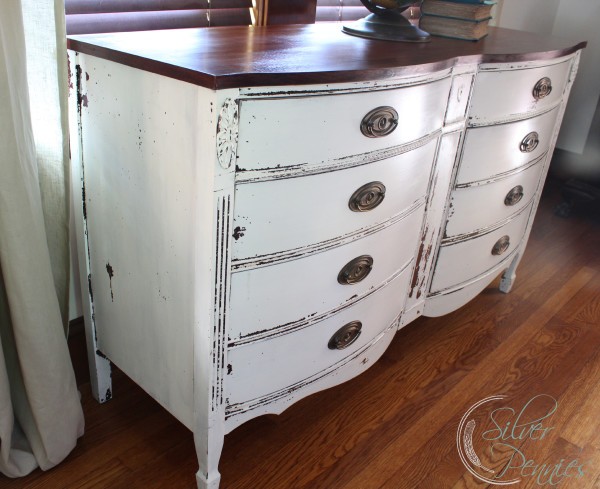 To create this look.  I scuff sanded the body of the piece and I did three coats of MMS Milk Paint in Ironstone (without bonding agent). I used a scraper, sandpaper and vaccuum to remove the chippy and flaking paint.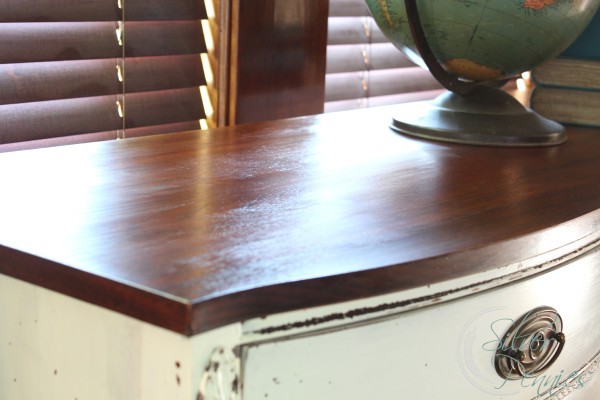 I stripped the top with Citra Strip and then stained the top with Minwax in Jacobean.  Jacobean usually comes out darker but on this piece it has a more cherry or redish hue but looks great with the wood that is shining through.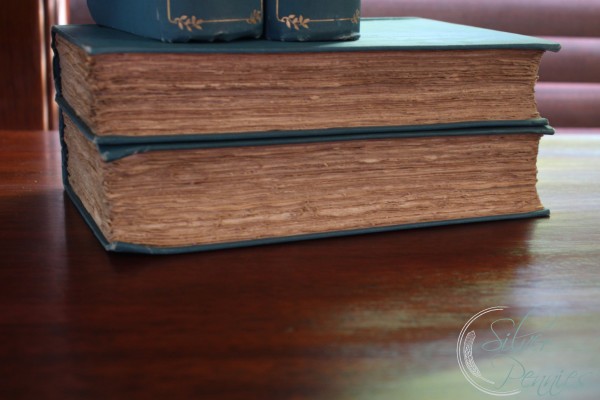 The top looks so rich now!  I sealed the entire piece with Minwax water-based polyacrylic in satin finish.  I usually use wax on my milk painted pieces but really wanted to seal the chippy finish in.
I absolutely love the details on this piece.  The medallions: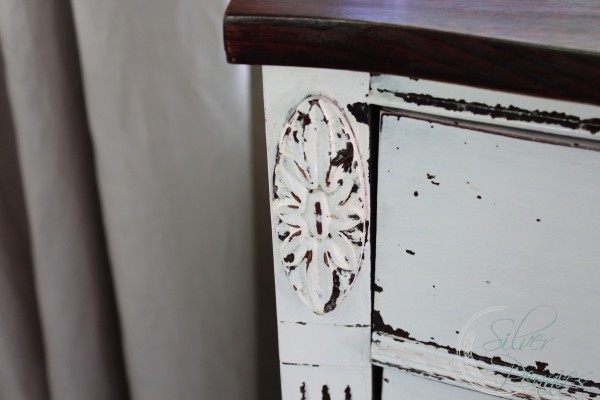 The beautiful brass hardware: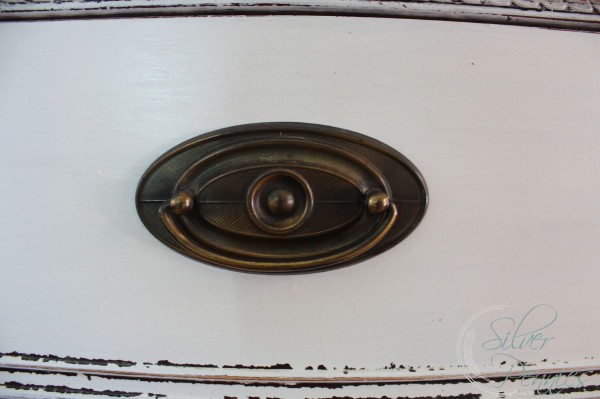 What do you think of Lily?!?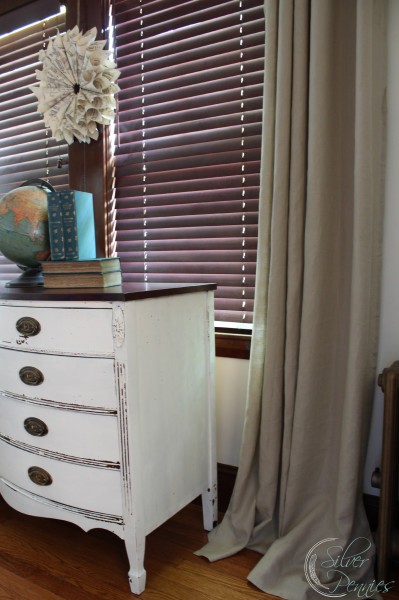 She'll be available for sale at my upcoming Open Studio this Sunday.  Contact me for more details.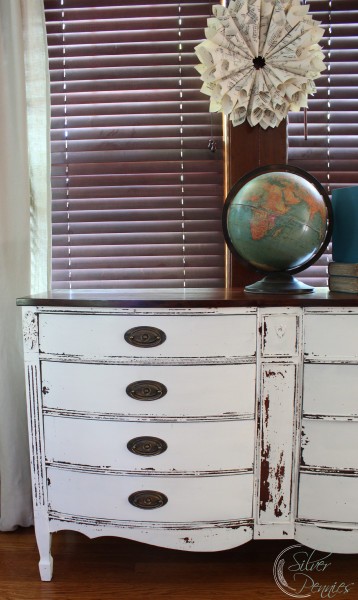 Sharing with: