I love chippy old vintage pieces, but the problem is how do you seal all that chippy goodness in?
I found a wonderful table at my friend Colin's Barn. You may remember I also found that Roll Top Desk I shared last week, click here for that makeover.
Well, I found a lovely table with original blue chippy paint.
Here you can see the table before: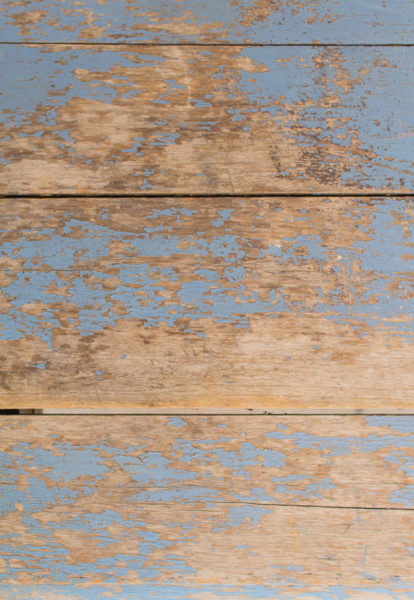 It's the loveliest blue but I really wanted to seal that chippy finish in so it doesn't flake all over the house but also so it retains the aged appeal.
I think old chippy paint is the best.
This method is only if your paint is lead free. Lead can be hazardous and I urge you to go to the EPA's site here to check out what to do if your furniture has lead.

How To Seal in Chippy Paint
This post contains a few affiliate links
Materials:
Soap and Water for cleaning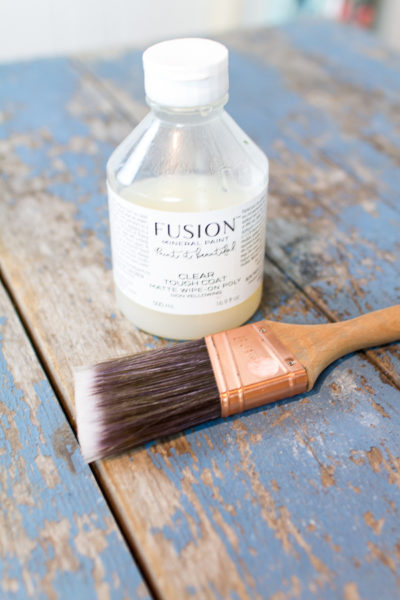 Method:
Step 1 – Remove any flaking or chipping paint. I used my dyson and lightly vacuumed the surface. I was careful not to vacuum too hard as I wanted to retain the chippy finish.
Step 2 – Wash down surface with warm soap and water. Allow to dry.
Step 3 – Once dry you're ready to seal your piece in. Pour Fusion Mineral Paint's Tough Coat into a clear plastic cup or another container and use a good brush. Apply tough coat in long even strokes. Do not over brush or you'll see brushstrokes. Allow to dry. Here you can see an in progress photo: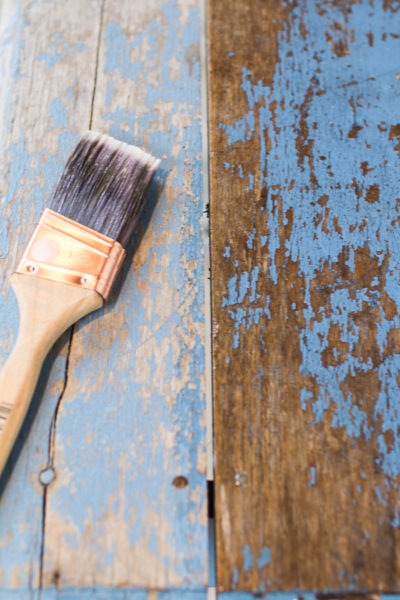 Step 4 – Apply another coat of the tough coat. Allow to dry.
Step 5 – Enjoy your sealed in table!
I'm a visual learner so I made a little video, just in case you guys are visual learners too! There are a few other tutorials on my YouTube channel you might like as well.
Fusion's tough coat is a wipe on poly but you can brush it on. It dries matte and crystal clear. It completely seals in the chippy surface and protects it. You can also use Miss Mustard Seed's Tough Coat for this same effect. I've used the Fusion's tough coat A LOT recently and it's quickly becoming a favorite top coat!
Here's how the table came out: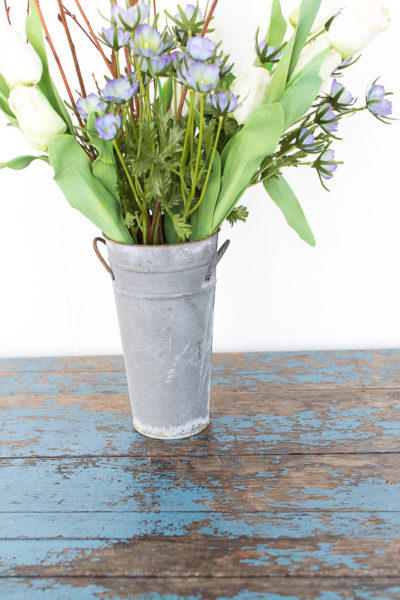 As you can see it deepened the color a little bit but it's still matte.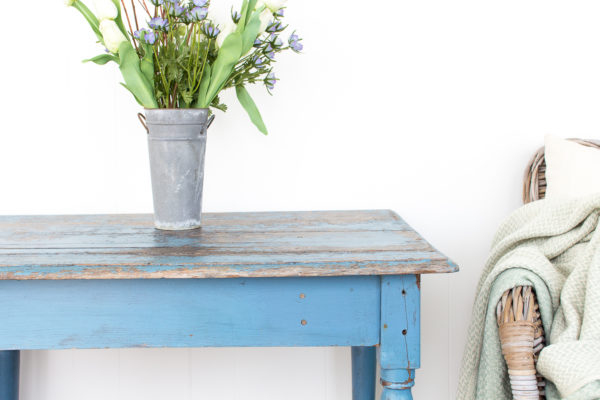 Isn't it the prettiest blue?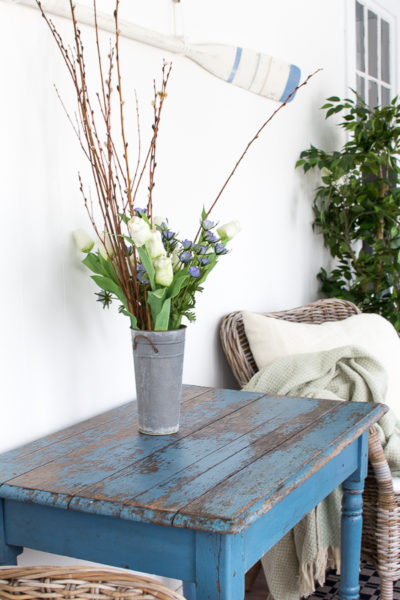 Of course my little helper, Max, wanted to get in on the photo shoot 😉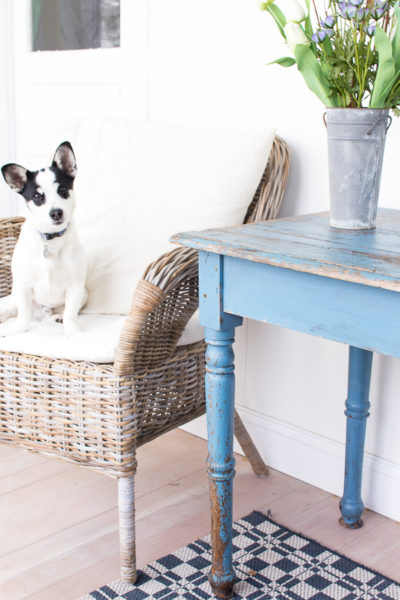 Aw, isn't he so cute?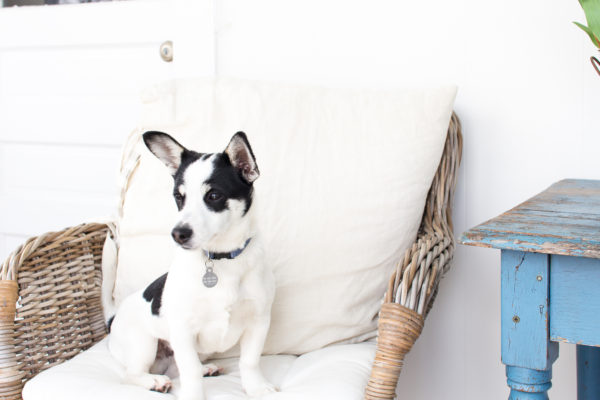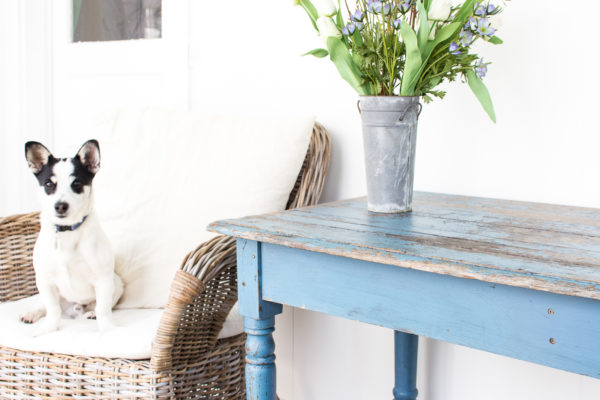 I have a feeling you're gonna be seeing my dogs and this table in a lot of photos coming up this spring and summer 😉
I hope you found this little post helpful. If you're looking for more painting tips you might want to check out my eBook over 150 pages of tips and ideas! Click here for that!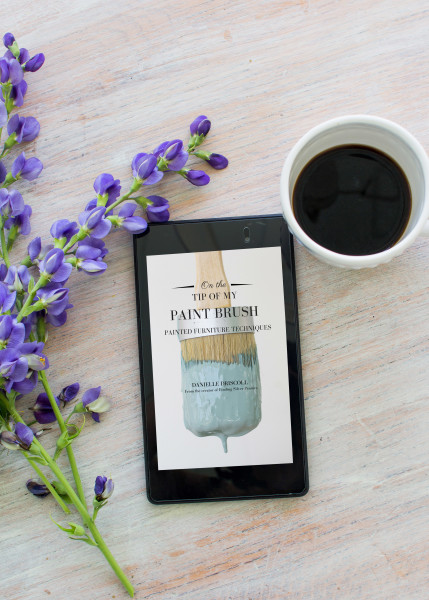 Sharing with:
The Inspiration Exchange * Home Stories A to Z * French Country Cottage