One of the most important tools for painting furniture, other than paint, is the brush. Brushes really make such a huge difference to your final result. I share a whole chapter on tools in my eBook but thought I'd share some more on caring for your brushes for you guys reading at home.
Brushes are so important.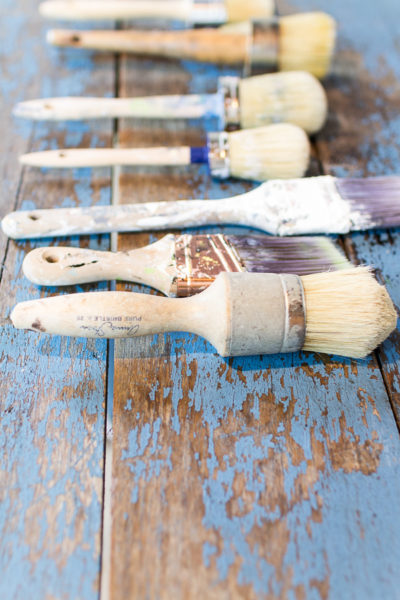 About 5 years ago I got my first cans of Chalk Paint®. At the time I didn't know it would start me on a whole new creative path. I just got some paint to paint old pieces of furniture because we couldn't afford to buy new. I wanted to do a union flag dresser on John's dresser (it used to be my old one growing and you can still see it in their room here). Anyway, no one knew what Chalk Paint® was then. I went into the hardware store to buy a paint brush, and the guy scratched his head and said, "Oh, you mean chalkboard paint." Hmmm. Um, no. I ended up bringing home a Chinex brush which was completely the wrong brush to use with chalk paint and made streaky lines all over.
So I thought I would share the brushes I like and use on a daily basis.
I have A LOT of brushes.
I will also share how I look after them.
Come on down to my basement studio for a closer look: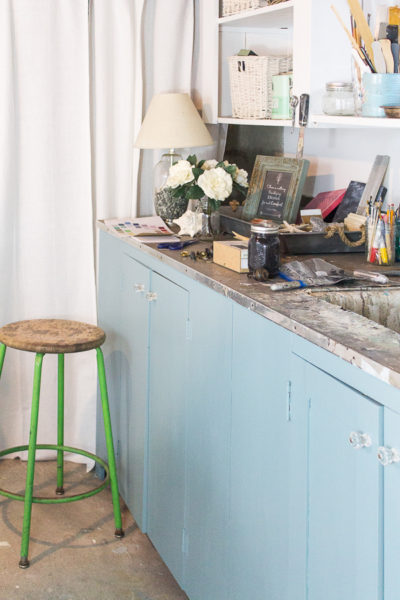 Brushes I LOVE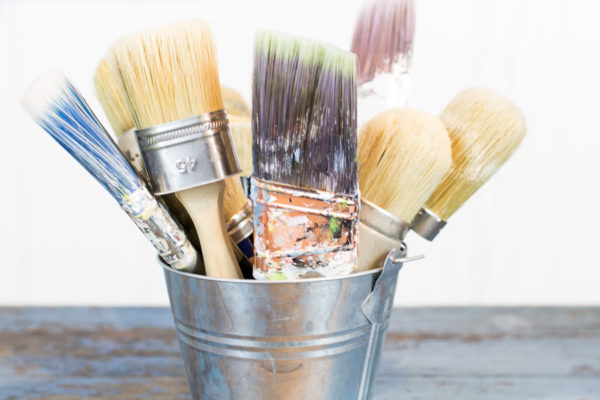 Don't they look like a bouquet of flowers? They bring me just as much joy for sure!
You may be tempted to buy really cheap brushes but they aren't worth it.
Trust me.
Cheap brushes lose bristles left and right and that looks horrible in your furniture.
Not the rustic effect your looking for.
You can buy cheap chip brushes and these brushes from Ikea for things like stain or applying stripper, but for painting I recommend the following brushes: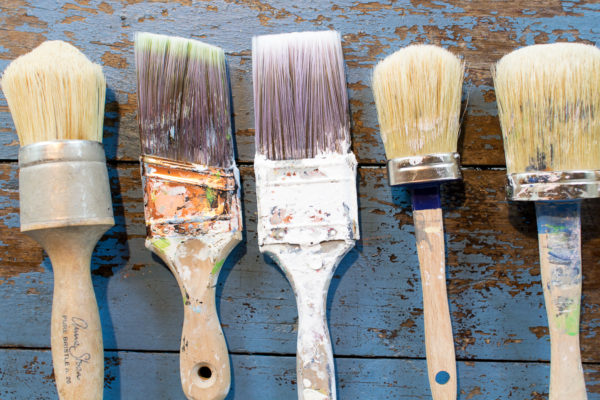 I'll go from left to right.
Annie Sloan's Wax Brush – You can see I used it A LOT. This brush is expensive but well worth it if you're waxing lots of furniture. The bristles are natural boar bristles and the tapered tip allows you to get into tight corners. The handle has a nice shape to hold and the bristles allow to spread the wax evenly. She makes two sizes, large and small. The large brush is pictured. I have both and use them all the time. I use a separate brush just for dark wax. Waxing is one of the hardest things "to get" when painting. So this brush helps.
Purdy Cub XL – This brush is a great price point. I love how it has a little imprint for your thumb and I also like that it has a short handle. This is great if your working on a short shelf or a tight space.
Purdy XL Glide – This is also a great price point. I use this brush for all paint. I love it for milk paint and also love it for apply Saltwash® Powder. I use it for General Finishes Paints and Chalk Paint® as well. This brush applies the paint evenly and you won't see brush strokes. This is a great all purpose brush. I have quite a few of these.
See? Great action shot!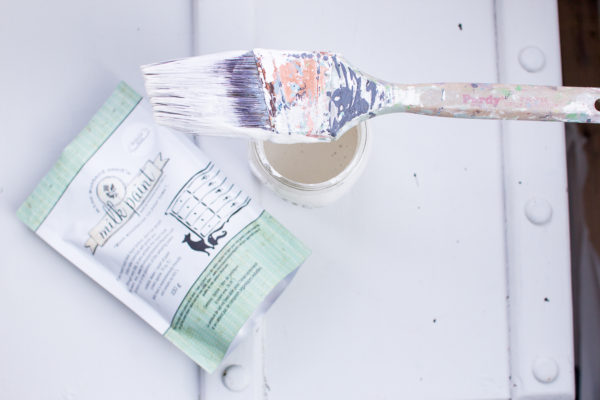 Annie Sloan Brushes – I have all three sizes but I mostly use the medium and small. These brushes give a light texture to your brush strokes and they hold a lot of paint which makes painting quicker. I think you need to like to see brush strokes to use this brush. I like seeing brush strokes because to me that adds character and gives a hand finished look.
For stenciling I love Royal Design Stencil Brushes. They are wonderful. I have their 7 brush set. Here you can see some stenciling in action: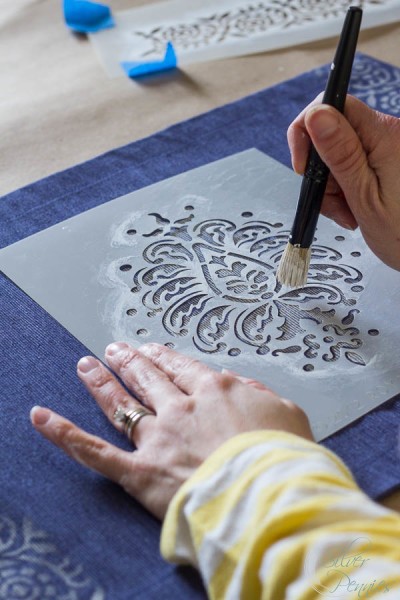 Caring for your brushes is just as important as purchasing the right ones.
Caring for Your Brushes
I used to use regular dish soap to clean my brushes which was okay. I'd soak my wax brushes in the dish soap with water but that was up until I discovered Fusion's Brush Soap. I LOVE this stuff. It is made from linseed oil so it's all natural. I love working with natural products.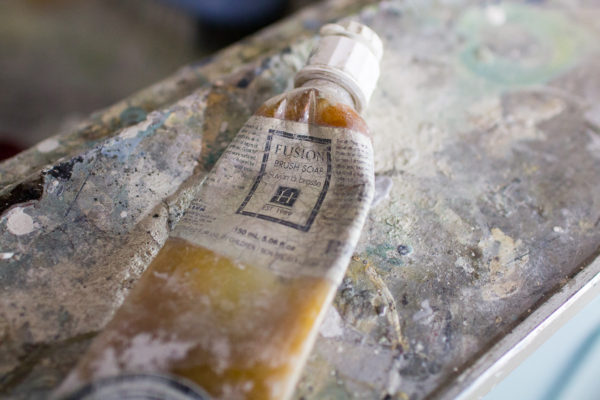 As you can see my soap is well used. I actually need to get some more soon. A tube is $13 and a little goes a long way. I had a brush that I thought I washed properly and it was hard as a rock next time I grabbed it to paint. I thought I was going to have throw it away. I rubbed some soap into and let it run under warm water and rubbed it out and now it's as good as new.
So I wash my brushes with this soap and warm water.
Then I wrap them in Viva paper towels and hang them by my sink and let them drip dry.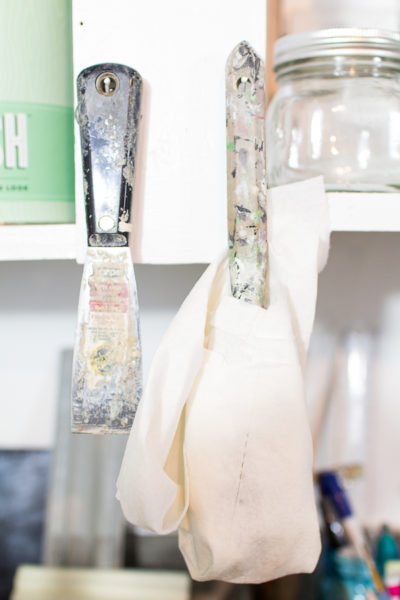 They're usually ready the next day to use again.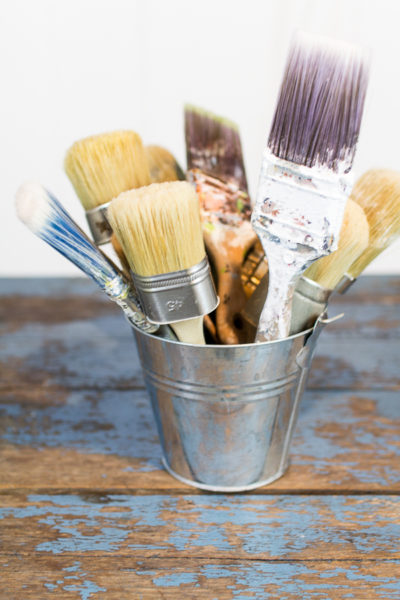 I hope this helped with brushes. There's more information on brushes and painting in my eBook, click here.