Love Caesar Salad or Tomato Soup? Our homemade croutons will make them irresistible.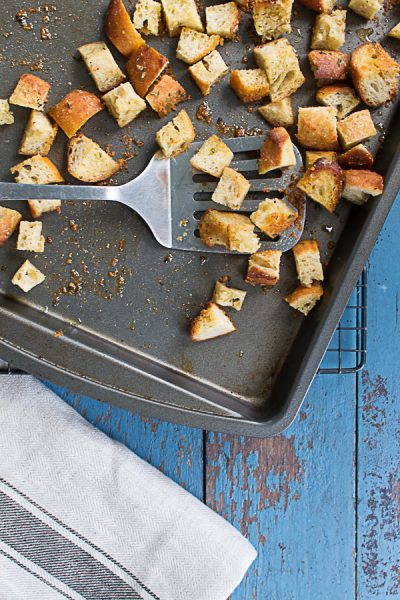 Isn't it funny how we attach meaning to food? How the taste of garlic or creamy tomato soup can bring you back to a moment in your past. When I think of creamy tomato soup; I'm instantly transported to The Luncheonette, a small diner in the Shawsheen section of Andover. My dad would take me to skate on a frozen pond and then we'd warm up with a cup of tomato soup at the diner. We always ordered exactly the same thing. When I was a bit older my mom and I would enjoy a day out on Newbury Street in Boston. We'd always go to Ciao Bella (it isn't there any more) and always enjoy warm crusty rolls with fresh made Caesar Salad. The croutons have always been my favorite part. A salad with an excuse to eat bread, am I right?
Conor, our youngest, loves to help out in the kitchen and he also happens to LOVE Caesar Salad. He's 8.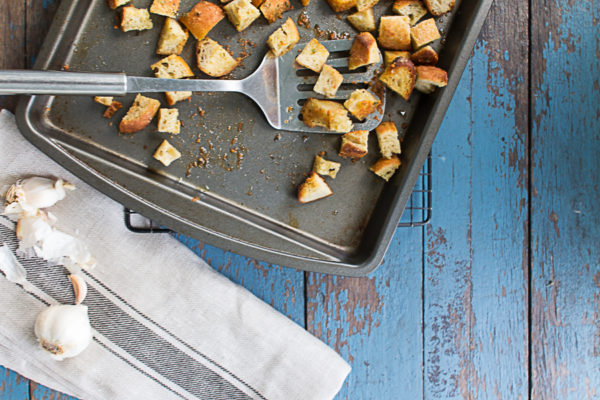 He makes a wonderful Caesar Salad but we'd never made our own croutons before.
We loaded our's with garlic…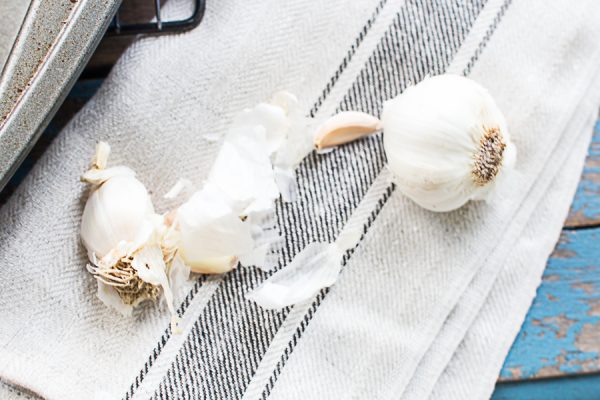 LOTS and LOTS of garlic. In fact we made garlic bread and then made croutons with the leftover garlic bread. So good!
Honestly, I don't think I'll buy another bag of croutons again now that I know how easy it is to make our own.
Homemade Croutons
Ingredients
French Baguette
Butter
Garlic
Herbs (parsley, garlic powder, oregano, basil, salt and pepper)
Olive Oil
Parmesan Cheese
Method
To make the garlic bread:
Mix soft butter with crushed garlic. 
Slice bread part way through and butter inside cuts with the soft butter / garlic mixture. Cook in the oven or on the grill until warm and crusty on the outside (approximately 5 to 10 minutes). Serve garlic bread. If you have leftovers, keep them for a day wrapped in foil. Then make croutons.
To make the croutons:
Preheat oven on low temperature 300 degrees Fahrenheit. While the oven is heating up cut your day old or stale bread into cubes. I like them to be rustic cubes.
Mix together olive oil, herbs, parmesan cheese, pepper and salt.
Place cubes of bread on a baking sheet and drizzle the olive oil mixture on top. Making sure to cover all the cubes.
Put baking sheet in oven for approximately 15 minutes (more as needed) until golden brown.
This is how they looked when they came out: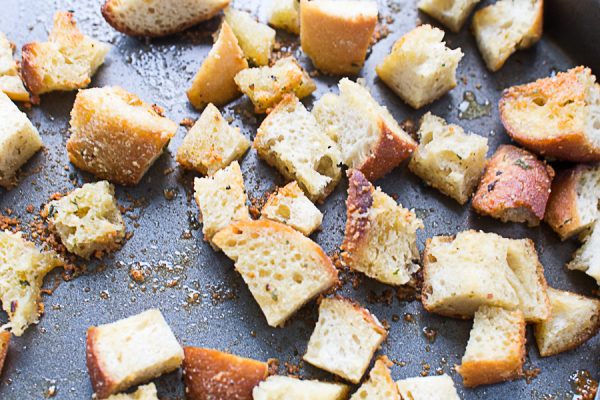 Golden and warm and so delicious. I'm a huge fan of garlic so I was popping them in my mouth as is. Yum!!!!
We made the best EVER Caesar salad with them.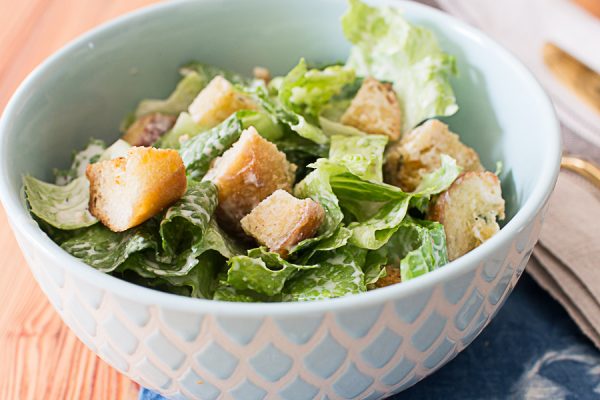 It was such a delicious lunch.
You can store the croutons if you don't eat all of them in one go.  I placed our croutons in glass containers from Ikea. We had the rest the next day. On more Caesar Salad, but I think they taste the best right out of the oven and into your salad 😉
Do you think you'll try this at home?