Happy Monday, friends! I told you guys back in my word of the year post (click here) that it's my goal to be the healthier and make healthy decisions. I feel better when I limit sugar and carbs so Luke and I are starting a 10 Day Detox. I'll share more about this program if I find it successful at the end. We did the Whole30 which we loved but then couldn't maintain the restrictions for a long period of time. I still enjoy cooking Paleo and clean. One of my very favorite dishes is Shrimp Scampi, being half Italian, I adore pasta and I usually get this dish when we go out. Here's my paleo version that I created for Luke and I for lunch the other day!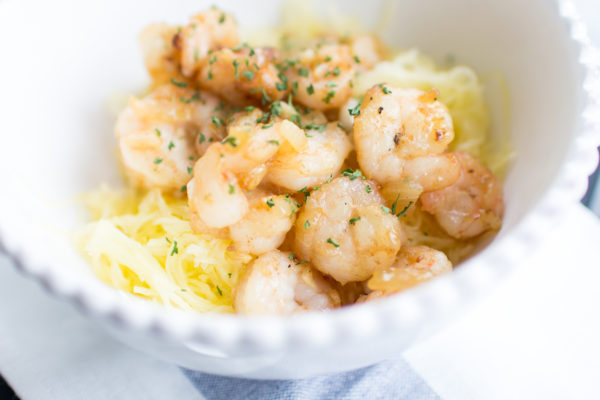 This dish is easier than you think and is so healthy and wonderful if you LOVE garlic, like me.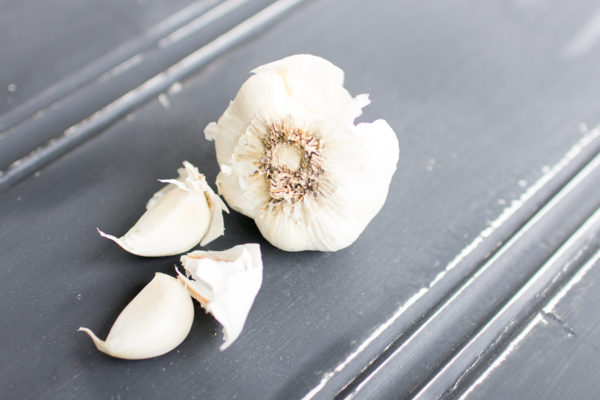 Sometimes I just can't bring myself to eat a salad in the cold winter months. Sometimes I want to eat something warm so I feel warm on the inside.
This shrimp scampi only has a handful of ingredients and your probably already have most of them at home!

For this recipe, you'll need ghee. You can buy it or you can make it. To make your own: you take unsalted butter then melt it and simmer it a heavy bottomed pan. It will form a crust and allow that to go redissolve. After a second crust forms (about 7 or 8 minutes) then filter through cheesecloth into glass jars (we use ball jars). Allow to cool and store in the fridge.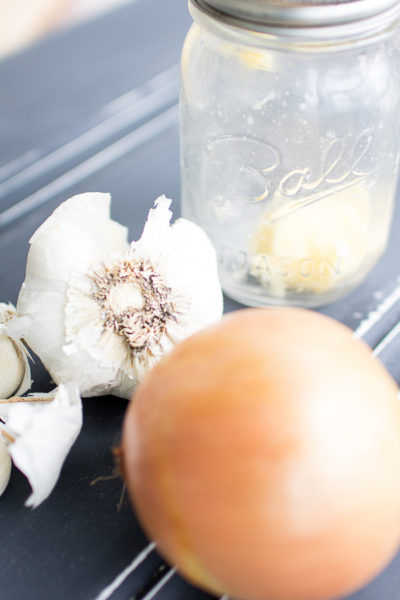 Pasta is not paleo. So I love using spaghetti squash as a pasta substitute. It is so light and fresh and ends up tasting like the sauce you've made. Yum! One spaghetti squash is usually enough for two people. To speed things up (I can be impatient) I like to put my whole spaghetti squash in the microwave for about 5 minutes.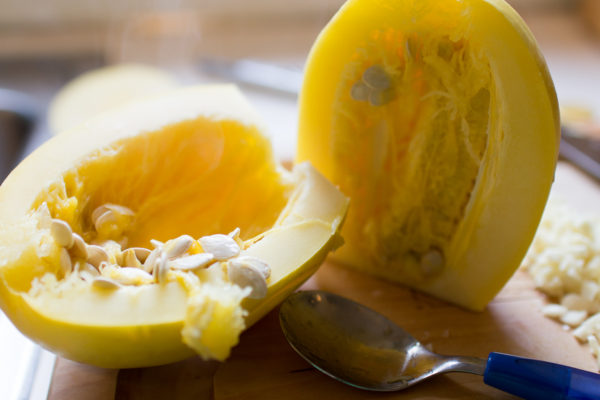 Then I cut it in half and scoop the seeds out. I take a shallow pan and put salted water inside. I place the squash face down in the boiling water. The squash usually cooks in 7 minutes (just like a box of pasta). 😉 Then I carefully move it to the chopping board and scrape the spaghetti strands with a fork. Be careful it's very hot.
This dish is the perfect quick lunch, but is also a lovely dinner.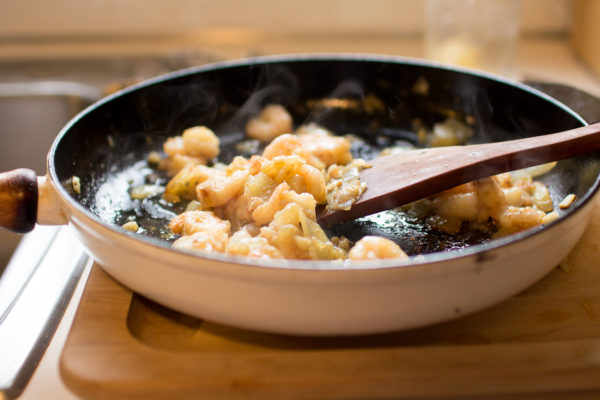 The aroma in our kitchen was amazing as I whipped this up.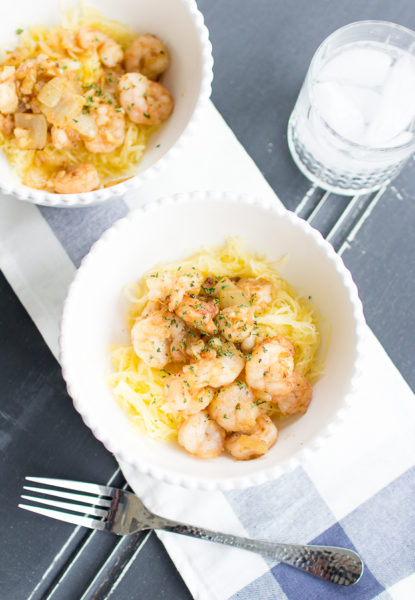 It brought back so many wonderful memories of time at my parent's restaurant, dinners with my parents and nights out with Luke and the kids.
If you're looking for a healthy alternative and LOVE Italian food I think you'll love this.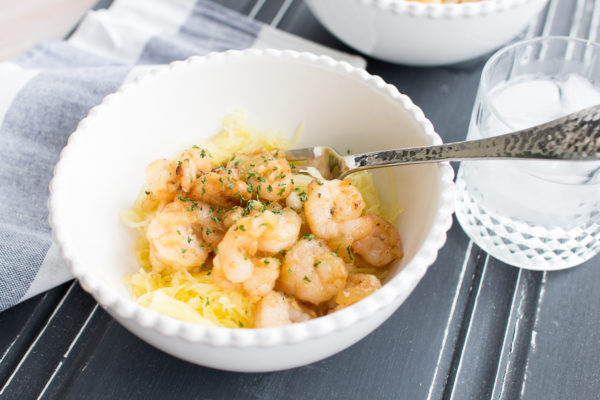 This is real comfort food but healthy!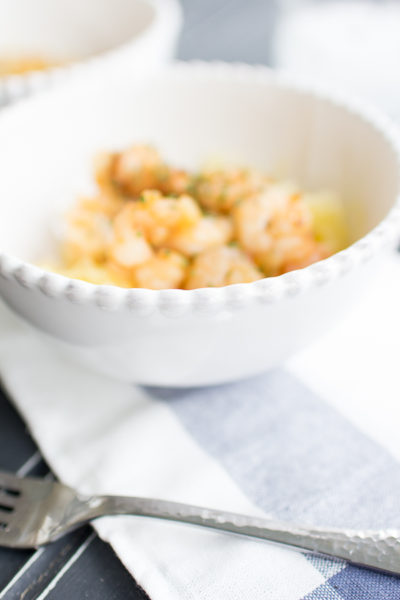 Here's the full recipe: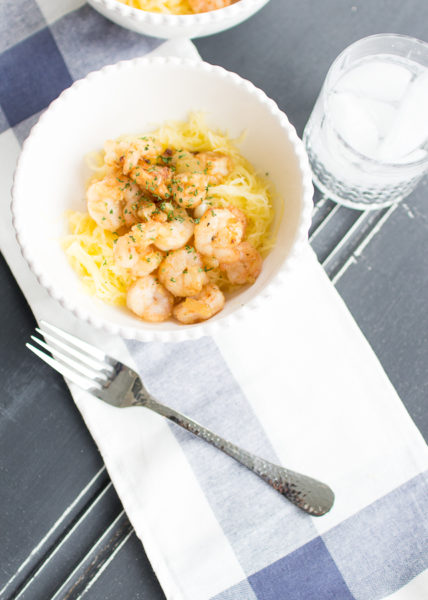 Paleo Shrimp Scampi
A healthy paleo alternative to Shrimp Scampi.
Author:
Danielle Driscoll
Ingredients
Olive Oil (2 tablespoons)
Shrimp (half a pound)
Garlic (5 cloves)
Onion (chopped)
Spaghetti Squash
Ghee (1 tablespoon)
Salt
Pepper
Parsley
Instructions
Finely chop the garlic and onion. Heat 2 tablespoons up in a cast iron on non stick skillet on medium heat. Add the onion and then the garlic. Be careful not to let the garlic burn.
Prepare spaghetti squash while the onion and garlic cook. Place whole spaghetti squash in microwave and heat for about 5 minutes.
Cut spaghetti squash in half and scoop out seeds. Place face down in a shallow pan filled with salted water and bowl for about 7 minutes.
Once the onion and garlic have softened add the shrimp. I buy shrimp that is already peeled and deveined. If using frozen they will take a bit longer to cook but the water from them helps make a lovely sauce.
While the shrimp cooks, scrape the spaghetti squash out of the halves with a fork into serving bowls.
Once shrimp is cooked through and golden and 2 tablespoons of ghee (homemade or store bought) to make the sauce creamier.
Add salt and pepper to taste.
Layer the shrimp scampi on top of the bowls of spaghetti squash.
Top with chopped parsley.
Serve and Enjoy!
Sharing with: