Brrrr!  It is so cold and snowy here in Scituate.  There is nothing better than a bowl of comforting soup with all the blizzards we're having!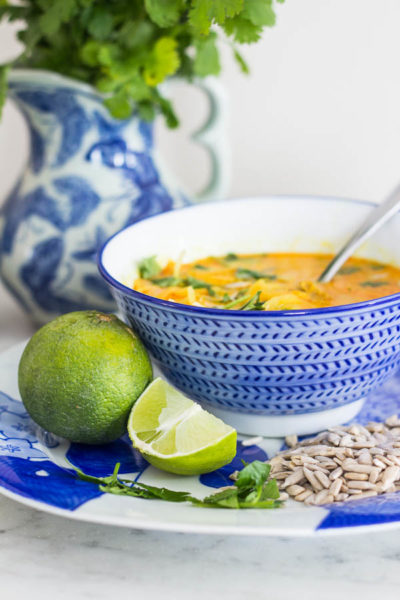 As many of you know, Luke and I had great success with the Whole30 and we're continuing to eat paleo as much as we can.  Yes, I've had a bit of chocolate and a glass of wine here and there, BUT I've lost two more pounds last week (yippeeee!!!!).
We are trying to eat clean and low sugar as much as we can.  The other day I shared a bowl of delicious Coconut and Chicken Soup on Instagram and many of you asked for the recipe.  Here it is and just as delicious as a non-paleo version.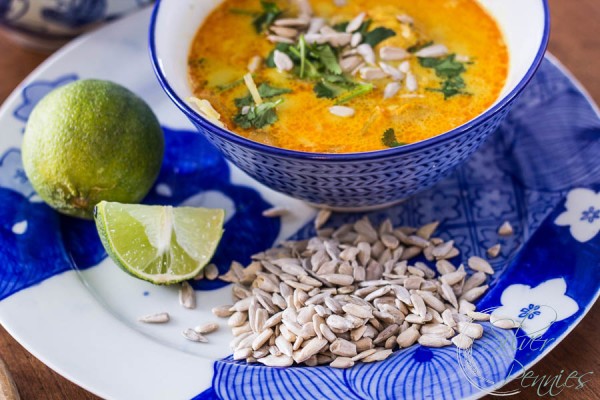 Paleo Coconut and Chicken Soup
Ingredients
1 chicken breast (organic, if possible)
3 tablespoons Coconut Amino
1 inch piece of ginger, chopped
2 cloves of garlic, chopped
2 teaspoons turmeric
1 tablespoon coconut oil
1 yellow onion, chopped
4 cups chicken stock (no sugar added)
1 can full fat, unsweetened coconut milk (I use Thai Kitchen)
2 teaspoons paprika
spaghetti squash
Garnishes (optional) – limes, cilantro, sunflower seeds, boiled eggs, chopped onions, coconut amino
Method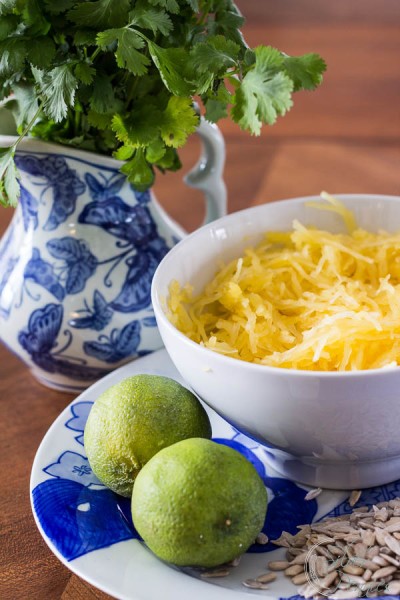 Quick tip – to cook the spaghetti squash quickly we put it in the microwave for 2 minutes, then slice in half and clean seeds out.  Place cut face down in a pan with an inch of boiling water and simmer for seven minutes.  Then scrape spaghetti squash with a fork making noodles.  Place bowl of "noodles" aside.
– In a medium bowl mix chopped chicken, coconut amino, turmeric, ginger and garlic.  Stir until combined.
– Heat coconut oil over medium heat, in a heavy bottomed pot or dutch oven, cook onions until translucent and then add paprika.  Stir.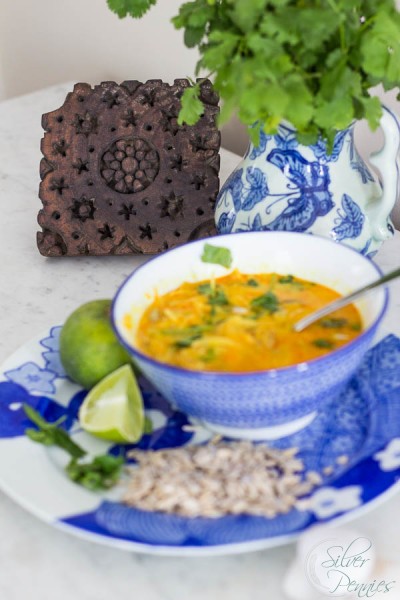 – Turn the burner to medium high and add the chicken mixture. Stir so the chicken doesn't stick.  Once, chicken is cooked stir in coconut milk and chicken stock.
– Turn heat to low and simmer until you're ready to serve.
– To serve.  Place spaghetti squash "noodles" in the bottom of a bowl.  Ladle soup on top and add optional garnishes. I've also added cauliflower to the soup (while cooking the chicken) and it was delicious.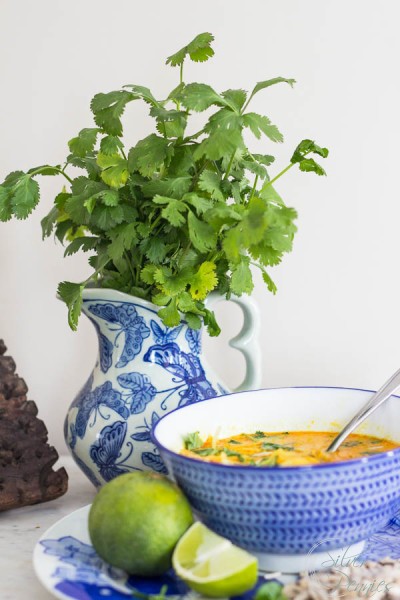 I love the flavors of this soup. The sweet coconut milk, the tart lime and the fresh cilantro; all combine for a thoroughly enjoyable meal.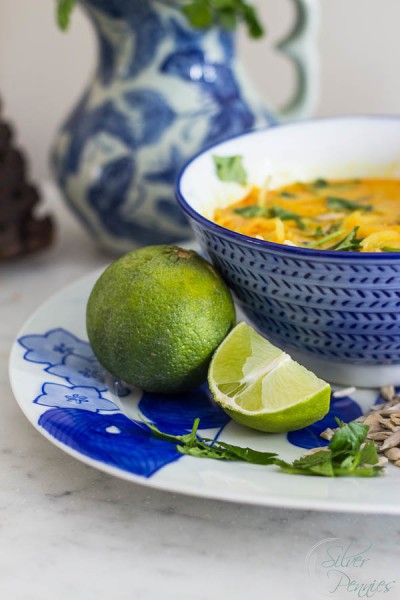 This is a very quick and easy soup and perfect to have after shoveling!

Sharing with: