I partnered with General Finishes on this post.  They sent me a few products to try for this makeover and I love the results.  
I'm so excited for you to meet my latest piece!  A vintage buffet named Michelle.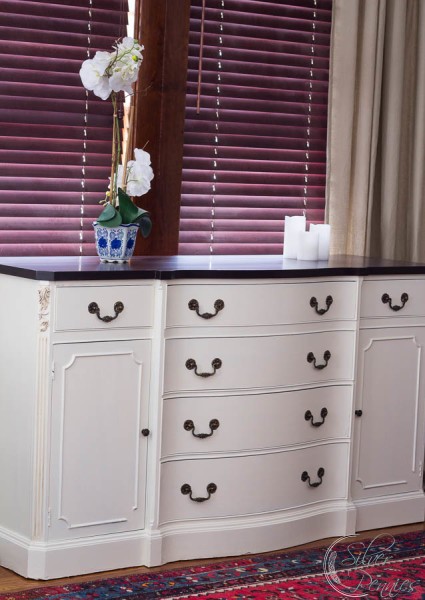 My friend Michelle asked me if I could help her with this piece after seeing the buffet I painted for my friend Pat. You can see that makeover here. This piece has been in Michelle's family for quite some time.  It belonged to her mother and she had grown up with it in her home and it had also made the move with them across the country.
It was in need of a little TLC.  Here's how it was looking when we picked it up.  I had to do this piece up in our living room as it was so large.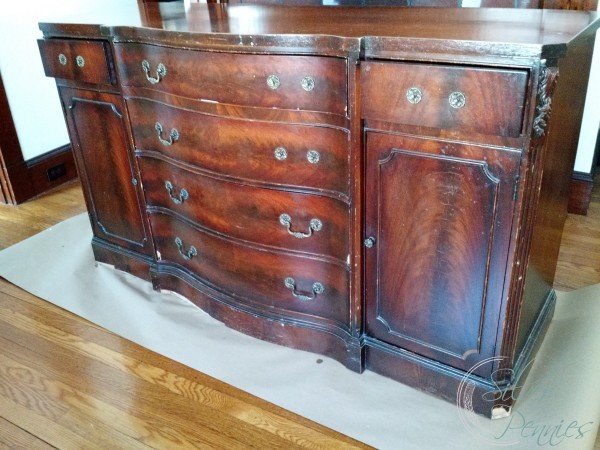 The top was heavily scratched.  Some hardware was missing.
Veneer was missing and drawers were damaged.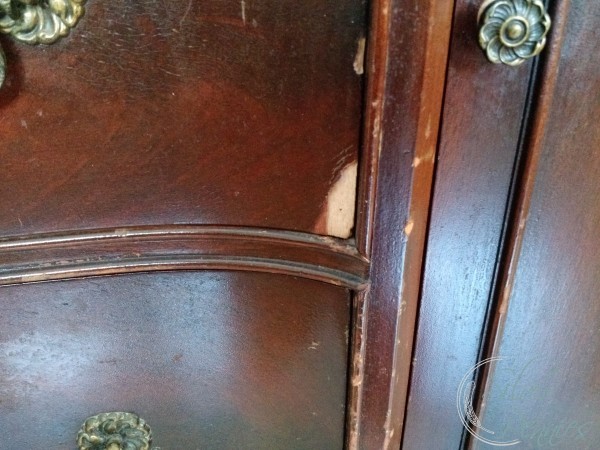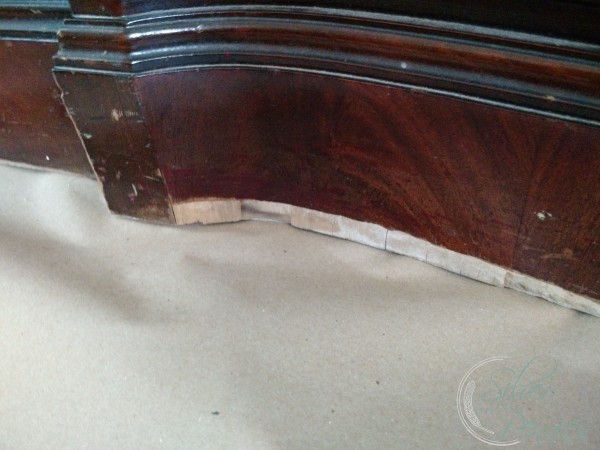 There was lots of damage along the bottom of the buffet too. Before I could start working on this piece, Luke did a lot of patching with Bondo.  He actually had to do two rounds with it, we sanded after each application.
For the top, I used General Finishes Java Gel Stain.  You may remember I used this with another color on our guest room trim.  You can see that here.  I'm so happy with the results on the top.  I sanded and cleaned off the top and then applied the gel stain with brush (from Ikea) and wiped off as I went.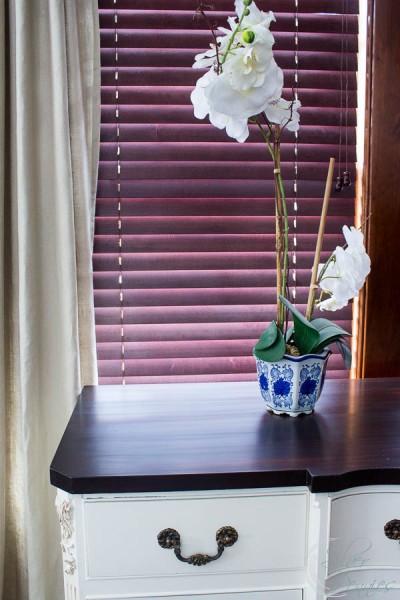 I waited 72 hours to be on the safe side before applying the top coat. I used the high performance water based top coat in flat.  I love how it looks.  It really gives a rich finish.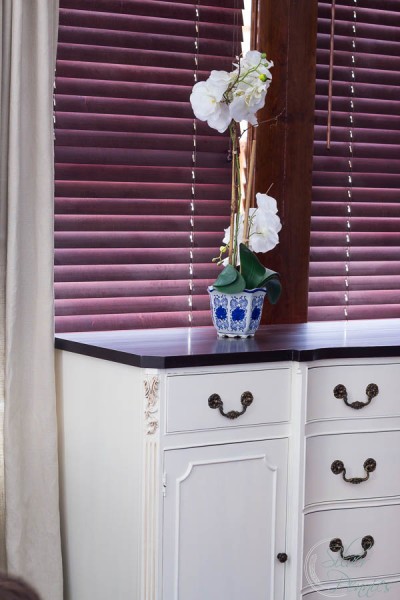 White can really be tricky with bleed through so I used three coats of Zinsser primer.  I spot primed areas with the bin primer and then used the waterbased primer all over.  Cassie recommended the oil primer as that what she used on her daughter's dresser but since I was doing this in our living area I thought water-based would be better from a smell perspective.
Here's an in progress shot: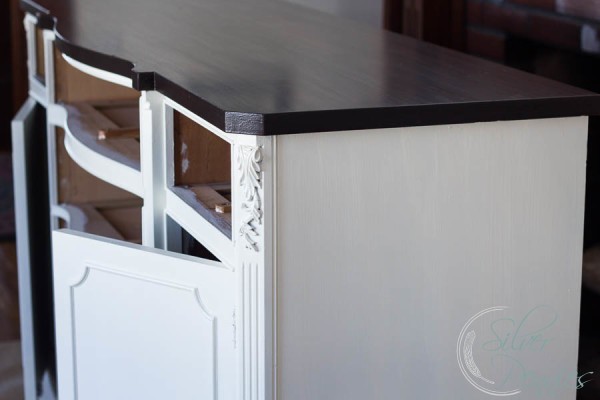 When painting I lift the furniture off the floor, put paper down and take the hardware off and drawers out. I paint the drawers in the basement.  This piece then got three coats of General Finishes Milk Paint in Antique White.  I love this white.  It is the white I used on our guest bed here.
Michelle wanted the detailing highlighted.  So I used General Finishes' Van Dyke Brown. I practiced on a piece of wood as this was my first time with it, but it was very similar to using Annie's Sloan's Dark Wax mixed with mineral spirits.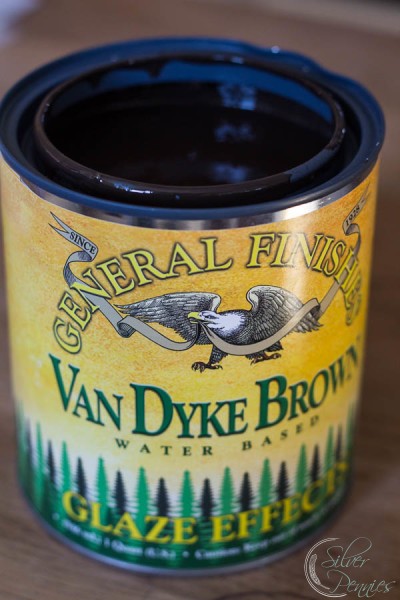 I used it very sparingly as I wanted the piece very clean and just wanted to define the pretty details on the side.  You really apply and wipe right off.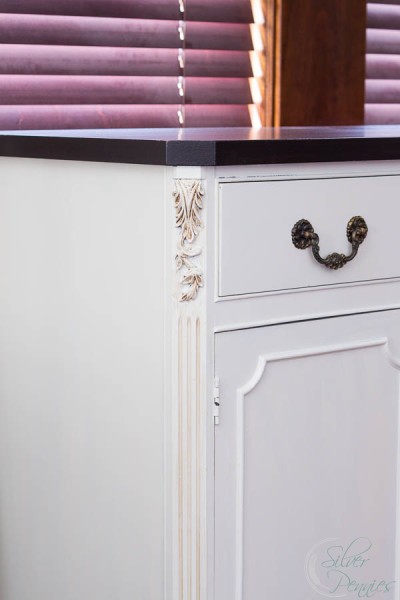 The entire piece is sealed with General Finishes High Performance Top Coat in Flat that I applied with a foam brush.  While working on the piece, I searched high and low for the period hardware and I found some on Ebay.  I was soooooooo excited. I try to keep existing hardware when I can and this piece had such pretty brass ones with shells.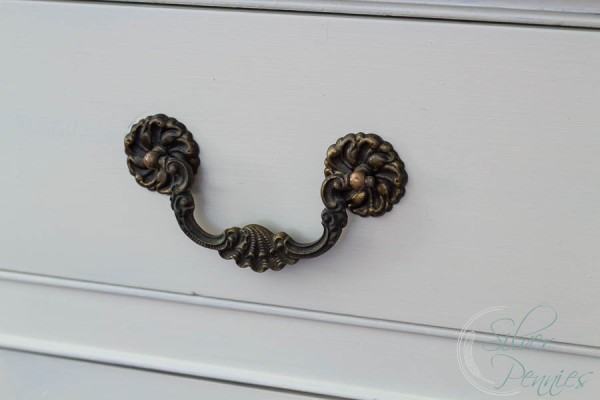 Those were the replacements I found.  Yay!
I'm happy to report that this piece is back in Michelle's house and being enjoyed.  It got there through snow and ice (just after our second blizzard).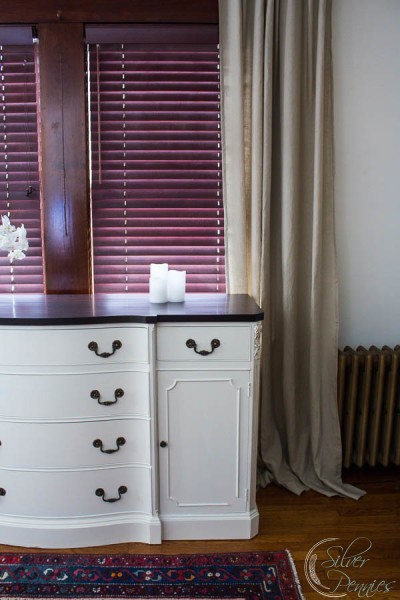 This White's Furniture Co. Buffet is so solid and heavy, I couldn't even move it and our friend Dan had to help Luke.  They don't make furniture like this anymore.  It is so important to preserve these pieces and to update them when damaged.  To me furniture is more than just bits of wood.  It is the artistry that was put into classic furniture: the heavy wood, the joints, the gorgeous hardware and the beautiful shape.  I especially love the shape of this buffet.  It is also the memories that one has of furniture.  The solid buffet found by your mother or grandmother and now treasured by your family.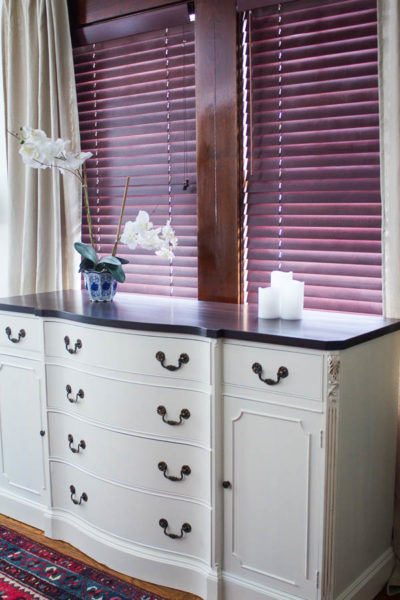 I'm happy this piece can be treasured once again (and hopefully passed down to the next generation).

Sharing with: