I love decking the halls in our home at Christmas but I also love spreading that Christmas joy outside. The other day (when it was still warm) I decorated our window boxes and planters and have a few tips if you still want to decorate your exterior.
Come on over! Here's our outdoor decor for Christmas.
If you follow along on Instagram or Facebook then you saw this sneak peek yesterday: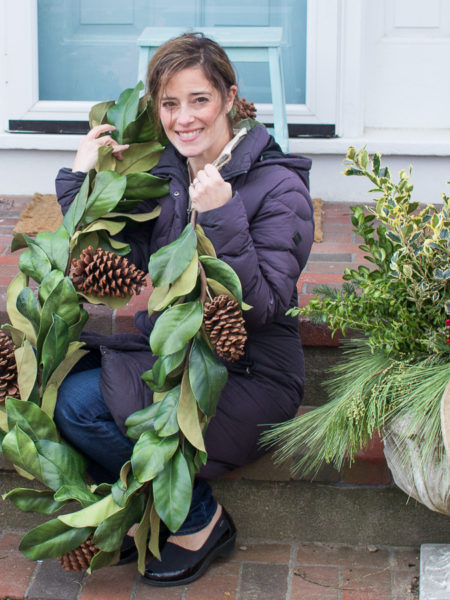 I'm IN LOVE with these garlands. They are magnolia leaf garlands from Balsam Hill. I got two to go around our door and also a matching wreath.
I love the glossy leaves and the pine cones.
I still can't believe they're faux.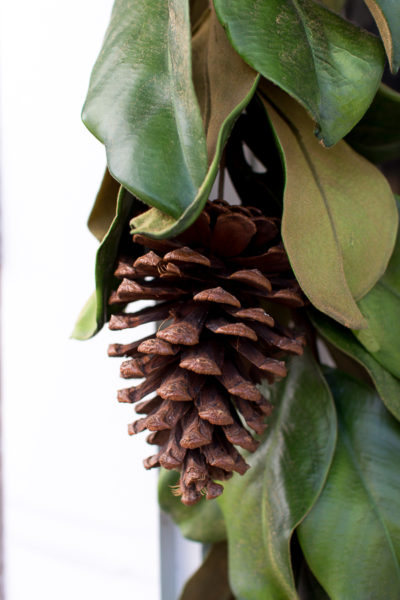 I'm excited that I'll be able to enjoy them year after year!
Here's how they look out front.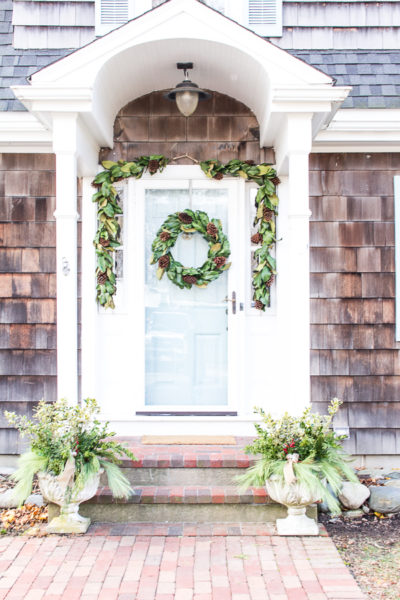 I love how they frame our doorway and add a bit of warmth with the green.
If you've been following the blog for a while then you know I like to keep things really simple. Living on the coast, I like to keep our decor and lifestyle easy and relaxed. The wreath and garlands are so simple and elegant. The best part is they can be enjoyed year after year. I try to mix things up so next year I might use them on the mantel or in the dining room. I have last year's wreath on the She Shed which I'll share soon.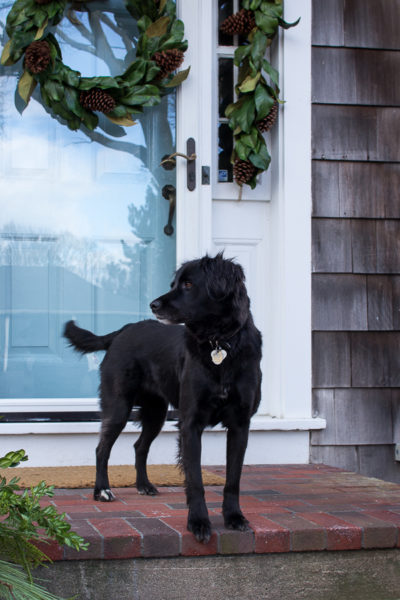 Poppy loves helping and always ready for her close up 😉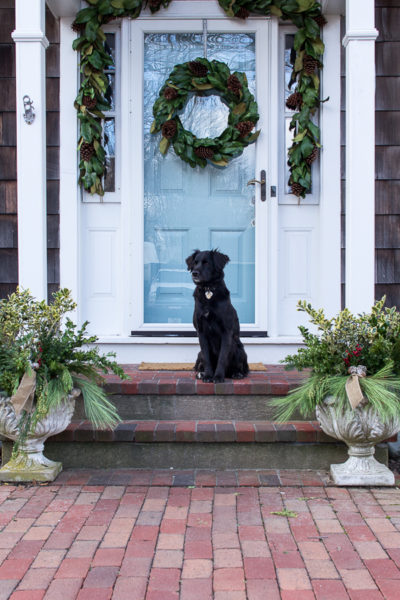 In fact she wasn't the only poser, but more on that in a second 😉
I want to tell you about our urns and window boxes.
Our urns are antiques that my mom gave me and I love them. In the spring – fall they have beautiful Boston ferns and I love how they look in them. At Christmas I usually do mixed greenery but this year, I wanted to do something that I could replant.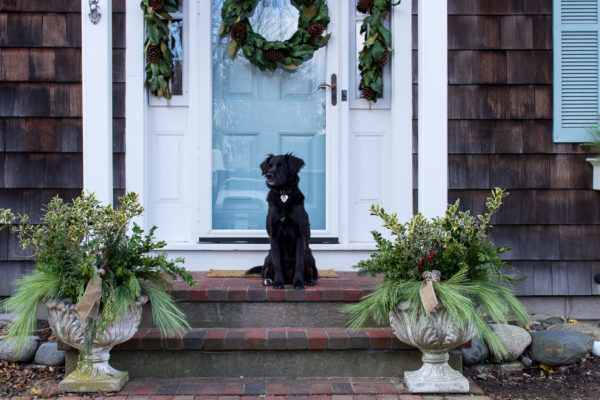 At Home Depot I got some holly that we'll plant in the spring. I placed the plants directly in the urns (still in the plastic from the hardware store) then I placed foam around and shoved some faux greenery into it. All the pine and feathery looking greenery is faux, but I also bought two swags with assorted greenery at Home Depot and I broke it up and mixed it into the urns. This enabled me to have an assorted mix at the fraction of the cost.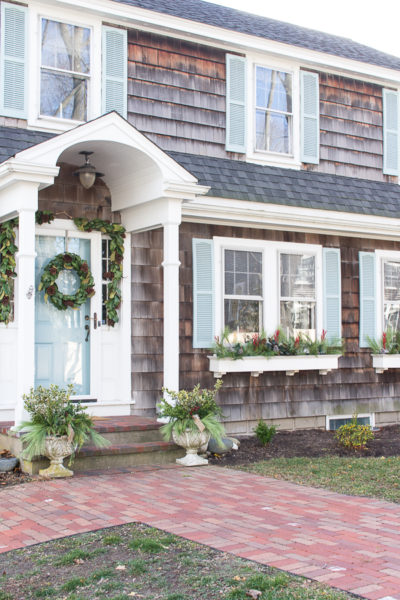 I think they turned out pretty good.
Then it was onto our window boxes. We have quite large window boxes and it always takes A LOT of greenery to full them. Every year I do real but this year I didn't. I decided to go with faux greenery from Garden Craft, a local shop to us on the South Shore and I'm pleasantly surprised how real they look.
I used a mix of greenery and some red berries. I was told at the store that the more plastic it felt the better it will do with the cold and snow. I'm hoping to get a few years out of these.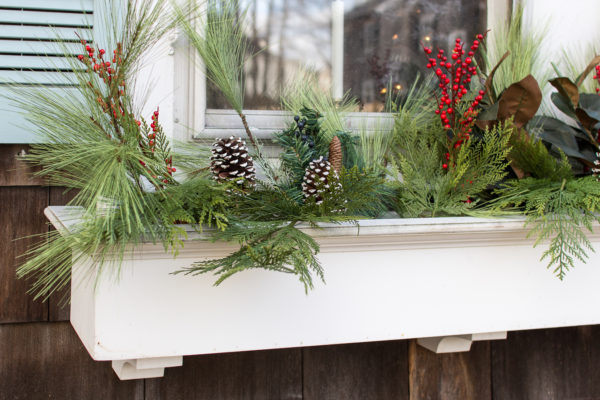 The great thing is you can bend faux to look more natural and easily fill in gaps. I also mixed in some magnolia leaves to go with our wreath and garlands.
I interspersed frosted pine cones from Home Depot and picks from Garden Craft.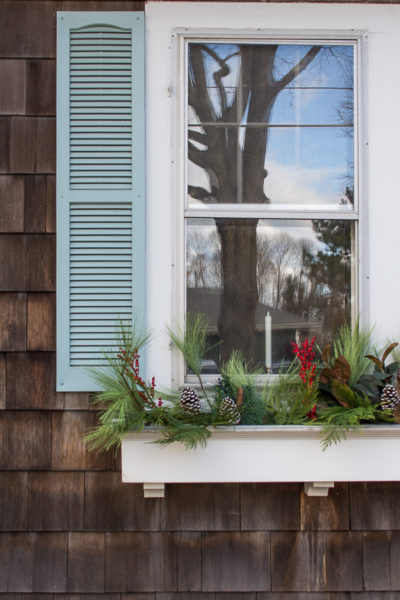 Oh, I almost forgot to tell you. As I worked with the faux greenery I also used beach stones to weigh it down. It can get windy and stormy here on the coast. I went to Egypt Beach and gathered a few flat rocks to keep everything in place.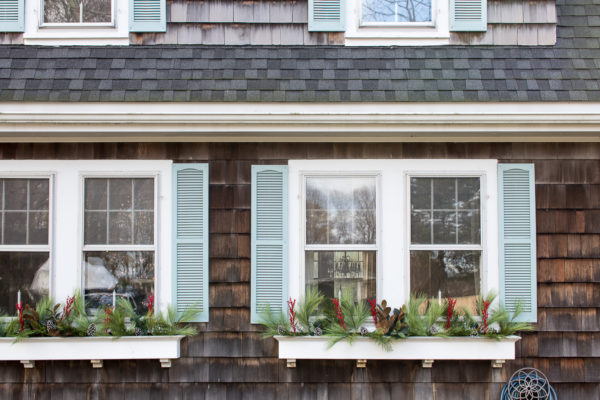 It took me a while but I'm really happy with how they came out. I particularly love the red betters with the blue shutters.
I often get asked about our shutter and door color. They are Buxton Blue by Benjamin Moore, such a happy blue!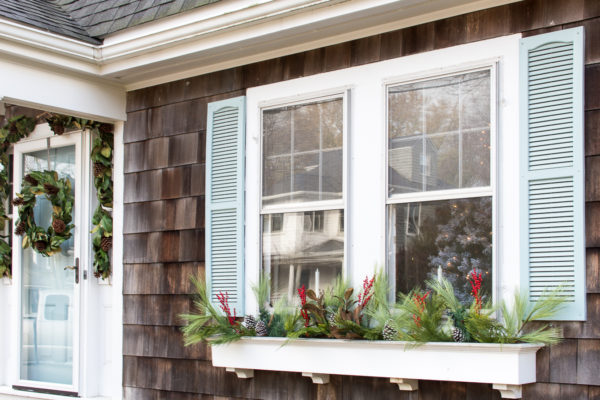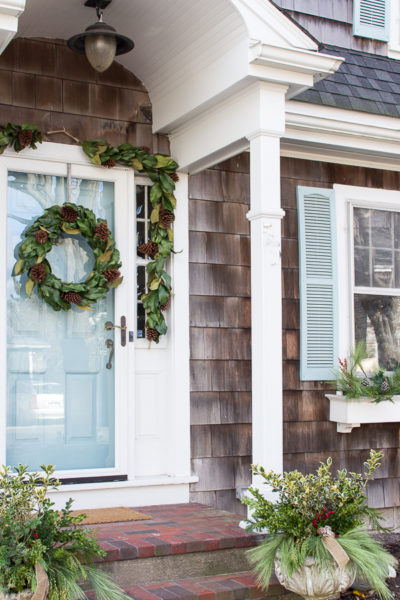 Now all we need is snow (but not too much!).
Oh, so you know I told you Poppy wasn't the only one who was ready for her close up. Max wanted to a be a part of our outdoor decor too.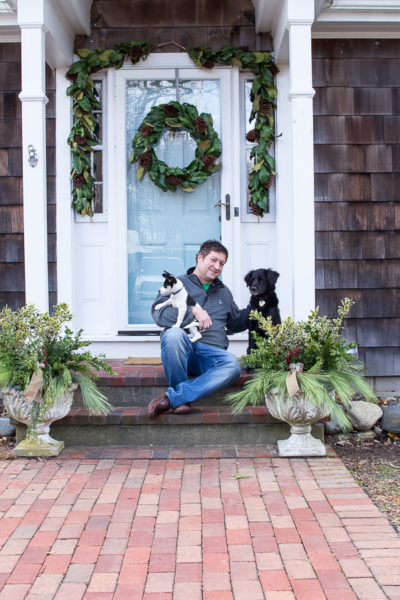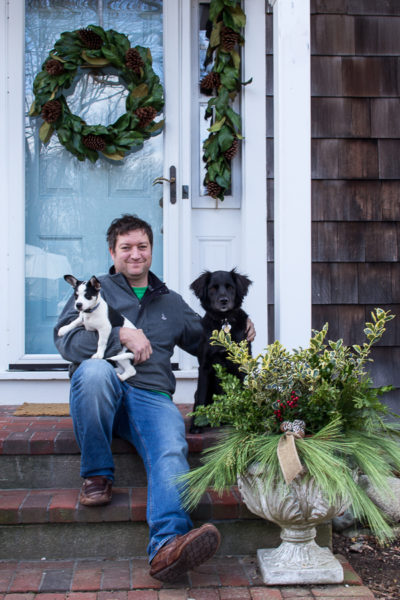 Aren't they just the cutest????
They both watched me behind the fence decorating the window boxes, thankfully Max can no longer fit through the trellis fence. I'll be sharing lots of little Christmas / winter DIYs this week and some more decorating ideas.
Thanks for stopping by. xx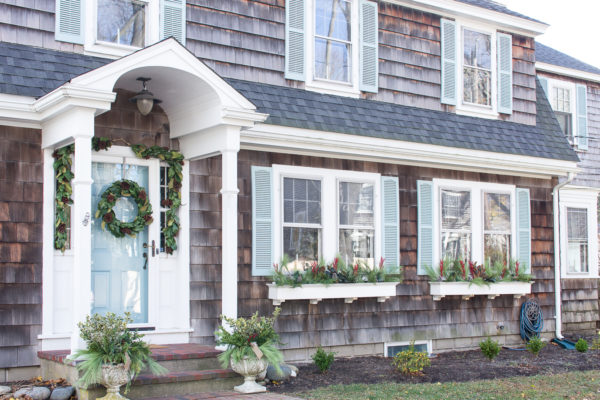 Sharing with:
Home Stories A to Z * French Country Cottage * Shabby Art Boutique * The Inspiration Exchange