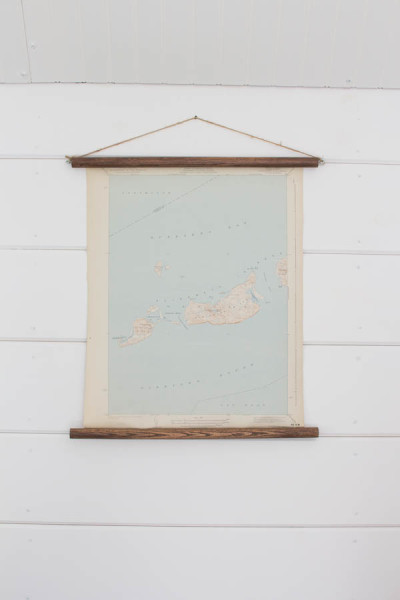 I have this love for nautical charts and maps. I love the colors – the soft blues, greens, grays and tans; I also love the feel of old paper and the patinaed look it adds to any space.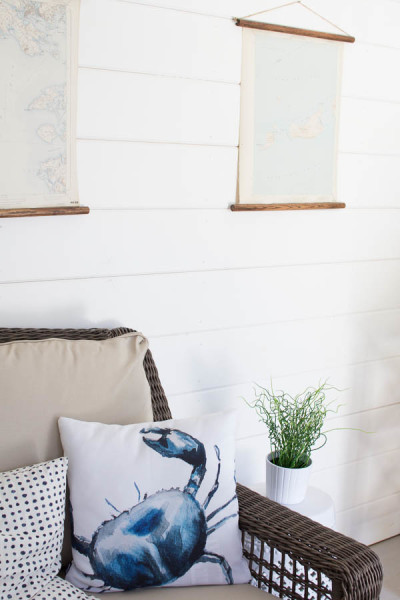 The weather has finally warmed up here in Scituate (well, there was gusty winds yesterday, but it is MUCH warmer than it was) which means I've been enjoying some time out the She Shed.  While I was sitting out there, I realized I still hadn't shared how to make this nautical chart art.  Can you believe it? I've shared a bunch of other DIYs from the space but totally forgot this one!
This one is easy and you can do it in an hour or so (just because of drying time with the stain).
Ready?
Note: Some of the links in this post are affiliate links, which allows me to make a small commission from your purchase, but your purchase price stays the same. Thank you for helping support our blog!

How to Make Nautical Chart Art
Materials
Wooden Dowels (or flat strips of wood)
Nautical Charts
Method
I love maps so I always pick them up when I see them. I got these nautical charts down at Goodies II in the Harbor and the ones I used are actually on canvas which I hadn't seen before.  If you're looking for nautical charts, I found these resources on Etsy click here and here.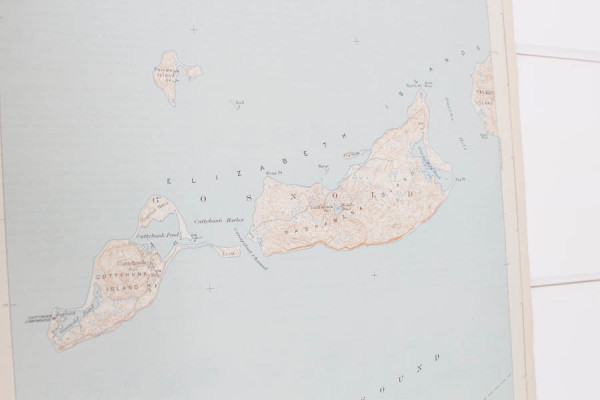 Step 1 – First you want to work with your wooden dowels. I used poplar dowels from the Home Depot and mine were round. Flat thin boards might be a little easier to work with though.  I find poplar takes wood stain nicely and isn't too heavy. You want to trim your dowels so they're just a little longer than the map on either side.
Step 2 – Stain dowels with General Finishes' Antique Walnut.  I love the aged patina this stain gives to the wood. It's easy to wipe on.  I wiped on with a rag and placed the stained dowel on an open cardboard box so my dowels didn't stick.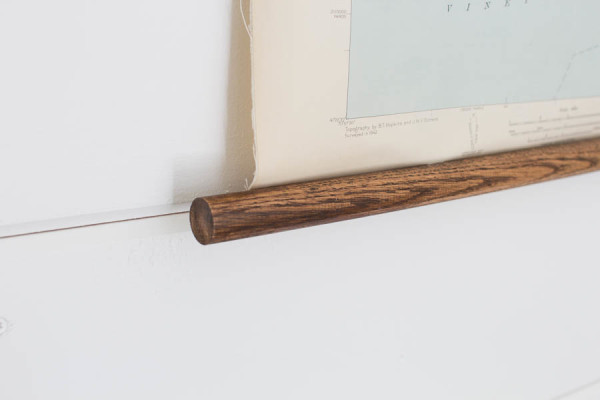 Step 3  – Once dry apply top coat to dowel. I like using Minwax's Wipe-On Poly. I use this top coat on most of my stained pieces. I love staining the top while painting the body.  Wipe-On Poly gives a nice hand finished look to furniture.
Step 4 – Line up nautical chart on dowels (face down) and use a staple gun to staple in place. This way you won't see the staples, they'll be on the back.
Step 5  – Screw in metal eyes on the top of the top dowel and loop twine through. This is what you'll hang your nautical charts with. Twine is a great material and used frequently on the coast.  It gives a nice touch to these wall hangings.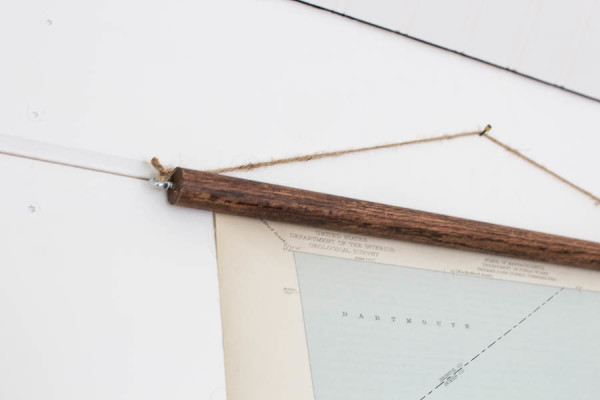 Hang and enjoy!
The nautical charts make quite a statement, especially when hung in a group as I have done.  I chose maps that were local – Martha's Vineyard and Nantucket.
I've received so many compliments on our nautical charts out here.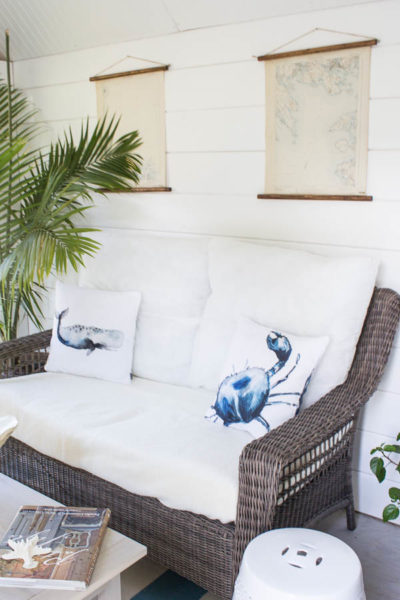 I hope you'll try and make some of your own!
Sharing with: