I partnered with Unfolded, a distributor of Annie Sloan for this post.
It is no secret that I love Chalk Paint® decorative paint by Annie Sloan.  I've painted with this paint for four years and it has made over many pieces in my home and in friends' homes.  Did you know that Chalk Paint® turned 25 this year?
If that wasn't enough to celebrate, my friends over Chalk Paint® have an amazing giveaway going on called Made it My Own with Annie Sloan! Have you heard of it?  This is to celebrate you and your amazing projects. All you need to do is upload an image of something you created using Annie Sloan's paints, fabrics, decoupage etc and use the hashtag #MadeItMyOwn to this online gallery here.
By posting your project in the gallery you'll automatically be entered for a chance to win $100s worth of Annie Sloan prizes, including Chalk Paint®, signed books and unique illustrations drawn by Annie!  The contest ends September 30th.
Here's what I made my own!

I've redone hundreds of pieces of furniture with Chalk Paint® but I've never tried Annie's beautiful fabric and I've always, always wanted to use Paris Noir.  It is gorgeous and kind of goes with my coastal / British look.  Classic, clean and tailored.  I was surprised by the weight of it, perfect for upholstery. I knew this was the right fabric for these chairs.
A friend spotted these outside her neighbors house.  She sent me a message right away to see if I wanted them.  They were from Domain originally and great chairs but now, they were looking more shabby than shabby chic. Apologies for the basement photos (but this is where I paint furniture).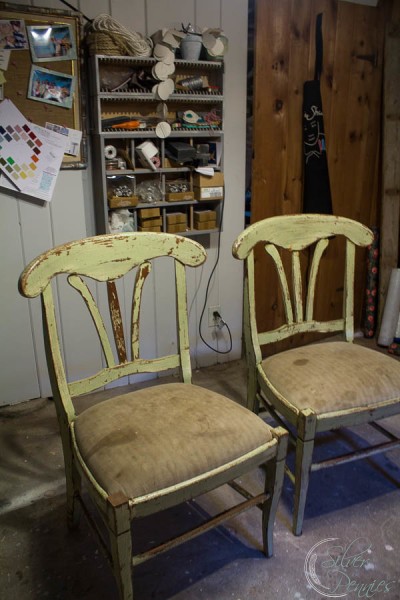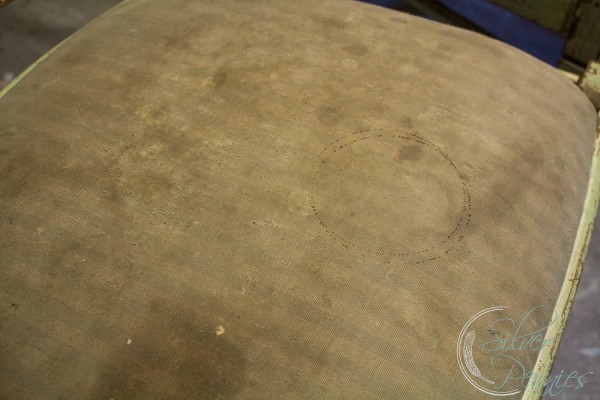 The Italian hand painted finish was peeling off and was dirty. The originally upholstery was very badly stained. Gross, huh?
Annie Sloan to the rescue!!!!!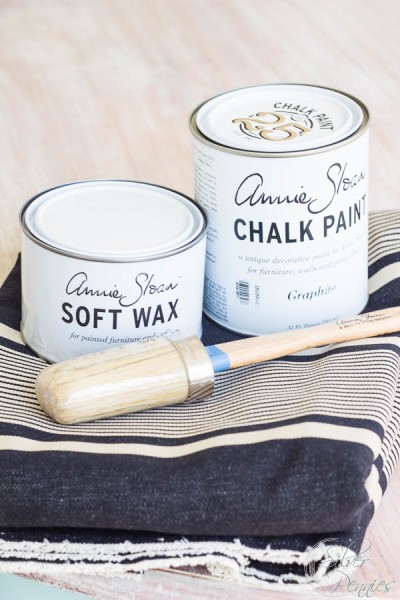 Look how gorgeous the fabric is…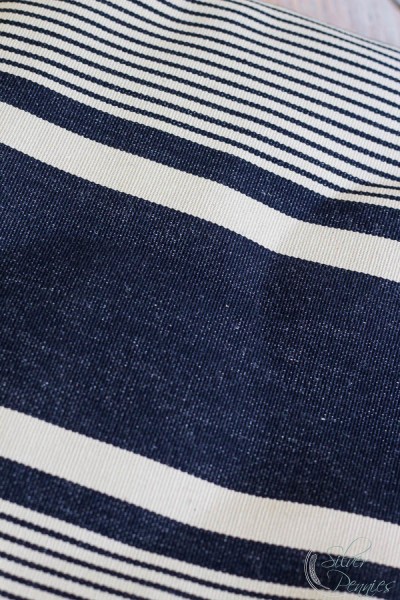 The putty and black stripes of the Paris Noir, pair so well with Graphite Chalk Paint®, Annie's soft black.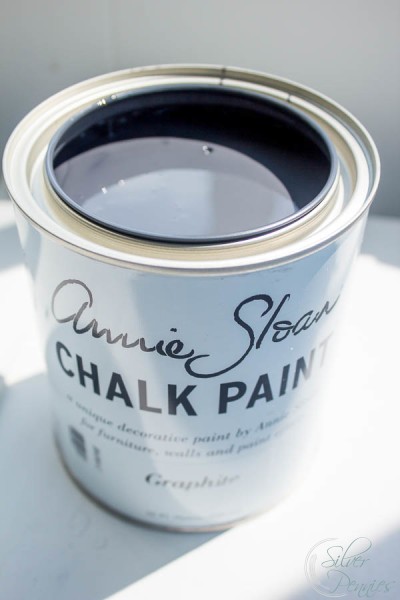 The prep was easy.  I lightly sanded to make sure all that peeling paint was off and wiped with a wet rag.  I let my paint can sit upside down for half and hour and gave it a good shake and stir (making sure this magic paint was mixed to perfection) and poured it out into a cup and got painting.  The chairs have two coats of paint on them.  Oh, one more helpful hint when painting chairs – flip them over first!

Two coats later, I lightly distressed to give the perfect weathered look. Applied a coat of Annie's clear wax and wiping off excess as I went, then buffed the next day.
The hardest part was taking off the old material which, was done watching Call the Midwife (love that show by the way!), then recovered with the gorgeous Paris Noir fabric.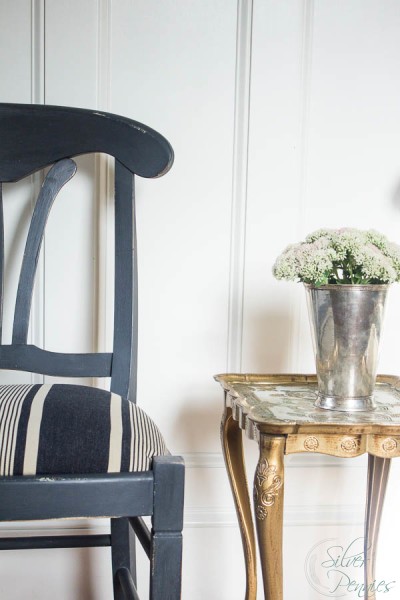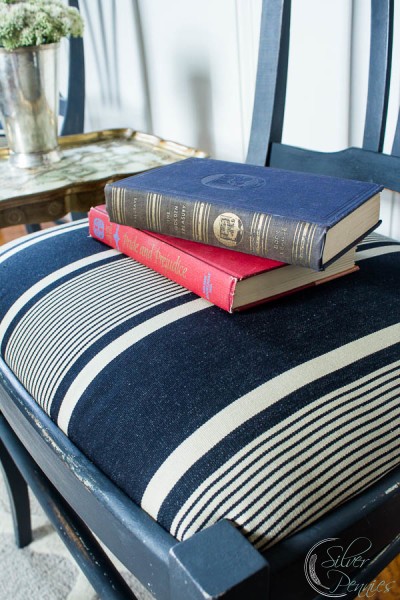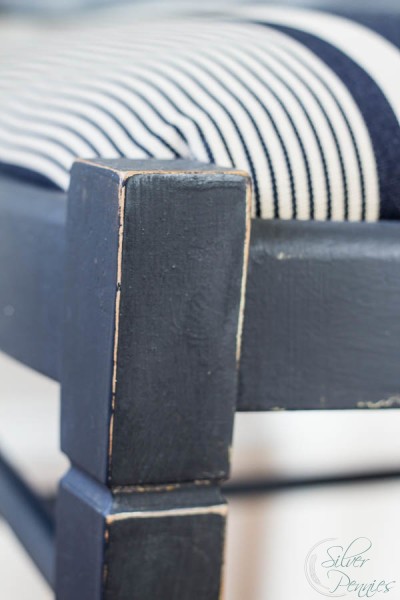 Poppy, of course, had to be part of the action: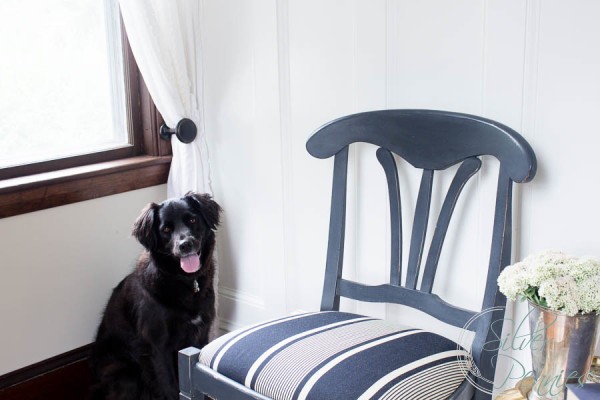 She does coordinate well with the chairs. Here they are together.  I'm thinking of using them in my office once I redo it.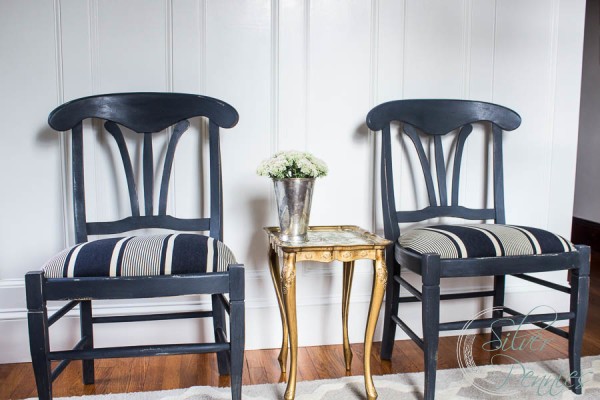 From shabby to very chic and perfect for my coastal home.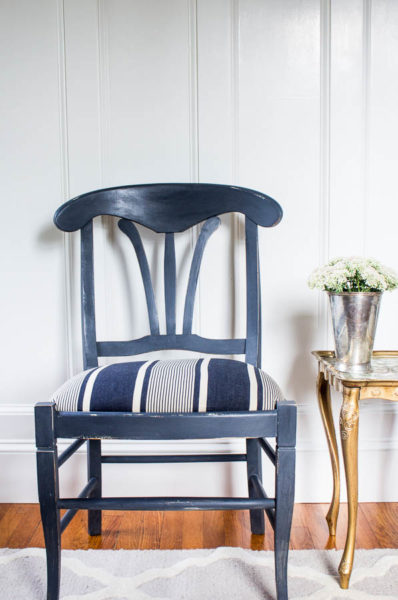 If you enjoyed this post then you might also like these posts and projects: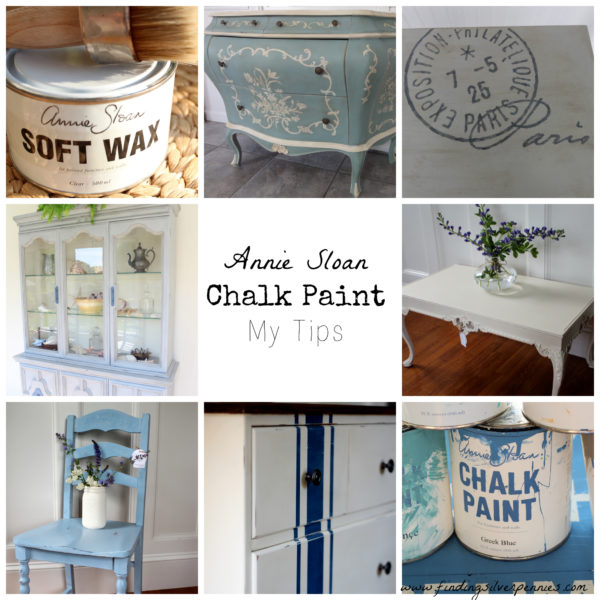 My Chalk Paint® Tips post (here) is still very popular despite writing it two years ago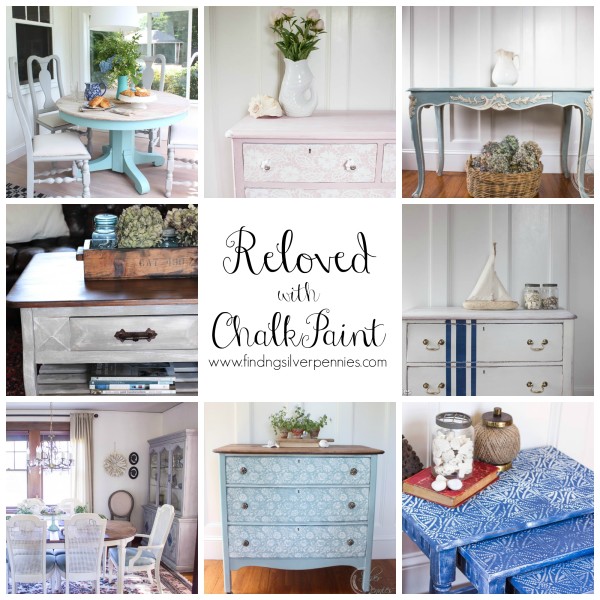 Click here for all my Chalk Paint Projects
Chalk Paint is so empowering.  Who'd of thought a chair ready for the trash would come out like this? What will you be painting? To find your local stockist click here.
Don't forget to paint it. Love it. Share it…
Print out you frame here (or pick one up at your local stockist)
Carefully cut out the middle section
Hold the frame in front of your painting project
Share it and the post with your friends and followers on Twitter, Instagram or Facebook, adding #MadeItMyOwn