Happy (almost) Friday, friends! I have a serious case of summer-itis coupled with LOADS on my "To Do List". My boys are in school for one more week so I'm counting down the days and eager for our summer fun to begin. I'm also trying get the house back together after our renovations. Today, I thought it might be fun to share a round up of 5 Ikea Hacks. We all love that place, right? I'm actually itching to go to our local one again as I have my eye on a pan for the kitchen and couple things for the boys' bedroom makeover.
Anyway, here are 5 ikea hacks you can do this weekend!

Note: Some of the links in this post are affiliate links, which allows me to make a small commission from your purchase, but your purchase price stays the same. Thank you for helping support our blog!
This sturdy stool has become a fixture in our kitchen. I updated the plain Bevkam in the beech finish with some Miss Mustard Seed Milk Paint and sealed it with Tung Oil Mixed with Odorless Solvent for a water-resistant finish. We've been using this stool for two years and it looks just as it did when I painted it. It's withstood toddlers, kids, spills, and splashes. I love having this in our kitchen.

I actually also painted another version of this stool in Luckett's Green.  I love how these milk paint colors give a chippy, old fashioned look.  Perfect as a step stool or a side table in a cottage bedroom or sleeping porch!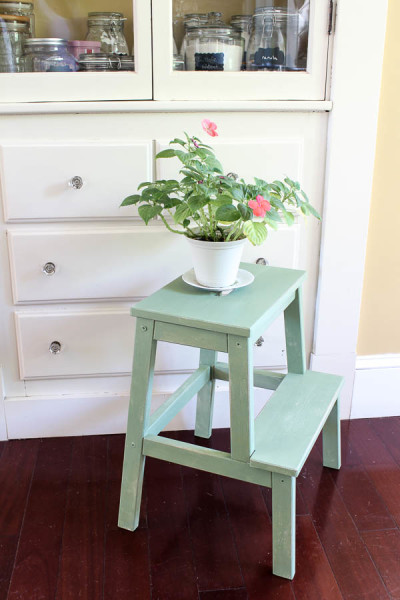 2. Rast Hack
Want to try something a bit more glamorous? Why not a beverage cart for summer cocktails or fizzy lemonade? The Rast is a pine dresser with three drawers.  It's the perfect size for a large bedside table or small chest of drawers. When I saw it though I pictured a pretty place to stir up some summer sips. I used some white Chalk Paint®, Ikat Stencil from Royal Design Studio and sparkly knobs to give this a glammed up look!

Would you know it was the same piece?  I love how happy it is!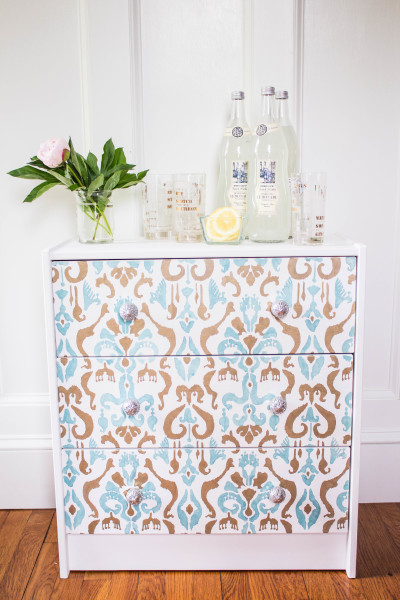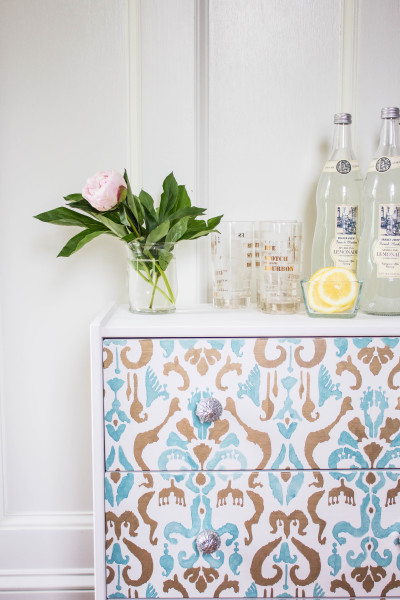 Not all pictured below are from Ikea but Ikea does have a HUGE stationery and office selection, many are basic black, white, cork, wood – all blank canvases ready to be hacked!

I opted to use some General Finishes Java Gel Stain and Royal Design Stencils with Antique Gold Stencil creme on the Knuff magazine holders. This was a quick an easy update and gave it so much elegance. This black clipboard also got some stencil love!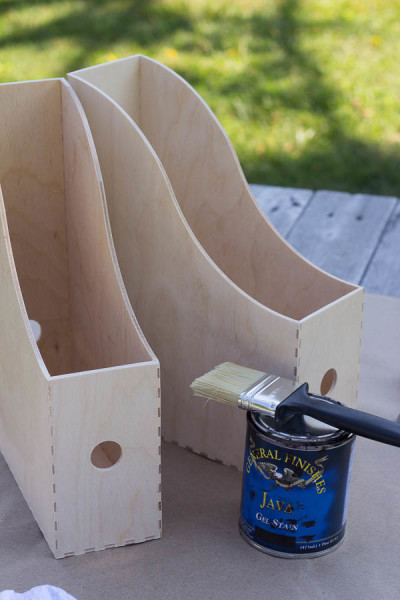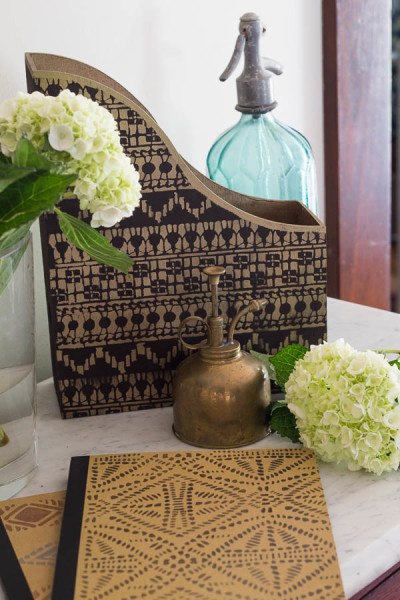 It was fun to personalize this stationery  and adds a little of my personality into my home office.  The magazine holders are great for storing files, magazines, business cards.  I'm always writing ideas down in my journals.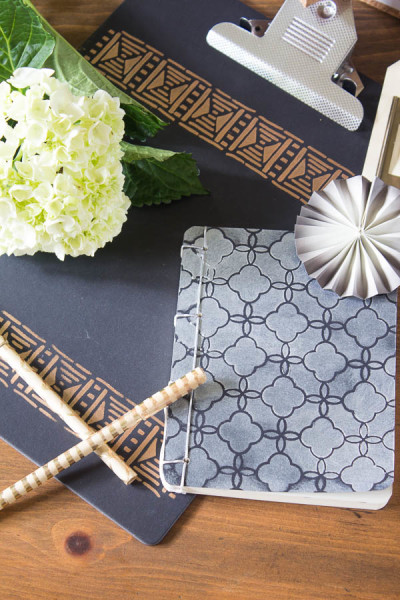 A plain acacia wood stool gets a little paint and a little faux fur to become a whimsical stool for our playroom. My boys loved the dipped legs, done with Fusion Mineral Paint and we turned a faux fur infinity scarf into upholstery for the seat.  You could also use the faux sheep skin rugs from Ikea.

5. Avskild Trivet Placemat Hack
My kids love all things Mexican and Tex Mex. So our Cinco de Mayo Fiesta included an Ikea Hack, but this could also work well for any summer Tex Mex party.  Simple cork placemats were stenciled with Chalk Paint® and Royal Design stencils Otomi Furniture Stencil. This one also looks so great on furniture.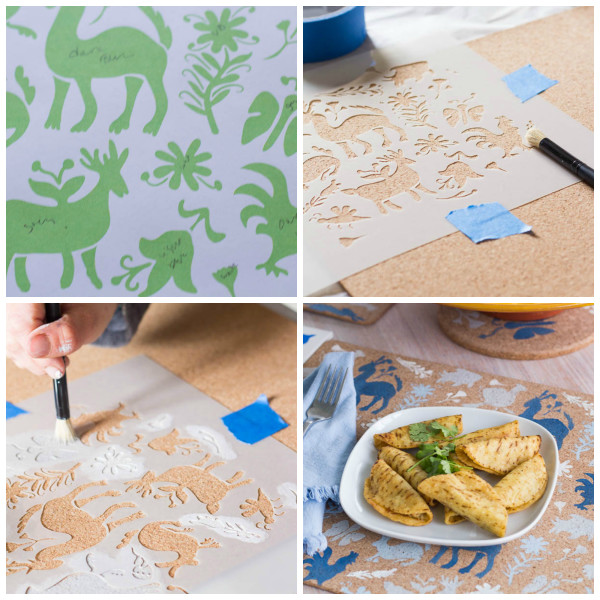 Here's how our fun table looked: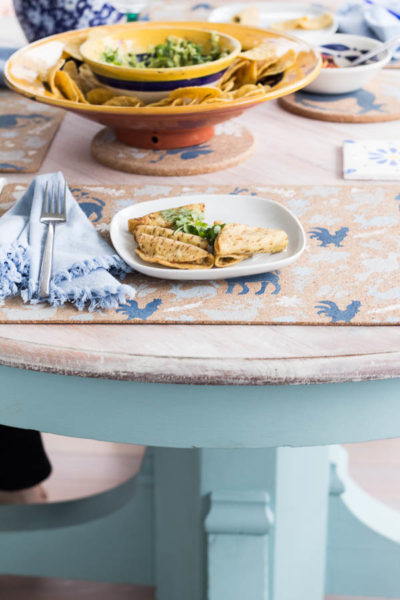 Do you think you'll try any of these Ikea Hacks????
Oh, I also told you I had fun news!  Well, I have another Ikea Hack – one with the Norden Console in my friend's book. Elyse Major and Charlotte Rivers have a new Ikea Hack book coming out called I Modify Ikea (US Version) out in October.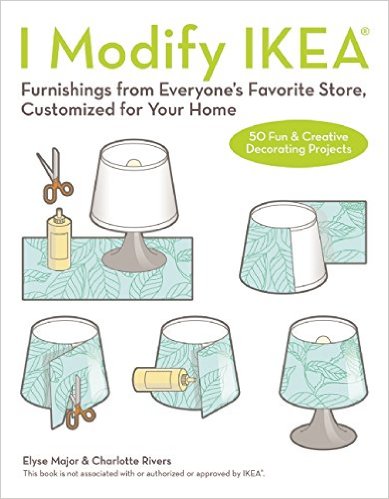 The UK version is available in July: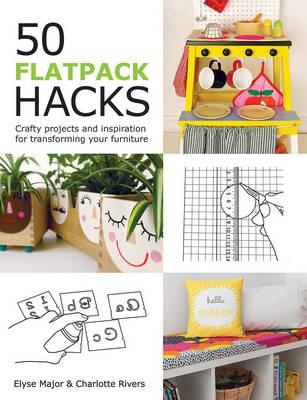 So there you go, 55 Ikea Hacks to do in a weekend!
Sharing with: