This is quite an exciting day!  I'm combining two things I LOVE – upcycyle thriftstore items and talking about Ikea 😉
This week marks the 5th installment of Swap It Like It's Hot created by my good friend Charlotte over at CiBurBanity. There's a whole bunch of amazing bloggers taking part this time around.  I've included a list at the bottom of the post so you can follow along.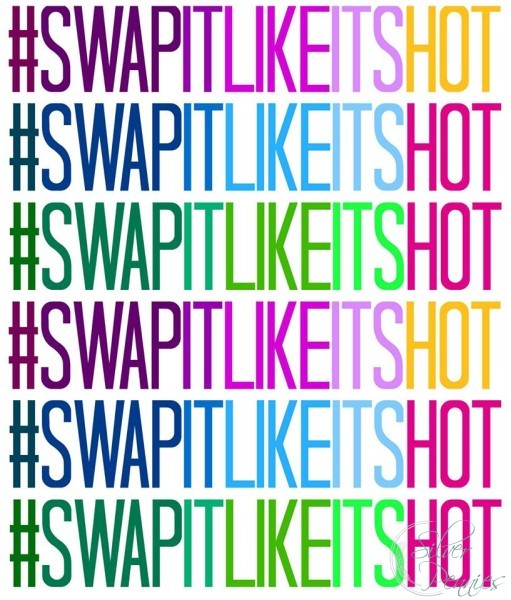 This is my 4th time doing it. Here are some things I created in previous ones: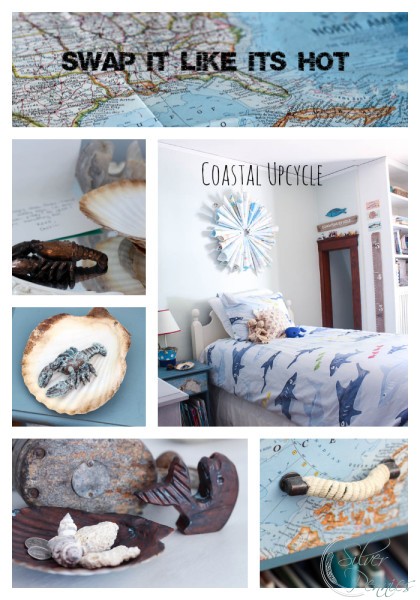 Coastal Upcycle for Conor's Room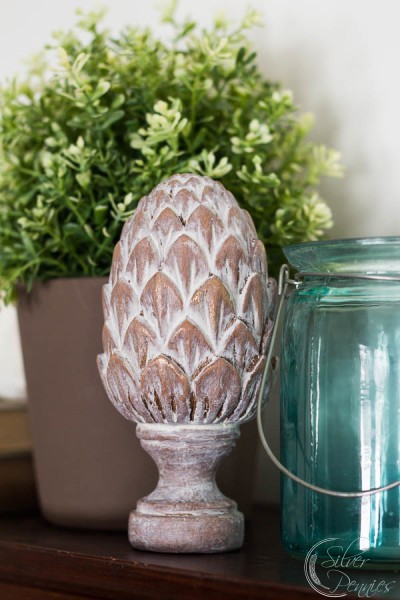 Finial Turned Shabby Chic Accent
Well, I think this one is my best yet!  I love getting the box in the mail (it's kind of like Christmas morning), my heart races and my palms get sweaty as I eagerly tear it open to see what's inside.
Here's what Charlotte sent me: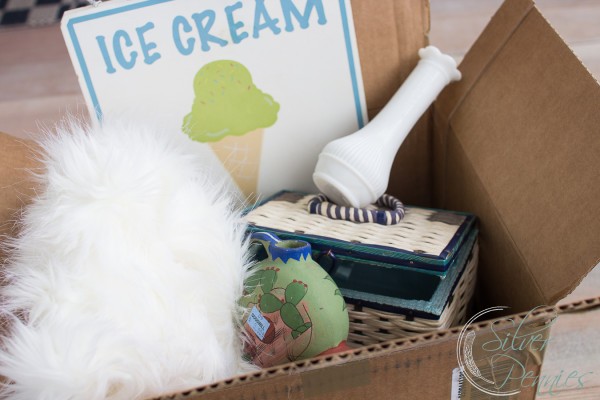 Sooooooo much great stuff in there but my eye instantly went to the faux fur. I am a little obsessed with faux fur right now.  You probably know this from our spring home tour, but I have faux fur throws and pillows throughout our home. The other objects that caught my eye were the vases. I decided to focus on these for this makeover.
Okay, you ready?!? Oh, wait, you have to see sweet Conor posing: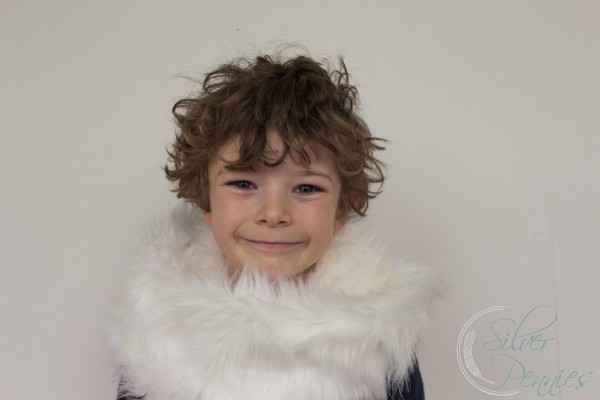 My little model. The fur was actually an infinity scarf which is so adorable…
Okay, now are you ready?!?!?
Here's what I made: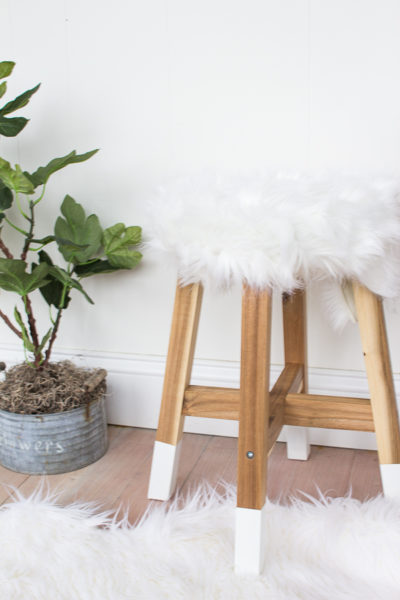 A dipped stool!  This is an Ikea Hack with a brand new Ikea item. The Skogsta stool. It is made out of solid acacia wood which in itself I think is adorable. Isn't it a sweet stool?

Here's how I created this makeover.
Note: There are a few affiliate links in this post. The products don't cost you more but our blog gets a percentage which helps me continue blogging.
Materials:
Method
Step 1  – Ikea furniture comes "flat packed" so the first thing to do was assemble. This was super easy.
Step 2 – I really love the "dipped" look on furniture. I think it's fun and whismical and thought it would work well with my faux fur upholstery.  The dipped look is just what it sounds like, it is to make the furniture look as if it was dipped in paint.
I started by measuring my legs and I went up four inches and put the FrogTape around the leg at that point. Then I painted a few coats of Fusion Mineral Paint in Picket Fence. I used a foam brush so there wouldn't be any brush strokes. I think I did three coats in all.
Once dry, I removed the tape.
Step 3 – Time to cut up the faux fur infinity scarf.  I used a seam ripper to cut along the seams to have a flat piece of fabric. If you're using the faux fur rug from Ikea you can just ignore this step.
Step 4 – Line your faux fur up on top of the stool.  Allow extra fabric on all sides so you can attach it to the stool. Flip stool over and staple with a staple gun to the wood underneath.
Step 5 – Trim fur.  I left a little bit hanging down as a boho touch.
Step 6 – Enjoy your new piece of furniture!
Here it is finished!!!!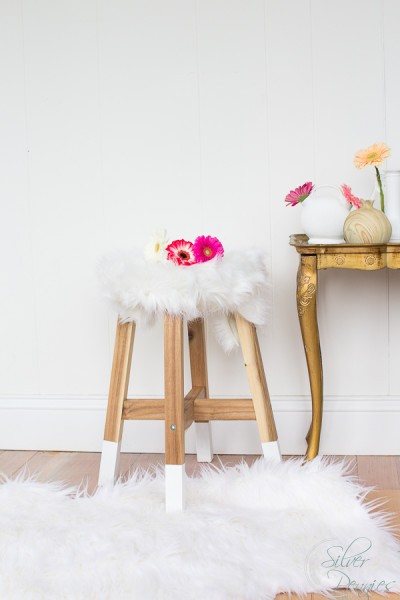 Some sweet Gerber daisies to celebrate spring. You may notice that I left the white vase natural and painted the Mexican one: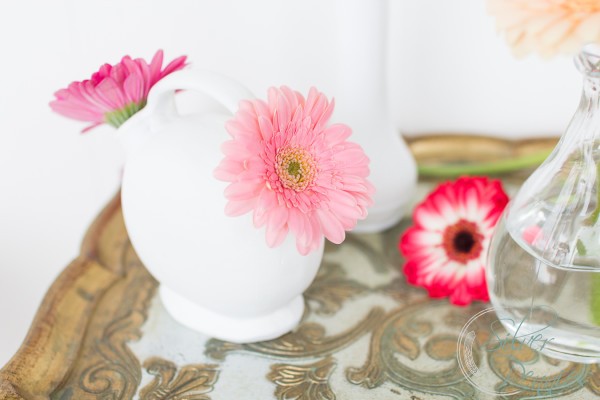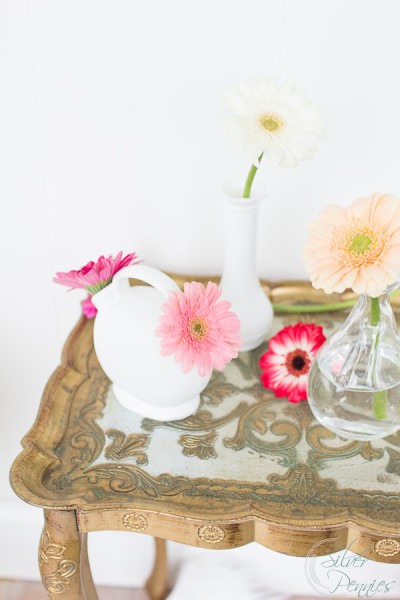 Here's one more look at the Ikea Hack Stool.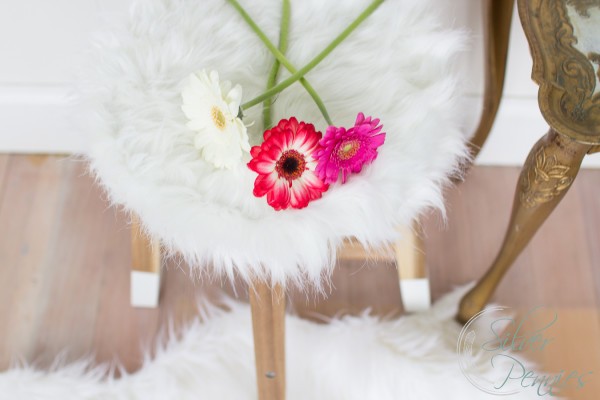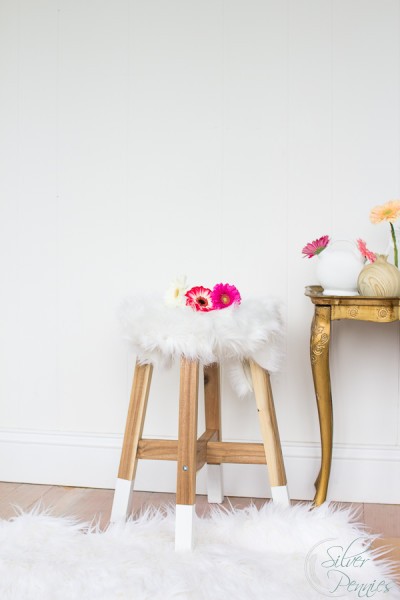 Conor has claimed the stool. It is in the playroom and he loves sitting on it while playing games. I think we're going to have to make another. I LOVED making it.
You're probably wondering what I sent Charlotte.  Here's what she got in her box: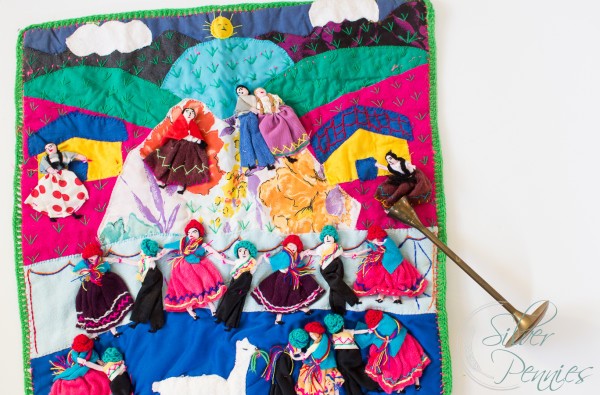 It is all hand embroidered and thought it would be so fun in her house! I can't wait to see what she does with it!
Be sure to check out all the amazing swap projects:
MONDAY
Hearts & Sharts / 58 Water Street / I Am a Homemaker
Prim and Propah / Create & Babble / Windgate Lane
Gourley Girl and Guy / Dogs Don't Eat Pizza
TUESDAY
Confetti Style / Blue i Style / Polished Habitat
Two Purple Couches / Run to Radiance / Restoration Redoux
Confessions of a Serial Do-It-Yourselfer / Our Southern Home
WEDNESDAY
DIY on the Cheap / Prodigal Pieces / That's My Letter
Southern State of Mind / Roadkill Rescue / Always Never DoneYear of Serendipity / Casa Wakins
THURSDAY
Two Thirfty-Five Designs / Finding Silver Pennies / Ciburbanity
The House of Wood / Decor Adventures / Bright Green Door
FRIDAY
While They Snooze / The Charming Farmer / Primitive and Proper / A Designer At Home / BrePurposed / Home Made By Carmona / Domicile 37 / Evey's Creations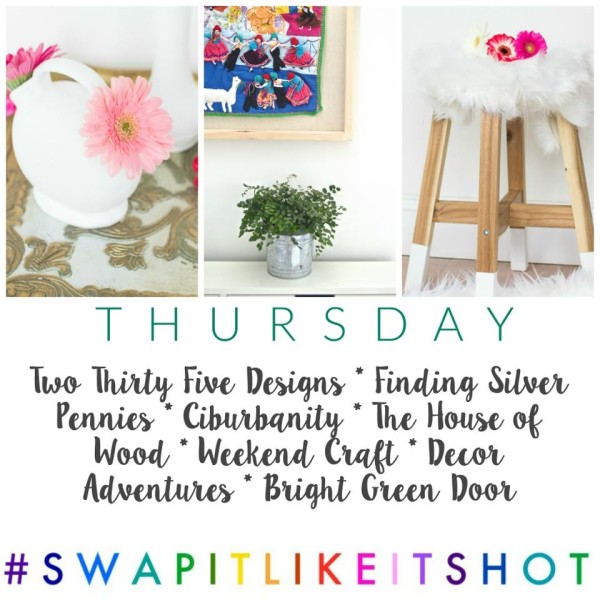 Sharing with: