I have a makeover for you today! Meet the Brackenbury Dresser: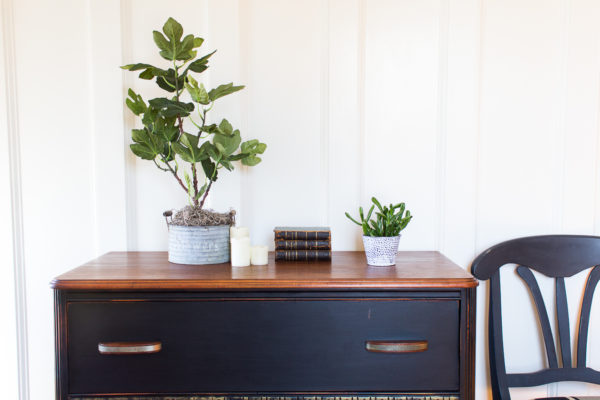 If you've been following the blog, then you know I have a bit of a passion for painting furniture and upcycling.
I really, really, really love breathing new life into old pieces.
I know it's going to sound really corny but while I'm working on a piece of furniture I feel lighter, my heart is happy and, usually, I'm singing along to the radio at the top of my lungs down the basement.
So when my friend Beth over at Home Stories A to Z sent me a message about a little blog hop on restoring a piece of furniture for under 50 bucks, I was like sign me up ASAP!!!! Not that I need an excuse for buying old furniture.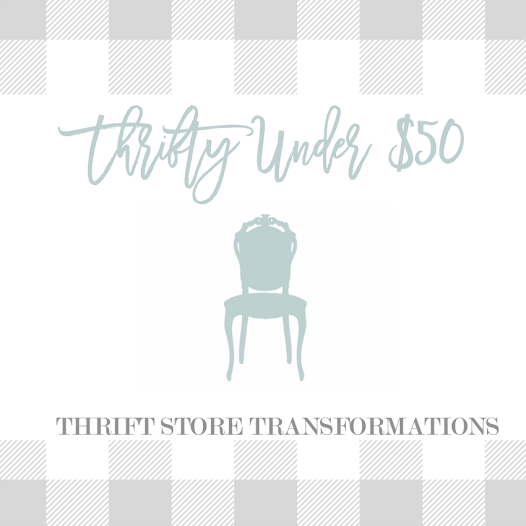 If you're stopping by from Design, Dining and Diapers, welcome! I love what Taryn did with her find! I'm so happy to have you visiting.
This is the piece I found for $30 on a Facebook Yard Sale site –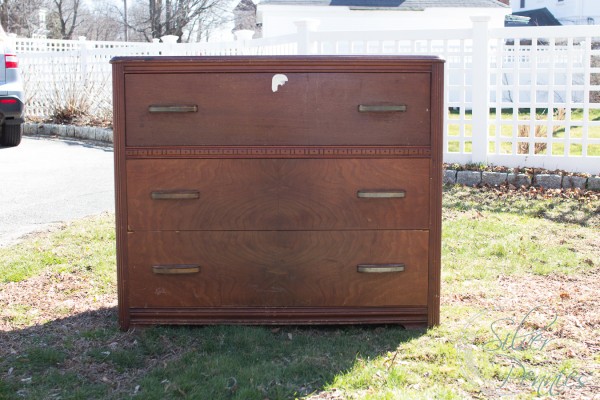 I brought all my guys with me to pick it up.  My kids always like coming along for the ride 😉 Conor is such a good little treasure hunter.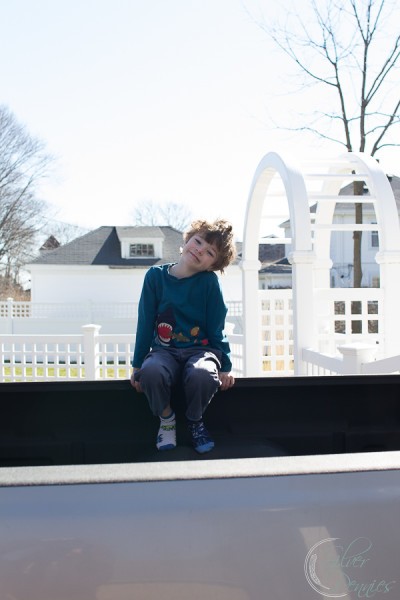 Anyway, this 1940s piece had a lot of damage to the exterior. Lots of scratches and dings and missing veneer.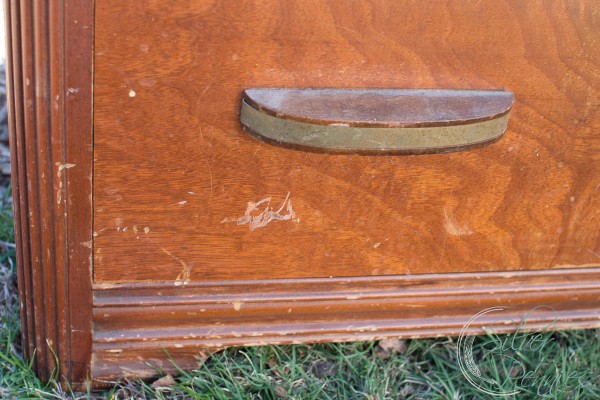 There was a whole on the side and candle wax.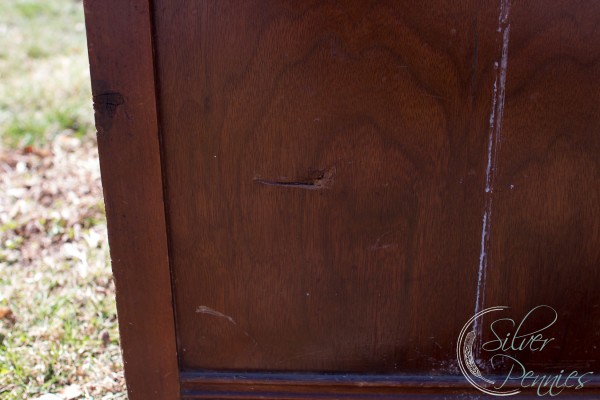 The top was really damaged too.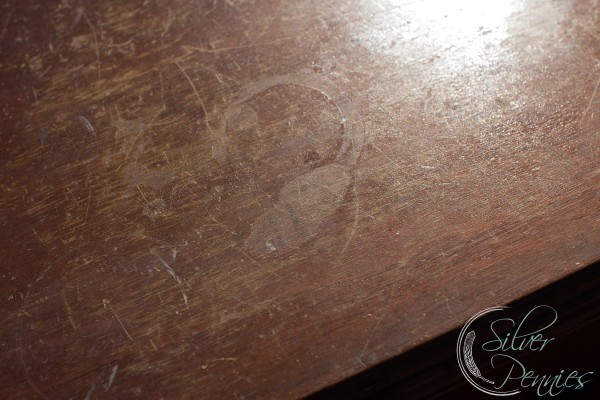 Oh, and yes, there was a hook on the front, not really sure why you'd want to hang something from the front of a dresser, but anyhow….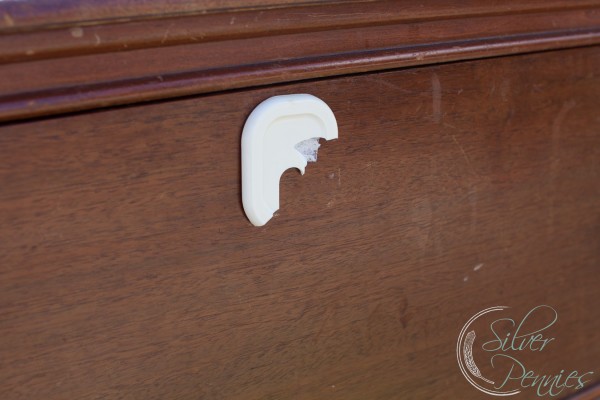 But I fell in love with this piece. The drawers were so clean inside and all the repairs were really superficial. This one had good bones! When buying furniture to refinish I always give it a good inspection before handing over the money.  I also make sure to smell the furniture because some smells you just can't get rid of. Ugggghhh! But this didn't have any orders at all.
I love 1940s pieces for their details – the molding and those handles, aren't they stunning? I knew I had to keep them just as they were! When looking for furniture to paint I always look for strong lines and unique shapes and detailing.
Note: Some of the links in this post are affiliate links, which allows me to make a small commission from your purchase, but your purchase price stays the same. Thank you for helping support our blog!
I started first with the repairs.  I used some wood glue and clamps where needed and I patched that hole on the side with Modern Master's Texture Effects. I had this in my basement, I've also used Bondo to patch furniture too.
Then, I got ready to strip the top. For stripping, Citristrip is my favorite product.  I made this video a little while back about stripping (I know it can be scary!), but this product is all natural and safe enough to use inside.  NO HORRIBLE FUMES.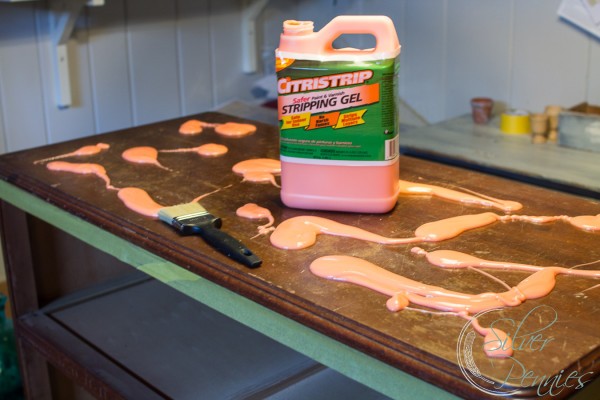 Apologies for the poor lighting in the basement (that's my home studio). To strip you apply the orange Citristrip gel with a cheap brush (I like ones from Ikea) and then you wait, and wait and wait some more. I often find this part hard… I don't like to wait for things. Anyway, I usually tape off the edges to prevent the stripper from dripping with FrogTape.
After 30 minutes to an hour you'll see the finish start to bubble and lift off.  You want to go with the grain of the wood and use a plastic scraper.  Once the existing finish is removed, I then go over the area with mineral spirits and superfine wire wool. In order to restain the piece you need to remove all the existing finish. I wash it down with water and then wait a day to let the wood rest. Stripping with a liquid stripper can raise the grain of the wood so you should let it rest before doing anything else.
Then it's time to stain.  I used Minwax's Special Walnut. It is one of my favorite stains.  I use it A LOT.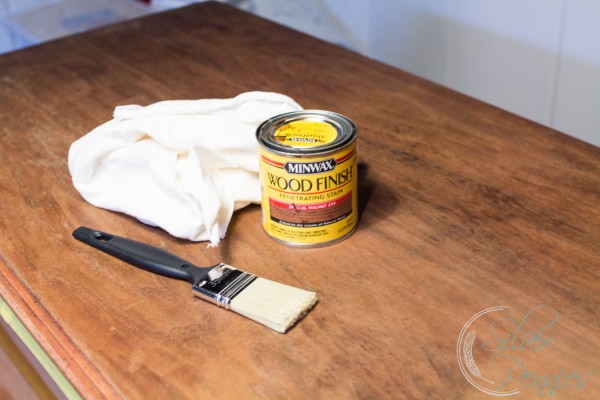 Here you can see the bare wood.  I also sanded a little bit to make sure it was smooth before staining.  You just need to make sure you're wood is super clean as any debris will go into your stain.  If you'd like more tips on staining you can read this post, here.
The wood came out beautifully on top, I sealed with Minwax Wipe-On Poly: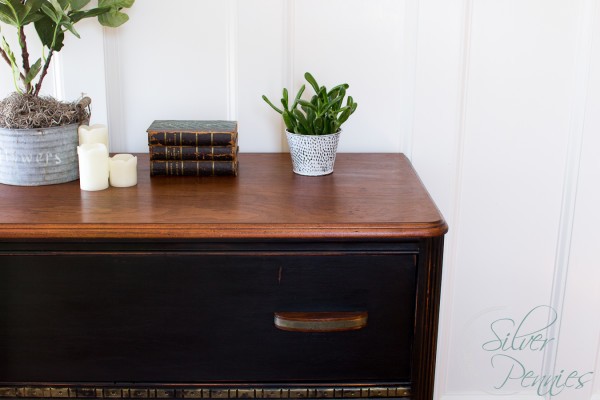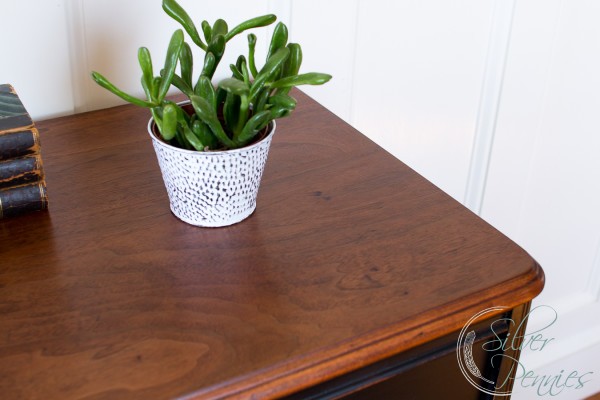 I prepped the body of the dresser by scuff sanding it and washing it down with mineral spirits followed by warm water.  Once dry, it was time to paint!
I decided on classic black for this classic piece! I thought with its masculine lines and brass hardware and dark wood it would have the perfect men's club look. I opted to go with Coal Black by Fusion Mineral Paint.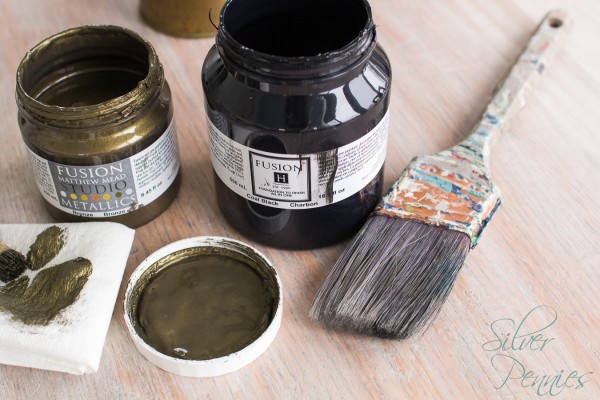 It is a lovely black – rich and almost gives the impression of dark black velvet.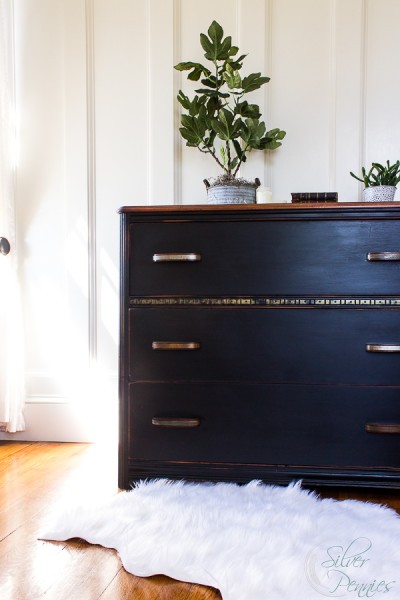 I distressed the dresser with a medium grit sanding block on all the areas which would receive the most wear naturally – the molding and around the drawers: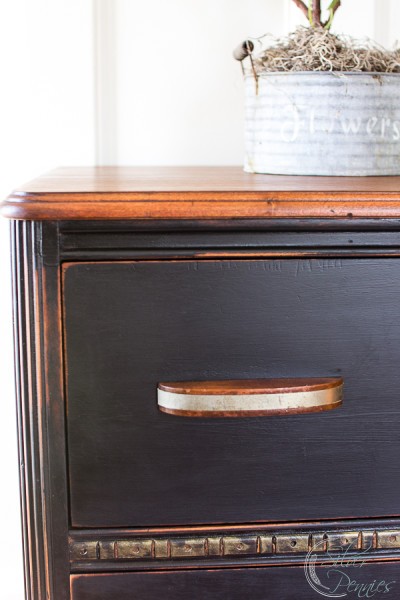 The detailing on the molding infront got a dry brush of Matthew Mead's Studio Metallics in Bronze. I thought it would play off the bronze detailing on the handles nicely: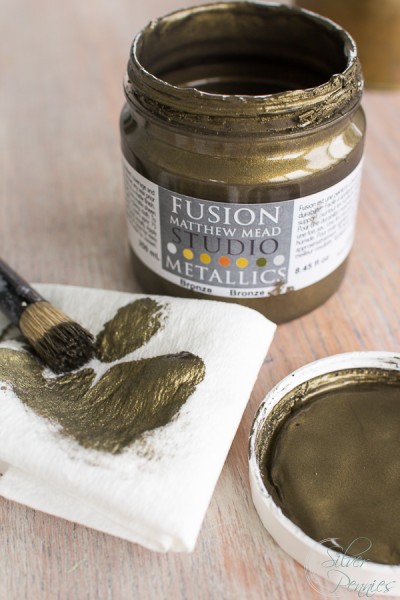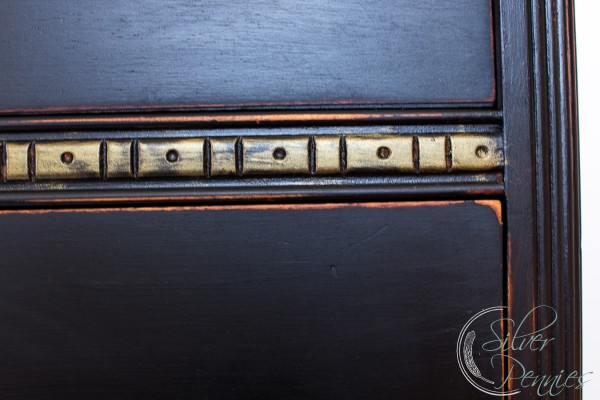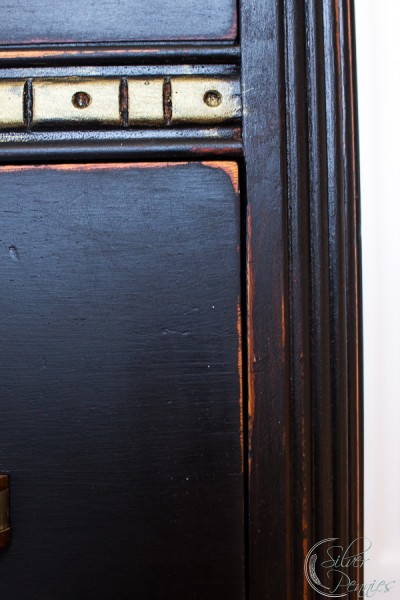 The body and the handle of the dressers got a coating of Fusion's Beeswax Finish. This topcoat has hemp oil and beeswax and it gives a nice luster to paint and also revives wood.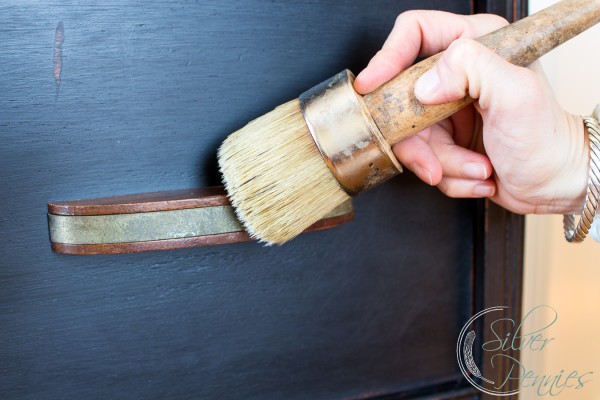 You may be wondering why I call it the Brackenbury Dresser; when we lived in London, our flat was on Brackbury Road, in Brackenbury Village, and I've always loved the name of the street. I thought one might find a piece like this in one of brick buildings along that street. Ah, such nice memories.
Well, what do you think of my little dresser makeover? I stayed in budget and did this makeover for under $50.

Here's a few more photos of the "After" because I just can't resist: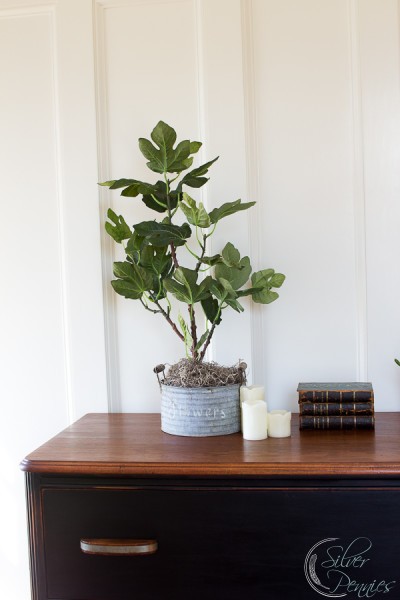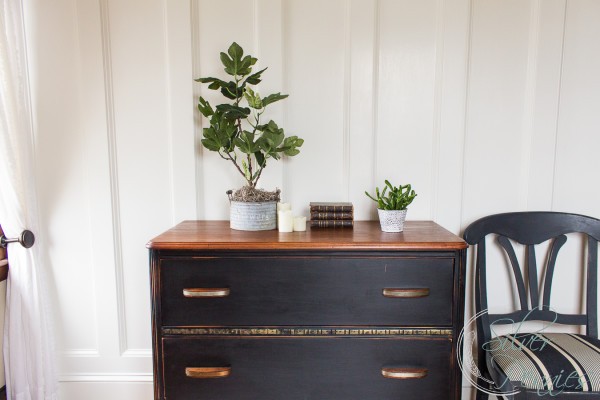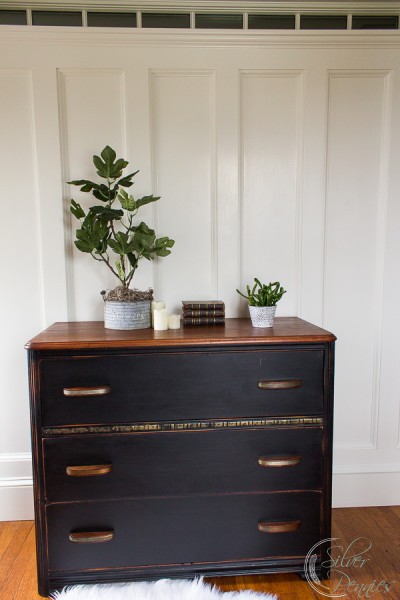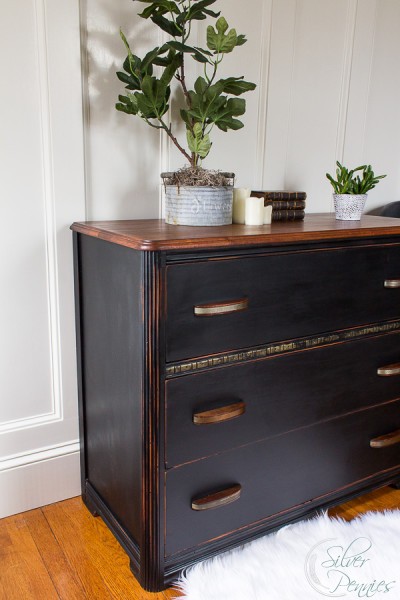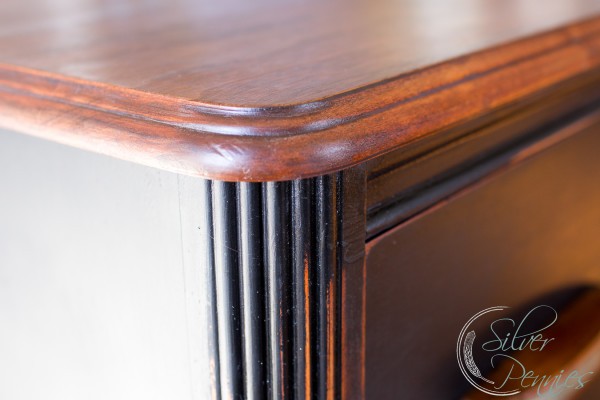 The Brackenbury Dresser and the chair pictured with it (part of a pair) will be available at my Open Studio this spring.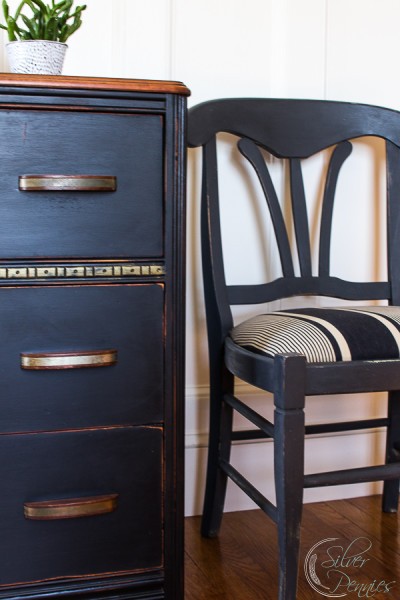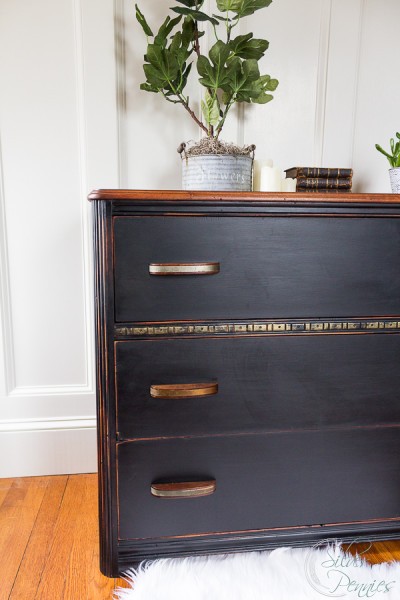 The next, and final, stop for today is Anderson & Grant! Can't wait to see what Jamie's done over!
Thanks so much for stopping by, if you'd like to see more Before & Afters click here.
I hope you can be inspired by all the blogs taking part in this Blog Hop:
Thrifty Under Fifty
Monday
Home Stories A to Z
Design Dining Diapers
Finding Silver Pennies
Anderson + Grant
Tuesday
French Country Cottage
Refresh Restyle
Just a Girl
Finding Home Farms
Wednesday
Bless'er House
Beneath My Heart
Love Grows Wild
Ella Claire
Thursday
Southern Hospitality
Life On Virginia Street
Four Generations One Roof
Nest of Posies
City Farmhouse
Friday
In My Own Style
Sand & Sisal
Julie Blanner
Fox Cottage Hollow
Sharing with: