Drum roll, please!!!!
Here it is, after months of planning, searching, and building! Here is our English Coastal Dining Room Reveal!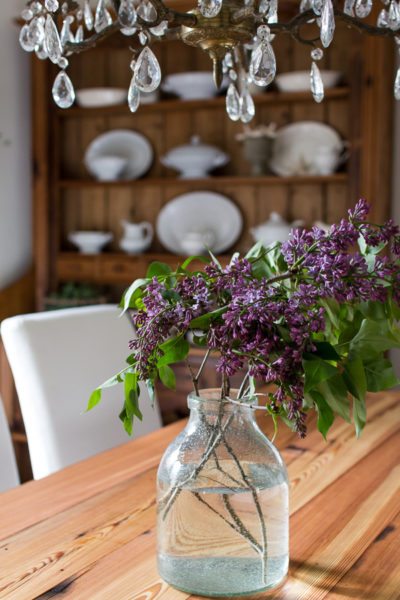 I am bursting with excitement as I share this newly decorated space with you. You may remember the dining room was the first room we decorated in our home almost 4 years ago. I LOVED my french set that we found on Freecycle even before we moved here and I lovingly painted it with Chalk Paint® but since then my ideas and desires and how we live have changed.
"Home is the ongoing story of a person" – Ilse Crawford
I very much wanted our dining room to be a place we gather as a family. I didn't want a fancy dining room but one that is comfortable and feels warm and inviting. I shared my inspiration for this room here.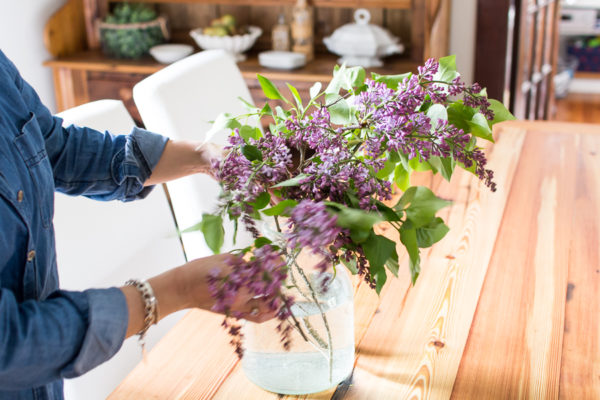 A place to arrange flowers.
A place to enjoy coffee and the newspaper or a design magazine.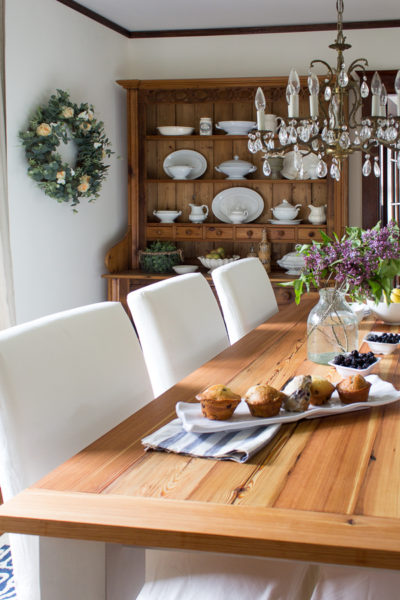 A place to giggle with the boys and fill up on muffins after school.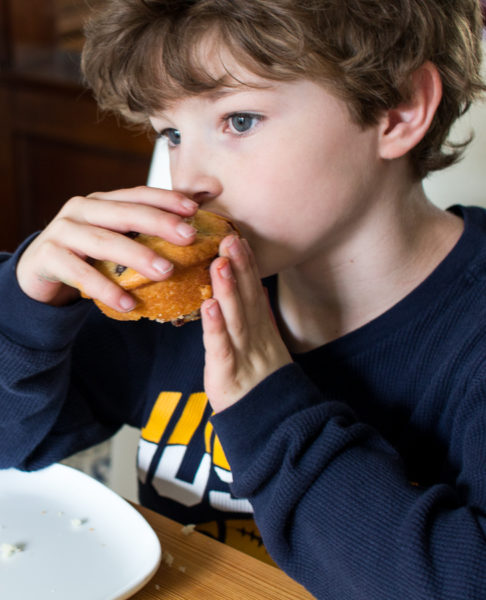 Our dining room is a place to live.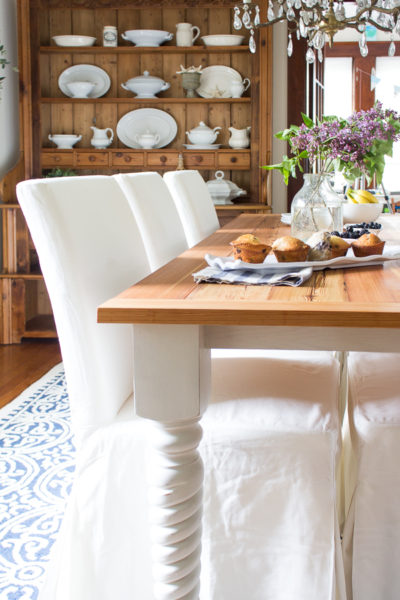 How do you go about creating a livable, cozy and inviting dining room?
If you've been following along then you know the Welsh Dresser was my jumping off point. It inspired the rest of the space. I very  much am in love with English style and decor but also wanted to bring in my love for the New England coast. The harbor is just down our street.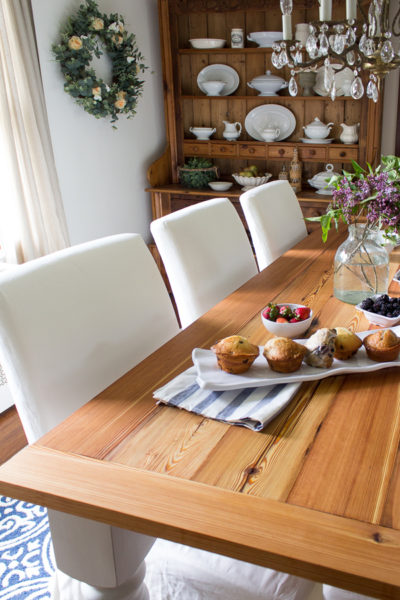 I decided I would focus on warm wood tones, whites and blues (my favorite colors that also are seen in the natural world) and also on texture – cottons, wools and linens. Since we have children and dogs EVERYTHING has to be family friendly.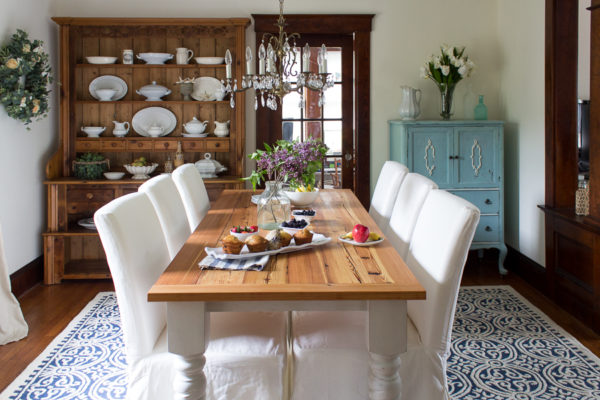 This post contains affiliate links and I will be compensated if you make a purchase after clicking on my links.
Our dining room is not very big and knew we wanted to customize our dining table. I dreamed of a farmhouse style table with plenty of room with chunky legs.
My friend Kim of Laurel Grove found us the most unbelievable legs which, we cut to length. They were from a butcher block, I think. This is called a Barley Twist pattern and is very popular in historic English pieces. Here you can see a close up of them. I'm just so in love with them.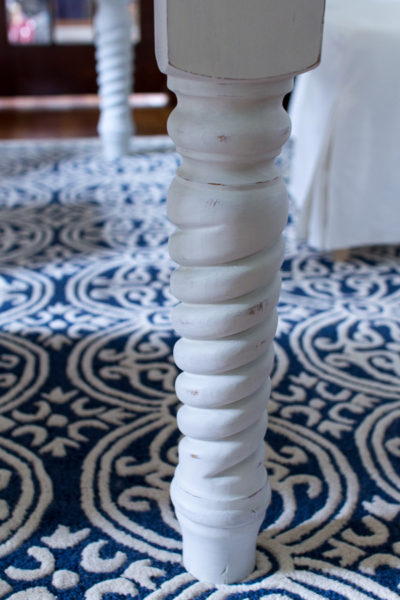 I decided to paint the legs to add warmth but also light. The legs were not going to match the top. A huge thank you to Homestead House paints for sending me some milk paint for this table! I painted the legs and apron in Miss Mustard Seed Farmhouse White. I added bonding agent because I was worried about the paint completely flaking off. I knew on the raw wood apron it would stick fine but worried about the surface of the legs. I distressed the table with 400 grit sand paper so it's super smooth and sealed with MMS Milk Paint Wax.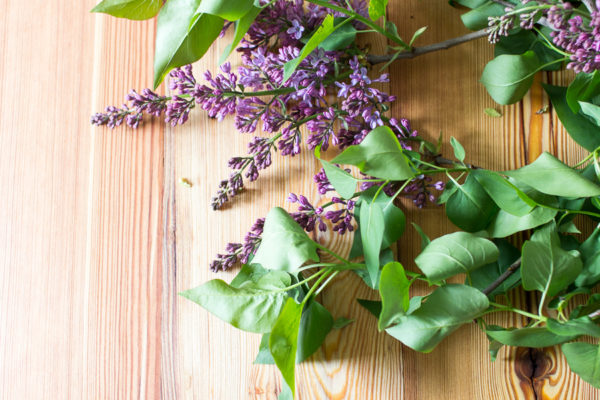 The wood top is reclaimed heart pine. We purchased the reclaimed pine from Stonewood Products down the Cape. It took Luke and I ages to decide on the right wood. The boys got so bored waiting, but the heart pine was the right choice. Luke planed, jointed and built the table. It was a long process but so worth the wait. You can see the progress here. I shared how we sealed the top last week on the blog, click here.
I really, really wanted this piece to look old. Like we found it.
It was important to me for the finish to be matte on the paint and on the wood surface while still being durable enough for our family.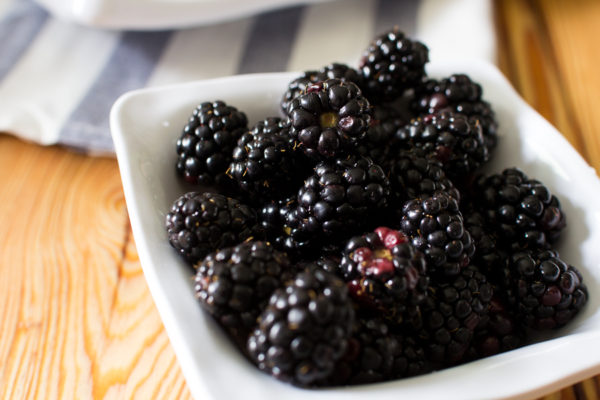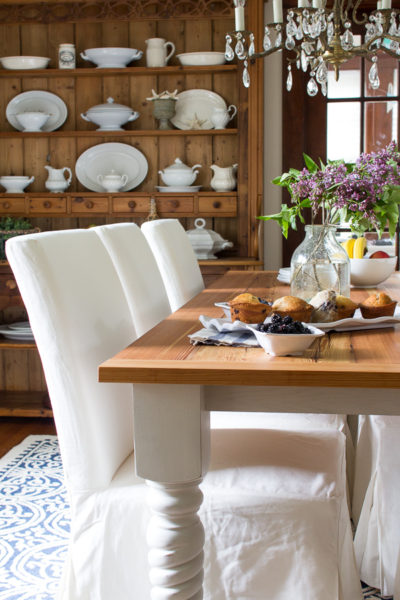 I think we succeeded!
The chairs are sooooooo comfortable! They are the Henricksdal by Ikea. I did the birch frame and the white long slipcovers. The chair with the slipcover was $89. I shopped around and this was the best price I could find and the most comfortable chair. These are white cotton and come off easily to wash. Since I know they will get dirty with boys, I bought two spare covers….
When our oldest saw them, in the room, he said, "Oh, Mommy, they look so coastal." 🙂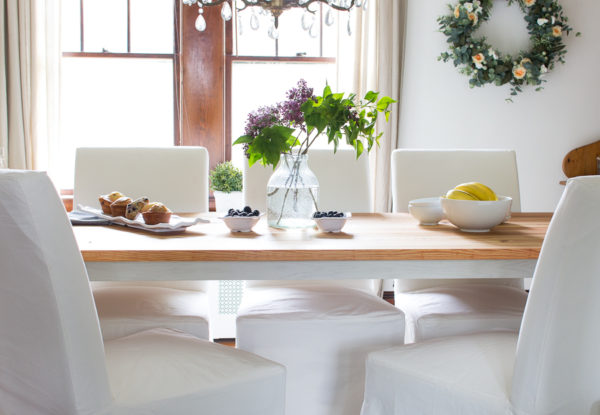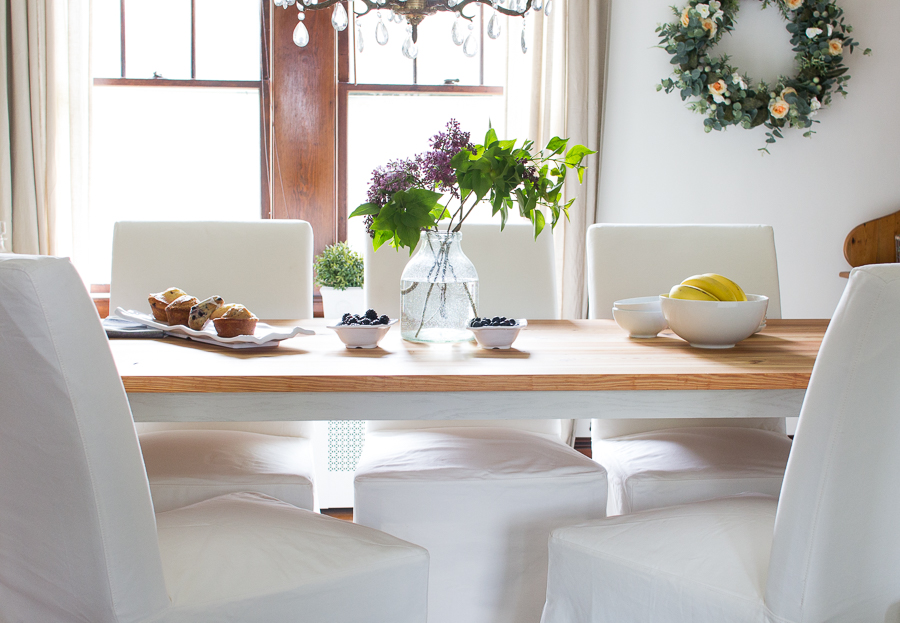 Since the room is not very big we designed the table so the chairs would be three each side.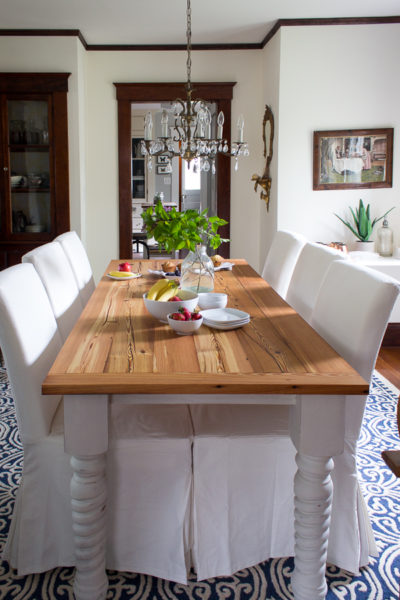 If we have a larger group for dinner we can turn the table the other way and put chairs at the ends, but for our every day it will be like this.
Above, you can see the view into our kitchen from the dining room. The lithograph above my faux marble bar cart has special meaning as it used to hang in my parents' restaurant.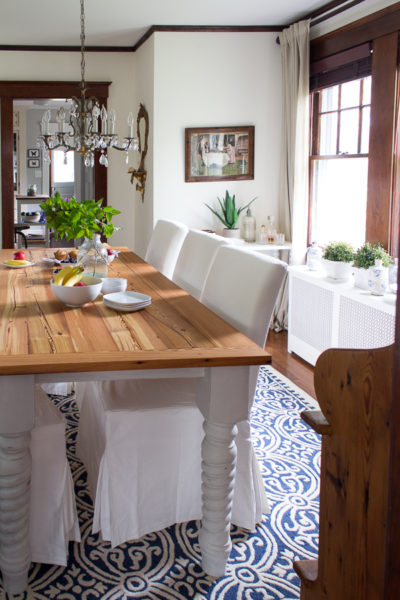 The rug was on sale from Overstock and I'm sooooooo happy with it. I debated to replace our oriental with another but I was just drawn to this bold pattern. It's by Safavieh and is 100% wool. It is so soft under foot. It was 70% off which I think is a steal.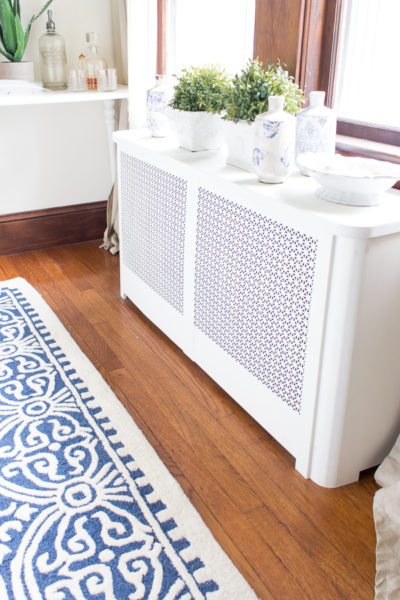 The rug has made the table pop and also made the room feel soooooo much bigger.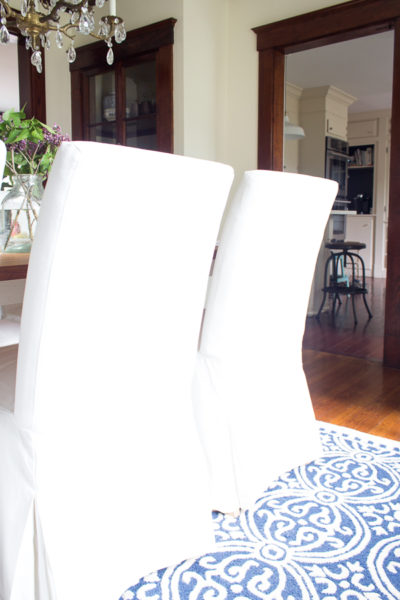 It all works together and is even better than I thought it could be.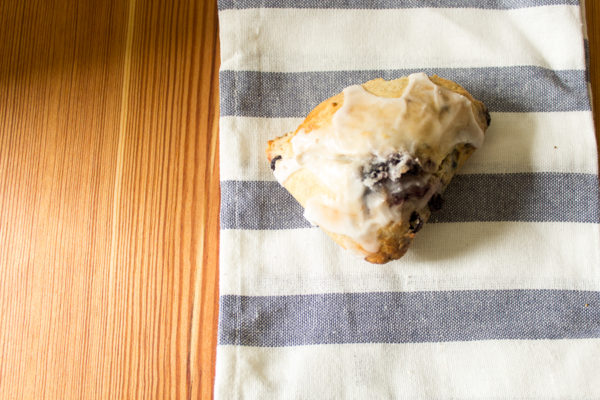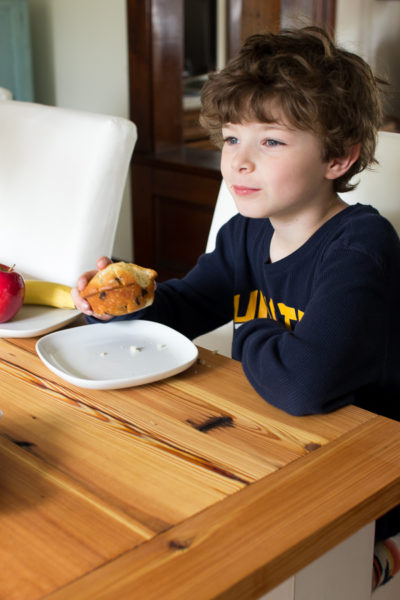 Can you believe this tray is melamine? Q Squared sent me a few pieces to try out and I LOVE them.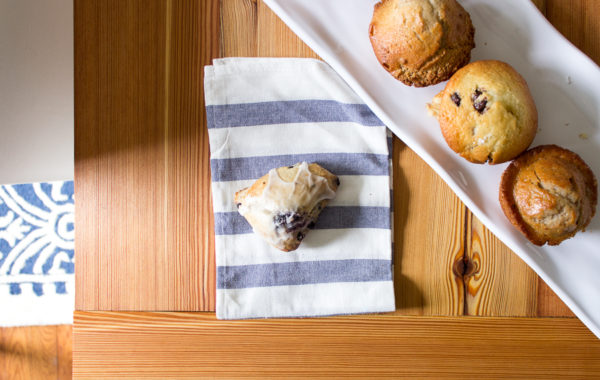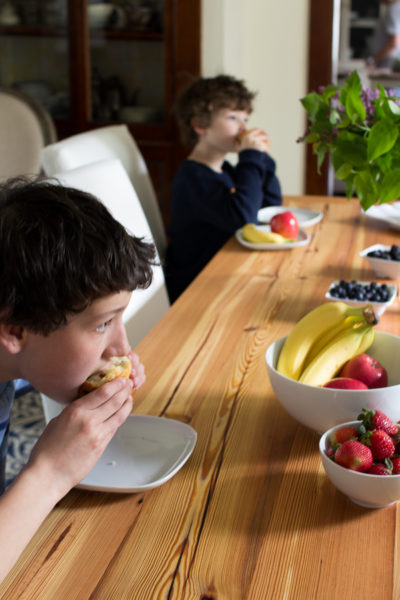 I know this one is slightly out of focus, but this is real life: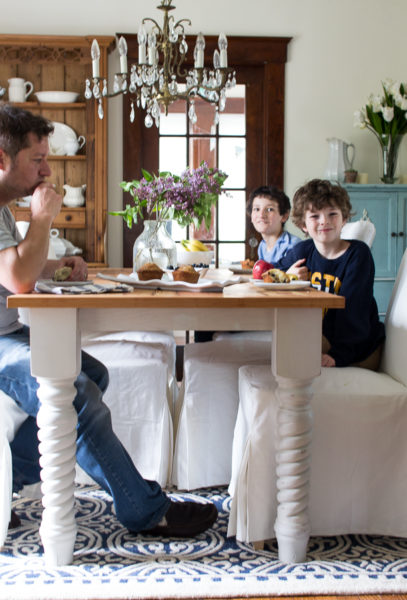 Living in this space with my little family is the best.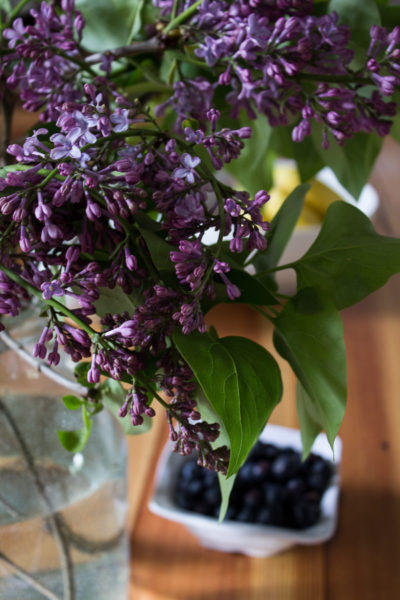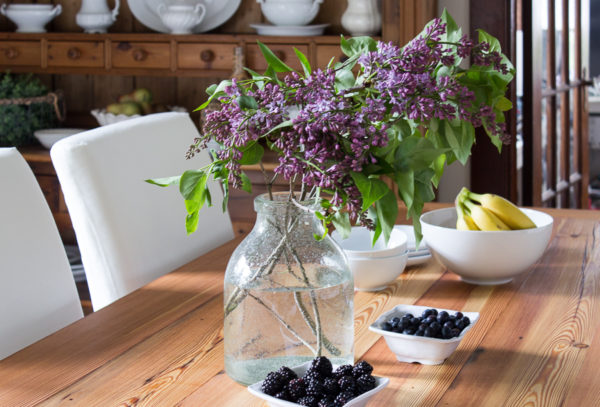 I hope you enjoyed seeing the space as much as I enjoyed sharing it with you.
In case you're interested in items used I'll include a full source list below.
Also let me know if you'd like a tutorial on the table build, I might be able to convinced Luke to share it.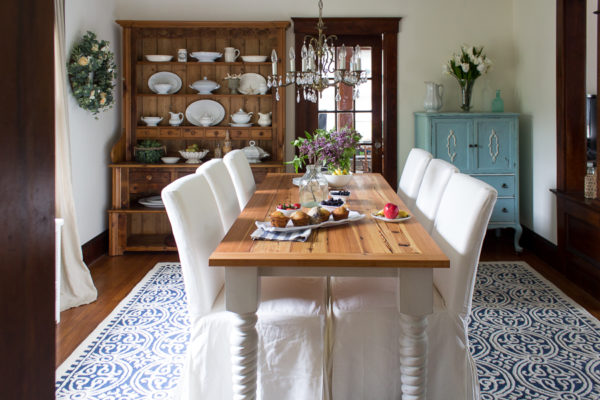 Source List