You guys, I can't believe it! Luke's finished the dining room table. It's been weeks and weeks, of planing, jointing, sanding, sawing and building. I spent last week painting the legs and apron. Over the weekend, we sealed the top and it looks FABULOUS!
I plan on sharing the whole room with you guys next week.
But today, I thought I'd share how to seal reclaimed wood.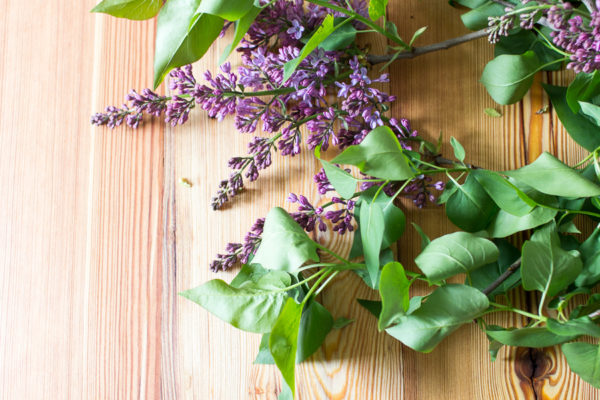 You may remember back in March we got the reclaimed heart pine at Stonewood Products down the Cape. It took us FOREVER to choose which wood. I thought I wanted barn wood but then it would be too splintery and not thick enough for the table top and I also wanted it to tie in with our Welsh Dresser. Well, I'm so happy we went with the heart pine.
This was the wood we chose: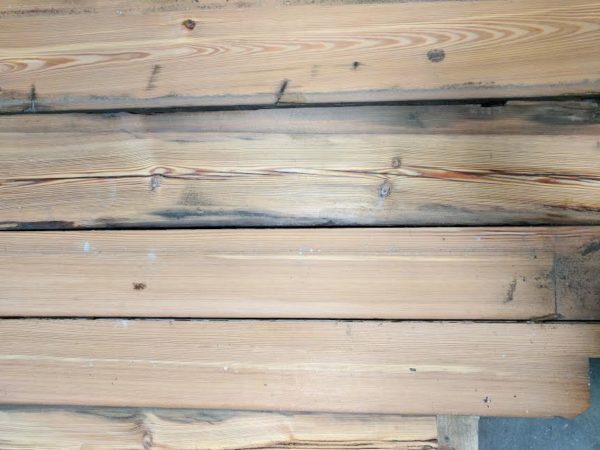 Luke has done so much with this wood, it's amazing!
Here's how it looks now! A little sneak peek of the table 😉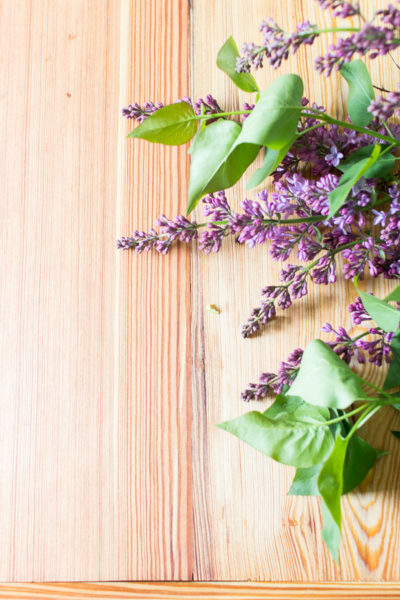 So how did we go from the before to the after?
Luke, planed and jointed the wood to make it flat and square. He cut and glued to make the table top, using dowels at the ends. Then it was time to make this wood useable as a table surface.
This post contains affiliate links and I will be compensated if you make a purchase after clicking on my links.
How to Seal Reclaimed Wood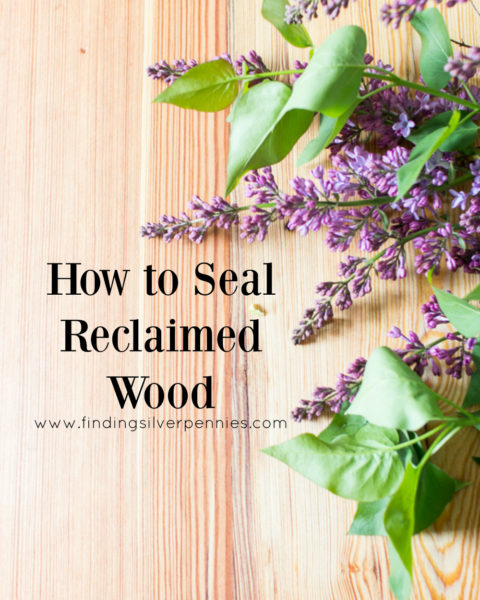 Materials 
Method
Step 1 – Make sure your work surface is completely clean and dry. I washed down and waiting overnight before applying the oil.
We decided on Woca Worktop Oil in Natural because it would highlight the warm color of the reclaimed heart pine and would not make it darker. Woca also makes a Worktop Oil in white if you want the wood to be lighter. This is our first time using Danish Oil. In the past I've used Hemp Oil and Tung Oil. Hemp Oil has a tendency to make the wood slightly darker as on our welsh dresser, click here to see my reviving that piece. I've also used Tung Oil but that usually needs to be mixed with a solvent and takes longer to dry. The Woca Oil is vegetable based and fully cures within 24 hours. Let me know if you'd like me to write a post comparing different oil top coats.
Step 2 – I applied the Woca Worktop Oil in Natural with an Ikea brush. I like using these because they are cheap and I can just throw them out after.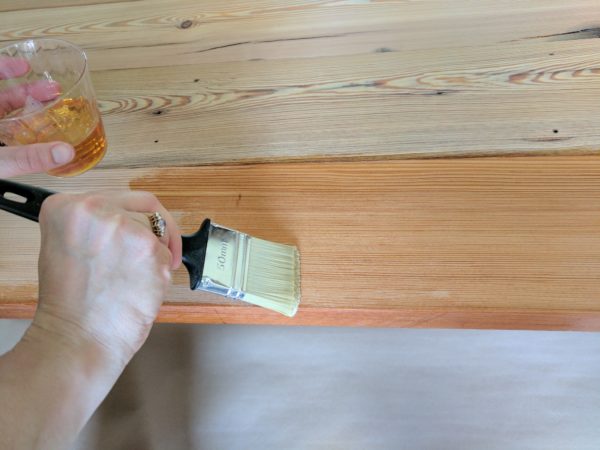 I applied to the edges and then worked in.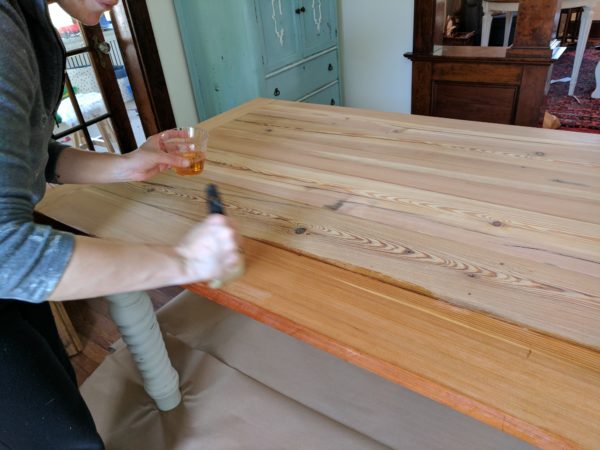 The oil went on nice and smooth. Allow the oil to sit on the surface for 20-30 minutes. I set a timer on my phone.
Step 3 – While the table is still wet use 320-400 grit wet dry sand paper to run over the wood. This makes the wood super smooth.
Step 4 – Remove all excess oil from the table using lint free cotton cloths. I had to use a bunch of cloths. You want to make sure you're always wiping with a dry side to get the oil off the table. Don't leave any oil on the table.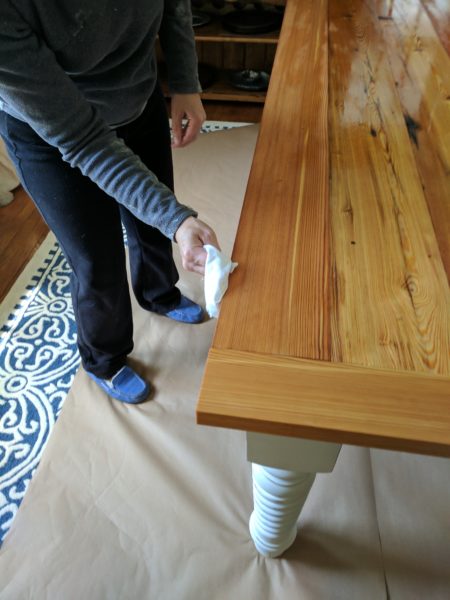 Yes, was doing this in my pjs and slippers on Sunday morning! Oh, and why yes, my slippers match my new rug 😉
Step 5 – Attach a buffer attachment to a drill and buff the surface. Be sure not to press hard on the buffer, just let it float above the table. I was too scared of doing this bit so I made Luke. You may want to wash the buffer attachment ahead of time to prevent hairs from sticking to the table. If you do this, make sure you allow enough time for the buffer to dry before buffing surface.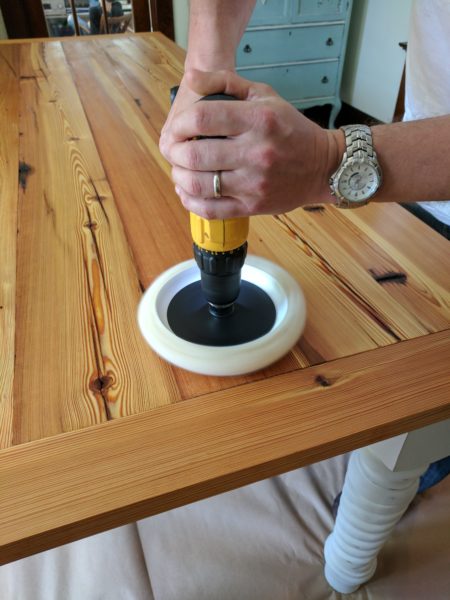 I actually made a video of that bit:
Step 6 – Repeat the previous steps. We did two coats of the oil. It says on the instructions that you should do this 4 times a year, but I think that is more if it's a hard wearing surface like a proper counter. I'll keep you posted on how often we seal the wood.
Make sure to dispose of any rags, cloths, brushes, etc properly as the oil is combustable. I liked to seal my materials in a ziplock bag filled with water.
The wood top, though aged, looks gorgeous and is sooooooo smooth.
I think the best part of old wood is the patina and I have a feeling by using the table for family meals and sitting at it will add to this patina.
Can't wait to share the full room with you guys next week! I'm so excited I feel like I'm gonna burst! In case you missed our design plans for this room, you can see them here.