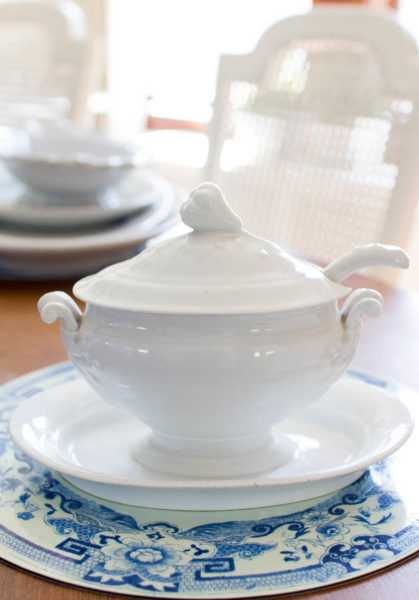 For quite some time, I've loved Ironstone but I didn't really have a reason to collect it. I try to always have a purpose with my collections, otherwise I might just become a hoarder.
Well, you guys remember that Welsh Dresser we added to the dining room?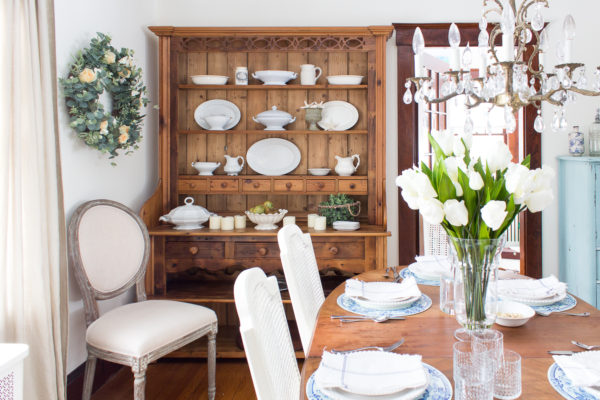 I thought white ironstone would look so elegant and classy with the natural wood behind it.
I had a few pieces that I found at a local thrift store and I got a few more platters and jugs at Vintage Thymes.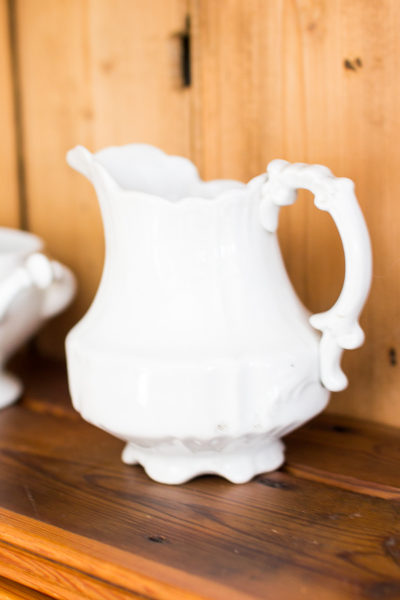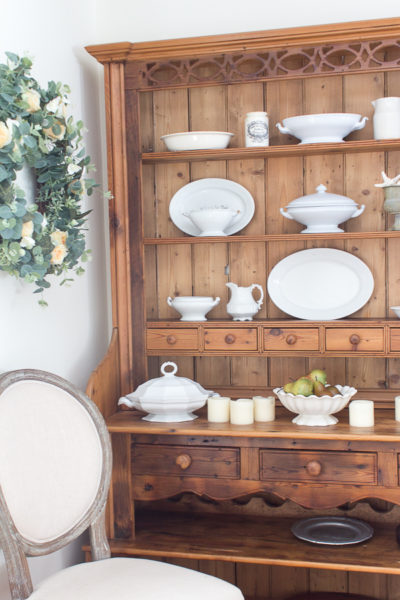 Slowly but surely I'm building this collection. See that lidded server. I think I only paid $10 at my local thrift store. It was a lucky day!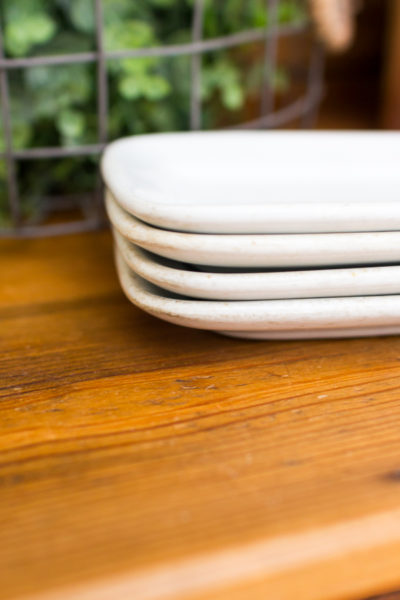 These little side plates, not sure the technical term, I found at Goodies in Scituate Harbor.
What is Ironstone? You may be asking yourself this very question. Many people look at me quizzically when I say that I'm looking for it. Ironstone is English. It was developed in the 19th century by potters in Staffordshire as a cheaper, mass-produced alternative for porcelain. There is no iron in ironstone; its name is derived for its durability. It is very heavy, much heavier than china or porcelain and can be used for everyday or formal occasions. I very much intend to use all the pieces I collect.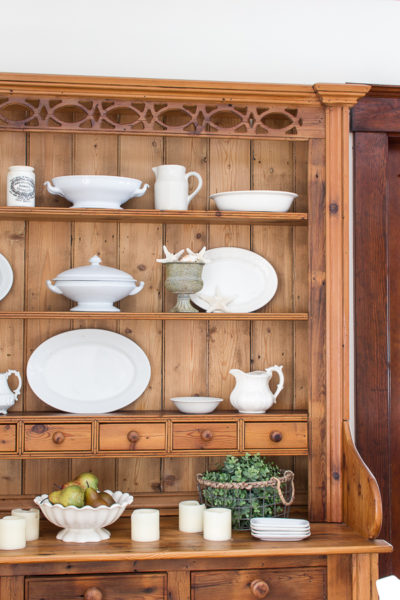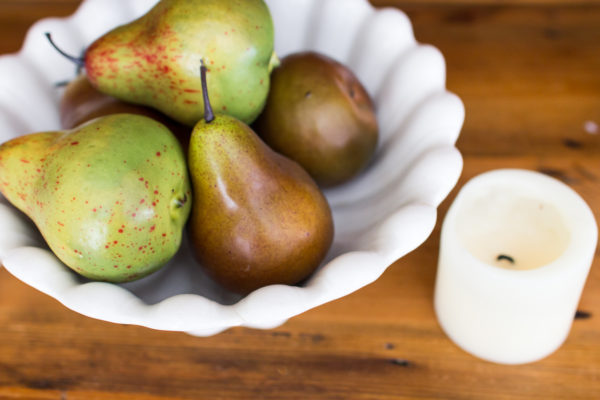 While we were in England I looked everywhere in search of it. I went with my sister-in-law, niece and mother-in-law to look down in Cornwall. We went to an antique mall and countless charity shops. There was some Ironstone but it all had printing on it. I kept saying "I just want white". I also searched high and low in Windsor and London.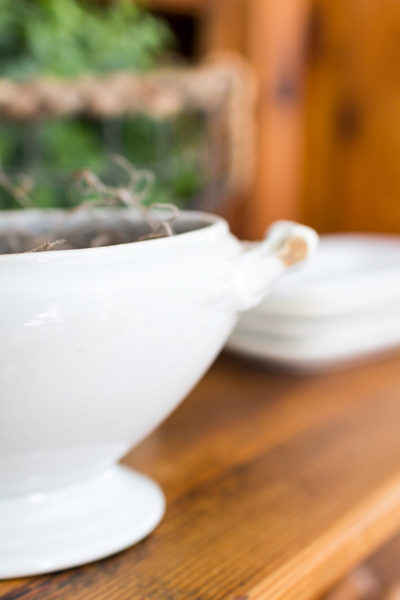 I love the creamy color of Ironstone pottery and I also love when it isn't perfect. I love the chips and cracks. The things that tell a story.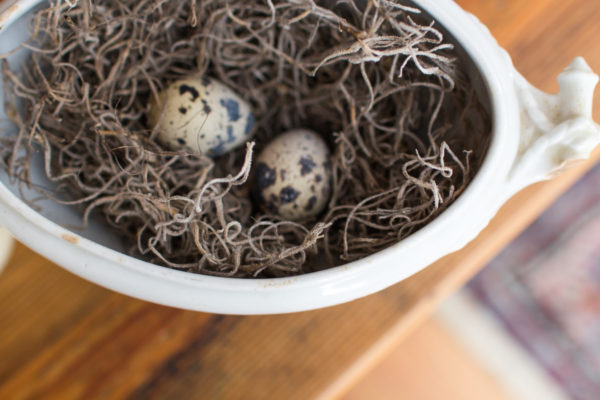 While I was away I received an email from a reader saying that she had some Ironstone that she had planned to bring to the Cohasset Boutique (a section of the dump where people can leave stuff) and did I want it. I emailed her back immediately, "Yes, please."
Linda gave me this Regency pattern creamer and sugar bowl by Johnson Brothers.
It looks so sweet with my flop eared bunny watercolor (to get your free printable click here).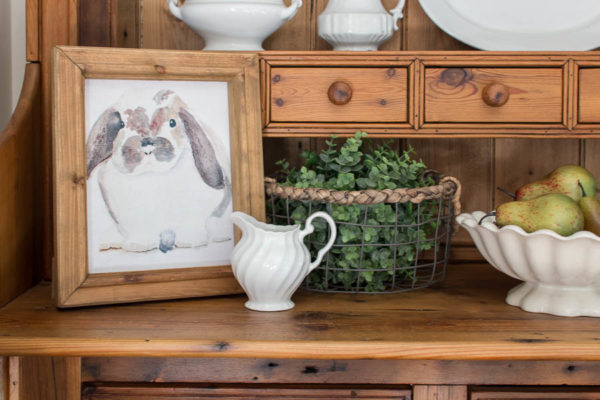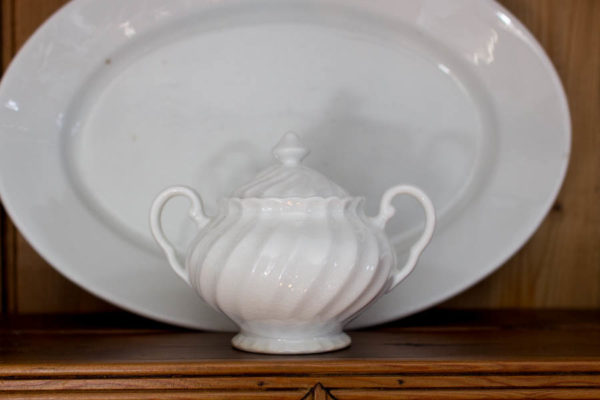 I love them, Linda, thank you so much for thinking of me and my little Welsh Dresser!
The other weekend I went on an Ironstone road trip and found some from Antique dealer, Mary Ellen Shea. She sold me part of her personal collection.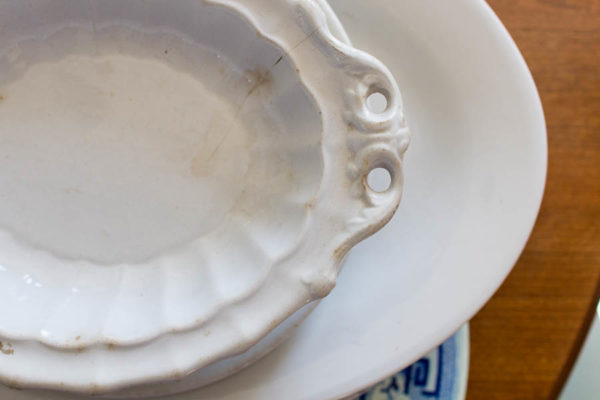 A few platters, a plate and this delicate platter with pretty detailing. It does have a crack, but as I told you before, I like cracks and age and crackles.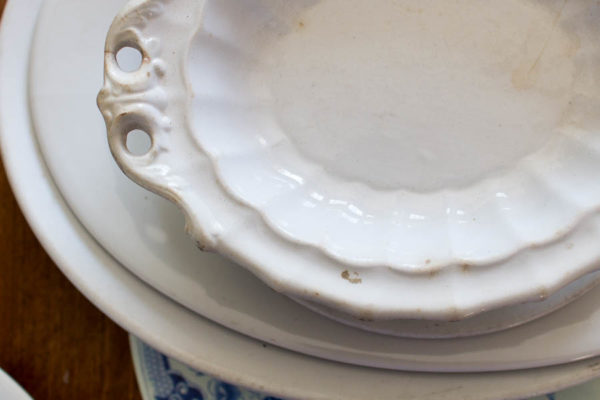 Before I show you more Ironstone eye candy, I wanted to briefly discuss collections and collecting.
The Importance of a Collection
Collections in ones home adds so much charm. We live in an older home so our home already has charm but adding collections adds another layer of warmth and love.
If you already collect items (say ironstone or shells or old books or bottles) when you go to yard sales or antique shops, you're more likely to find a small treasure to add to your collection.
When building a collection, it's important to have a price point that you're willing to spend and to also know the items estimated value. Ironstone ranges in price and you can do better at yard sales than antique shops.
Collections in one color can unify or make a design statement. Examples are ironstone on my Welsh dresser, Flow Blue China in a white china cabinet, and vintage blue fish floats nestled in bowls.
I think the greatest attribute of a collection is that it brings the owner so much joy.
From a very early age, I used to go antiquing with my mom. I think I've told you guys this many time before, but during the week, when my dad was at work, we'd climb into her little, red Toyota and we'd drive to Rowley and Georgetown and go to many antique stores dotted along the way. I used to do this with Conor when he was too little for school and he can still find unbelievable treasures. I still love antiquing with my mom; it's one of my favorite things to do.
I think this piece is one of my favorites that I've found so far: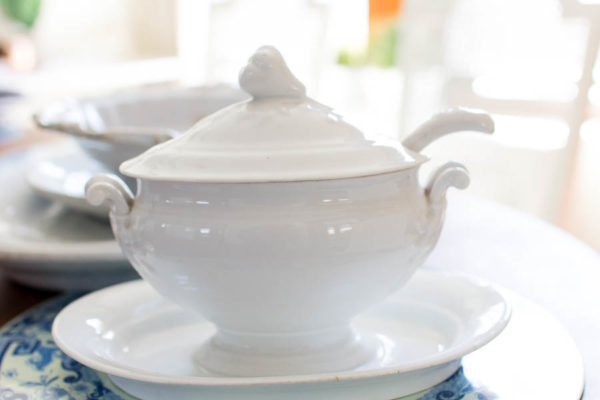 It's a lidded tureen and the base is attached. I think it might be a fig on top. Here's a view from above: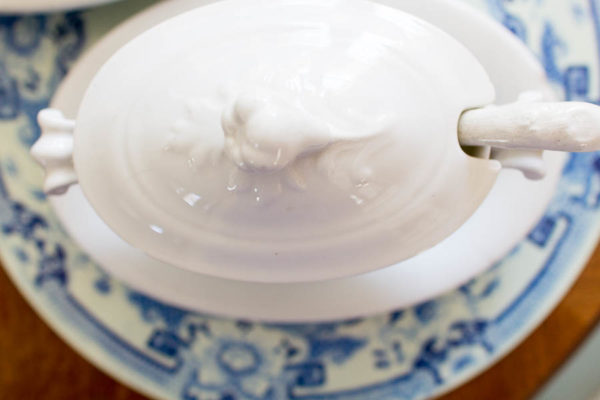 Isn't it so pretty? I love how it still has the ladle which has some light crazing. Absolutely love it!
It's my goal to fill the shelves with Ironstone. So I have a feeling you'll be seeing LOTS more Ironstone posts.
If any of you have Ironstone at home and are looking to get rid of it, you know where to find me.
I also wanted to share that this room will be getting a makeover soon. Well, a mini makeover. This is also inspired by the Welsh Dresser. Ha! Ha! You know how it is. Change one thing and which then leads to changing a few other things… We picked up some reclaimed wood down the Cape from Stonewood Products and opted for Heart Pine. It is gorgeous. I can't wait for Luke to start work on it this weekend.  I shared some photos of the wood on Instagram and Facebook, but here's an image of the pieces we chose.