I think it is no secret that I love driftwood.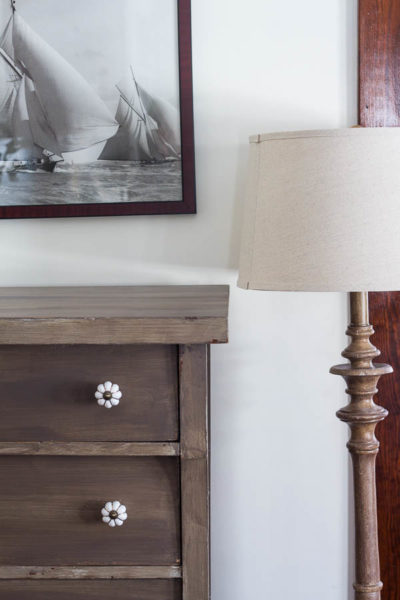 I adore collecting bits of it, on the beach, with Poppy and the boys.  You all know we make christmas trees and sailboats with it.
I've been dying to use Driftwood Milk Paint by Old Fashioned Milk Paint company forever. I actually ordered a large quantity when we were working on our sunroom last year. I had planned on using this color on our chairs but then thought it was too dark and we did Paris Grey Chalk Paint instead.
Click here to see the sunroom furniture makeovers.
So, I knew when I bought this empire dresser that it had to be painted in this driftwood milk paint.  There was no question about it.
Here's how this dresser was looking before: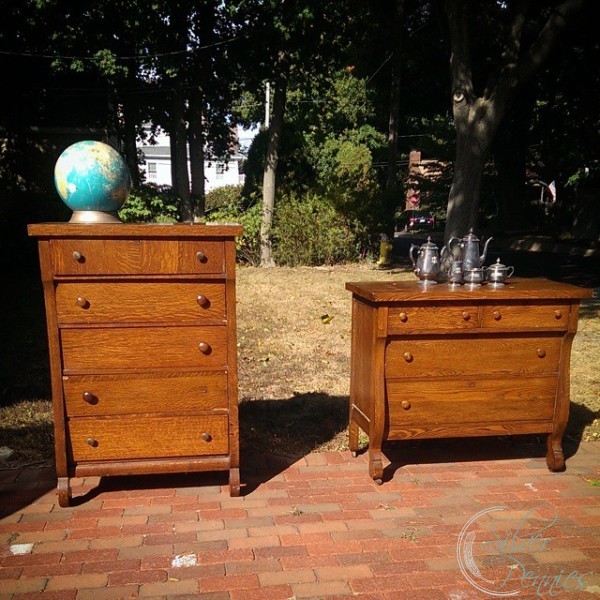 The dresser on the left! You may remember Isla (on the right) from the before & after I shared.  If you missed it click here.
I'm not sure if you can tell from this photo but there was wear and tear and missing knobs.  Luke had to repair some of the drawers for me, but other than that it is a very solid piece.
Here's the after: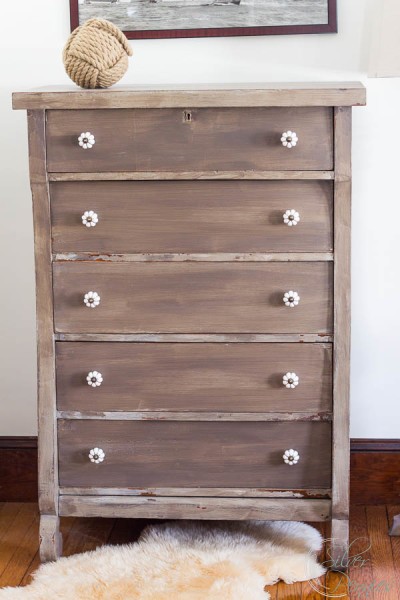 Now, I will tell you this one was slightly temperamental and I even emailed my friend, Rachel, over at Shades of Blue Interiors for some advice.
I found the Old Fashioned Milk Paint slightly harder to mix up than the MMS Milk Paint, but I think it is just because it was my first time using it.  Since this was a very shiny piece, I scuff sanded and wiped the piece down and mixed the bonding agent in with the driftwood milk paint. The first layer I applied was too thin. Then I did two more layers and it didn't really seem to be sticking as I hoped and I was worried it was too dark.  I love light, sea glass colors so, in the dim lighting in the basement, I was so worried this dresser looked like mud. Sigh.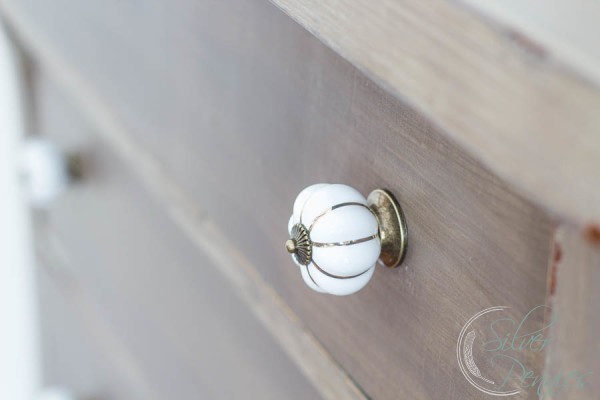 So, I scratched my head and I decided to paint over the whole thing with Annie Sloan Chalk Paint in French Linen. I  adore this color and have painted many pieces in it – here, here and here.  Anyway, I thought I had it figured out.  I did a coat of chalk paint and once dry it started bubbling and lifting in areas.  I used a paint scraper and vacuum to remove all the loose paint.
Then I sanded the whole piece in coarse and then very fine sand paper and cleaned it off.  I thought a layered look might be really cool. So I got the driftwood milk paint back out and mixed up enough for two more coats with bonding agent.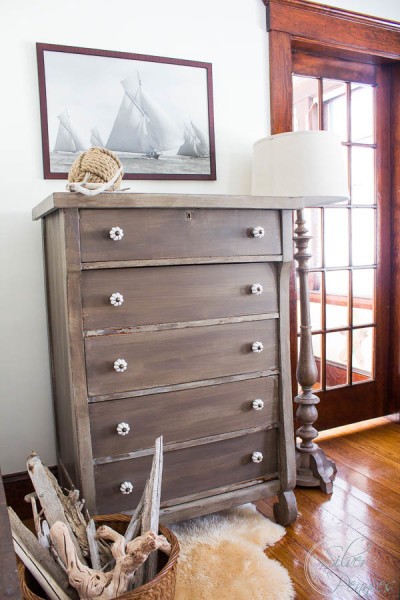 The second batch seemed to mix up easier.  In some areas, I left the French Linen untouched and other areas I painted thickly.  Once dry, I used the paint scraper and then sanded the whole piece again with fine grit sandpaper.  I used the General Finishes Top Coat in flat and it gives it a lovely luster while completely sealing the piece.
I love how you can see layers and layers of paint and wood, but that the piece is smooth.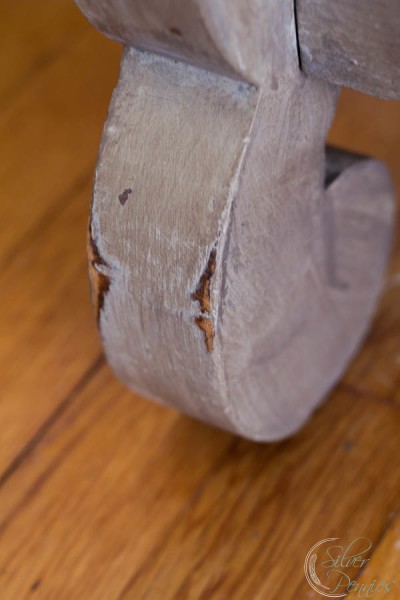 I staged it in our living room and it looks wonderful against the white walls and pairs beautifully with the Beckons of Cowes prints.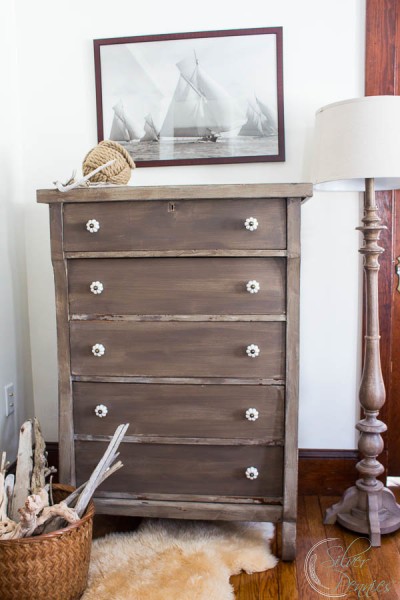 The driftwood is from our excursions on the beach and the lamp is from Target.  We have two!  LOVE these lamps by the way!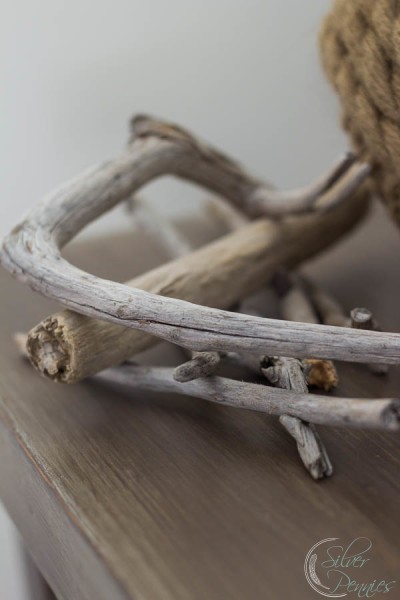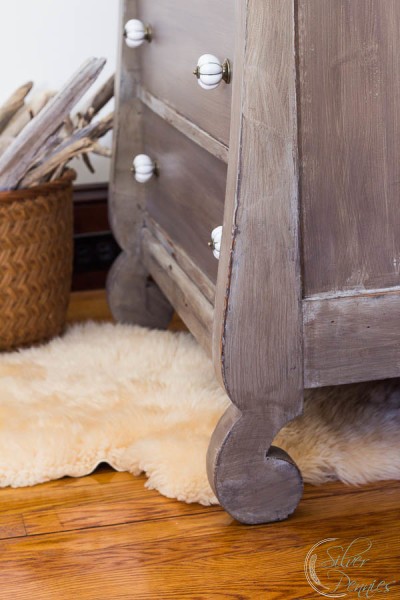 The shape of those feet are gorgeous, don't you think?!?
The knobs are lovely ceramic ones I found on Amazon. They pair perfectly with this color.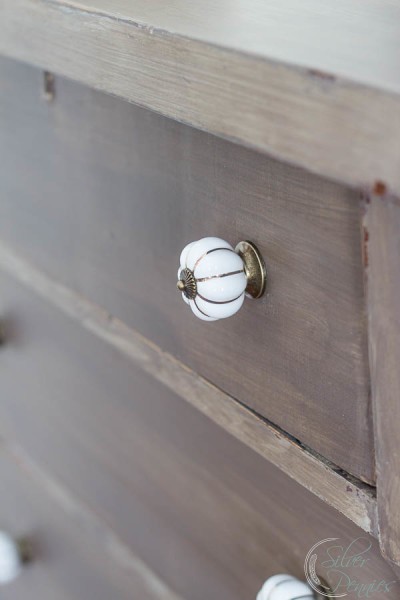 Truly a masculine piece, but with a hint of the sea.  This dresser would be perfect in a coastal home or one with a l0ve of coastal decor. I think my husband is worried that I'll want to keep it.  Ha! Ha!
My driftwood dresser is available for sale. Let me know if you'd like more information or dimensions.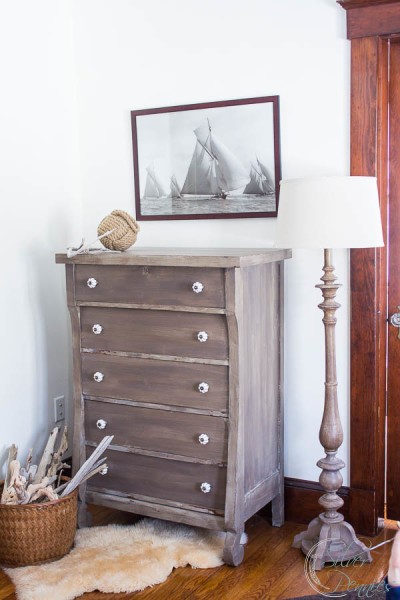 Sharing with: