Happy Wednesday, friends! We're having such a great week and I'm enjoying having my boys home.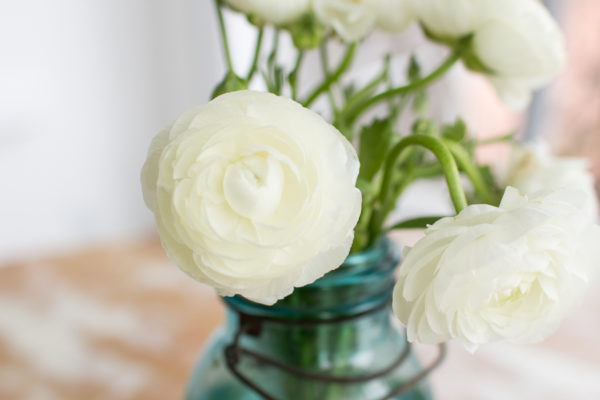 I probably should share the exciting news with you guys first, huh? Well, Fifi O'Neill, the founder of Prairie Style, amazing editor and stylist extraordinaire, is coming to our home next month. I had the pleasure of meeting Fifi at a book signing in Bristol, RI two years ago for her beautiful book, Prairie Style Weddings (affiliate link).  The book is beautifully styled and photographed with loads of great ideas, even if you're not planning a wedding.
This is Fifi: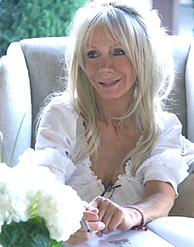 She is coming to do a story on our home for Romantic Country. As you can imagine, I'm very excited but now noticing all the little things in our home that need to get touched up and fixed and improved before it will be ready for a magazine spread. We need to mulch, Luke needs to finish the dining table and we had to finish that room, I need to set up the She Shed for the season and I'm thinking of touching up the kitchen. Anyway, while I was looking at rooms that need work, I noticed that our sunroom table needed a little revive along with the gray chairs.
I had planned to just redo it in the same way but I had an "oops" that turned into an "ah ha!". When I sanded back the wood, I got down to the original stain and the tanins began reacting. I decided to sand and call it a day! Ha! So I thought I'd share how to get this new look with you.
DIY Weathered Table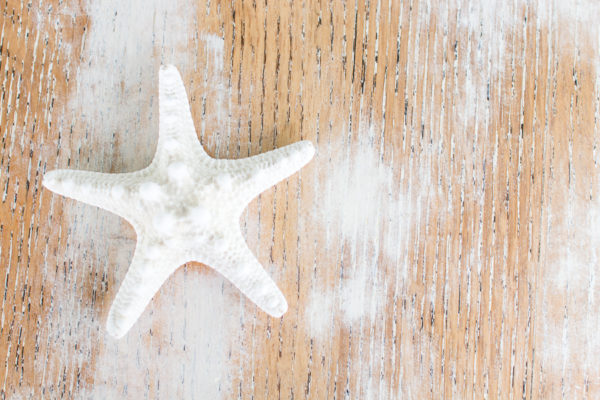 This post contains affiliate links and I will be compensated if you make a purchase after clicking on my links.
Materials
Method
Since I was started with a table that already had finish on it. I sanded first. This is what the table original looked like: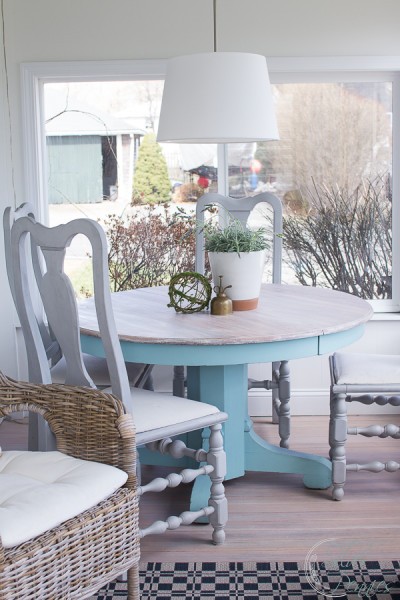 As you can see it had a washed surface across the whole top. I loved this look but after being out in the sunroom for three years and constant use, it was showing signs of wear, which you can't see from above.
Step 1 – Sand. I borrowed my hubby's new Festool (which I love by the way), it was so easy to use and because it hooks up to the shop vac there is no sanding dust. None. This is huge because it means you can sand inside, even in the sunroom.
Step 2 – Apply Wash. So completely sand down your surface. Then water down your paint and wash it on top of your surface. You can see a Youtube video I created on this technique.
When you sand to the original finish and then wash the paint on top it enables the paint to penetrate the wood grain. You can see what I mean here: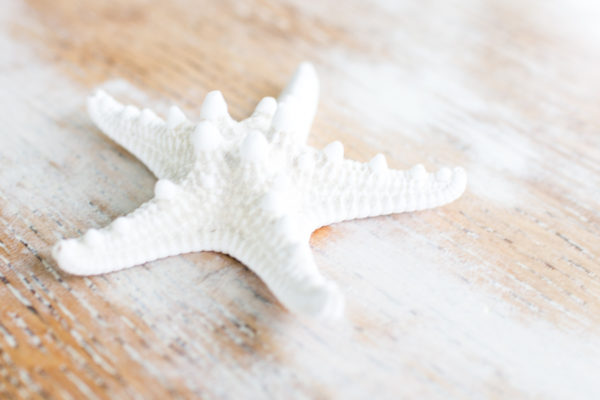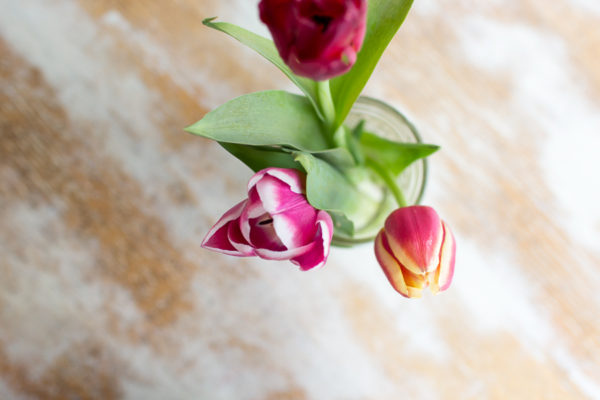 When I did this though some of the tannins and paint looked a bit yellow. Once dry, I got my sander out again because I was going to redo it.
Step 3 – Distress. Once dry distress your table top with a palm sander. I ended up loving this new weathered look. I thought it looked perfect for our coastal sunroom, very beachy.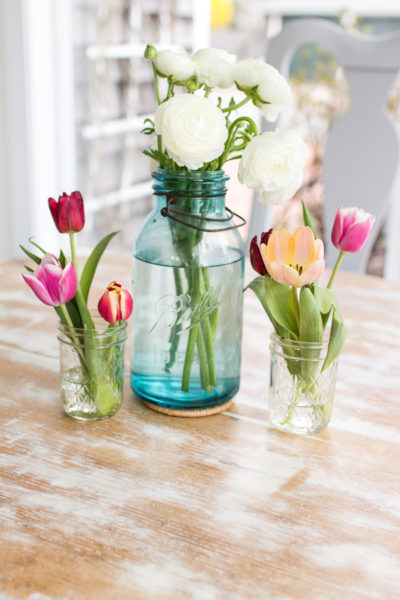 To protect it I sealed with with Fusion's tough coat. I applied two coats of this with a damp rag. You may remember I used this same coat to seal the chippy table I found. This is quickly becoming a favorite top coat because you can wipe it on and there's no brush strokes and it doesn't yellow. I do really like wax, too, but since this room gets hot in the summer and isn't heated for the winter, wax isn't a good option.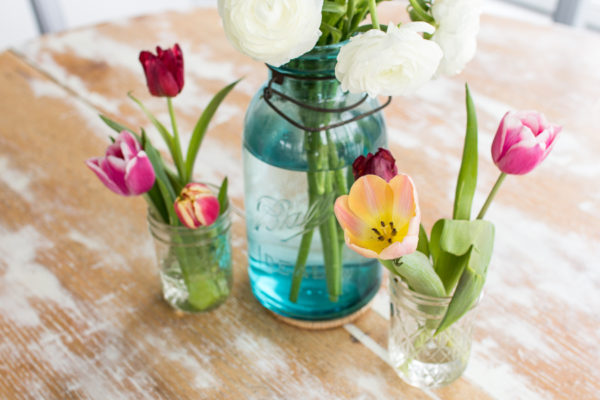 I love seeing the wood color through the white. I think it adds some warmth to the space that wasn't there before.
The chairs currently don't have seats as I'm redoing those now, but at least you get the idea of the table in the space. You can see more about the furniture in this room, here.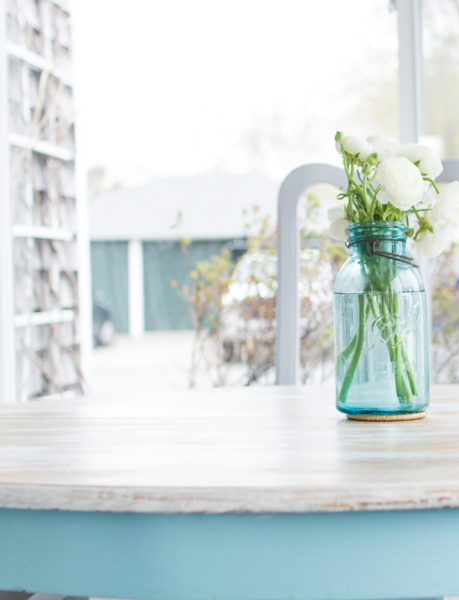 What do you think of the new weathered finish? Will you try it at home?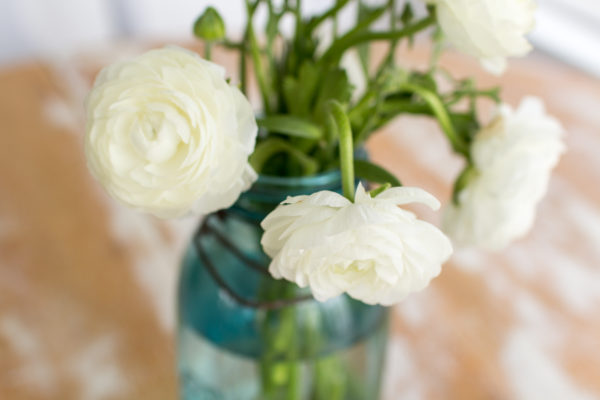 Sorry, I couldn't resist taking tons of photos of these flowers left over from Easter. Tulips and wild ranunculus make my heart happy!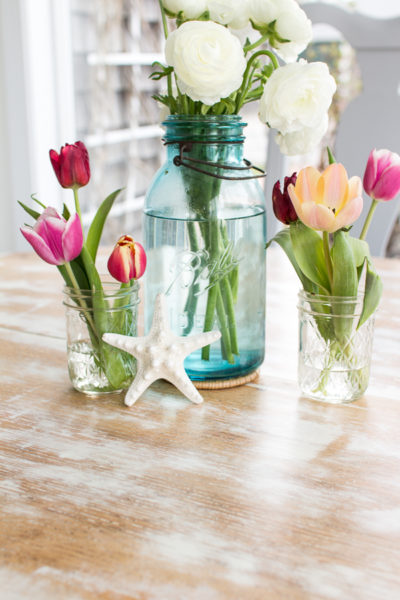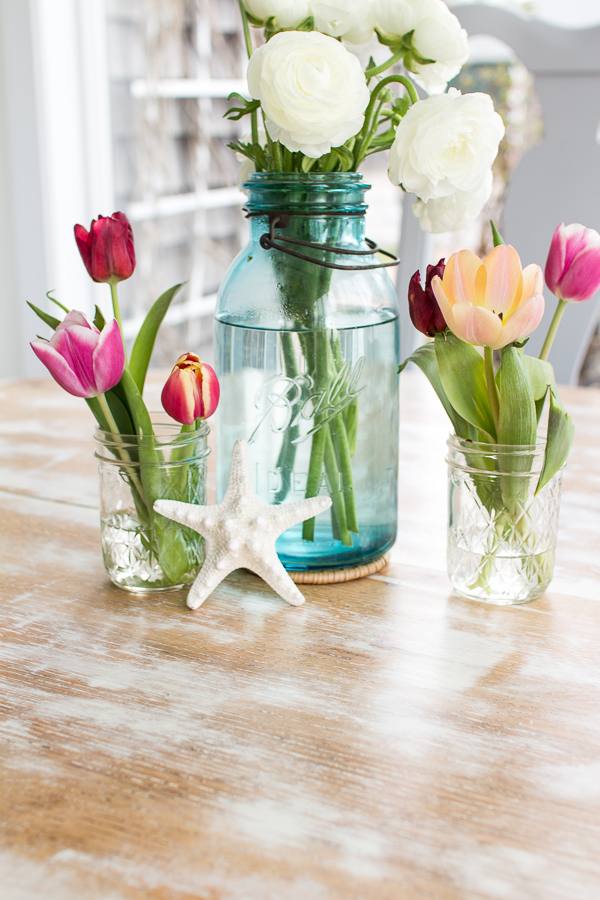 Hoping to share an update on the dining table and design plans for that room soon.