Each year, I love to bring branches of Forsythia inside. I clipped a few for our Easter table (which ended up being outside this year as it was so warm). Yesterday, I brought these beautiful branches in.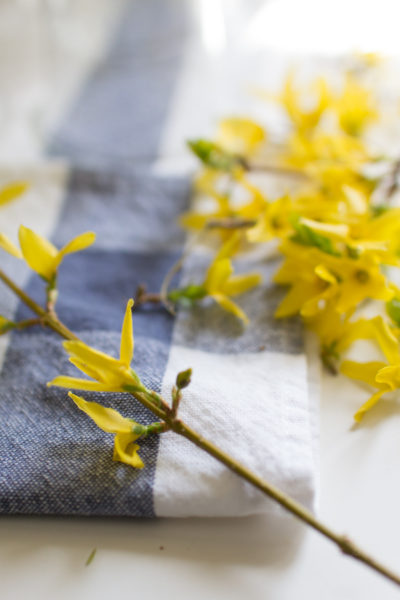 On the branches was a little lady bug which John helped bring back outside. I thought to myself, "Oh,what good luck! A lady bug." They're lucky you know?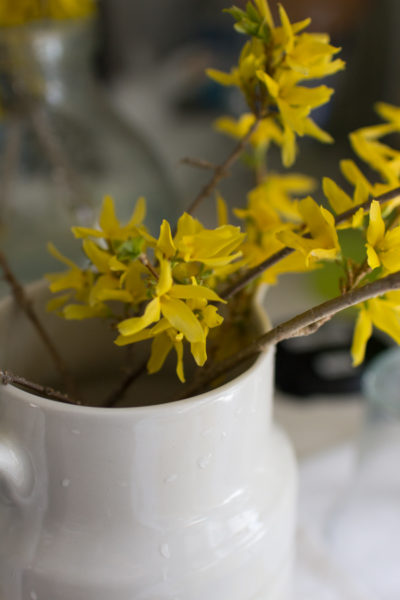 I clipped the branches and put them in fresh water.
Instantly our fireplace looks like spring –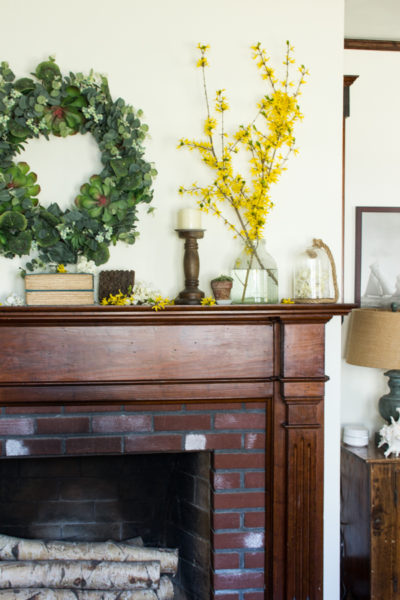 I love how nicely it pairs with the succulent wreath. I'm thinking of moving this to the front door soon. It's from Balsam Hill if you're looking for one.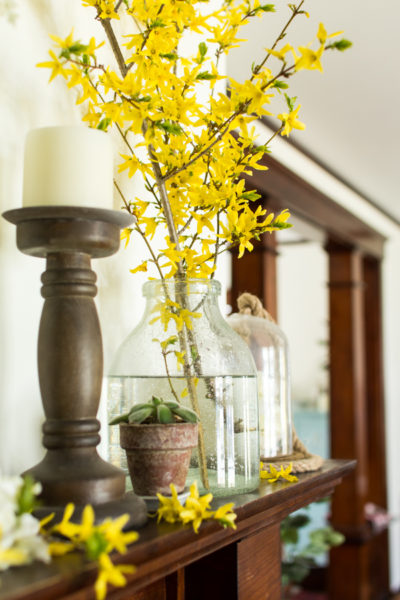 The seeded vase is from Bambeco.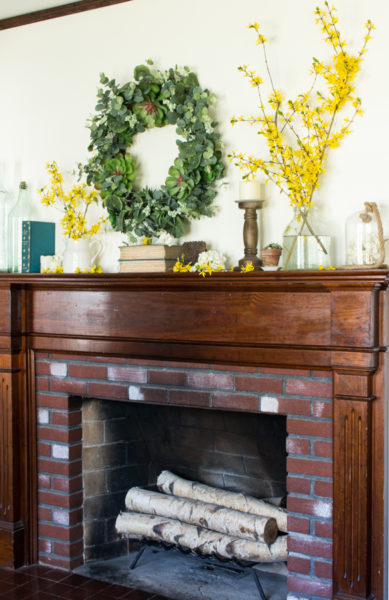 Before I had a faux fig and some DIY Terrariums on the mantel, now the yellow flowers add such a warm note.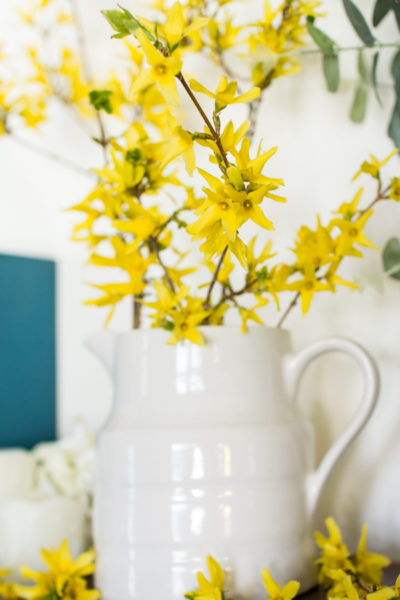 That lovely milk jug, I found antiquing with my family in England. Isn't it pretty? Now I wish I bought more….
Isn't that always the way?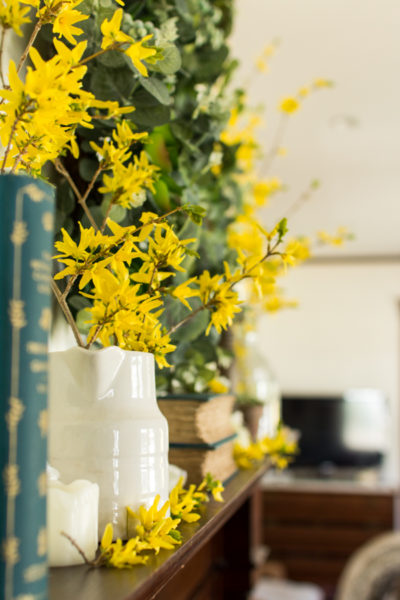 I'm still trying to figure out what to do with our fireplace. You guys all know how much I don't like it. Well, don't like bits of it. I LOVE the mantel but don't love the brick, the tile and the cracks. (Sigh).
Are you familiar with The Lettered Cottage? This is Layla: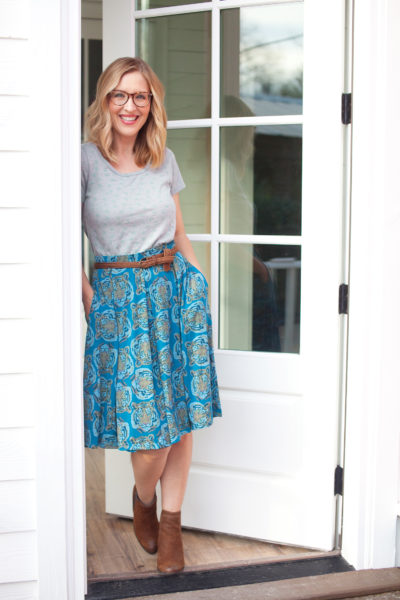 The photo is from her Spring Home Tour which is fabulous, by the way.
I've followed Layla and her beautiful blog for many years. She actually inspired our fireplace makeover in the other house. I've been sooooo stumped on what to do with this fireplace that I thought, "maybe I should email Layla?" So, I did. I asked her if she could Pick My Presto the fireplace.

For Pick My Presto, Layla uses her mad Photoshop skills to give readers an idea of how they can transform their space. I'm so delighted because Layla just did Pick My Presto to my fireplace yesterday, click here!
So here's how it looks right now: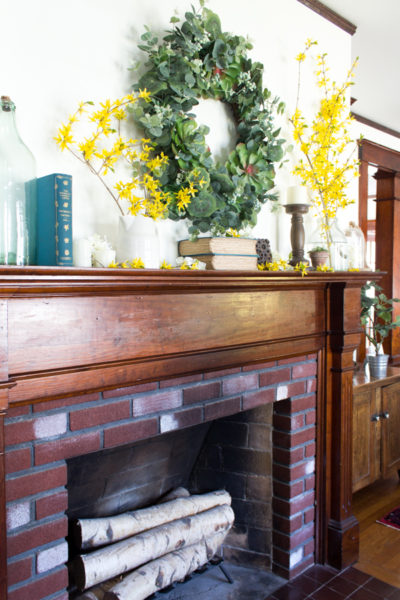 Layla came up with 7 ideas for our fireplace that were different than ones I was already mulling around in my head. Here's one I really like: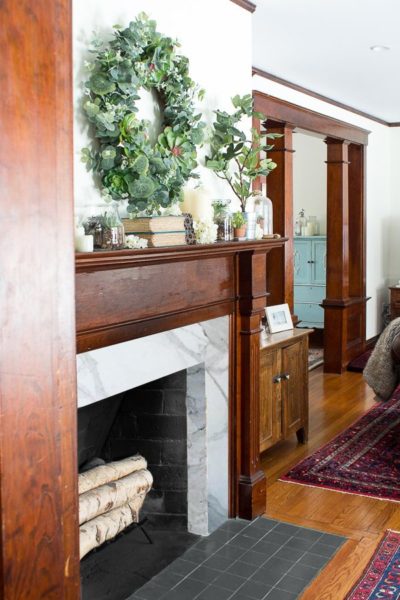 Marble with a dark hearth. I would LOVE for you to stop by and see her ideas here and tell me which you like best.
Also, I've wanted gas but now I'm wondering if we should just line the chimney and do real. What do you guys think?
She also had the idea of painting that little cabinet next to the fireplace. That's one from my childhood that my mom has been saying for years to paint but it had sentimental value, but I think I might just paint it 😉