Happy Wednesday, friends! Rome wasn't built in a day and neither will our dining table. Today I thought I'd share some dining table progress with you.
Many of you know that this is what our dining room currently looks like: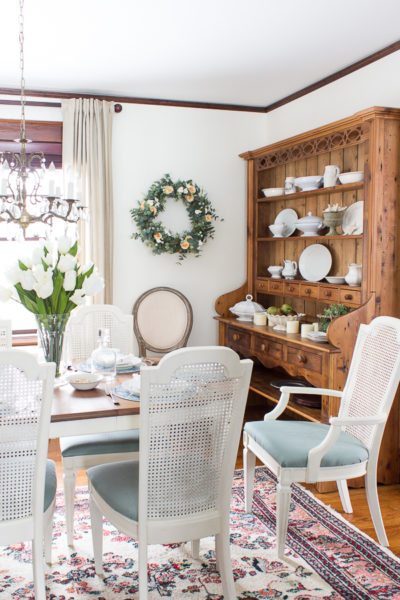 Finding that beautiful Welsh dresser made me want to change a few things in here. The rug is now too big for the space and the dining set is a bit formal for what I want. While Luke works on our table, I'm going to freshen this set up. Soon the dining set and rug will be looking for a new home, I'll be sure to post it when it's available incase any readers might be interested….
I've been dreaming of an old farm table or English pine table. I drooled over the tables at our families' homes when we were in the UK. The other weekend we took a road trip down to Stonewood Products on the Cape and picked out beautiful lengths of heart pine. It took us FOREVER to choose. They had so much reclaimed wood, from barns and from old houses. The barn wood was rough and felt like it would be too splintery for a table. We wanted something that was thick and heavy with character. The heart pine is beautiful and smells amazing. In it's former life it was in Georgia as a factory floor. Oh, and it's super heavy, we're talking each length is about 40 pounds!!!
Building this table meant new tools for Luke. You know how guys and power tools are, right?
Originally we were going to rent a planer and a jointer but a week rental ended up being the same cost of buying them. So I told him we'd buy them but he'd have to make more furniture for us 😉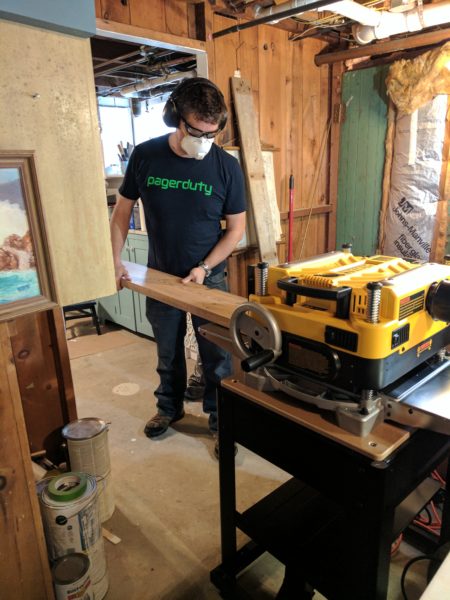 This post contains affiliate links and I will be compensated if you make a purchase after clicking on my links.
*Before doing anything with the wood, we allowed it to a acclimatize to our home by leaving it in the basement for a week. Then it was time to start woodworking.
The first item we bought was a planer and stand. We also bought in-feed and out-feed tables to help support the wood as it's being planed. Originally, Luke was thinking of getting the cheaper version DeWalt makes but opted for the more expensive one due to the added features – more safety features. Planing the wood is essential because it is will make the boards a uniform thickness and will remove any rough surface.
Luke also invested in a HEPA filter shop vacuum to attach to all the tools. This kept dust and mess to a minimum. The good thing about this particular one is you can plug the tool directly into the vacuum and it turns on automatically when the tool is running.
The next step is making the wood square, after planing, you joint one side, then run it through the table saw to make the other edge square and parallel to the planed side.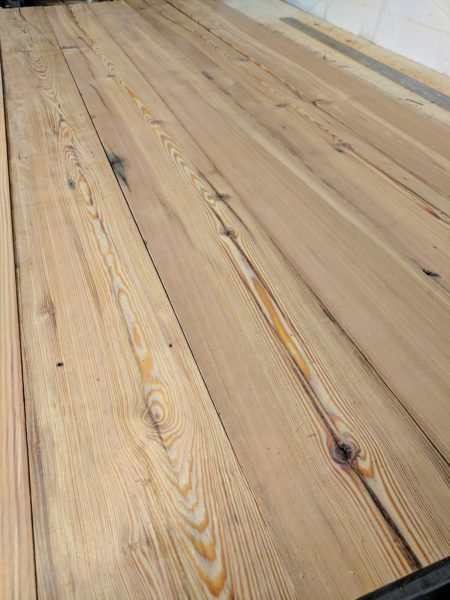 I love the knots and wood grain.
The next step was to measure the wood planks so they were the right length for our table. We're doing an 80″ long table but will have wood on planks on the ends, so Luke measured and made the appropriate cuts with our compound miter saw.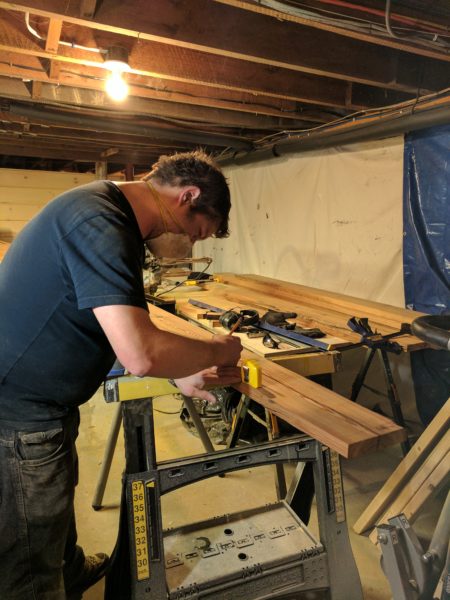 He used this saw to make the cuts.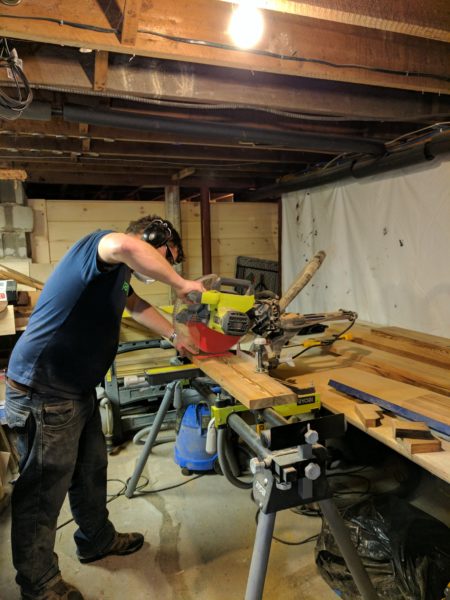 He is really enjoying this whole process and loving being down in his work area with his podcasts and wood shavings. It is amazing to watch him work. When I started the blog, nearly 6 years ago I had no idea that Luke had this talent and neither did he. Seeing him finding something that he loves and is passionate about makes me so happy.
As many of you know I've found one or two or more passions through the blog and I continue to find more and more by trying new things. I think it's an important lesson for us as parents but also for our children. To see that we're still learning and creating. One is never too old to learn new things!
So that's we're we are now. We're in the gluing stage. Luke has glued several planks together now and he actually needs to get more clamps. We don't have enough! So he'll be doing that this week.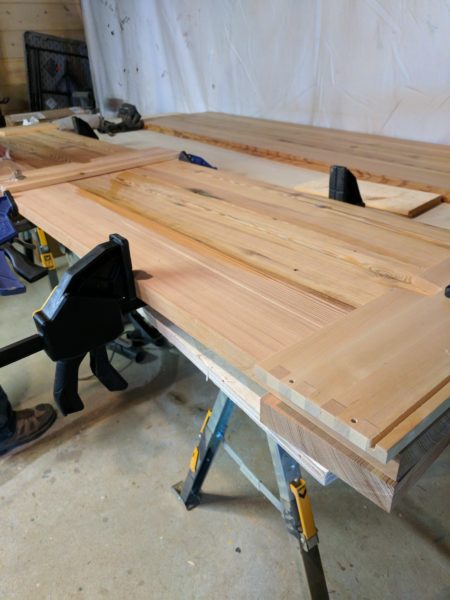 Once the top is glued, he'll start building the apron and attaching those massive legs I found! Yay! Then I'll begin working on the table. The top is going to stay natural but I'll seal it with oil and then the body will be painted. I'm thinking milk paint with some light distressing to add character. Here's a close up of how the table will look 😉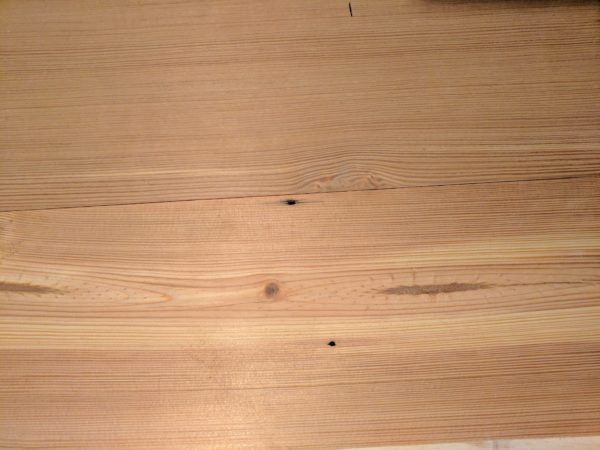 I am so excited to be collaborating with Luke on this project. Having a one of a kind, custom piece built by him in our home will be so special. I can't wait until it's done.
I'll be sure to give you some more progress reports before it's done and, of course, share the full reveal as soon as the room is finished.