I've been waiting and waiting and waiting to share these images with you all.  Guess what?!? Now, I can and I'm so excited.  You may remember back in January I told you Better Homes & Gardens was coming to my house.
I had dreamed of this since I started the blog, actually before that.  Can you imagine being in a magazine you read each month?!?  Well, I never, ever in a million years thought this dream would come true.
I had to read the email from Kit Selzer, Senior Editor at BHG, several times.  Even now I can't really believe it is us in the magazine.  Kit had emailed me because she thought the Antibes Green Chalk Board Table would be a perfect addition to their upcoming color issue.  I'm not sure if you remember that project, I did it a while back (in 2012) when we were still in the other house.  Conor actually helped paint $5 yard sale find.  It fit perfectly in the boys' playroom.
Anyway, I had pictured a sunny, warm January day for them to come and shoot.  In my head I pictured laughing over warm muffins and coffee.
This was the reality: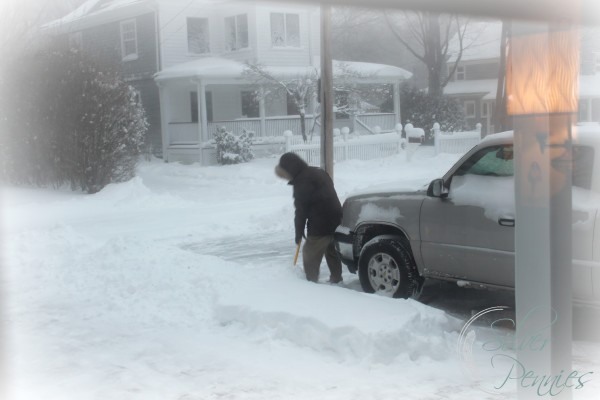 Scituate was having a blizzard on January 22nd!  Of course!  That is Luke, my lovely hubby, out there shoveling at 6am just in case BHG was still coming.  He wouldn't let me shovel because I'd had my hair blown out straight the day before.
Luckily, through wind and snow and horrible conditions they came anyway!  Kristine Kennedy, the stylist for the shoot, had to deal with frozen pipes that morning.  The photographer, David Land, and his assistant, Matthew, drove up from New York City the day before and it took them 10 hours to get to Boston.  Yikes!
When a crew comes to your house it gets filled up and changed around pretty quickly.  Can you guess what room they used for the shoot?!?
Our bedroom!
Everything had to be moved out: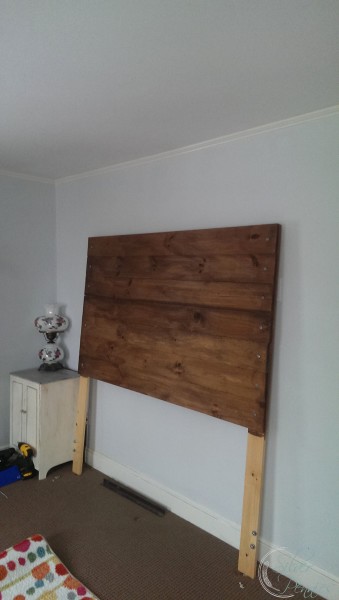 Our bed went into Conor's room along with the monitor for the camera: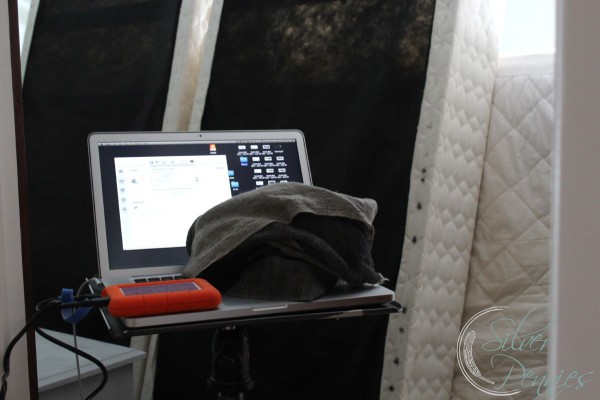 Here David is hanging out the window trying to clean off the snow and put up a screen.  When you see the photo in the magazine and at the end of the post, you'll never in a million years believe it was snowing.  Ah, the magic of photoshop!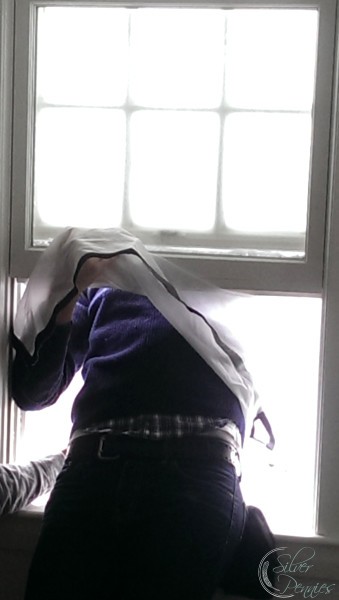 The camera was set up in the hallway and pointed into our room.  It was so amazing to me just how much goes into one shot.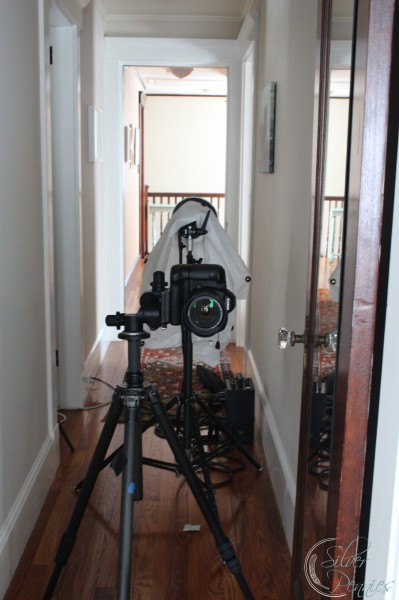 The guest room was strewn with clothes.  We had so many options just in case.  This is Kristine Kennedy sitting on the floor of our guest room sending emails back and forth to BHG headquarters.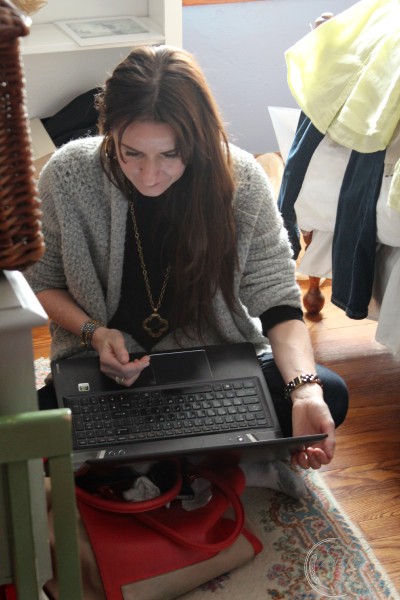 While everything was being set up Conor and John busily drew on the table….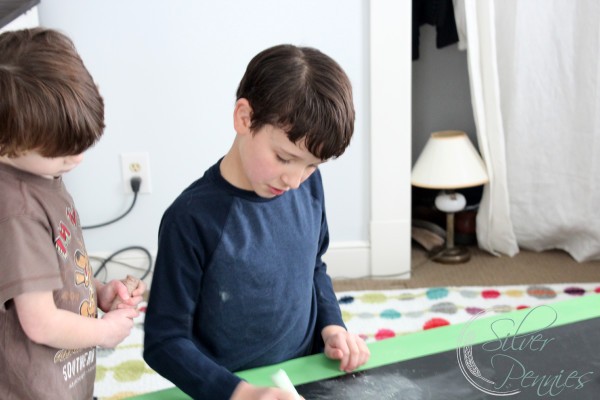 And drew some more: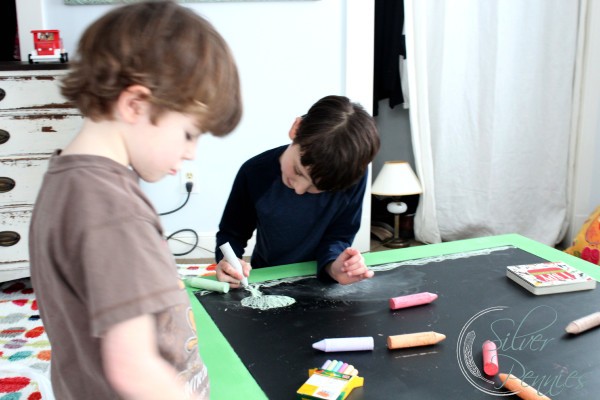 Here are Kris and Matthew looking on.  I think John was telling a joke or chatting away about MineCraft.
Conor wouldn't wear the dino shirt they wanted him to, but it was okay.  He was also super busy drawing in one section that wasn't even in camera shot.  He kept saying he had to finish the Harry Potter picture.  Kris and David were making us laugh while they were taking the photos.  I had to smile and contort my body into weird seated positions while leaning against the table.  I kept hearing the kids being silly behind me, hoping they'd get a good shot of all of us.
Everyone was so great with the kids.  They played a bit with their legos and watched what they were doing on the tablets.  Conor absolutely loved when David did this!  He squealed with delight: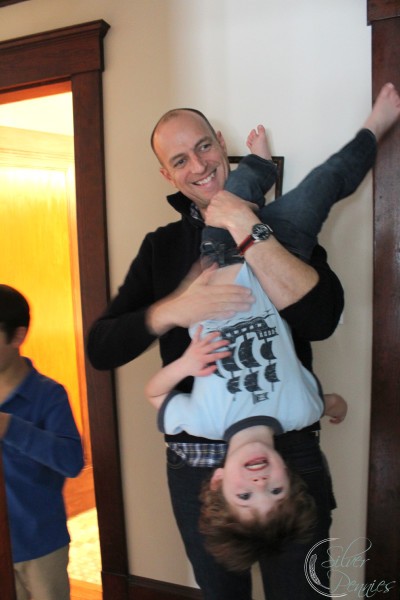 Once, they got "the shot" after several hours, we headed down to the kitchen and enjoyed lunch of California chili and an orzo pesto salad.  So nice to have warm dishes on such a cold, snowy day.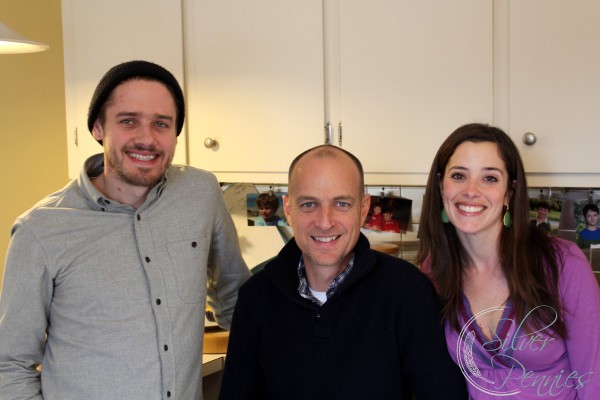 Here I am with Matthew and David.  Everyone enjoyed lunch!
After lunch they packed everything up and I helped Kris roll up the rug.  It had to be shipped back to Target.  Once David and Matthew left, Kris stayed and we chatted about the project and painted furniture and design over tea.  She wanted to ask a few questions for the magazine.  Luke snapped this right before she left: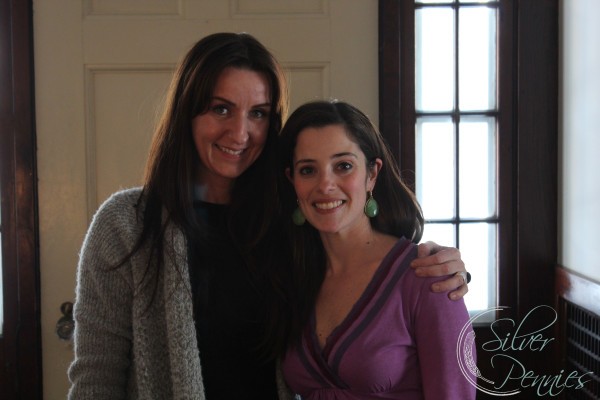 Such an amazing day!  Thank you so much to Kit, Kris, Matthew, David and all at BHG for making my dream come true!  I am so happy that my little boys got to be such a big part of this too!
You may have already seen the image in the magazine, but in case you haven't here we are on the very last page: