What an amazing and fun and tiring time we had at the Duxbury Antique Show.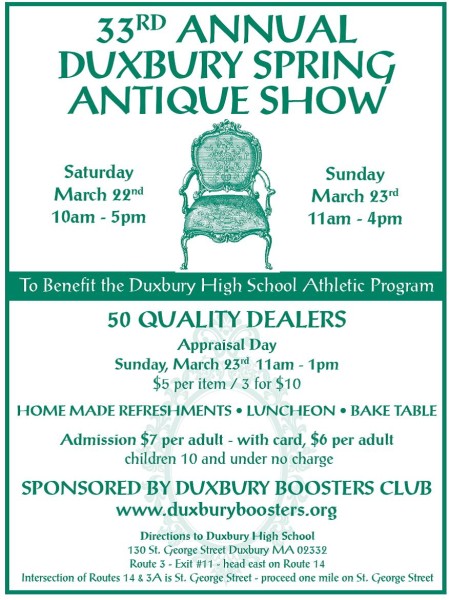 As you know, I've been gearing up for this for a few weeks.  Painting like crazy and running around.  It was all worth it. Here's Dan (of Gentleman & Daughter Antiques) and I in our booth right before the show started: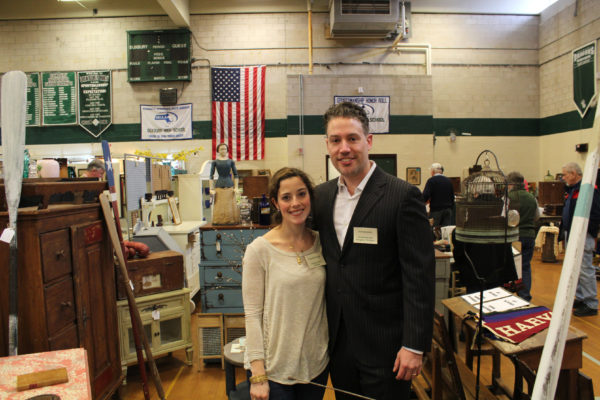 People loved the Grantham Bedroom set and swooned over the lions head pulls.
It was hard to get great photos due to the fluorescent lighting, but I think you can get a feel for our booth.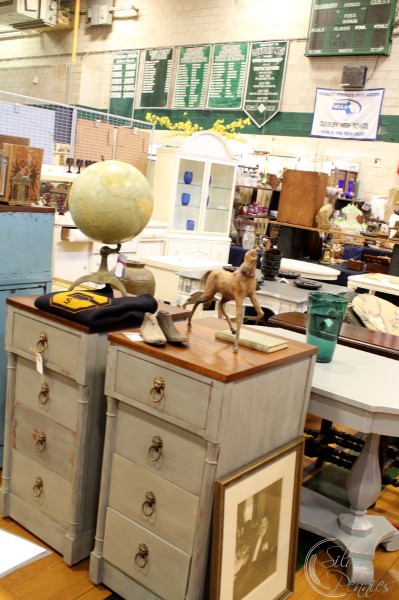 It was so much fun catching up with other dealers.  I loved chatting with Colin and Beverly of Bent Nail Farm Antiques.  I love their barn sales and Harry McLoughlin from Echo Lake Antiques who I met up in Brimfield last May.  He had the booth next to us: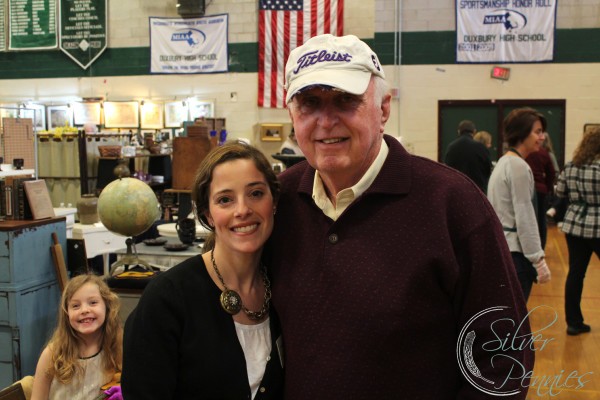 You can see little Charlotte in the background (she is the "daughter" in Gentleman & Daughter) and was such a big help.
My little mermaid dresser was one of the first items to sell!  A teacher at Duxbury High School bought it and it is going to go in her bathroom.  It is so funny because I was picturing it in a little bathroom or a little girls room.  I'll write a before and after post soon on this one!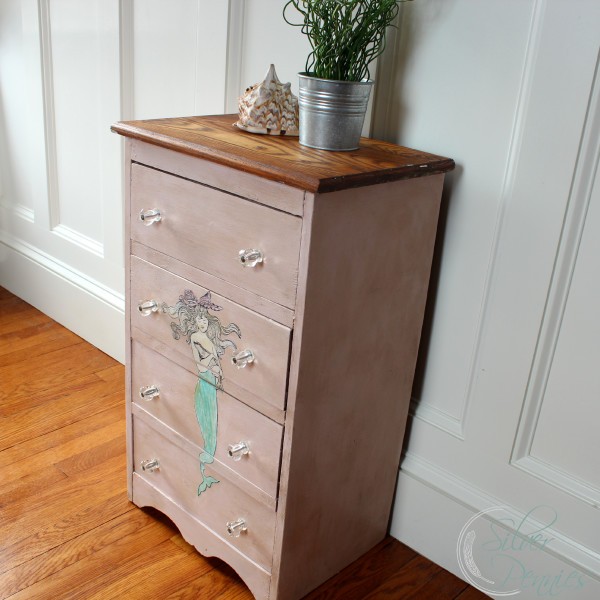 Many people who follow the blog also stopped by! So it was so lovely to meet people "in person".  I chatted for a long time with Sarah who blogs over at  Pewter and Sage about painting and she picked up a little driftwood boat for her son's room.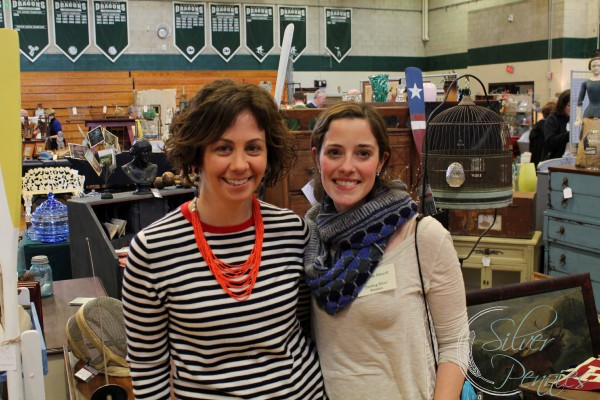 On Sunday, I also got to meet Jenna who actually lives down the street from me and has followed the blog for a while, but we'd never met.  Isn't that funny?  She has a fabulous etsy shop and makes sailors' valentines: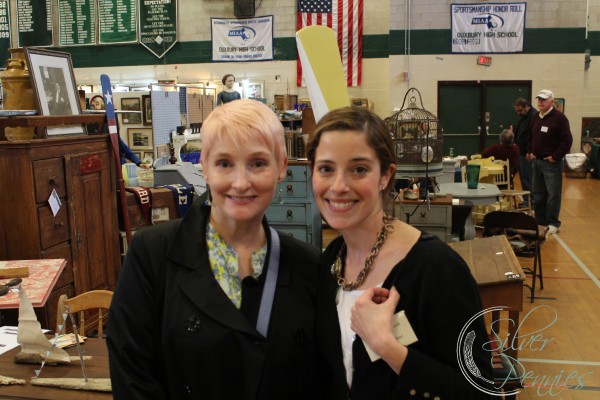 Our booth was a wonderful mix of antiques, painted furniture, love letters from France and all the dealers were eyeing Dan's cage doll.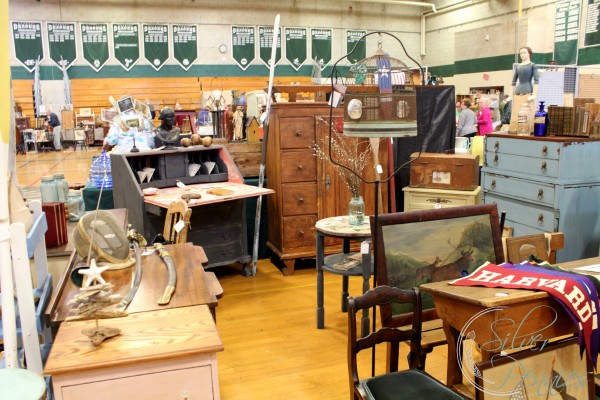 I love the bird cage, especially the color and the glass feeders.
The 19th century school house desk has found a new home at a Montessori School in Duxbury which is fabulous: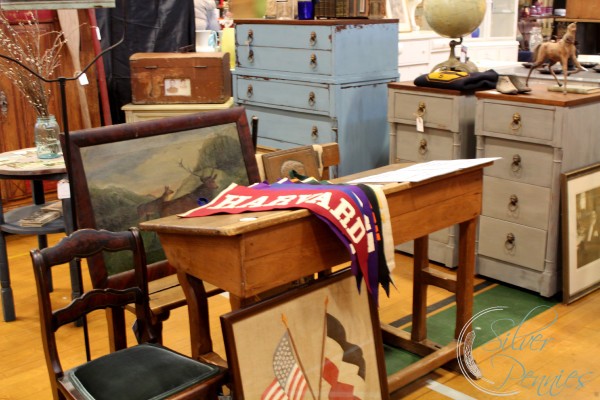 Pennants, artwork, ball jars, our Boston postcards, oars and driftwood boats were all very popular.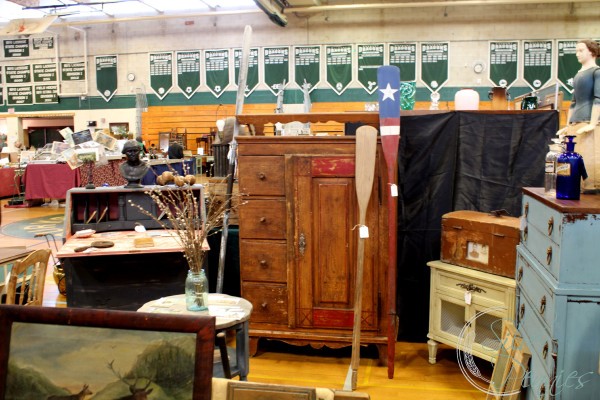 Dan and I also found a few treasures while at the show from other dealers.  I got a lovely grainsack pillow from Kathleen Fortuna that will go on my couch (when I finally save enough for it) and a beautiful sea fan from Bliss Farm.
We had such a successful show!  Some of the bigger pieces didn't sell so if you had your heart set on something and couldn't make it to the show let us know.
A HUGE thank you to all who helped Dan and I get ready – our spouses, our kids and family and friends for stopping by.
I had to share this photo of Dan and his daughter, Charlotte.  She was so proud of her Daddy!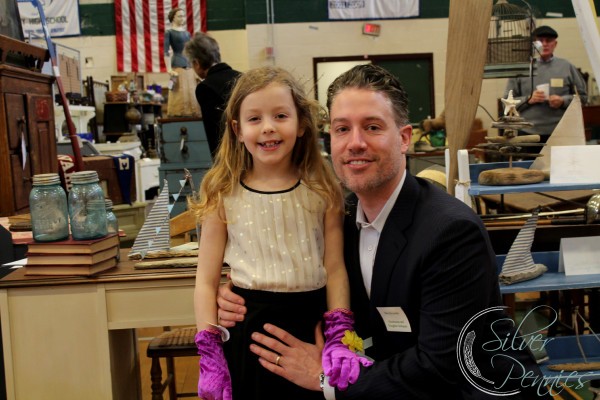 Right, now back to reality.  Sadly no painting today.  I have to tidy my messy house and get rid of this skunk smell…..  Oh, and get ready for the snow storm that is coming on Tuesday night.