I partnered with my friends at Fusion Mineral Paint for this post.
Hi Friends!  Happy Monday!
Does your hubby do this?!?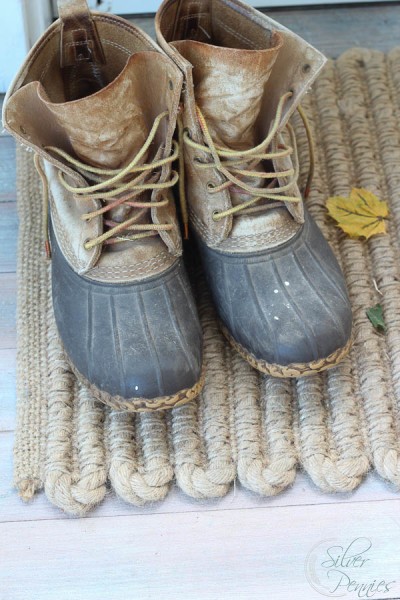 No matter where we live my hubby leaves his boots by the back door.  I know I shouldn't care, because the Bean Boot is a great looking boot, but I just don't like how they look in my nice clean sunroom.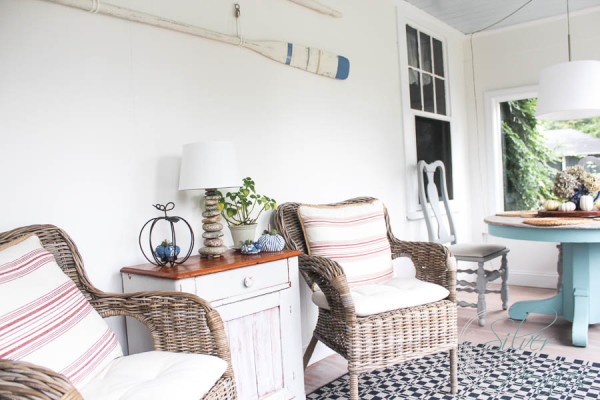 SO, I came up with a plan.  I'd paint my childhood toy chest and we'd use it for extra storage out here – for boots, for the towel to wipe Poppy's feet.  This little chest was from the 70s.  It used to have a silhouette of a man and woman on it.  I painted it for our front hall in chippy Miss Mustard Seed Milk Paint in mustard seed, but the entry was looking a little cluttered with it out there.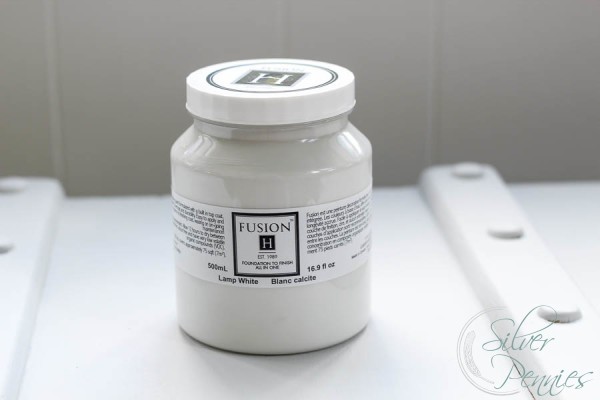 While up in Toronto at Blogpodium, I met Jennylyn Pringle, President of Homestead House Paint Co.  They make MMS Milk Paint, as well as, Homestead House Milk Paint and I've been using  the MMS Milk Paint since it first came on the market and you all know I love it.  Well, Jennylyn told me that they have been developing a brand new line of paints called Fusion Mineral Paint.  This paint has been in the works for 10 years.  The colors are absolutely stunning.  There are many coastal inspired shades and you know those are the colors I'm drawn to.
The other awesome thing about Fusion is that it has a built in top coat so there is no need to topcoat the painted furniture after the paint has dried. A few other features I like are low VOC, minimal prep and matte finish.
So this piece was previously painted with milk paint so I sanded the whole piece down.  I removed all the flaking paint and then I got painting with Fusion.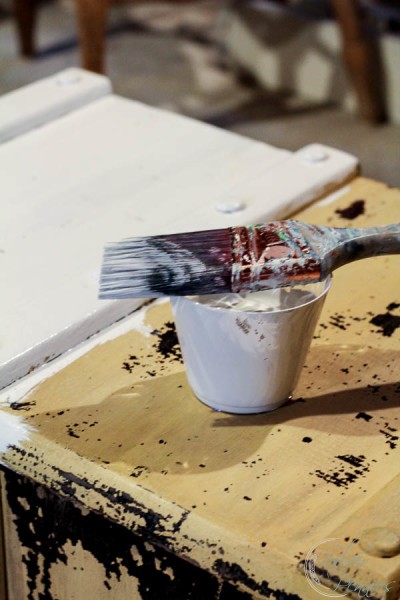 I did two coats of the Lamp White.  It is a smokey white and reminscent of the color white walls and furniture would get after years of oil lamp use.  I even asked Jennylyn about the the name while we were chatting.  The color goes perfectly with all the whites and grays in our sunroom.
As the directions recommended, I waited 12 hours between coats.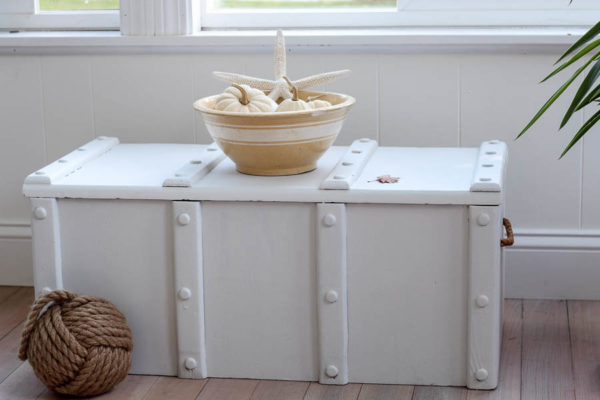 Then I did nothing else.  No waxing or top coat.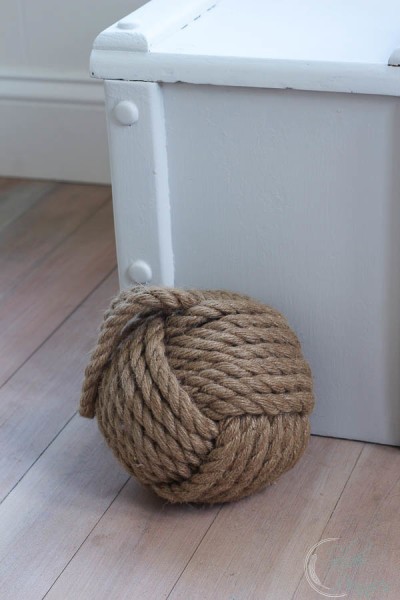 The finish is creamy and matte.  Just the way I like my furniture.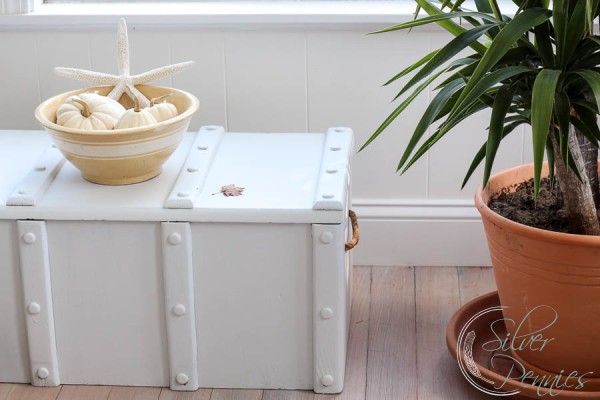 So happy how quick and easy this makeover was.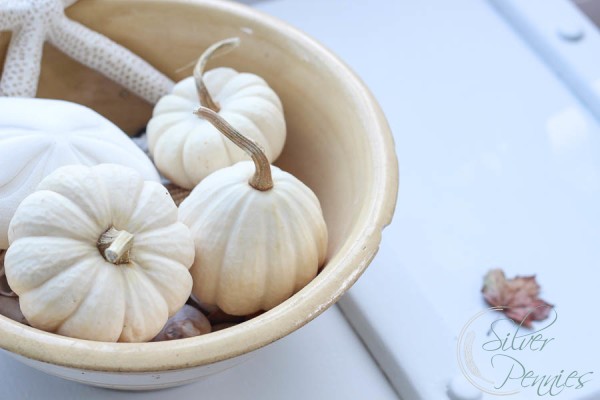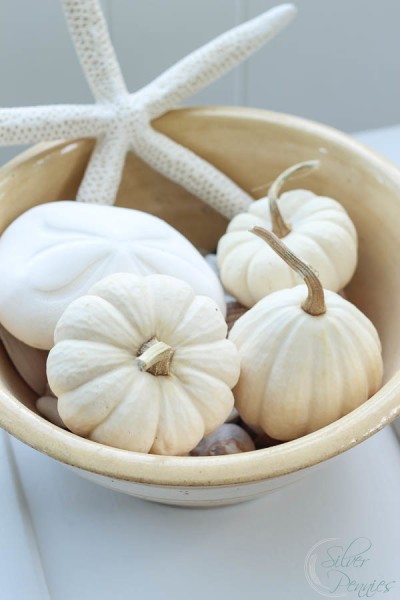 The color and finish is perfect with our seaside decor and because it didn't take ages I've had more time to spend out with the boys.  We've been having a bit of an Indian summer here and it is lovely.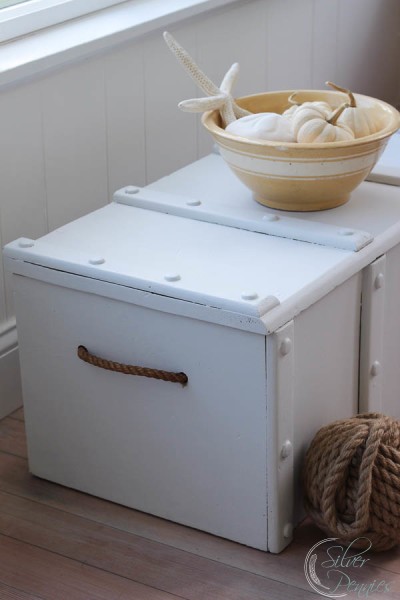 The other awesome thing is that my husband's boots are no longer by the back door but tucked inside this sweet chest… well, most of the time.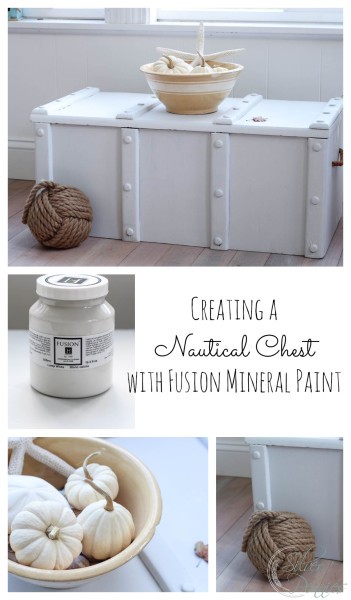 Disclosure:  I received some paint to try, BUT I have to tell you, I really LOVE this paint and think you will too.
Sharing with: