I partnered with The Sea Rose Cottage on this post.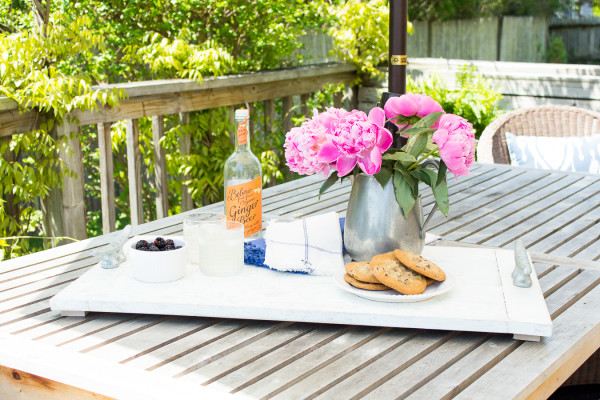 What if I told you, you could add something to paint to give it a coastal, weathered finish?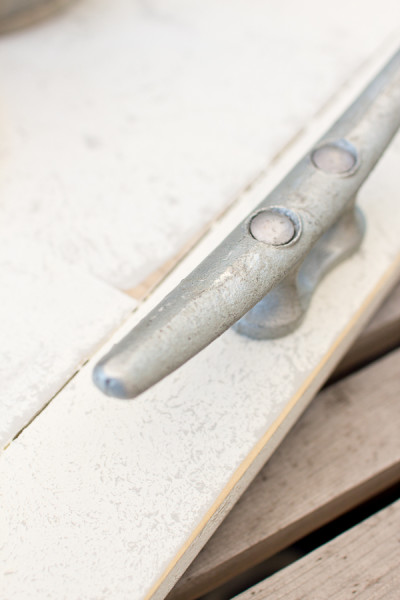 Okay, today I'm telling you that….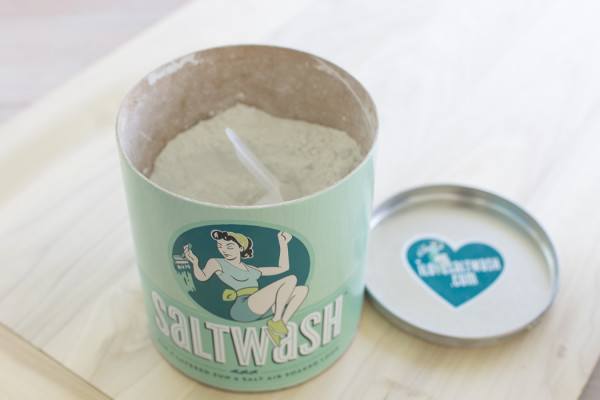 The answer is Saltwash!
I'd heard a bit about Saltwash from my friend Nancy at the Sea Rose Cottage and fell in love with the finishes she was creating and also the finishes I saw from Saltwash.  You all know I'm a beach girl and I adore all things coastal. Nancy sent me a large container to try.
Saltwash is made with sea salt and when mixed with ANY pre-mixed liquid paint you can achieve a time worn, beach cottage finish. Today, I'm going to share a step by step on how to create this coastal tray:
How to Create a Coastal Tray Using Salt Wash

I've been wanting a large tray to use for entertaining out on the deck.  Our deck is off the sunroom which is off the kitchen so a tray to carry refreshments would make life easier.  Here's what I used to make this beachy tray:
Materials
Saltwash
Premixed Liquid Paint – I used Benjamin Moore Gray Owl in Matte (I had some leftover from our kitchen).
Another Color Paint to layer on top (I actually did two colors, more on that in a second)
Top Coat – I used Tung Oil Mixed with Odorless Solvent
Surface – I painted unfinished wood boards which Luke had been making into a table and then we changed our mind about it.
Boat Cleats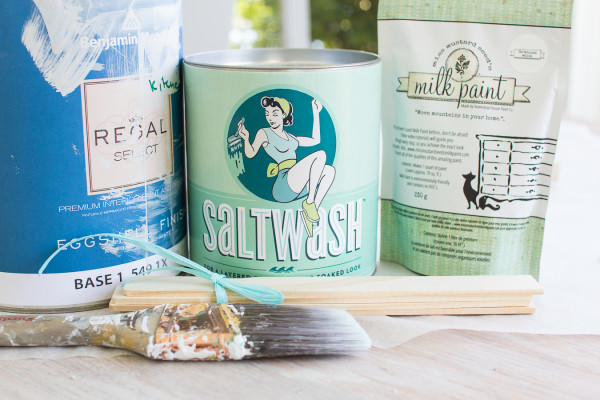 Method
Step 1 – Whenever I'm starting with a new product or finish, I like to test it out first.  I used some old shiplap boards, I had leftover from the she shed.  I mixed the Saltwash in batches with leftover wall color from our kitchen, boys' bedroom and guest room.  I also tried mixing it out with some brighter Chalk Paint® colors then I tried Pure White on top, I had it left from this Farmhouse Cabinet I did a little while back. Here are the sample boards & LOVE the salty texture: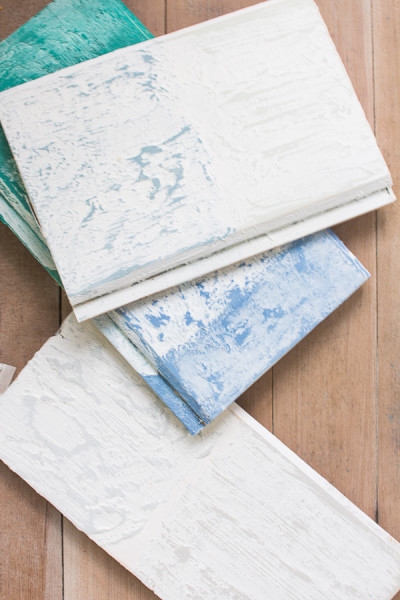 For this tray, I wanted a muted coastal look so Gray Owl won out!
Step 2 – Mix your Saltwash with your base coat paint color.  My friends at Saltwash recommend 20 to 25 ounces for a quart of paint, obviously less if you're using less paint.  The consistency is important.  They recommend a thick cake icing. My "icing" at first was too thin and it took ages to dry on sample boards.  So I recommend the same consistency as cookie dough.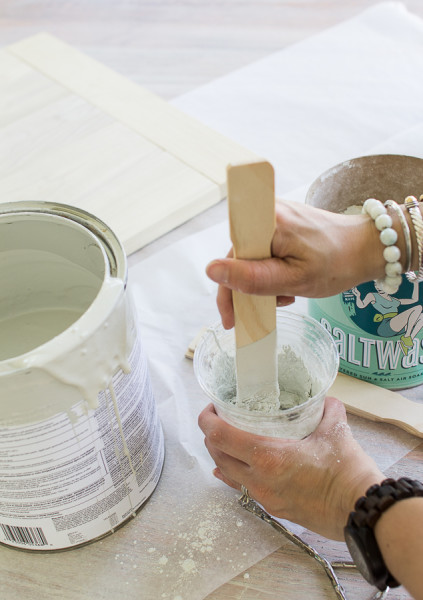 Here's the mixed Gray Owl / Saltwash combo: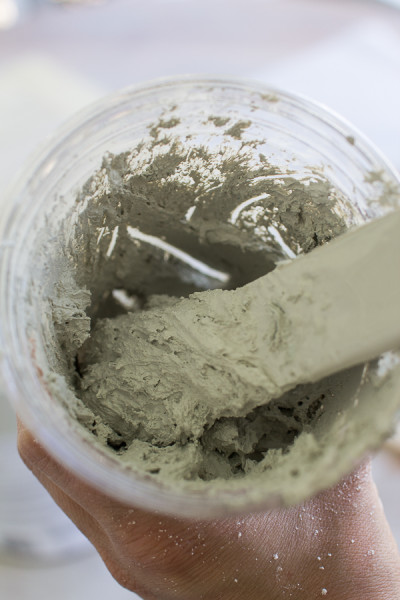 Step 3 – Glob the paint on with a brush. You'll have stiff peaks with this method. Go across your surface in this manner and then knock the peaks down by dragging brush over as the paint is drying. The paint drying shouldn't take too long at all.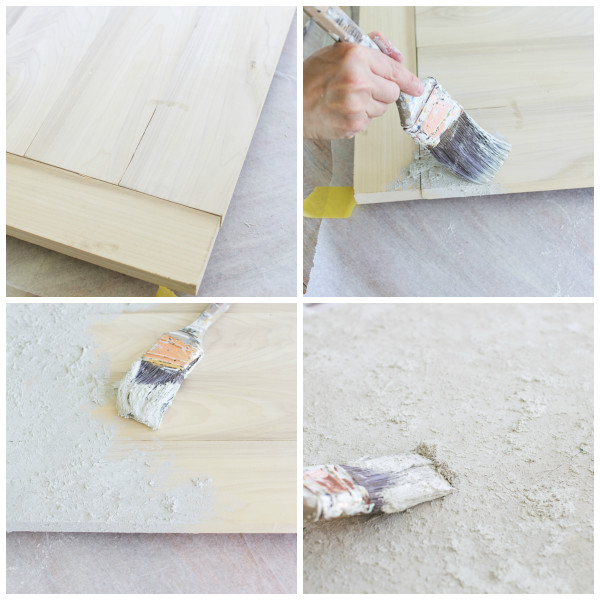 Wash out brush with soap and water after applying this layer.
Step 4 – Once dry apply top coat layer.  I opted to use Miss Mustard Seed's new color Farmhouse White. It's a creamy white and, soft and subtle.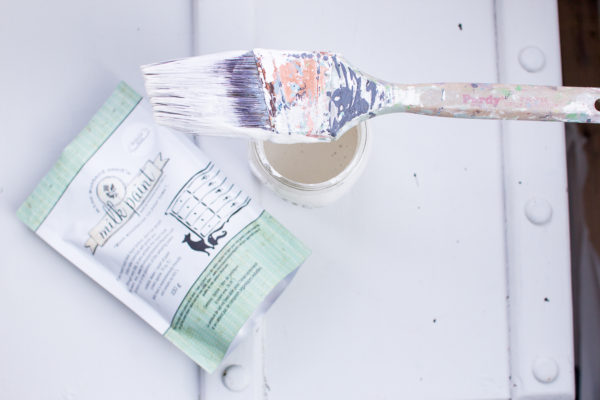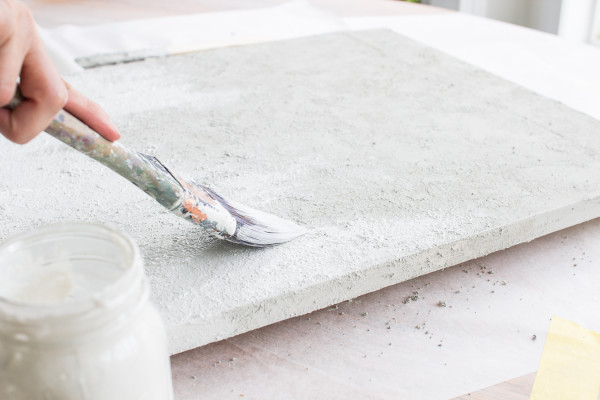 Milk Paint gives a nice old fashioned muted look, but once dry I felt like it didn't contrast enough. So I added one more coat of paint. I used Benjamin Moore Mascarpone in Matte. This is the color in our living room and dining room. A nice creamy white and a bit more opaque than the MMS Milk Paint. Allow to dry.
Step 5 – Sand to show through the first layer of paint.  You could use a sanding block. For the sample boards topped in Chalk Paint® I just used a sanding block but with the Benjamin Moore paint I used a palm sander with 220 grit sand paper.  I wanted the surface to be pretty smooth so glasses wouldn't tip on it. I think it looks pretty textured and rough but is actually very smooth, only raised a tiny bit in certain spots. Clean sanding dust off.
Step 6 – Apply top coat. My friends at Saltwash use latex paint with a semi gloss coating for the second coat of paint and forgo the top coat but others use dark wax, tung oil, hemp oil or other top coats.  For my tray I decided to use Miss Mustard Seed's Tung Oil with Odorless Solvent. Mixing the two together allows for an easier application.  Tung Oil is great for outdoor pieces and offers a highly water-resistant finish. As I'll be carrying cool drinks outdoors I wanted something that could cope with condensation and spills.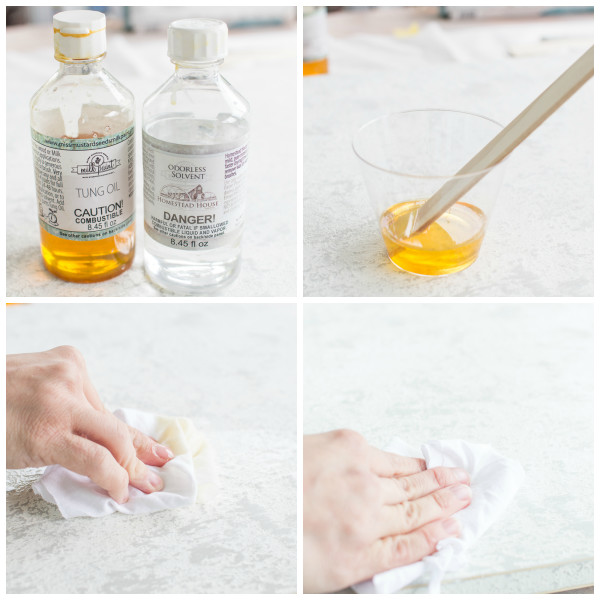 To apply I simply wiped on with a clean cloth and waited 15 minutes and wiped off the excess.  I repeated this step, so my tray has two coats of Tung Oil. Allow to cure for 24 hours.
Step 7 – Attach boat cleats as handles.  They add to the coastal appeal.  We also attached four square feet under the tray with felt on the bottom.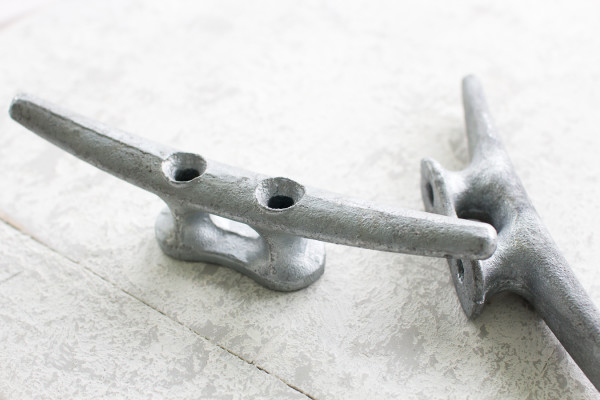 You can see the finish really well in the above photo.
We're LOVING our new coastal tray. It will be perfect for bringing snacks out on the deck for this Memorial Day Weekend.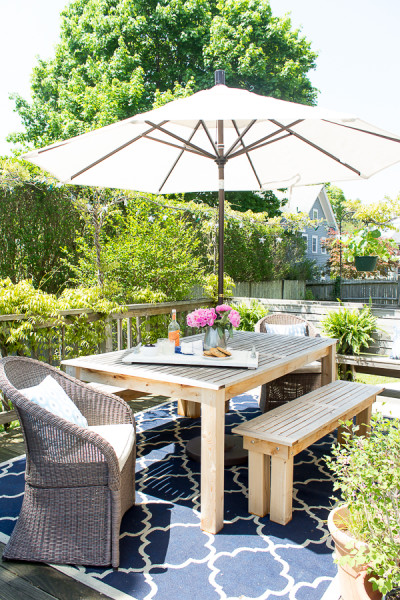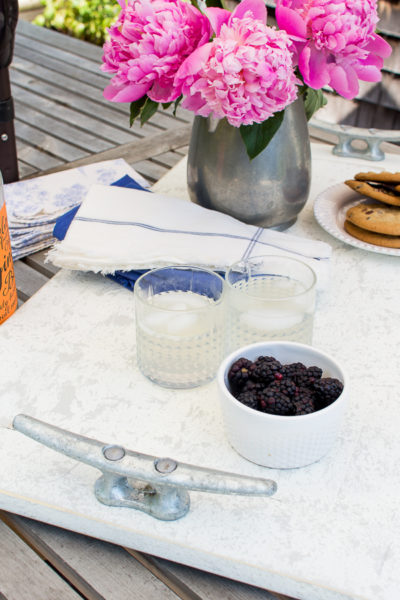 Refreshing ginger beer, sweet berries and cookies.  Peonies I adore in my grandmother's pewter pitcher; in summer the true pleasure is savoring the simple things.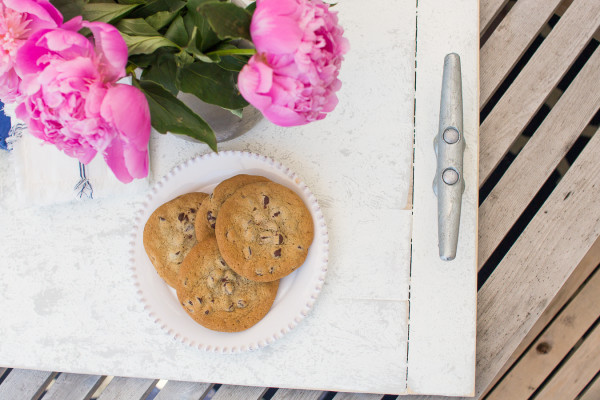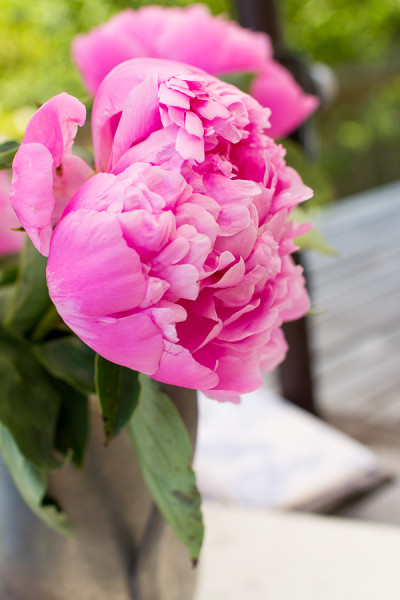 I have a feeling this tray is going to get A LOT of use this summer!!!!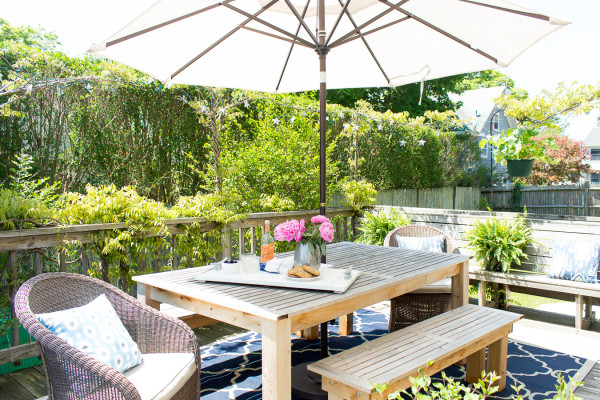 Yesterday was the first really warm day out here so the wisteria is a little delayed but it will be growing soon and I'll share more photos when it does!
In case you couldn't tell, I LOVED using Saltwash and I'm actually looking around my house for more I can paint with it. I've found two more things so far (I think). So stay tuned!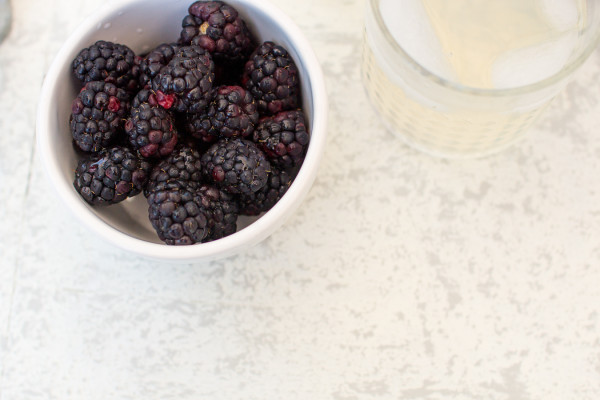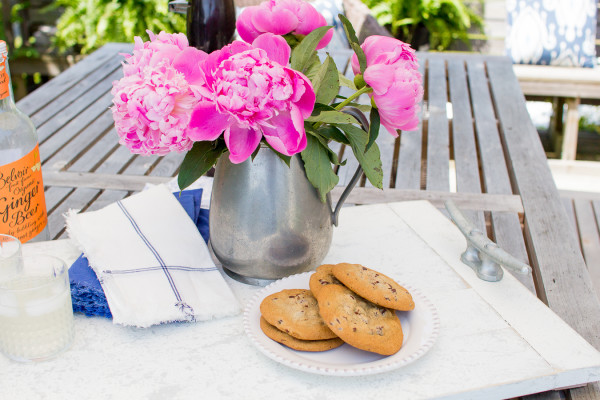 Hope you all have a lovely long weekend.
Sharing with: