If you've been reading the blog for a while then you might have heard me mention that I wanted a Chesterfield. Not once, not twice, but many, many times.  I first shared my obsession here.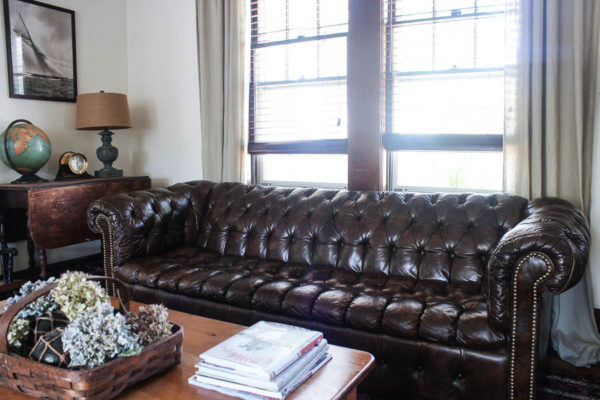 BUT I can tell you from the minute we moved into our house with all the lovely dark wood trim and painted the walls white, I knew we needed a chocolate brown leather sofa with tufting. I've been saving up for one for quite a while.  Since posting my obsession, in fact, but hadn't reached my goal by a long way.  With our household expenses, the dog, the kids and just life in general putting enough aside for my Chesterfield wasn't happening quick enough.
Do you believe in fate or serendipity?!?  Do you believe if you dream for something long enough it will come true?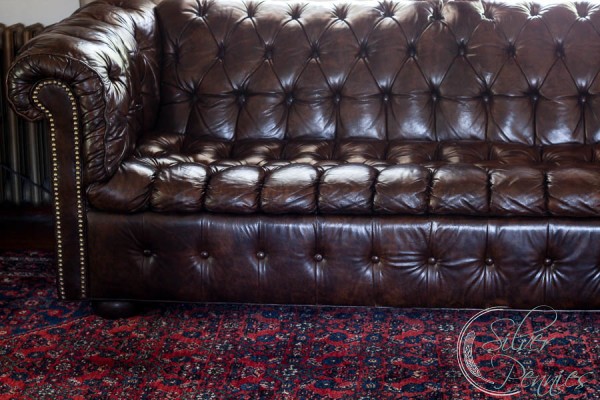 I'd been keeping my eye open at consignment shops and thrift stores and yard sale sites thinking I might be surprised and see one there.  No luck. All the leather couches I'd seen were in a very poor state, to say the least: faded, torn and in desperate need of reupholstery. Until one day a few weeks ago, I was searching on Craigslist and a Chesterfield came up when I searched for "leather tufted couch".  My heart skipped a beat.  It was the perfect color brown.  It had gorgeous nailhead trim AND it didn't seem to have any damage.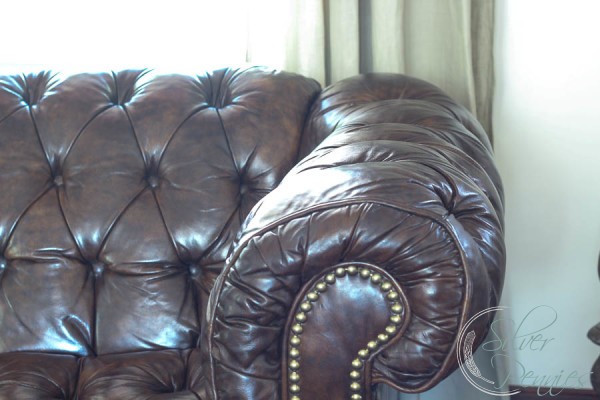 The price was right! I called up right away to enquire about the couch.  What shape was it in?  Was it scratched or damaged in anyway? Sue, who lives in Mashpee, was so nice and said that, "No, there was no damage.  They just didn't have the space for it."  It was still available and I was the first to call about it!  I made an appointment to see it that night.  Mashpee is about an hour and a half drive.  As soon as Luke, got home from work we piled into the truck with the boys and drove down. It was even lovelier in person.  It was in the basement and Luke and I desperately tried to move it out.  The couch is 92 inches and I was fine carrying it level but when we had to tip the couch to go out the bulkhead I kept falling over.  My arms weren't long enough 🙁 I just about died that we went home without my new couch. Our friend, Tom, came to the rescue the following weekend and helped us move the couch and it is perfect.  Just perfect in our living room.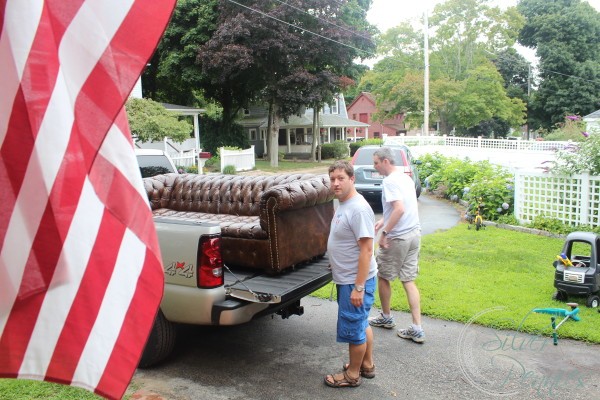 John was pretty upset we got rid of the old couch telling me how much he loved it.  If you forgot what it looked like you can see it here: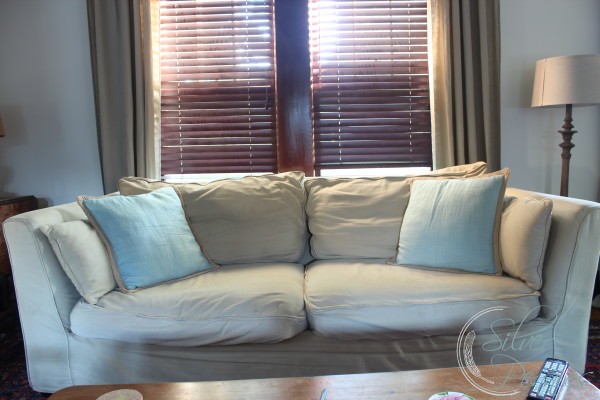 Conor wasn't as attached to the other couch like John was.  He proved the comfort level by falling fast asleep on it later in the afternoon.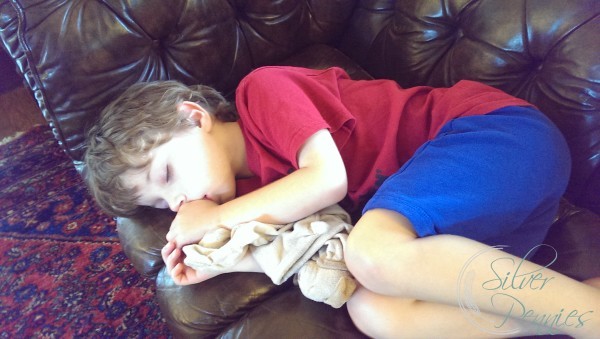 So I have to tell you, this couch is everything and more than I thought it would be.  John even LOVES the new brown couch now. The leather is soft and supple.  The color is perfection.  There are certain browns I don't like the look of and this kind of deep chocolate to coffee bean brown was the color I was dreaming off.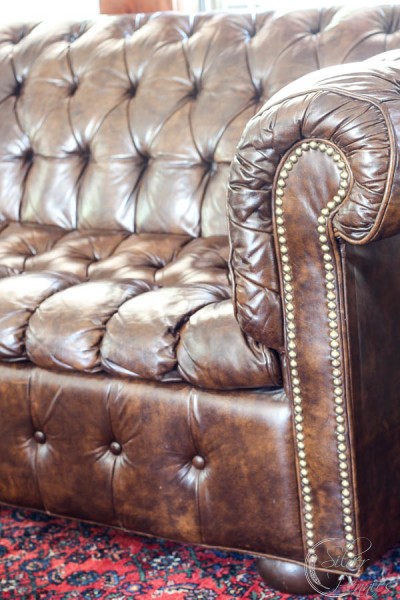 The nailhead trim with its brass accents adds a touch of refinement to our living room. Our windows are very low and I wanted a couch that didn't go higher than the windows, so the low back of the Chesterfield was the perfect height.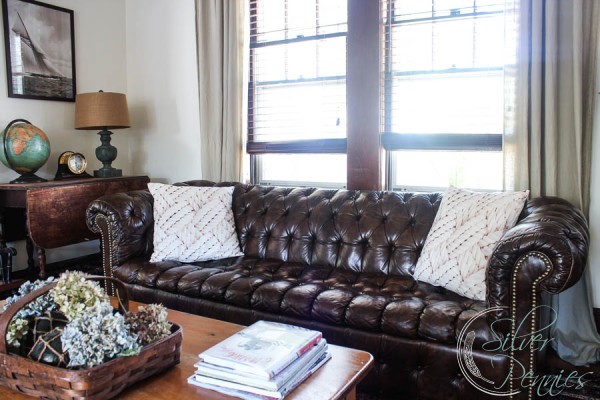 I'm not sure if you can tell in these photos but the back comes just below the window sill.  The perfect height. It is also the perfect length.  Our living room is very long and we love to cuddle together so 92 inches was the perfect length for our room. The coffee table will be getting a makeover once the boys are in school. I'm thinking of doing a Restoration Hardware finish on the bottom with a stained top.  The gate-leg table will get a makeover too!  I'm thinking Lamp Black for that. What do you think?  I love the look of the old wood but I'm also trying to break up all the brown in the living room.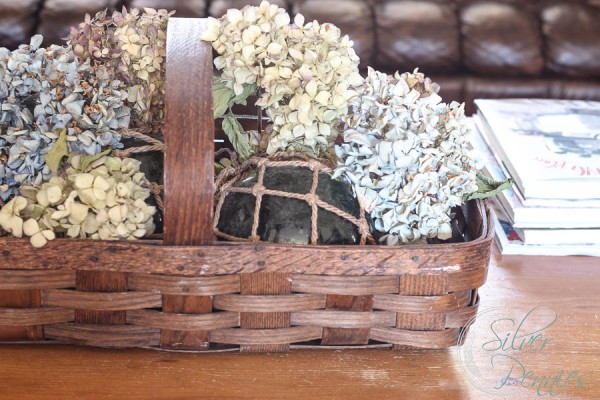 This is the place where we flip through magazines, play games and watch TV. It is the perfect spot to sip wine or whisky (Luke's drink, not mine).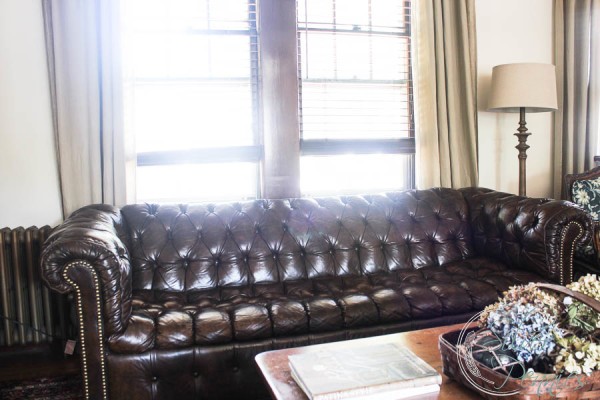 Oh, and the perfect place to read: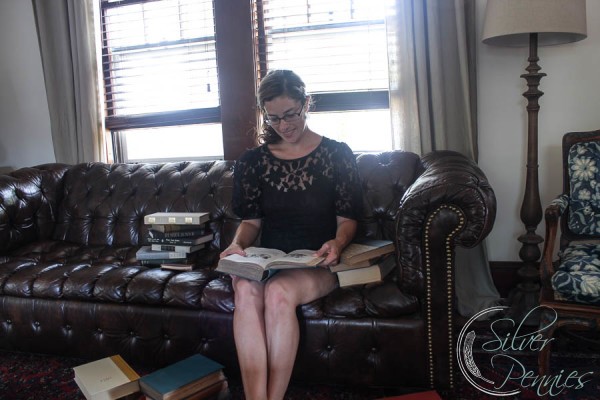 We have lots and lots of books…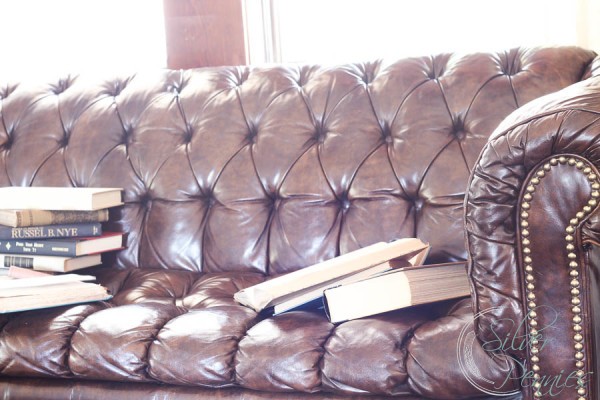 A big thank you to the lovely couple we bought the couch from.  You made my dream come true!  A HUGE thank you to my husband for making two roundtrips to pick it up and to Tom for his extra strong muscles.  Finally, a huge thank you to John, our 8 year old, who played photographer yesterday morning.  Can you tell it is the end of summer?!?  Who else puts on a party frock & no make up at 9am for a portrait by her 8 year old?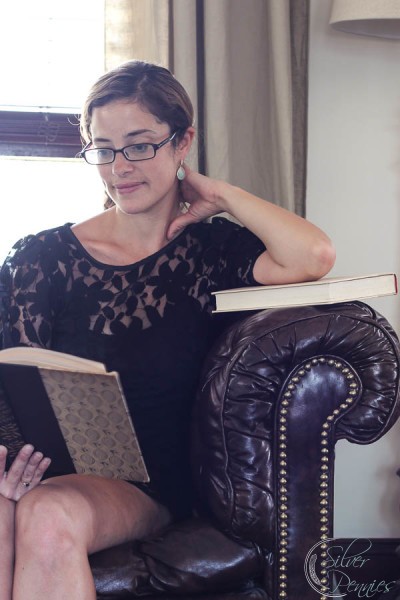 We couldn't stop laughing!!! I'm in love with my new (to me) Chesterfield!  It is the perfect and dashing addition to our living room and, oh, so very, English!
Sharing with: