I partnered with The Home Depot on this project.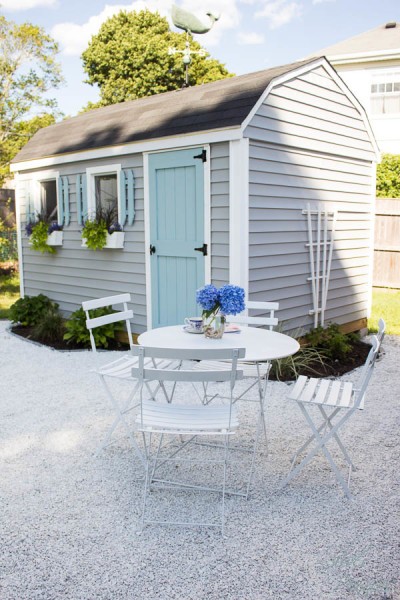 I'm in love with the cottage gardens of Cornwall and the plantings you see down on Martha's Vineyard and Nantucket.  I wanted the exterior of the she shed to reflect this look.  It is my creative retreat and I wanted the exterior surroundings of it to have this same coastal casual atmosphere.  I told my husband I dreamed of a white crushed stone patio with a little white cafe table and chairs.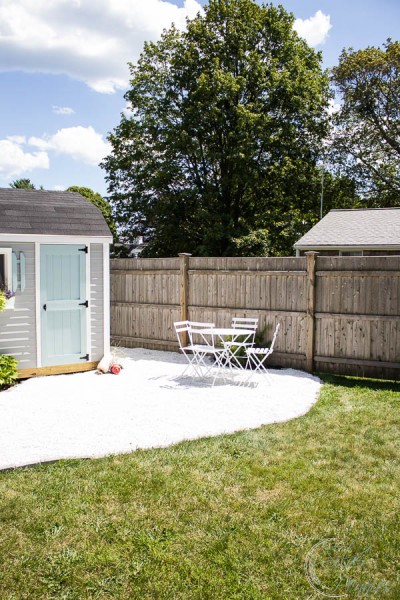 My dreams became a reality with this project.
I started off with an old patio set that belonged to my mom and I spray painted it with Rustoleum white spray paint in satin finish.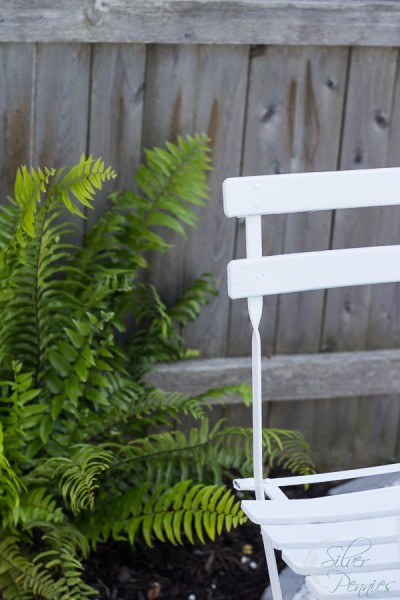 The patio adds so much to the focal point of this little shed and it is so nice to have an area to sit and sip coffee or drink lemonade.
Here's how this area looked before we started the patio: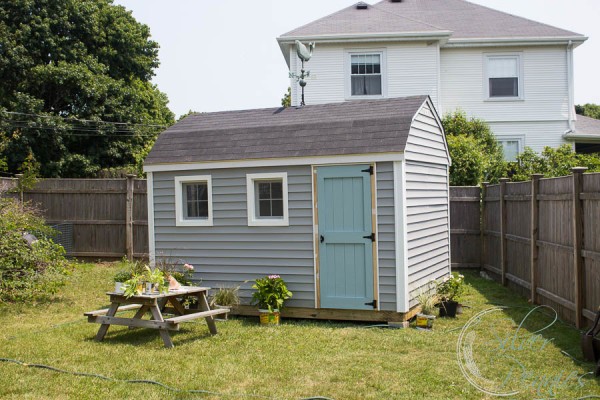 How to Create a Crushed Stone Patio
Materials
Method
As you know, we were on a very fast time line as we had our Spain trip right on the heels of our shed arriving, if we had more time we would have completely cleared this area of grass entirely, but time was not on our side.
We started by marking off with a garden hose the shape of the patio and also placed the plants where we thought we wanted them to go. This helped determine shape and how big.  If you're working with another person, I highly recommend this first step.  From there we calculated how much gravel we'd need to cover the entire area.
Then we dug out the beds for the plants and planted them adding dark brown mulch on top.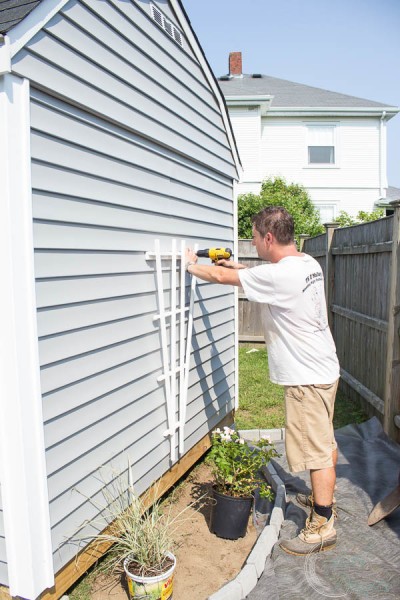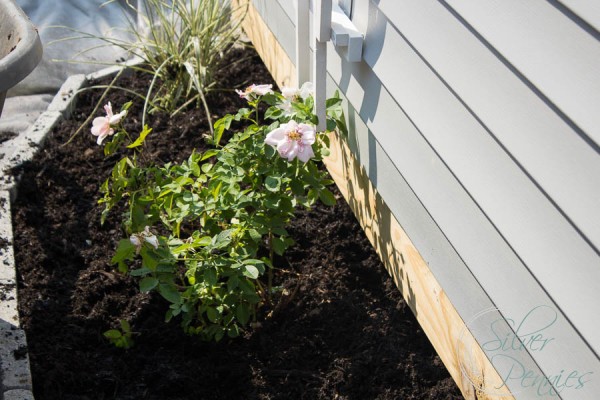 We edge along the entire perimeter of the patio, digging down a few inches. I wanted this patio to be really large and I would have even made it bigger (I still might, but don't tell Luke yet).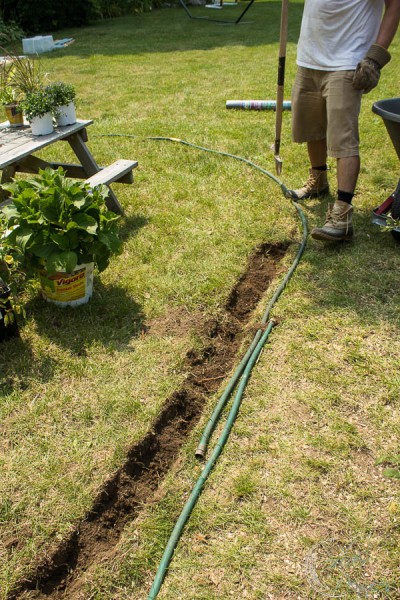 To prevent the grass and weeds from growing up through our patio we placed weed control fabric down, using metal clips to hold it in place.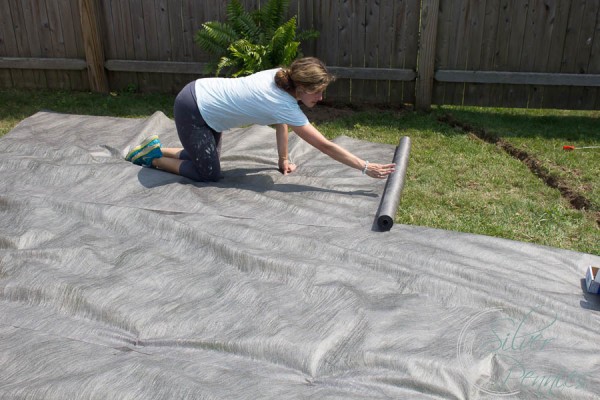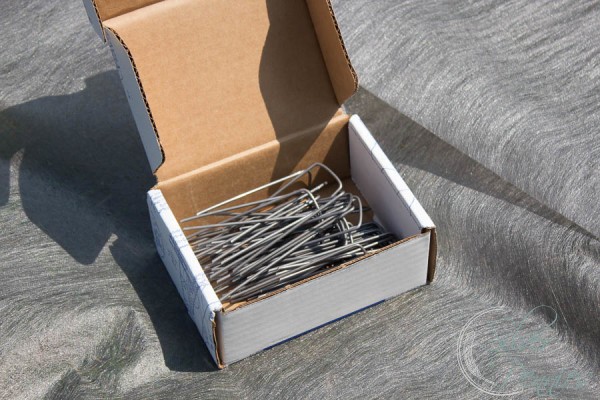 We placed gray bricks around the entire patio and around the beds of the plants to keep the gravel in place.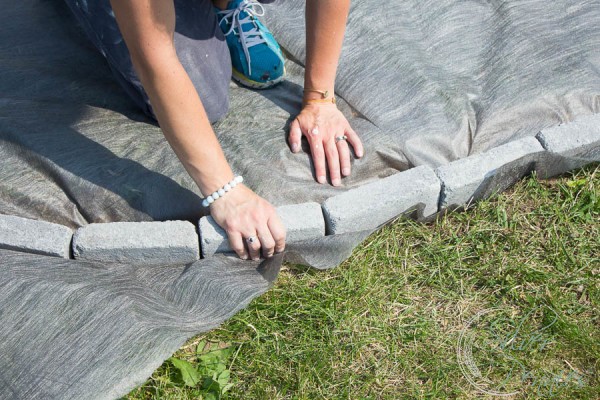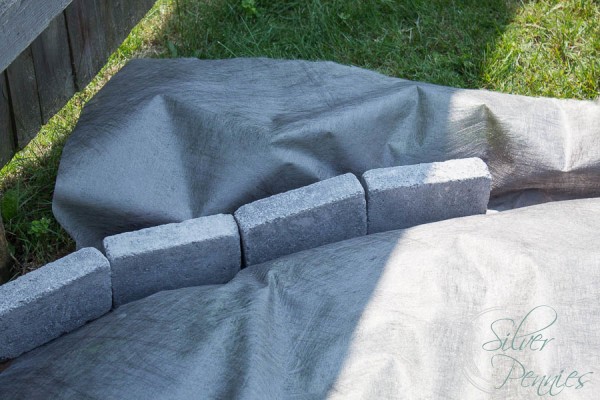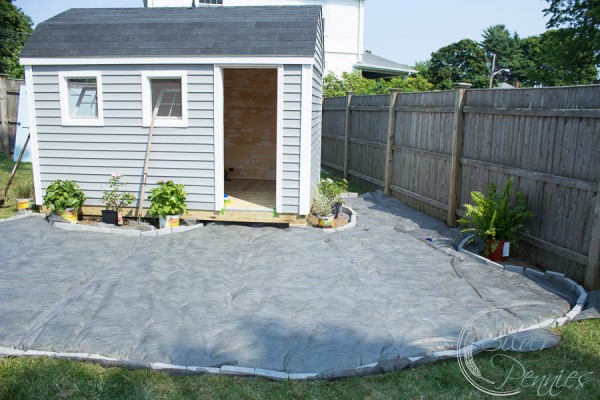 Then it was time to gravel the patio. We actually bought all the mini marble chips our Home Depot had in stock.  These come in small bags, 40 lbs in a bag.  Luke had to help me shift them from the truck to the patio.  We spread the stone about 3 inches deep all over and used approximately 90 bags.  We did two trips to Home Depot for this but you may want to make more than two as our truck was really weighted down on the last trip. So four trips would have been right, but we're impatient here.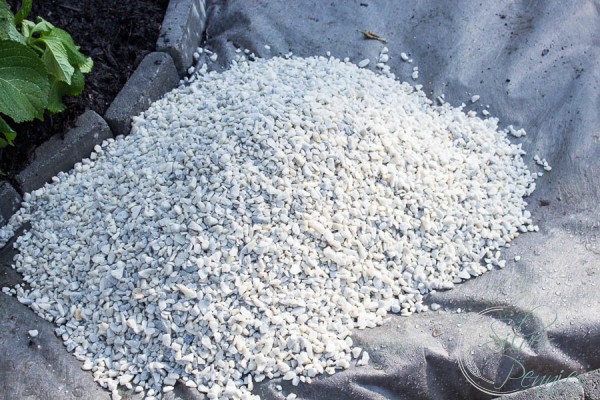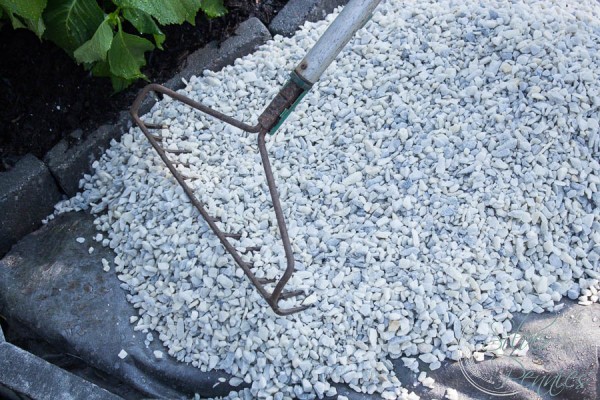 The last step was trimming the extra fabric from the under the patio.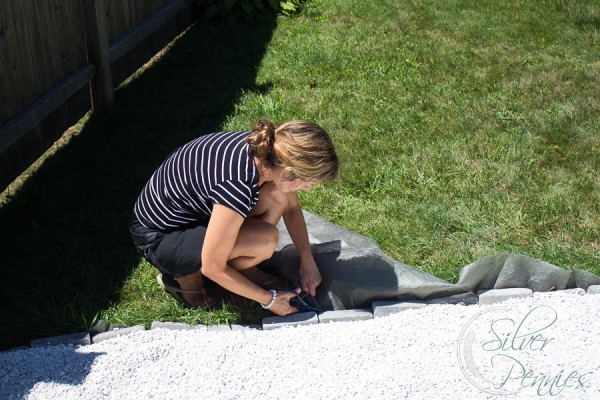 This little patio has made such a diffence to the space.  It has really made it a focal point.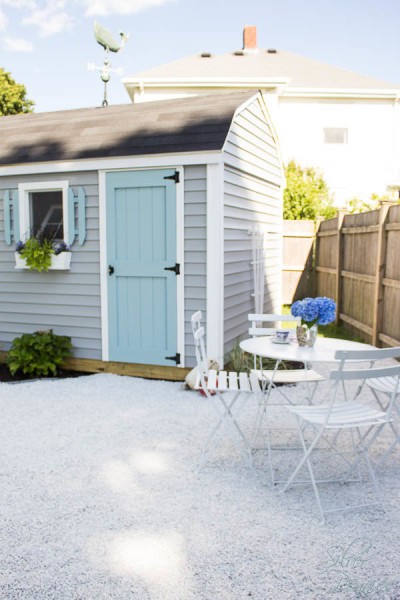 We planted sea grasses, ferns, lace cap hydrangeas and the white hydrangea is the snow mountain hydrangea.  The rose is a climbing rose and will climb up the trellis in a beautiful canopy of pale pink flowers.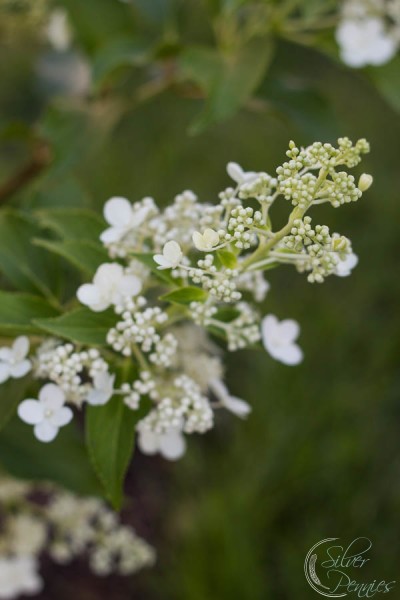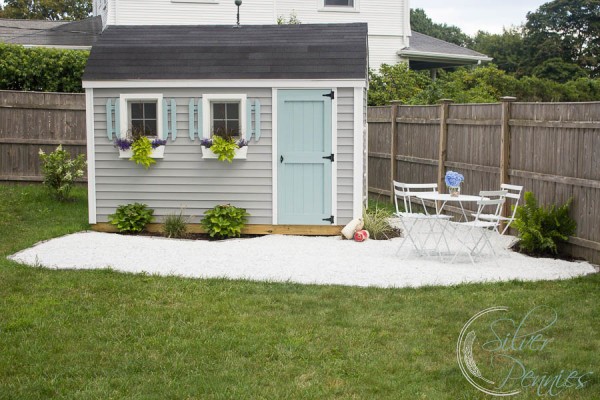 I'm not the only one who enjoys it down here.  My little girl, Poppy, does too!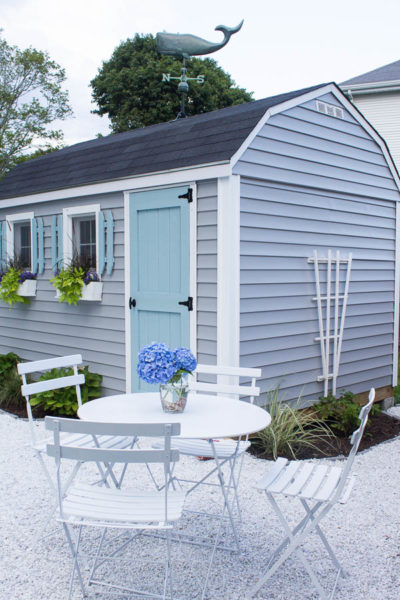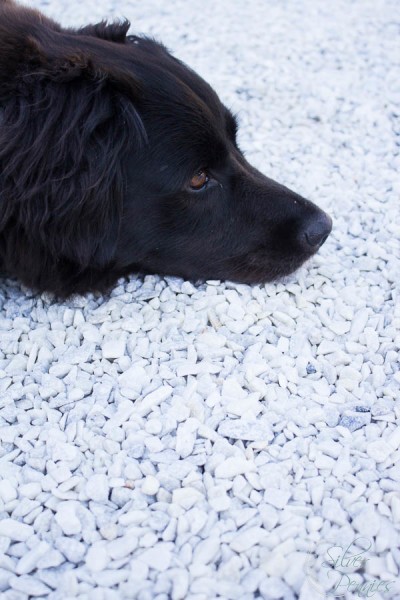 If you need us you'll know where we'll be.  Let me know if you have any questions about this DIY!
You might also be interested in our She Shed Reveal (here and here) and how to install shiplap walls here.
I acknowledge that The Home Depot is partnering with me to participate in this shed program. As a part of the Program, I am receiving compensation in the form of products and services, for the purpose of promoting The Home Depot.  All expressed opinions and experiences are in my own words.  My post complies with the Word of Mouth Marketing Association (WOMMA) Ethics Code and applicable Federal Trade Commission.