"A baby fills a place in your heart you never knew was empty." – unknown.
This is what I've been working on: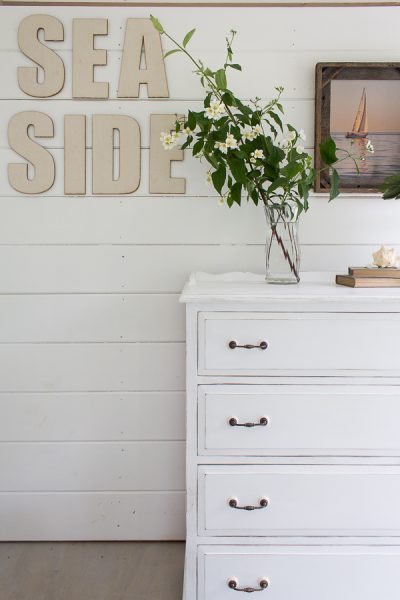 Meet Rosalie!
This pretty dresser just got dolled up for a new arrival.
Our friends, Nick and Leigh-Anne, are expecting their first baby. Isn't that exciting! Nick had an old dresser that he wanted to use for their baby. This dresser was built by his grandfather, Thomas Canty, when he was just 16 years old.
It's a gorgeous piece and so heavy.
Here's a look at the "before":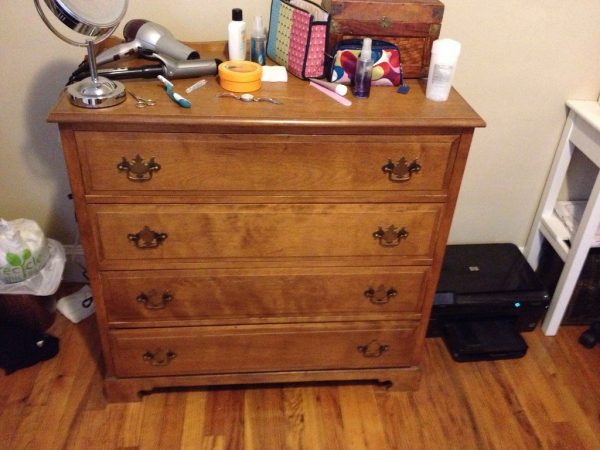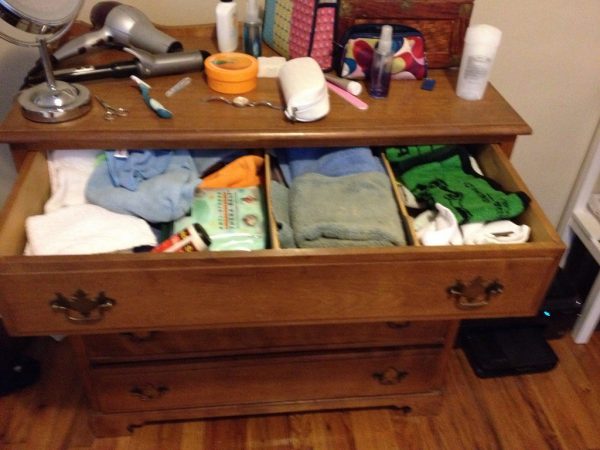 They sure don't make furniture like this nowadays! This is solid and so heavy and perfect for their baby girl. Nick and Leigh-Anne wanted to lighten it up and also wanted to change out the current hardware.
The nursery is a pretty blue violet and the crib is white so we decided to go with White Chalk Paint® for this makeover.
Here's how the piece looks now: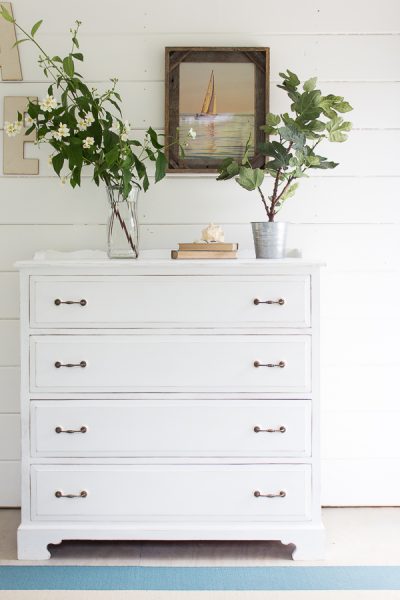 I took a few photos out in the She Shed.
This post contains affiliate links, if you purchase from my link I will receive a percentage of the sale.
I painted this dresser with a base coat of Country Gray Chalk Paint® which is a tan color. Nick and Leigh-Anne weren't huge fans of the stain color. So we muted this down with the tan paint. The top layers are painted in Pure White Chalk Paint®. They originally thought they wanted Old White which is lovely but looked too yellow in the nursery compared to the crib and white trim.
I wish I could tell you that I didn't have any bleed through issues but that wasn't the case here. Despite doing my usual prep work of lightly sanding, washing down with mineral spirits, followed by warm water. I sealed the piece with two coats of clear shellac.
The stain was bleeding through under the white.
Not the crisp look we were going for.
I rolled two coats of primer on which seamed to do the trick in most areas but there were a few spots that still bled.
I spot primed with the BIN shellac based primer then I repainted with the above colors.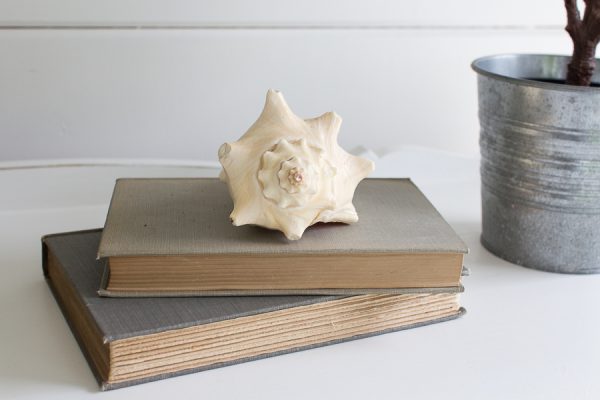 White is beautiful but it can be tricky with bleed through.
I used 300 and 220 grit sand paper to distress and I did the distressing around the high points and the drawers.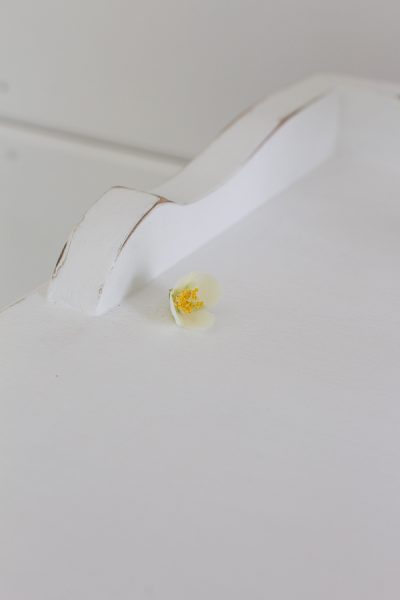 You now can see the pretty detailing around the top of the dresser.
It just seemed to disappear when it was stained but now stands out: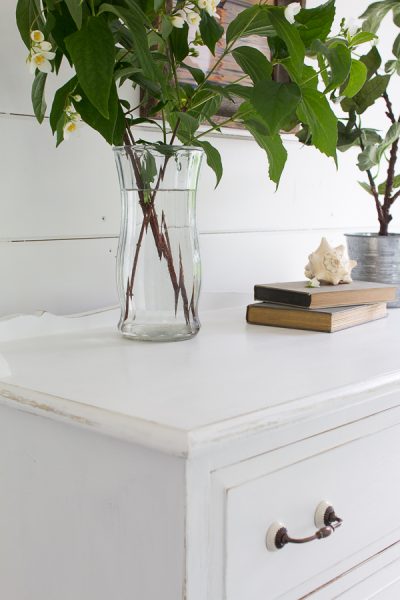 They plan on placing the changing pad on the top. It's gonna look perfect!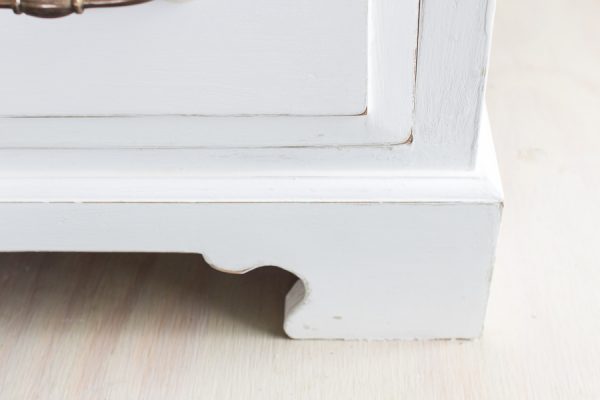 The hardware is by Anthropologie and you may recognize it as we used it on our own nightstands.
It's the Zinnia Handle in Linen: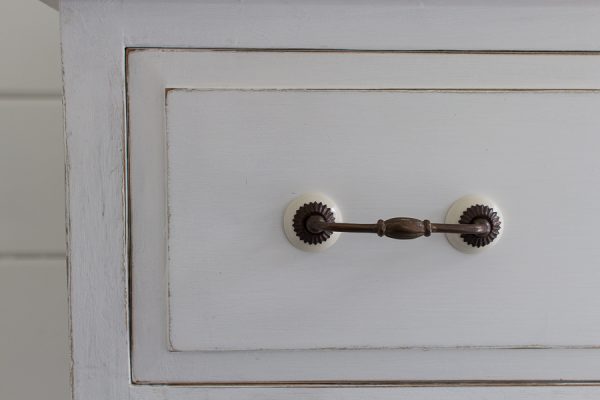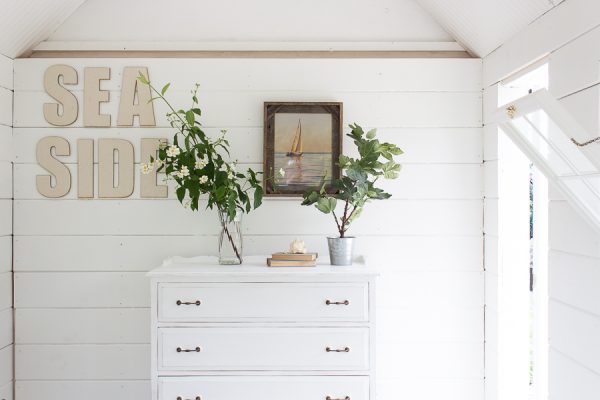 The entire piece was sealed with Annie Sloan Clear wax and lightly buffed.
So perfect and elegant on this piece!
As you know I name my painted pieces. This one is named Rosalie.
Thomas' wife was named Rosalie and Nick and Leigh-Anne are naming the baby Rosalie too.
So it seemed only fitting to name the dresser after these two ladies.
This dresser has such a history.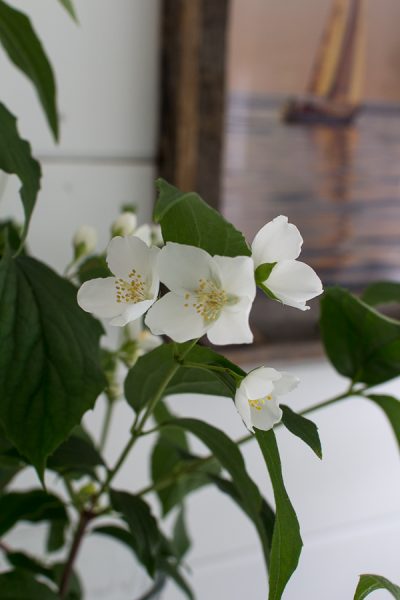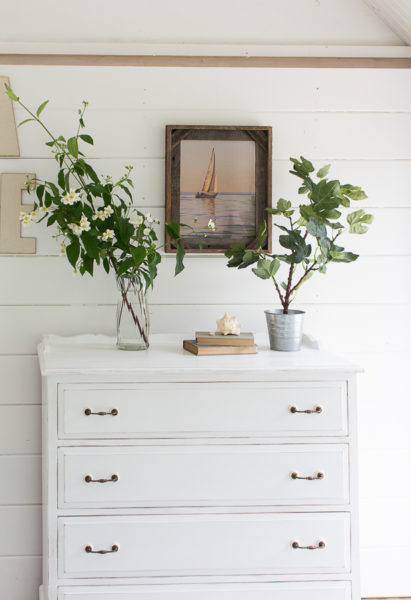 I'm so honored that Nick and Leigh-Anne trusted me with this family heirloom. I'm so excited to see sweet baby, Rosalie.
Nothing like a new little life.
A blessing from heaven.

If you're interested in learning more about painting your own furniture you might like my eBook: