This post is sponsored by Balsam Hill, they provided me with product to review. All thoughts and opinions are my own and I'm happy to share their beautiful products with you.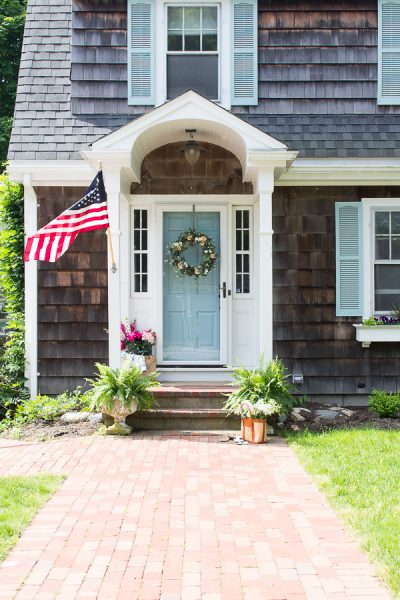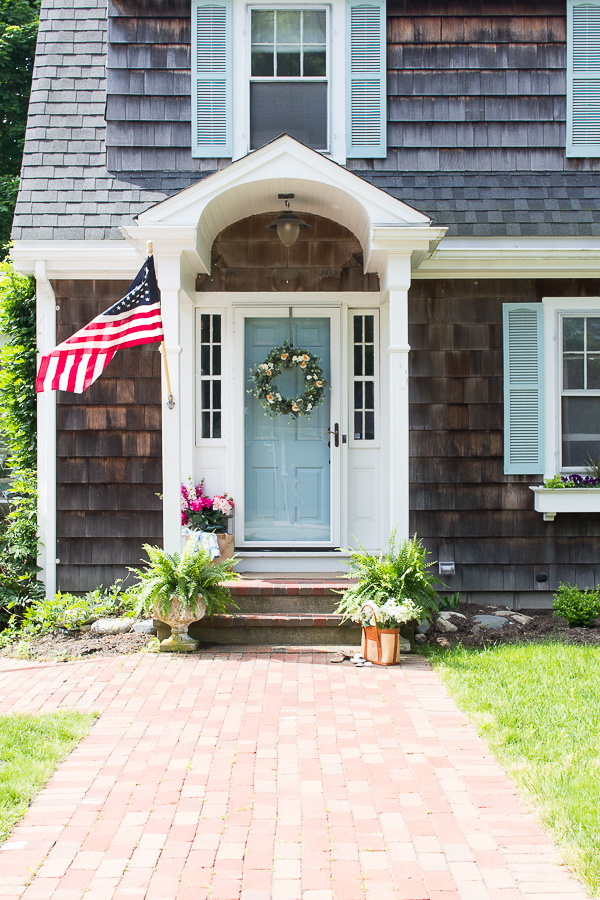 Happy Monday, friends! Today marks the start of our first week of summer. The boys got out of school on Thursday and are so excited for some lazy, summer days ahead. Conor starts sailing lessons for the first time this week. He's very excited about that! John is doing cartooning this week.
Today is also the start of the Summer Housewalk with Balsam Hill and I'm excited to be starting if off at our home today!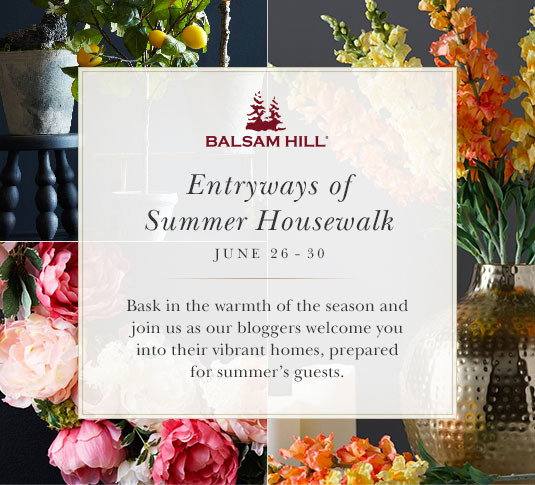 It's pretty hot here in New England now but the cool ocean breezes make it up the hill to our home from the harbor.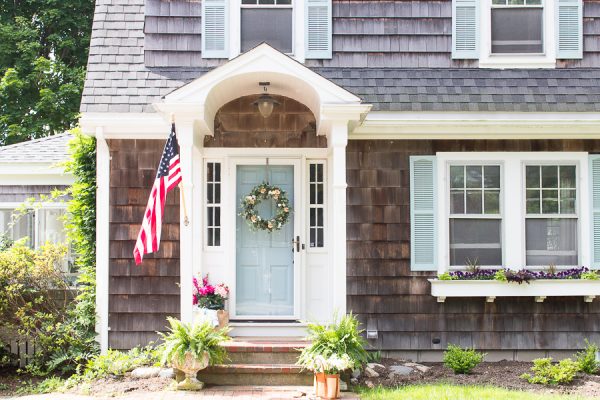 Last week I shared our summer home tour and today I'm excited to share our summer entry.
Most of our time is spent at the beach or enjoying the outdoors so I like to keep things very simple.
Boston Ferns are my go to in my urns because they only need some water in the morning.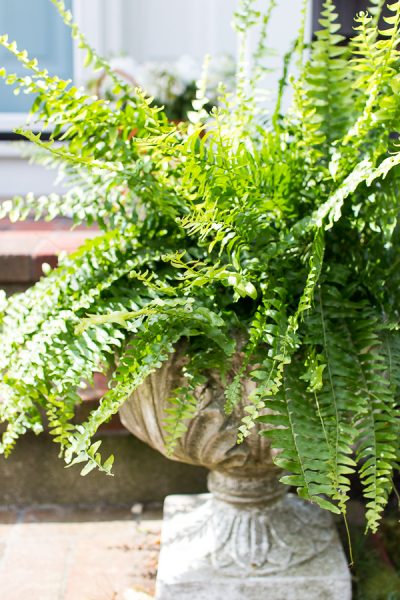 This pretty basket is filled with a white viola arrangement.
Can you believe these are faux?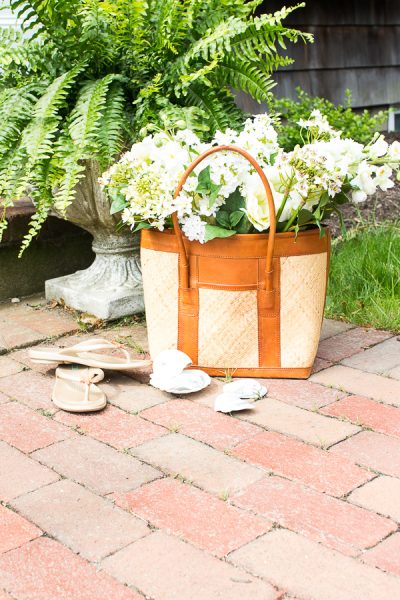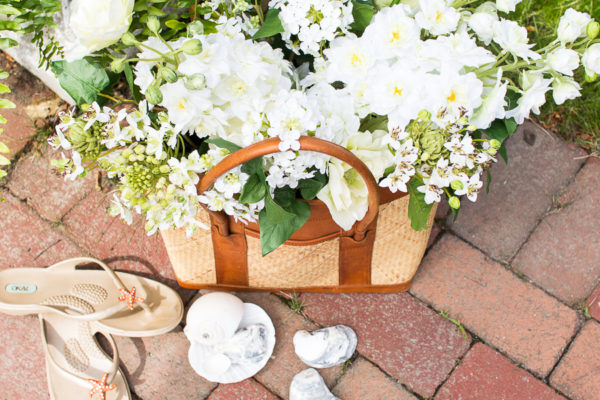 You may recognize these from our summer home tour as I had them on our dining room table.
I love this pretty arrangement so much. It is so lifelike and comes in a pretty vase with artificial water.
You may also recognize our door wreath, it was in our spring dining room.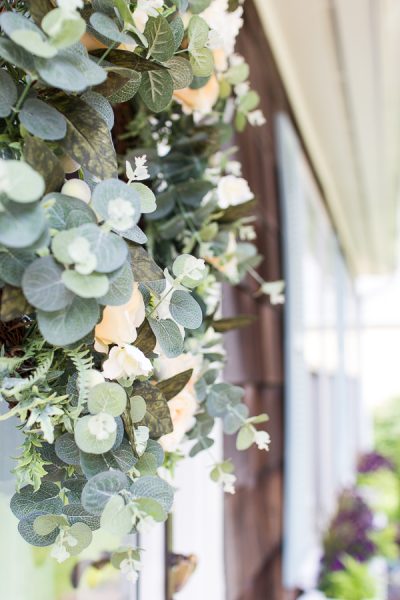 It is so soft and pretty for summer.
It is the Diana wreath and the pale peach roses are so pretty!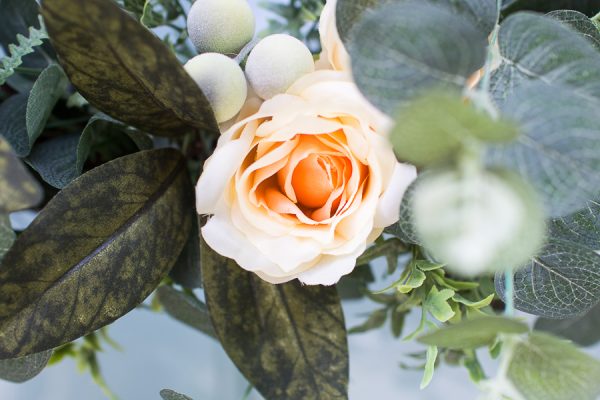 I love the eucalyptus mixed in with the pale roses. It looks so pretty against are blue front door.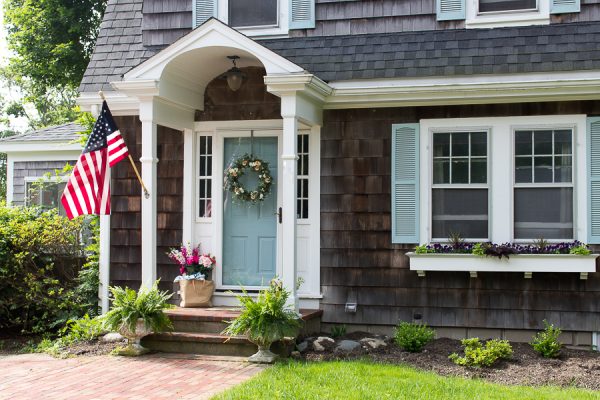 My window boxes are filled with potato vines in a few colors, sea grasses and my spring pansies. These little pansies are doing so well and I just didn't have the heart to yank them out yet.
I'm excited to watch the potato vines grow. I use them each year and love how by fall they are trailing onto the ground. It looks so pretty and whimsical.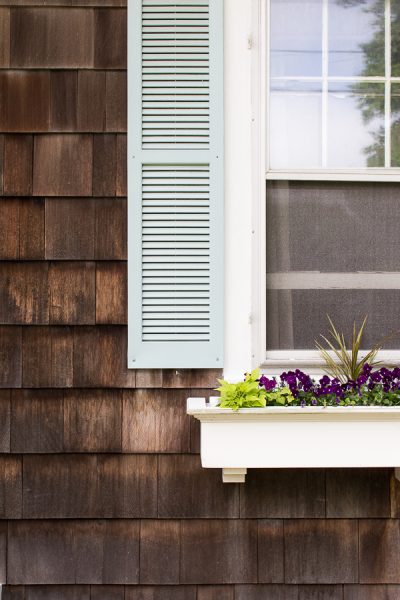 The rug is new for the summer.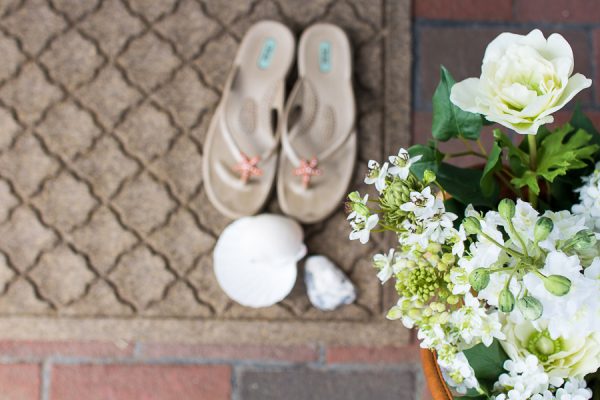 I opted for the camel color & love the drop crystal pattern.
This rug is heavy duty but looks so elegant.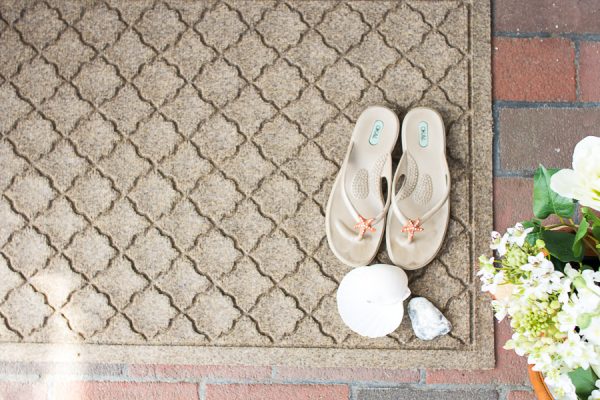 Of course, my flip flops are always close at hand for a trip to the beach or lunch in the harbor.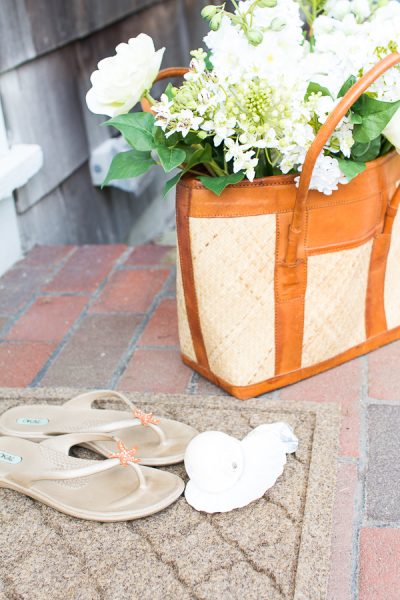 To add some summer color, vibrant pinks and orange branches were placed in a jute bag.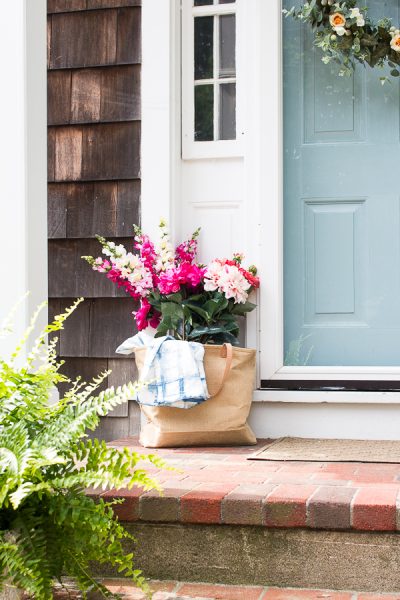 Beautiful snapdragons and dahlias. I haven't had luck growing these so was swept away by the selection at Balsam Hill.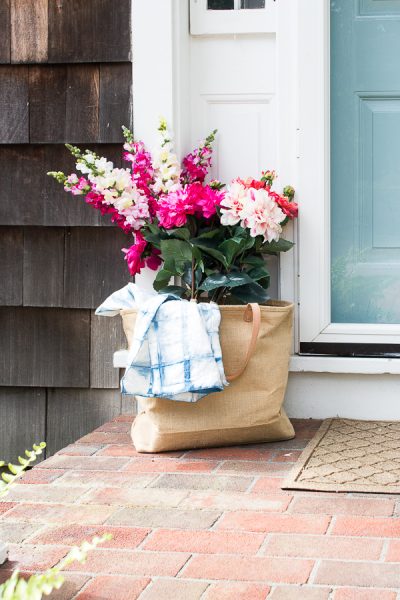 I'll share more about these when we step inside our front door.
Oh, and you may recognize that shibori cloth. I shared the DIY shibori the other week.
Would you like to take a peek inside?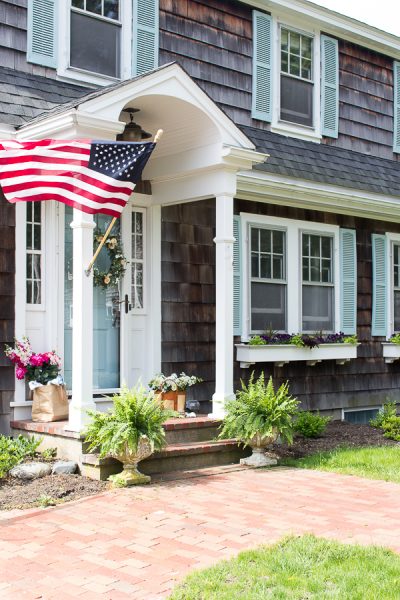 Come on in!
As you enter our home, you're greeted by this bench my husband built from a Jenny Lind Bed.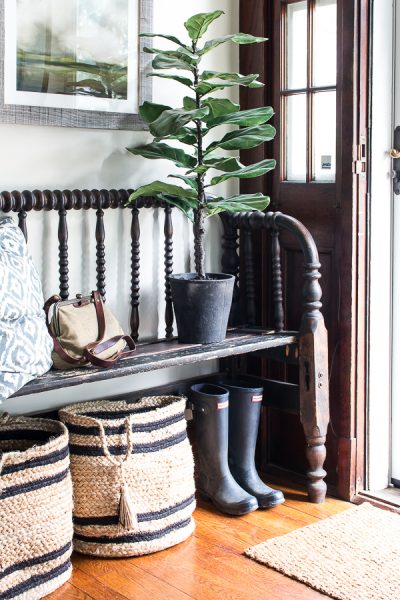 The baskets are filled with the boys' flip flops and water shoes.
But did you notice my new fig?!?
Um, and it's faux.
I'm so IN LOVE with this new plant! Sometimes real Fiddle Leafs can be hard to grow if they don't get the right amount of light or water but this will always do well no matter where you put it.
I'm LOVING it right here.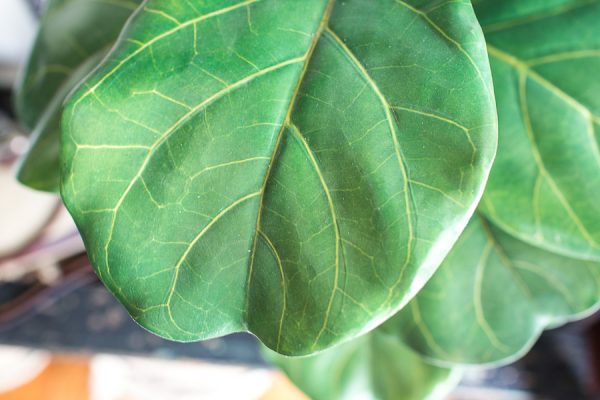 The veining is so realistic as is the dirt in the pot. The leaves are hand painted.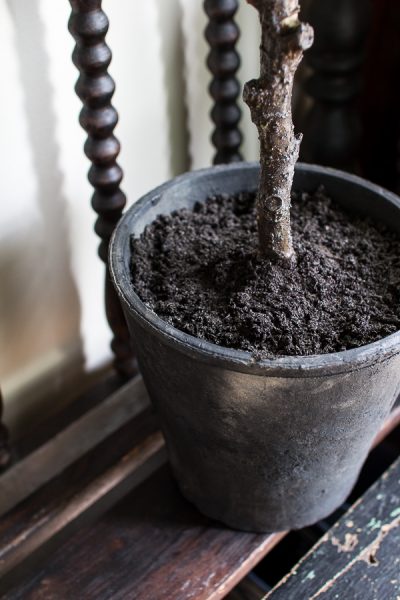 See what I mean?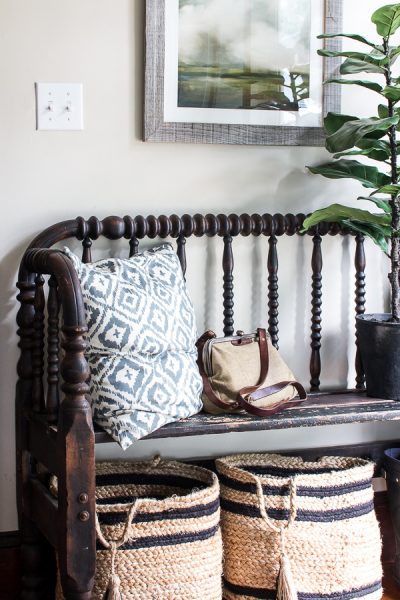 Balsam Hill has a wonderful selection of table top trees. I'm tempted by the olive trees and the Meyer lemon.
Here are the beautiful stems I was telling you about!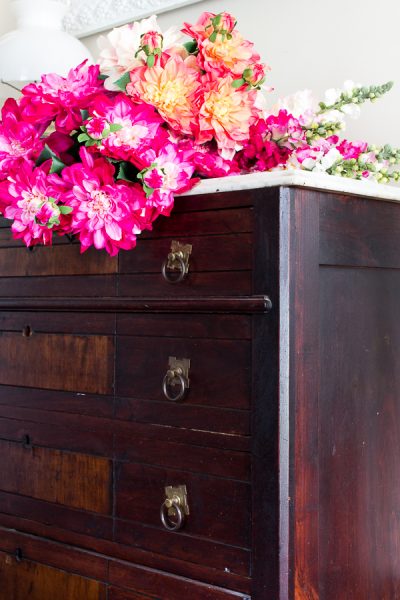 I used the peach and light pink and magenta dahlia stems and the pink and white snap dragons.
7 stems come in each bunch and they are beautiful.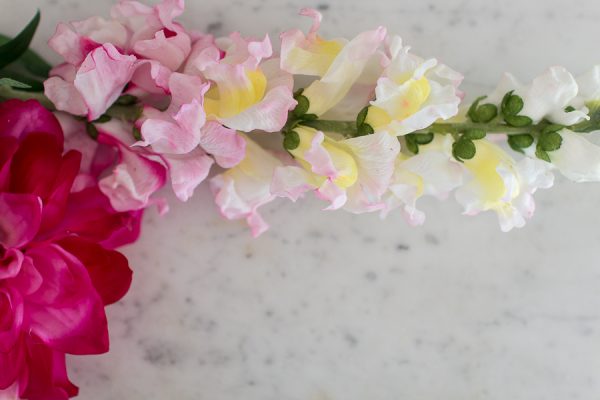 They are so lifelike.
My mom felt them and thought they were the real thing!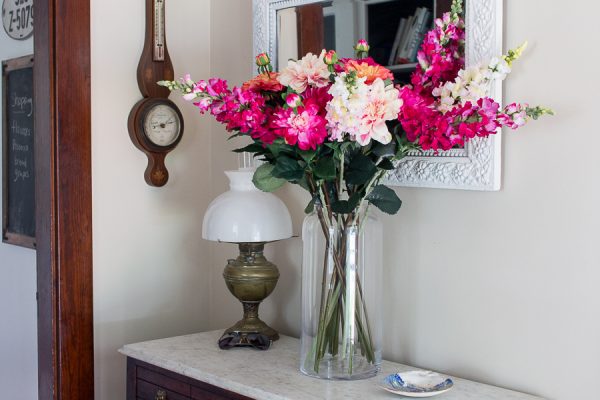 Our entry is so simple with a marble topped dresser and old mirror, that I thought a simple clear vase would be perfect for the stems.
They make quite a statement here.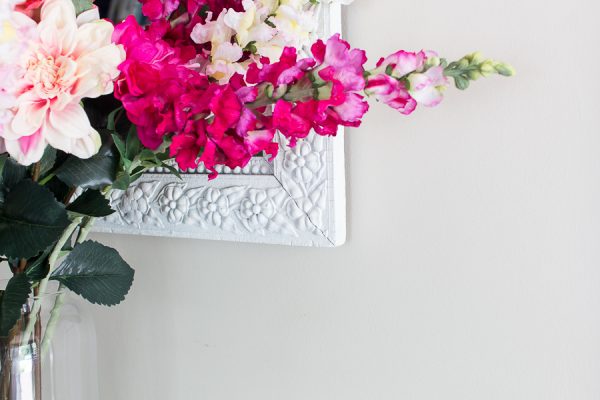 As I walk down the stairs or come in the front door, these vibrant hues put a smile on my face.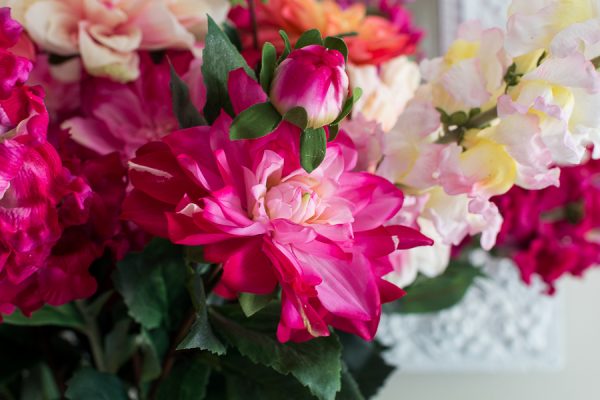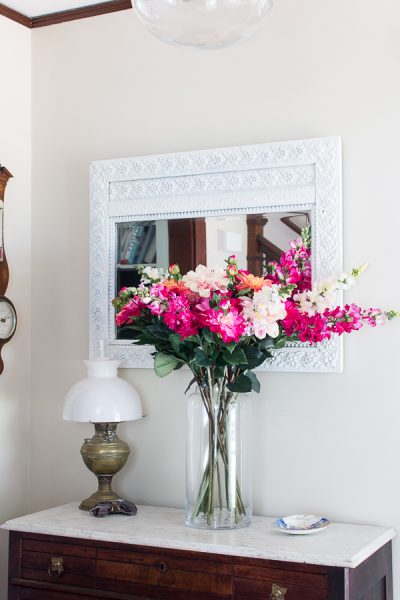 Across from the dresser is this black bench.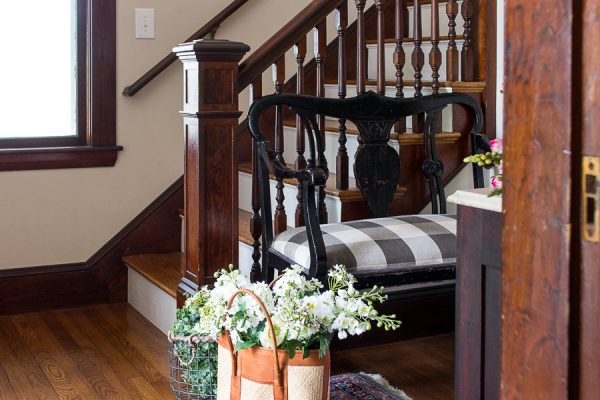 The white viola arrangement makes a second appearance!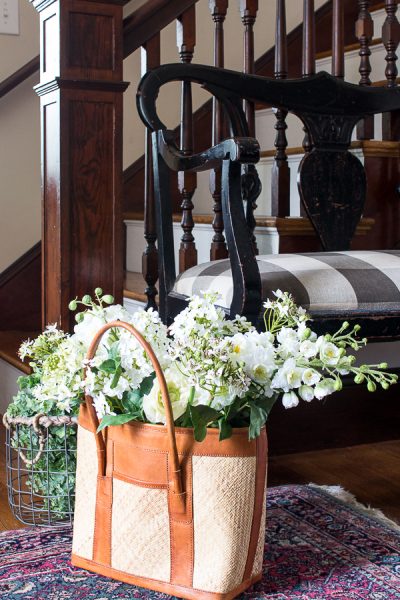 Well, that's our summer entry. I hope you enjoyed it.
Pretty and soft florals to celebrate these warm, lazy days!
Balsam Hill is doing a flash giveaway on their Facebook page to celebrate summer on June 30th. Yay! Many of these items are currently on sale too if you can't wait for the giveaway.
A huge thank you to Balsam Hill for inviting me to participate this week and a huge thank you to you for stopping by.
Be sure to visit all the bloggers who are taking part this week:
June 26th – Danielle – Finding Silver Pennies
June 27th – Emily – The Wicker House and Erica – Dwell Beautiful
June 28th – Stacy – Not Just a Housewife and Sarah – Little Red Brick House
June 29th – Jamie – So Much Better with Age and Melanie – My Sweet Savannah