Happy Monday! I have a fun furniture makeover for you today! I LOVE writing these posts and I think you guys like reading them. This one is a little special because it's for a very good cause. Meet the Hayden Dresser / Cabinet. Not sure if it is a dresser or cabinet so anyhow. Here he is: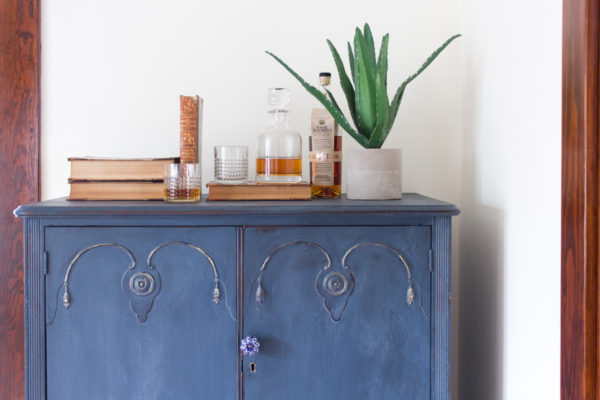 What makes this piece so special you ask? Well, it's being auctioned off at Habitat for Humanity's High Heels and Hard Hats benefit this Saturday, May 6th. Click here to read more about the benefit.
Habitat is near and dear to my heart. As many of you know, I took part in the World's Longest Yard Sale and did a house over with GMC and Habitat. It was one of the most rewarding things I've ever done. I donate a bunch of furniture in October and also told Eileen the store manager at South Shore Restore that I wanted to do more work with Habitat. We had a successful paint night and there will be more. This piece is another way of giving back.
Okay, so here's how it was looking before when I picked up from the Restore: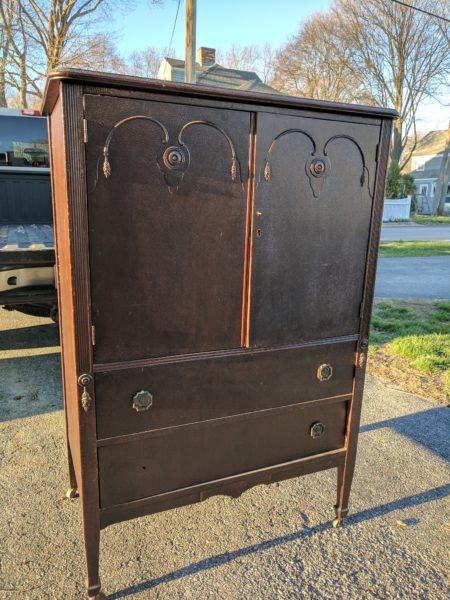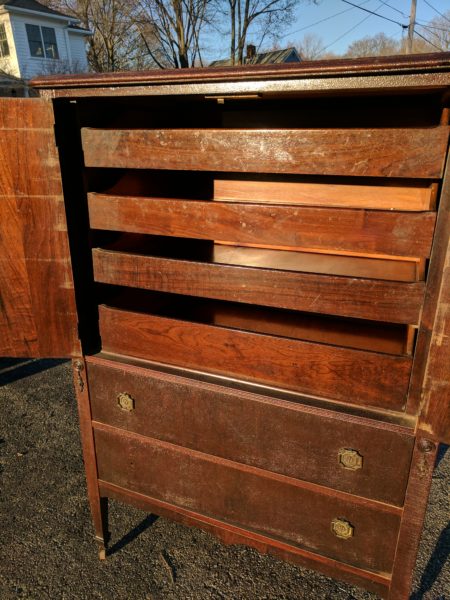 The surface is very rough. I believe that this old piece was left up in an attic and the poly bubbled up. There was also damage to the wood. So this was a perfect candidate to paint.
It had gorgeous detailing and lovely wooden casters.
I wish it had all the hardware because I really, really love old hardware…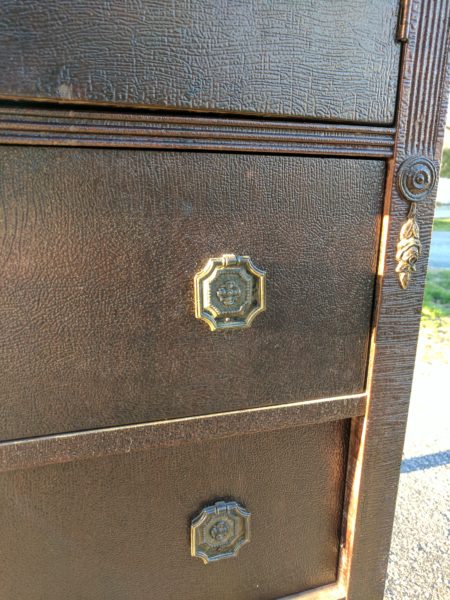 This post contains affiliate links and I will be compensated if you make a purchase after clicking on my links.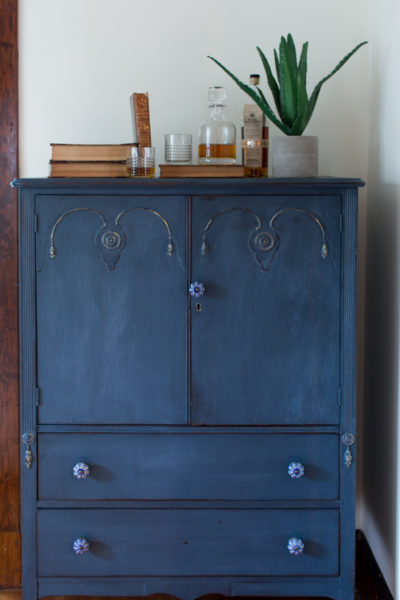 I decided to paint this piece with milk paint. I love how milk paint can give that old, always been painted look to vintage pieces. I didn't add bonding agent because I wanted it to chip and peel and flake as it wanted to. I did scuff up the surface a bit before I painted.
I decided on Miss Mustard Seeds Artissmo Milk Paint.
You may remember this piece I did a few years ago. I named him Jameson: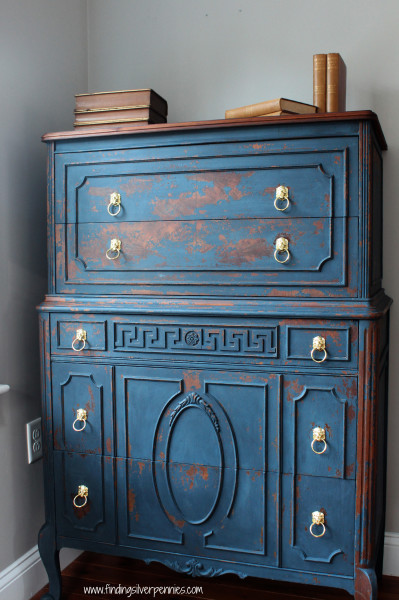 It was also painted in this beautiful blue!
Here's how Hayden came out: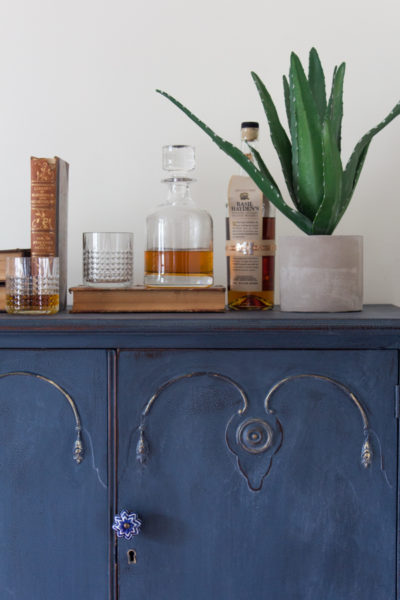 I distressed with sanding block, focusing on the high points and where the furniture would natural become distressed.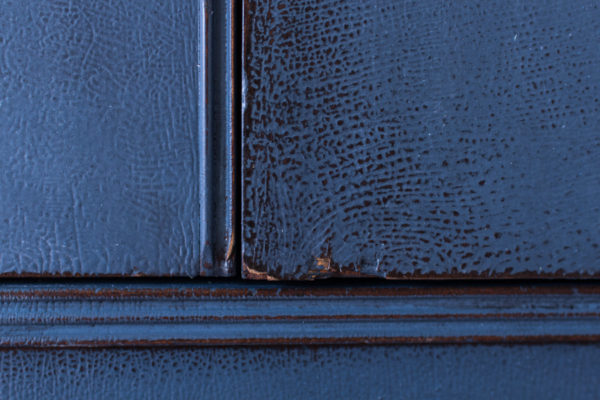 To seal the piece I used Fusion Mineral Paints lovely matte wipe-on top coat – Tough Coat. I really love this top coat. It is durable but also seals chippy in. I also used it to seal this piece that had an original chippy finish and this piece.
Not as chippy as Jameson but lovely distressing.
To highlight the detailing I used Gilding Wax. I buy my gilding wax at Sea Rose Cottage. I've had this pot for 5 years so a little goes a long way!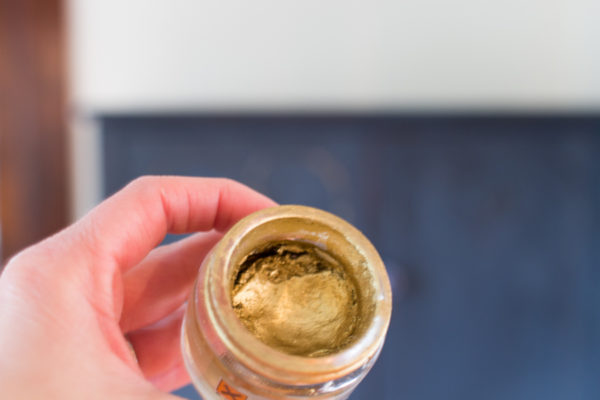 I simply apply with my pinky finger.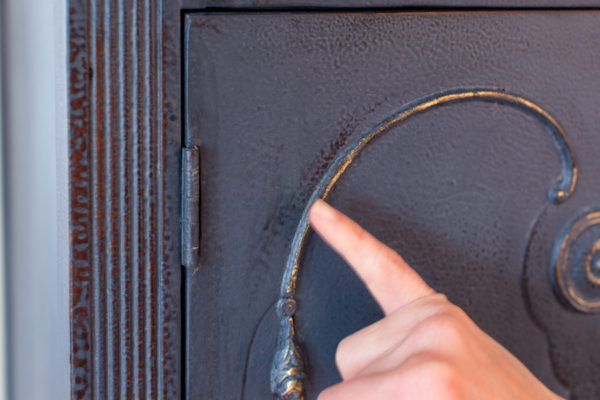 It really brings out the detailing, you can see the difference between the left and the right: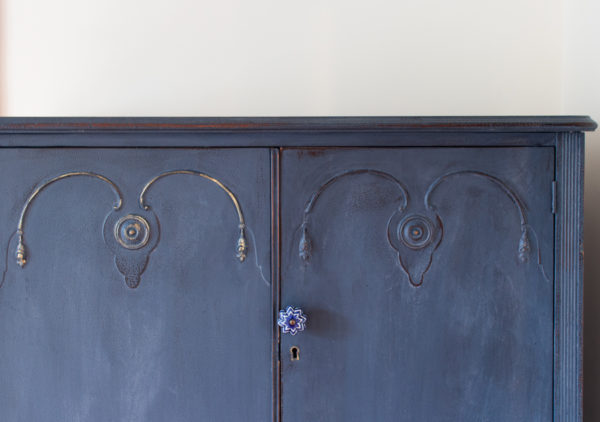 The Hayden Dresser has a particularly men's club feel: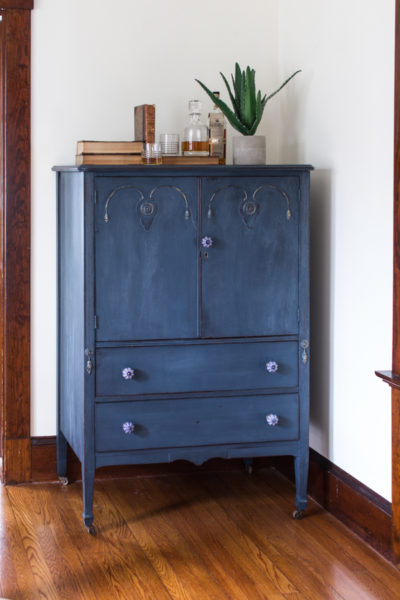 It almost looks as if this piece is now made out of leather with the textured surface.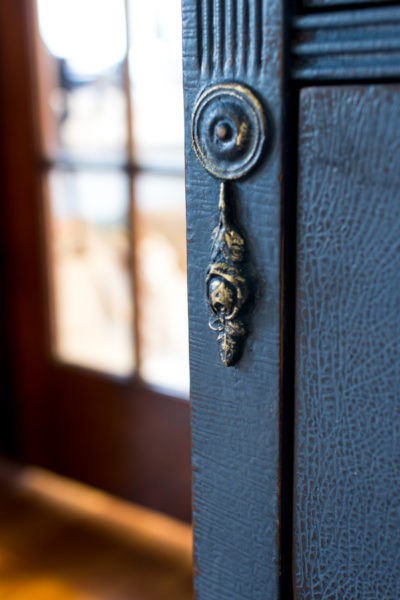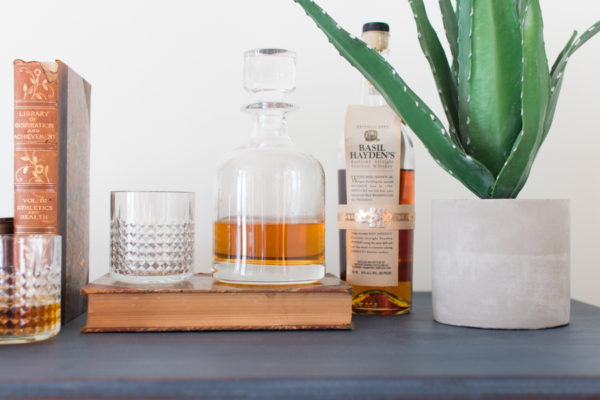 I decided to make it look like a whisky bar.
Don't worry I didn't drink any of Luke's Basil Hayden while taking the photos, but the name was inspired by the bottle 😉
Oh, I almost forgot there's a surprise inside.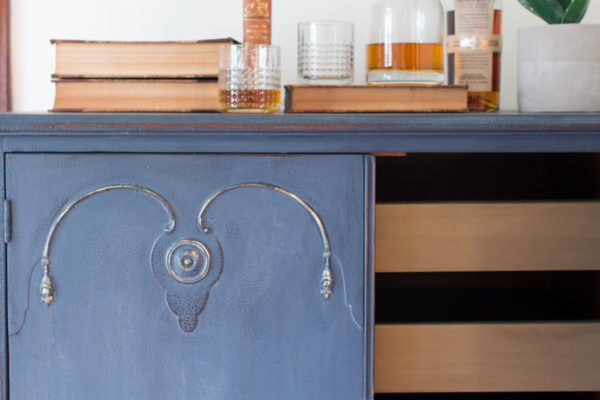 Bronze metallic drawers to coincide with the gilded detail and the new knobs.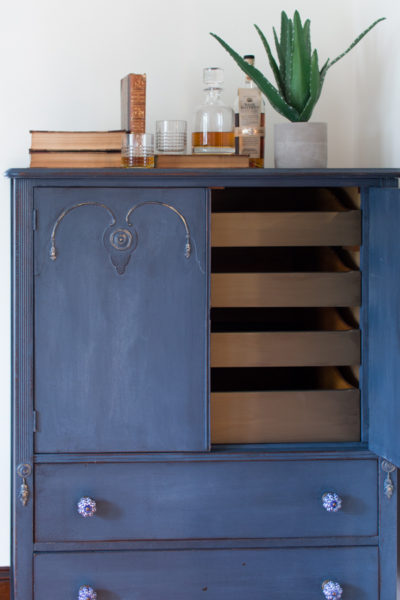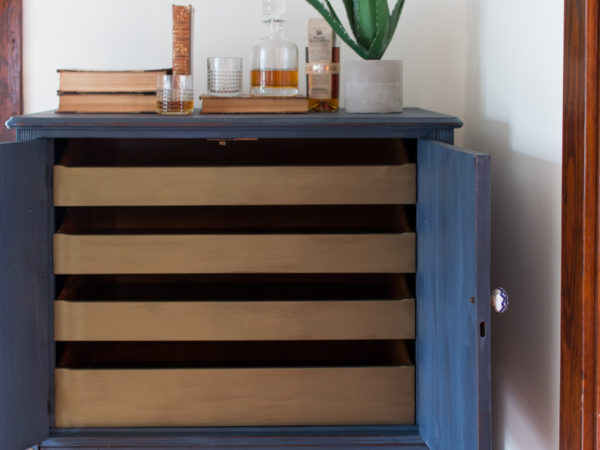 I used Matthew Mead's Studio Metallics in Bronze. The great thing is about Fusion is you don't need a top coat so I just did two coats and they drawers were placed back inside. Yay!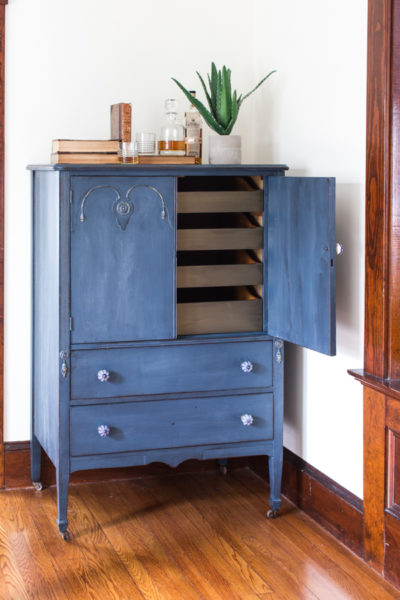 The knobs are by Hobby Lobby. You can find them here. They are hand painted ceramic.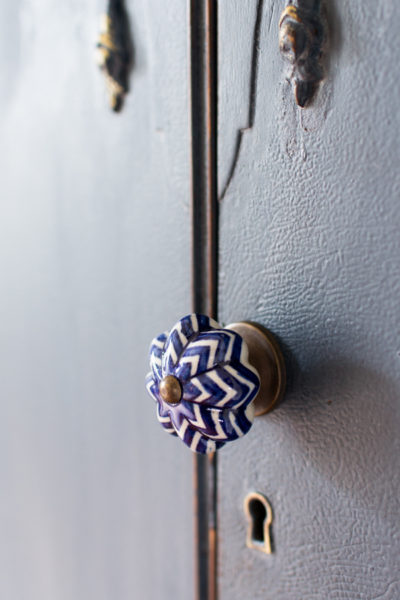 The knobs add a fun modern twist.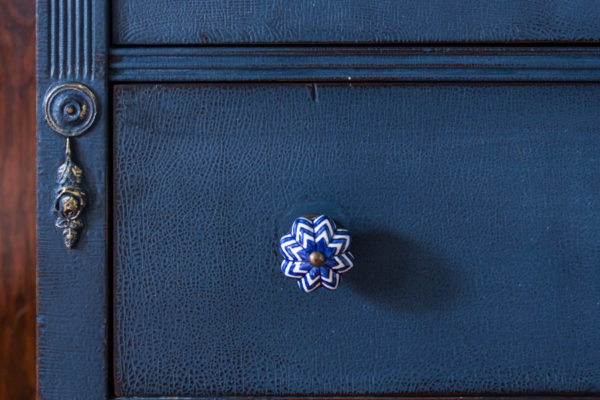 They kind of pop now!
What do you think of Hayden? Isn't he dapper.
I know he's probably meant to be in a bedroom but I love the idea of upcycling him as a whisky bar in the dining or living room.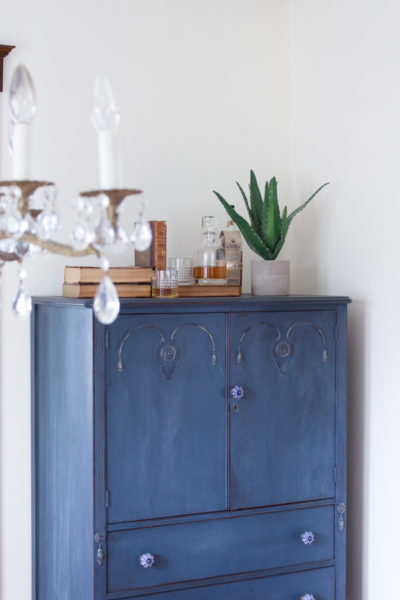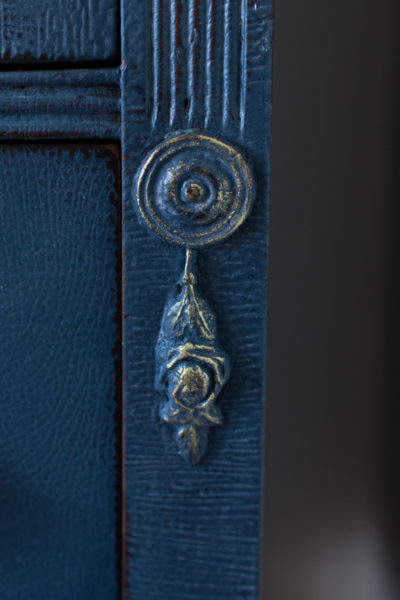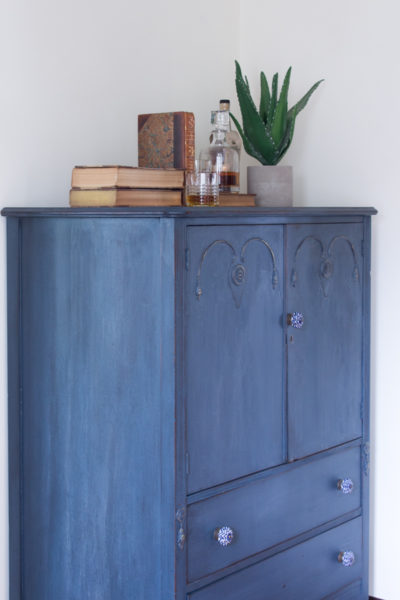 I can't wait for him to go to a lovely new home on Saturday night.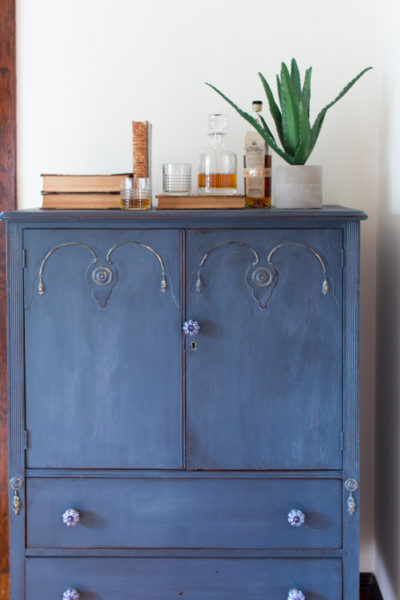 I hope you found this little post helpful. If you're looking for more painting tips you might want to check out my eBook over 150 pages of tips and ideas! Click here for that!