Happy Friday, friends! We made it to the weekend! I don't know about you but after the holidays I've been in a decorating funk. I was trying to paint our studio and was unhappy with my weight. Well, the studio's painted and I'm now on a 10 Day Detox with Luke so I spent some time decorating for winter. I thought I'd share some simple winter decorating ideas.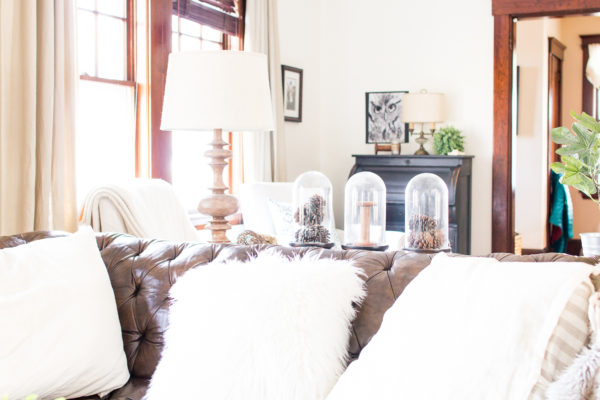 This post contains affiliate links for your convenience.
Winter is NOT my favorite. I prefer spring and summer here by the sea.
I do like how cozy winter is and I love decorating with white for these colder months. The pillows on either side of the couch are linen ikea ones that we've had for years! LOVE them so much and they wash so nicely. Sadly, I don't think they make them any more 🙁 The really fluffy one I picked up at Target and it's so soft!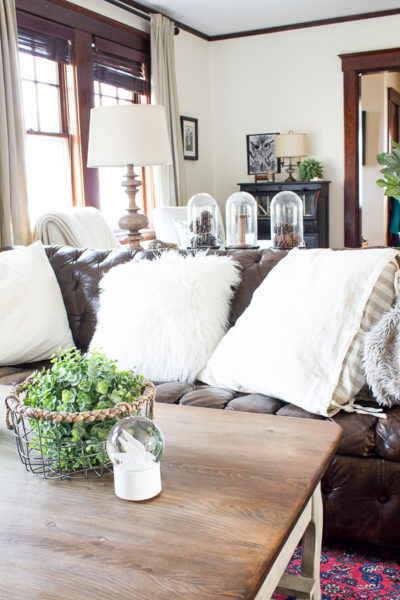 The boys and Max love it so much. In winter, I try to pair down. To me decorating with only a few elements and colors makes for a more relaxing space.
Simple faux greenery in a wire basket. A faux fur throw hung over the side of the chair.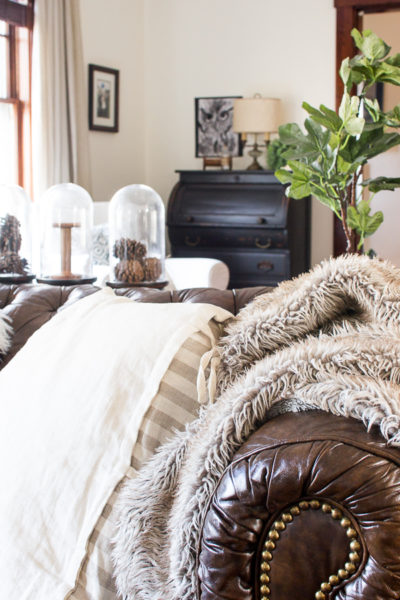 The faux fig is from Ikea and I filled the cloches from Save on Crafts with pinecones.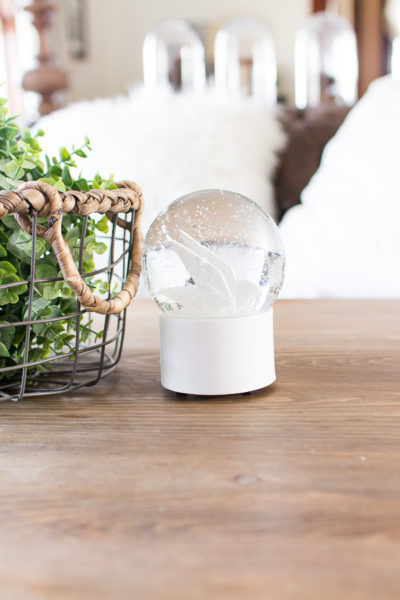 There's something magical about snow globes! I am mesmerized by them! I "borrowed" this one from John, we gave it to him for Christmas.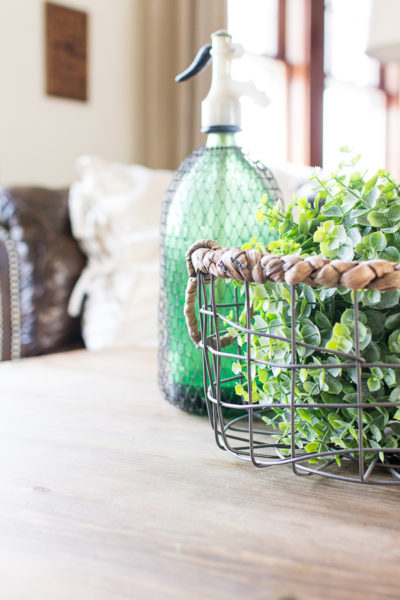 An antique seltzer bottle is on the other side of the basket to ground the little vignette.
I'm actually thinking of changing up our coffee table. It gets a lot of use – snacks eaten, pizza, Chinese and dinner in front of the TV on some nights. I'm not sure if you can see the damage in some of the photos, but here's a close up: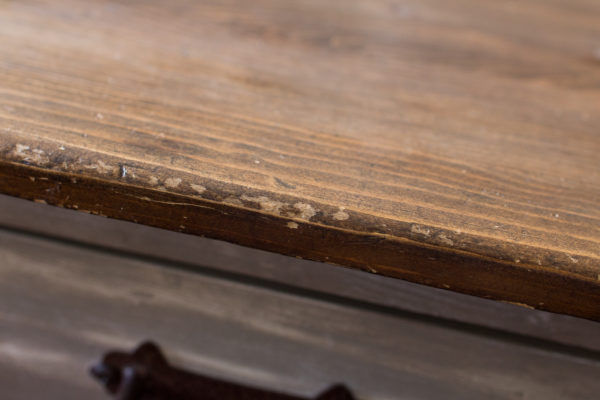 See? This table is pine and I painted it and refinished the top a few years back, click here to see that makeover. I think it needs a bit of a refresh.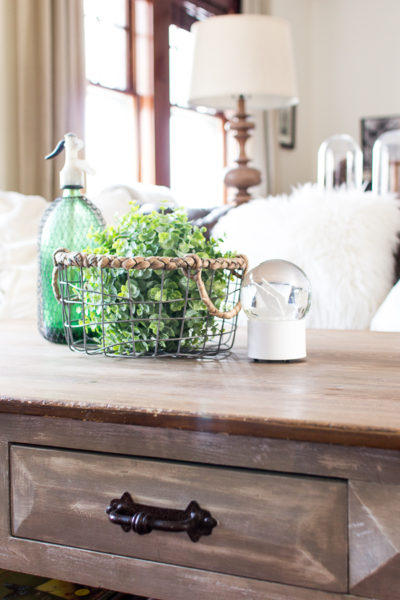 I painted it before we had the Chesterfield sofa and I'm thinking of going brighter and lighter, maybe white. What do you guys think? I will re-stain the top, probably with Gel Stain by General Finishes. What color do you guys think?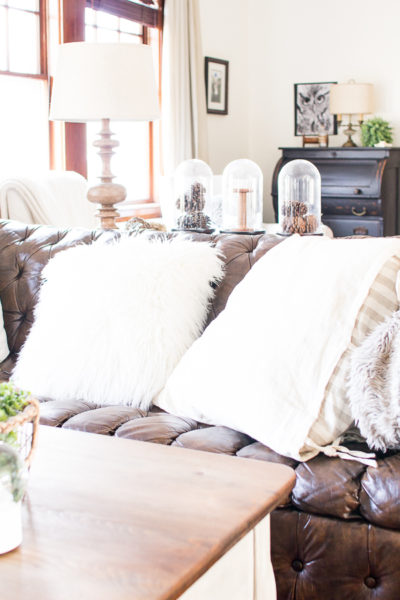 The other side of the room got a bit of a makeover which I shared with you earlier this week.
Grounding the corner of the room is the chippy black desk I shared yesterday: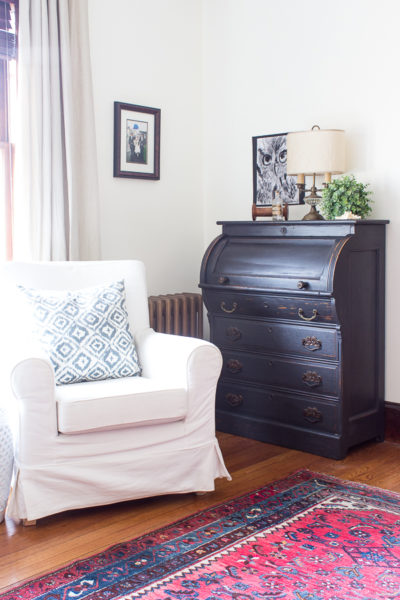 Many people have been asking about the rug. The rug is an antique my mom gave me. Isn't it beautiful. The white chairs are from Ikea and we've had them for probably 6 years. We love them. They are the Jenny Lund style.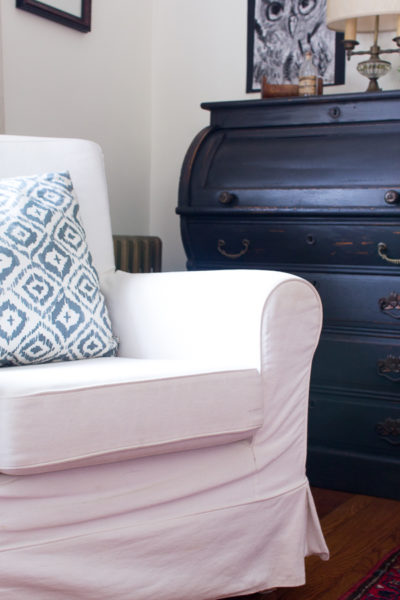 So comfy to cozy up with a cup of tea right here. Just wished we had a working fireplace because that would make it even cozier.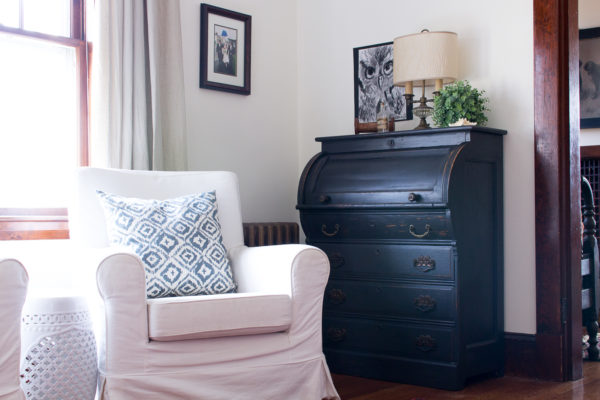 The side table is actually usually in the She Shed but is inside for winter.
I'm loving the English vibe this room now has thanks to that beautiful chippy desk!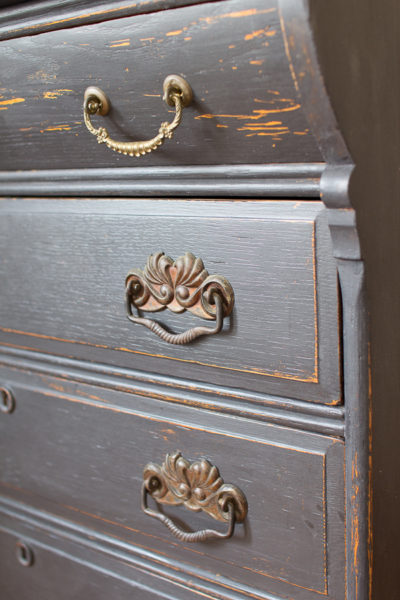 It's amazing how one or two pieces can completely ground a room. My friend Sarah commented that it feels like an English country estate and that's the look I LOVE and am inspired by. English estate by the sea 😉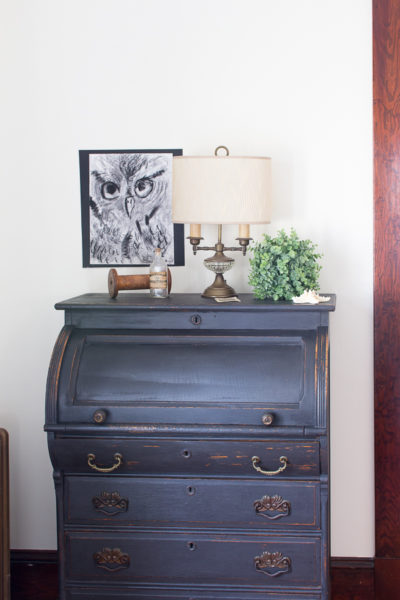 I also highly recommend bringing in special collected items with meaning, like the vintage bottle I found up in Canada with my friend Shannon (over at AKA Design). It's also fun to add in some of your artwork by your children. They are the best artists!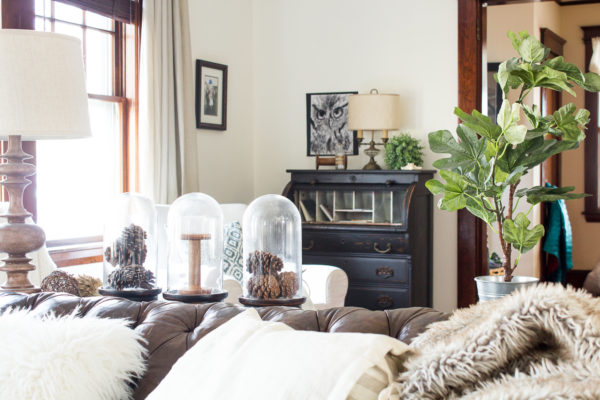 If you're interested in recreating the look of this room. I've included some affiliate links and a shop this post section.

Shop the Room

Living Room Source List
Wall Color – Mascarpone by Benjamin Moore
Oriental Rugs – Antiques, Similar versions here
White Chairs – Ikea
Pillow on White Chair – Minted
Table Light – Target
Fur Throw – Grandid Rod
Chesterfield – Craigslist, Similar version here
Wire Basket – Marshalls
Chippy Desk – Tutorial here
Coffee Table – Tutorial here
Linen Pillows – Ikea