"Every child is an artist. The problem is how to remain an artist once we grow up."
~Pablo Picasso
Today is a very special day.  Not only is it the very first day of my favorite month – May.  It is May Day.  It is First Friday AND it is the Scituate Harbor Art Walk!!!!  Tonight, in Scituate Harbor over 40 artists will be displaying and sharing their beautiful artwork in many shops and storefronts on Front Street.  At the bottom of the post, I've included the flyer.
I am honored to be one of the artists displaying their work.  To me painted furniture is art.  I really design and come up with a story for all my painted pieces.  Painting furniture is very much my creative outlet but also I feel that I'm restoring these gorgeous old pieces to be celebrated again.  All of these pieces will be available at the Kjeld Mahoney Gallery and I will be there too to chat and share.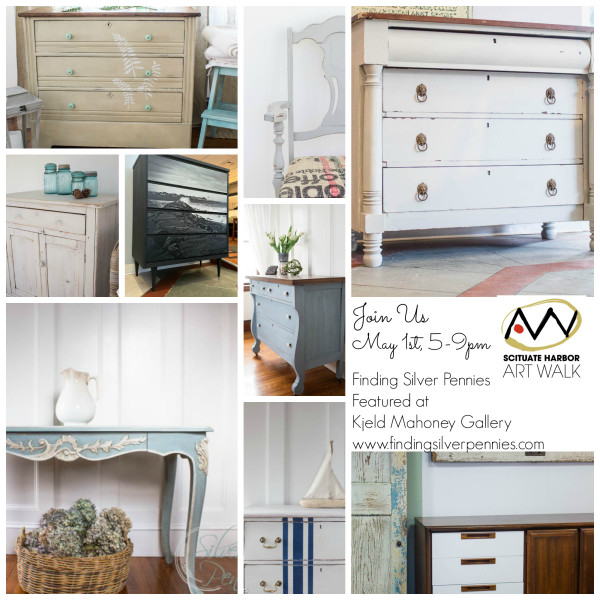 I'm hoping all my local friends are able to come out and come down to the harbor.
I realize many of you who read the blog are spread across the US and Canada and, well, actually all over the world.  So I thought I'd give you a little gallery preview.  Kjeld's photography is gorgeous so you're in for a real treat with this post.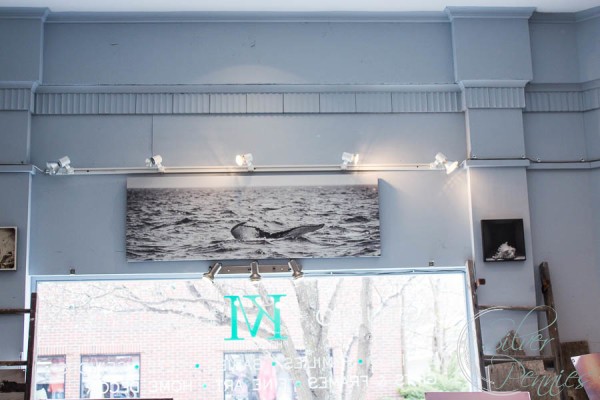 Let's take a little stroll around the gallery shall we?
Oh, this table is brand new and you haven't seen it yet.  Her name is Abigail after one of the Bates Sisters, whose story I shared yesterday.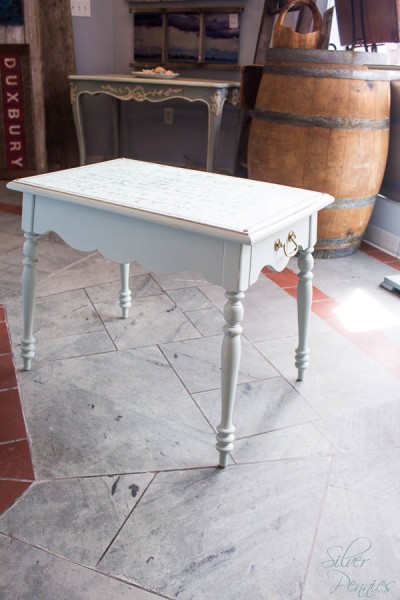 On the top is a photograph of the plaque giving the history of the lighthouse and the sisters.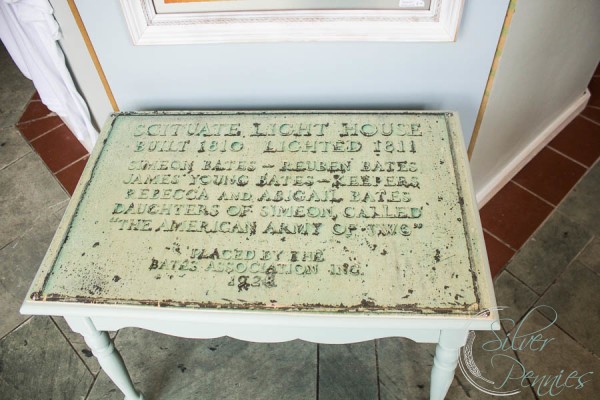 Her little drawer has a pretty brass pull.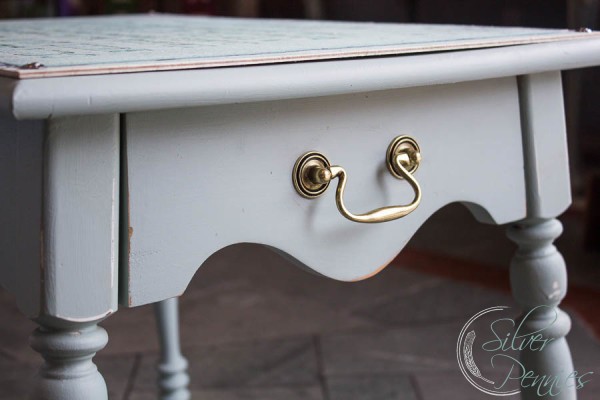 The table is painted in a very pretty light blue green painted and lightly distressed.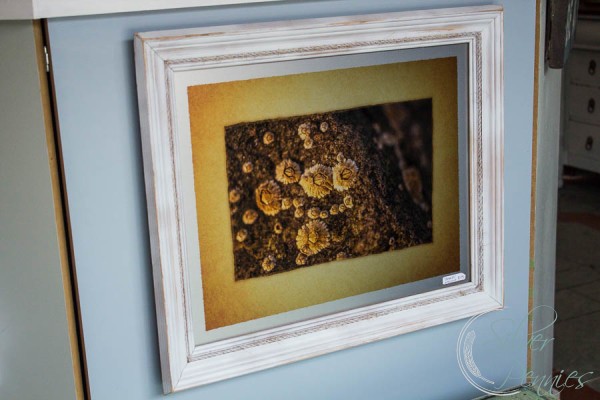 A gorgeous barnacle photograph printed on metal and framed in a beachy frame.
The Dani Console: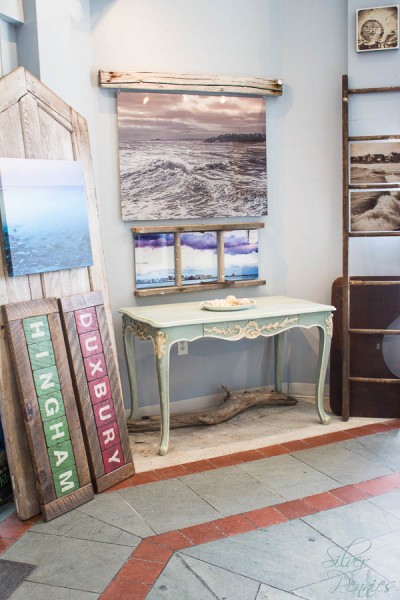 A primitive cabinet in chippy grain sack milk paint.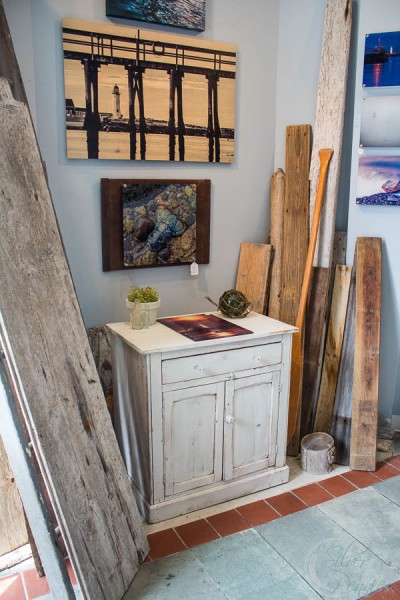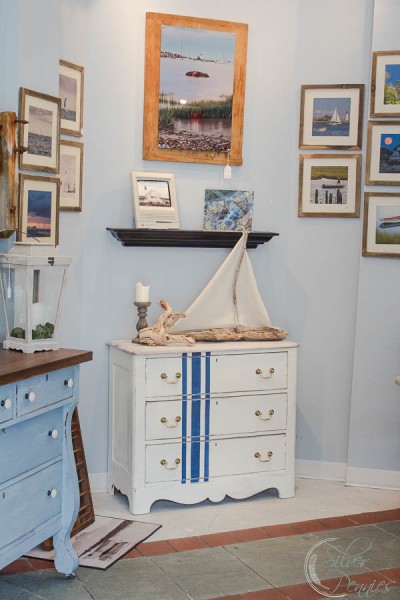 Pretty Fern Dresser!  I have my heart set on the two black and white photographs above her for our office: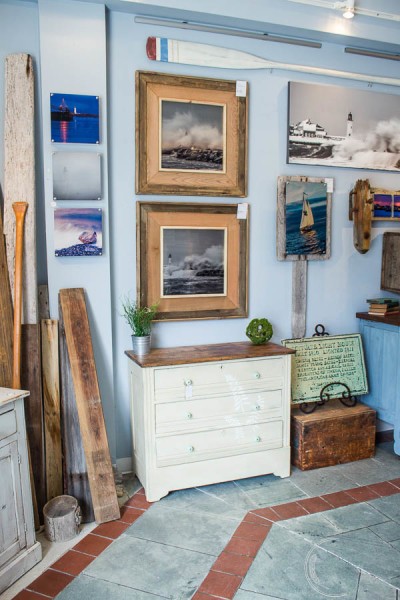 A gorgeous rustic coffee table made by Rustic Marlin, perfect for any beach home with Kjeld's image.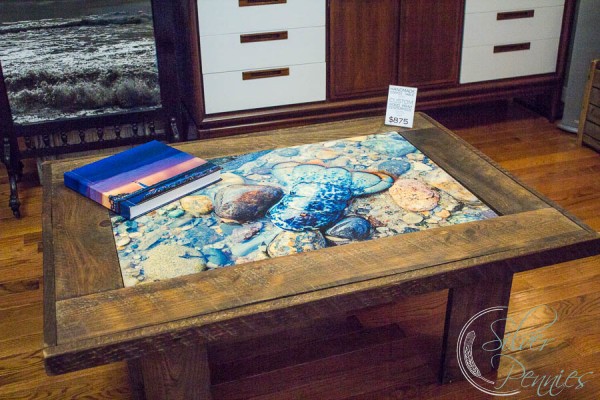 This Mid Century dresser was just featured in this month's issue of South Shore Living Magazine: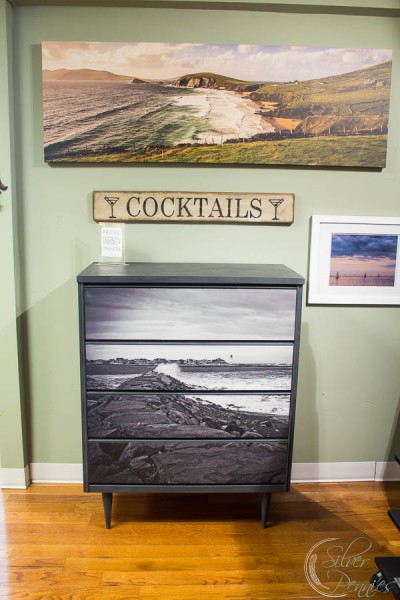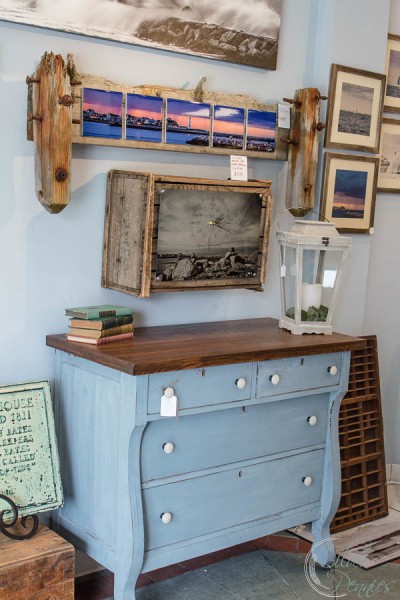 My pretty Lila Empire Dresser.
Loads of oars and the Coffee Sack Chair: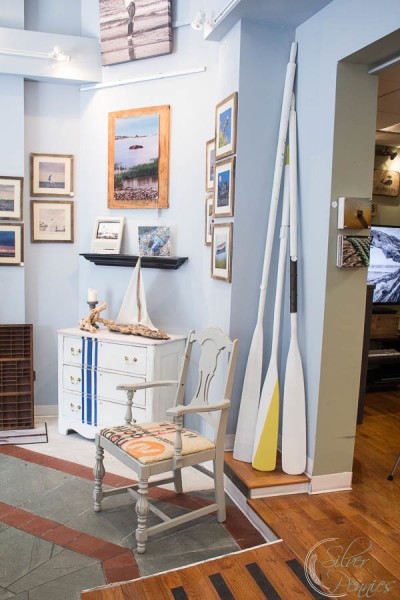 The Bertram Dresser I shared the other day, perfect for a beach home with a more modern vibe.  I can totally see a flat screen TV on this or a bar!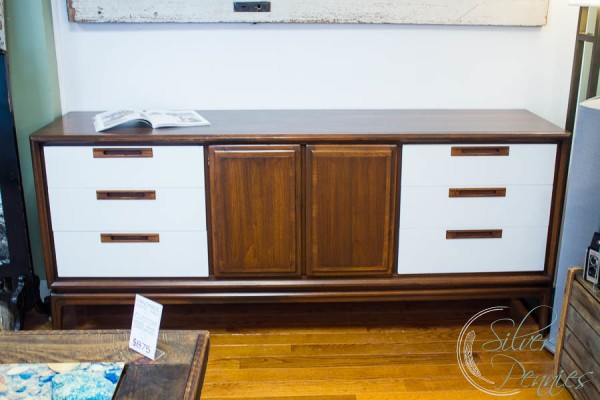 The middle section opens up to reveal three more drawers!  A copy of Matthew Mead's Upcycled Style and my feature is on top: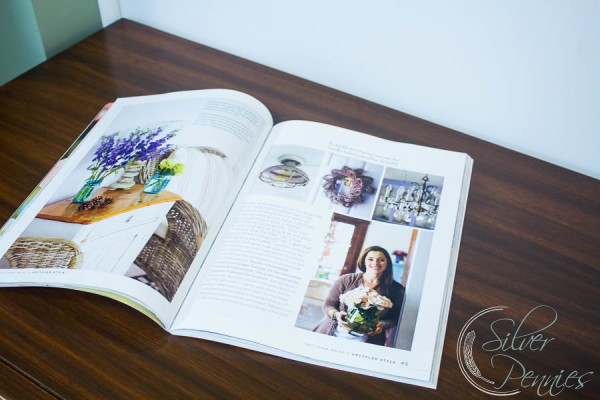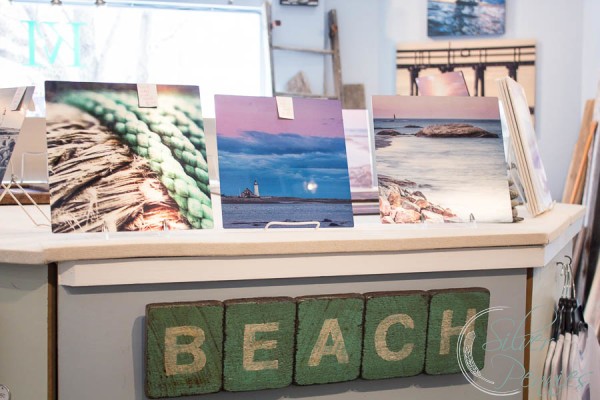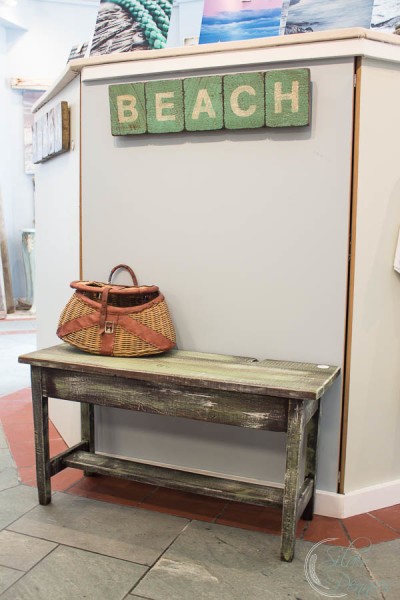 The gorgeous Rachel Empire Dresser I shared yesterday.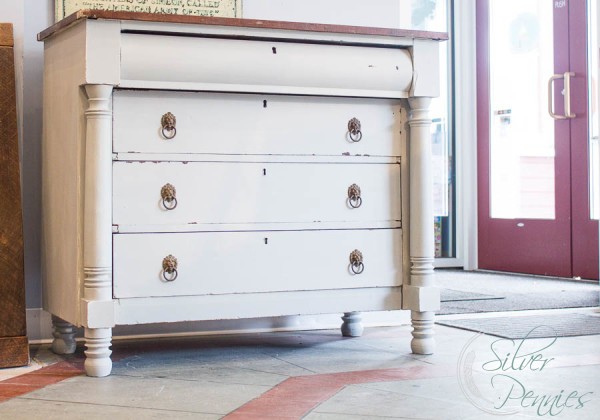 with this gorgeous image on the top: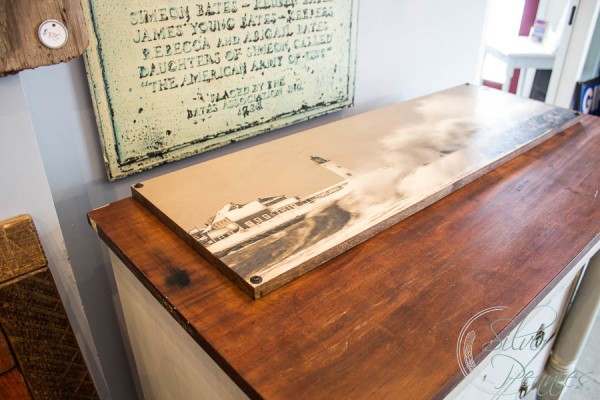 The gallery is filled with so much art for your home and your walls!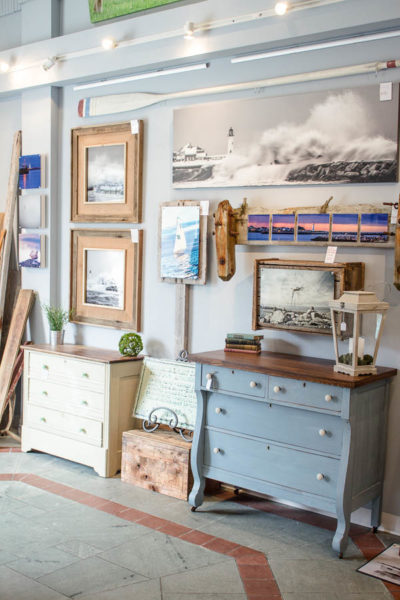 I hope you get a chance to stop by and see for yourself.
Make sure to stop in to all the shops taking part and see all the other gorgeous works of art: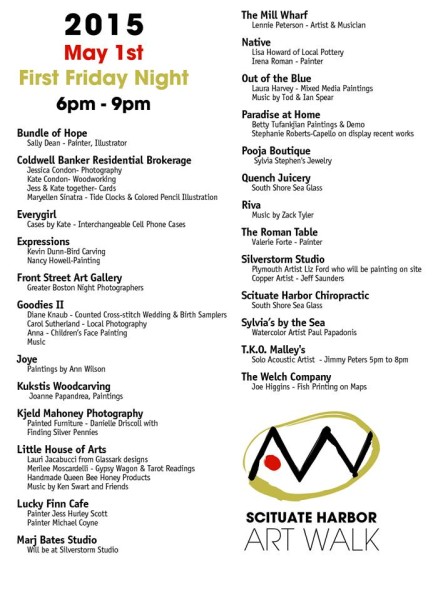 Thank you to, Kjeld, for giving me this amazing opportunity to share my work in his gallery.