Ever since I was a little girl, I wanted to visit England. Perhaps, the dream started over a Royal Breakfast on July 29th, 1981. I was four at the time and my mom got me up before the sun to witness the royal wedding of Princess Diana and Prince Charles. It wasn't a fancy breakfast; English muffin toasted with butter, cottage cheese and cafe au lait (I started drinking coffee quite young). Anyway, I sat there mesmerized watching the carriages, the silk wedding dress, the flowers and all that pomp and circumstance. I don't think I really knew what was going on, but just remember my mother saying, "Dani, this is a very historic day." I know that wedding didn't end happily but it started my love affair with England.
Since then, I studied abroad, met my husband, did a master's at Bristol, married Luke, in Cornwall, and lived in Bristol and London before returning to the states. On the 29th of April 2011, we had another royal breakfast at our home. We did a proper English breakfast for our boys – sausages, baked beans, grilled tomatoes, toast, back bacon and enjoyed it in front of the TV to watch the marriage of Kate and Prince William. I said to my boys, "John and Conor, this is a very historic day."
Top on my list for our visit to England, was a trip to Windsor Castle. If you missed part 1 of our trip to the Cornish Countryside you can read that here.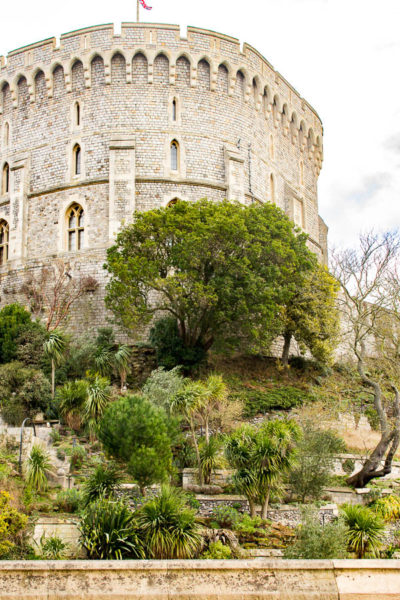 On our travels around England and Europe we've visited castles but this was our first living castle and it's still very much in use today. A few facts about Windsor:
Windsor Castle is the oldest and largest inhabited castle in the world.
It has been the family home of British kings and queens for almost 1,000 years.
It is an official residence of Her Majesty The Queen, whose standard flies from the Round Tower when she is in residence.
Windsor exceeded every expectation I had.
I snapped this before we went inside of Luke and the boys: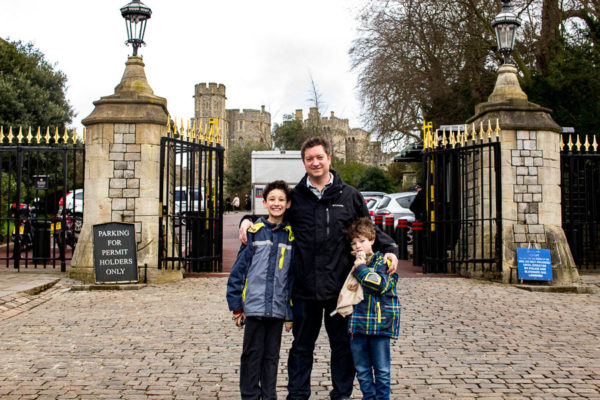 You can see just how excited we were for our visit!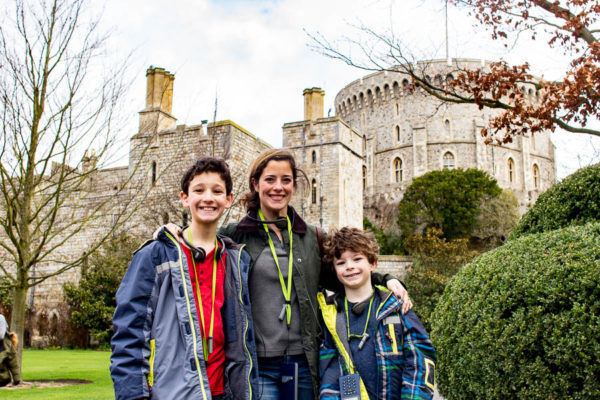 Oh, if you go to Windsor I highly recommend the audio tour, it doesn't cost extra, but gives you so much more information about the castle and it's contents. Our cousin recommended it and it was super advice. The boys followed the family tour while Luke and I did the adult tour.
Queen Elizabeth was not staying at the castle when we visited so we were able to walk through the semi state rooms and the state apartments. The private residents is not open to the public and the semi state rooms are not open during certain parts of the year.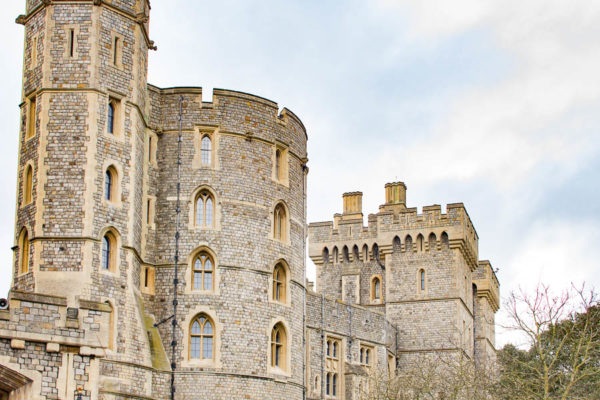 Windsor Castle and it's grounds are huge. For some reason, I wasn't expecting this. Many cars drive around the grounds and this was something else I wasn't expecting.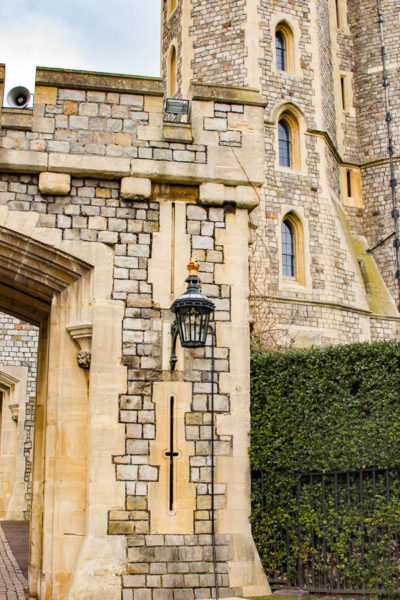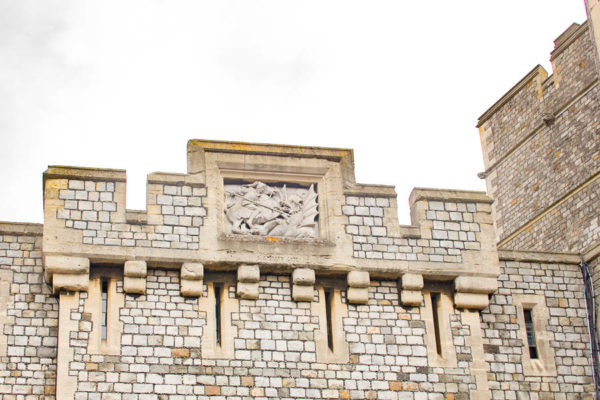 John is obsessed with dragons and there were lots to see here.
Conor loved seeing the armory.
The castle is filled with the royal collection – antiques, paintings, fine china, silver not to mention all the antique furniture, tapestries and ornate details.
I couldn't take photos inside but you can see more on the website, click here to see the different rooms and the royal collection.
Another part of the castle, I LOVED was Queen Mary's doll house. It is the largest doll house I've ever seen! It was built from 1920-24 by he leading British architect Sir Edwin Lutyens. It is filled with miniature versions of EVERYTHING by leading artists, designers and craftsman at the times. The doll house has electricity and running water. Even the china and silver are real! A must see.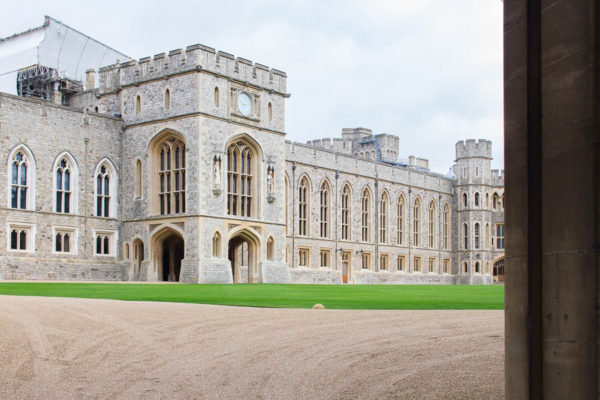 The tour also goes into great detail about the fire that ravaged the castle in 1992. I can't imagine how sad this fire was for the Queen and the royal family. Painstaking efforts have been made to the castle to restore it to it's former glory.
Also, on the grounds of Windsor Castle is St. George's Chapel.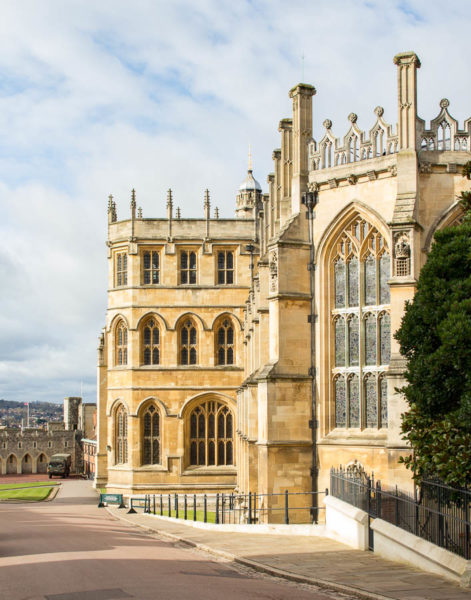 The gothic architecture is breath-taking and when the sun hits it the stone seems to gleam in the sunshine.
Three daily services are held at the chapel and it is closed on Sundays to visitors but people can attend for worship. Within the chapel are the tombs of ten sovereigns, including Henry VIII and his third wife Jane Seymour, and Charles I. Also buried here are Queen Elizabeth's parents and grand parents.
We arrived at Windsor just as it was opening and it was the perfect time to attend. The gift shops are lovely and there are few dotted around the property. I think we were there three hours total.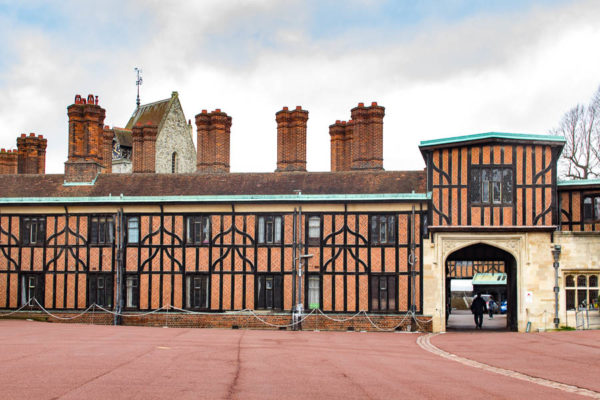 I know some of you are planning a trip to England currently so if you are, I think this is a must see.
We thoroughly enjoyed are day at Windsor Castle.