Well, I finally got all the boys' stuff out of the guest room from our home renovations. This became their bedroom while we did the work in their room and downstairs. Ahhhhh, but  now it's a guest room again. Just have to move one little bureau. I couldn't wait any longer to show you what this room looks like for summer!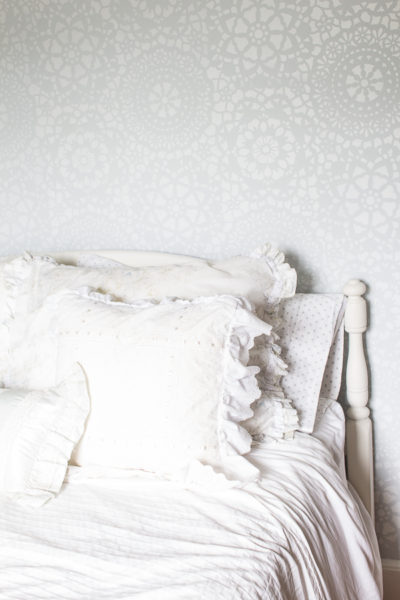 Soft rumpled shabby chic bedding. A mix of Ikea, Target Shabby Chic and I think the polka dot are Tommy Hilfiger from HomeGoods. The soft neutral colors all look great together for summer.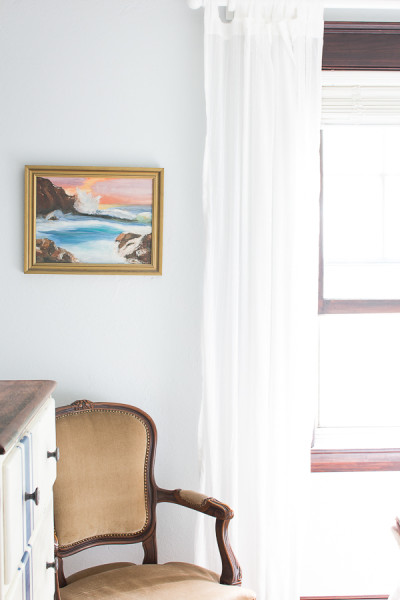 Ah, here's the dresser that still needs to move. I think I'm going to move it to the boys' closet as they already have two dressers in there. My kids have more clothes than me! I swapped out the lilac painting for this gorgeous oil painting: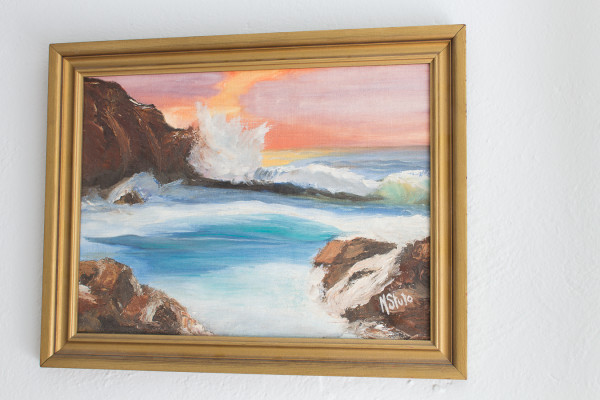 My mom painted this before she got married. Her maiden name was Stuto. In case you were wondering! I love this painting and have always wanted to hang it. Summer in the guest room seemed like the right time. It used to hang on my grandmother's front porch. 😉 Please, mom, don't be mad at me for sharing your art. xx
The warm tones are echoed through out the room.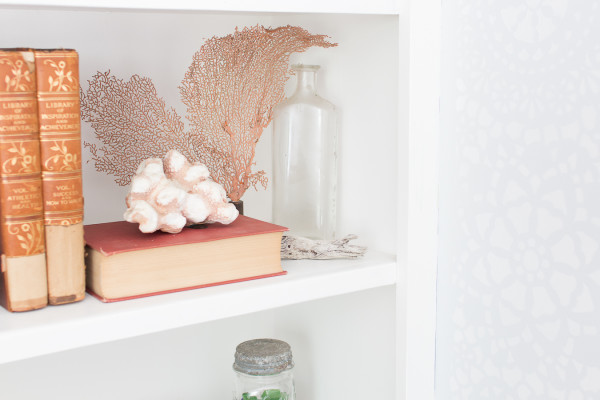 I completely redid the bookshelf in celebration of summer. You may remember that I had a beautiful set of teal books on the top shelves. I've now moved them downstairs.
I'm actually thinking of writing a separate post on this shelf decorating shelves can be a. tricky and b. expensive. It was my goal for this summer to try and use what I already have. I repurposed items from the basement and other areas of our home to decorate. Would it be helpful to have a post just on the shelves?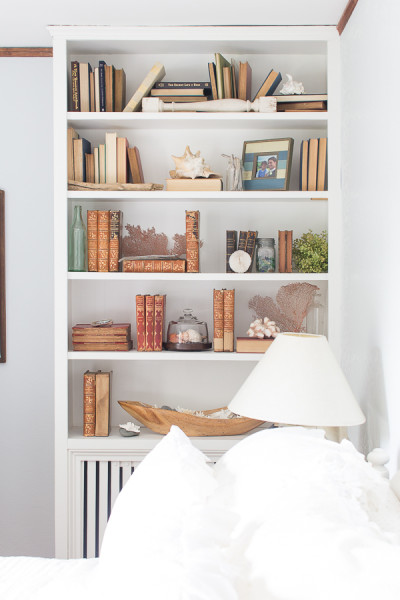 They are filled with books, shells, sea fans, coral and items we found at the beach.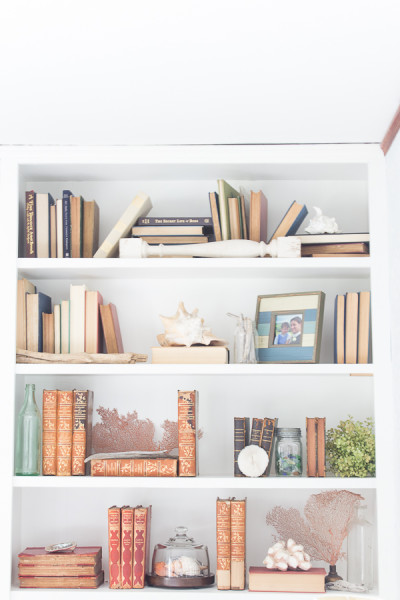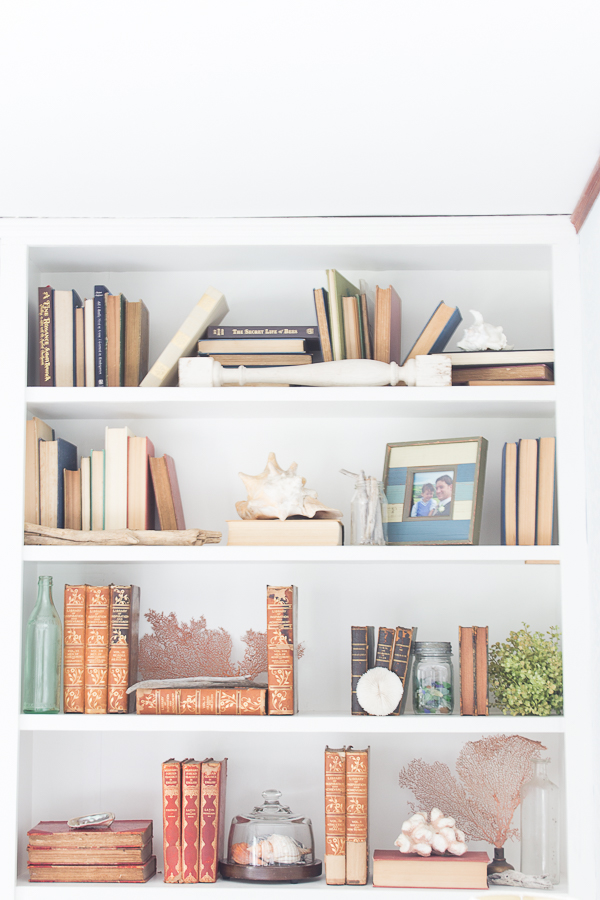 Amazing how some simple shells and books can completely change the look and feel of the room.
The guest room now feels light and airy and perfect for a summer's slumber.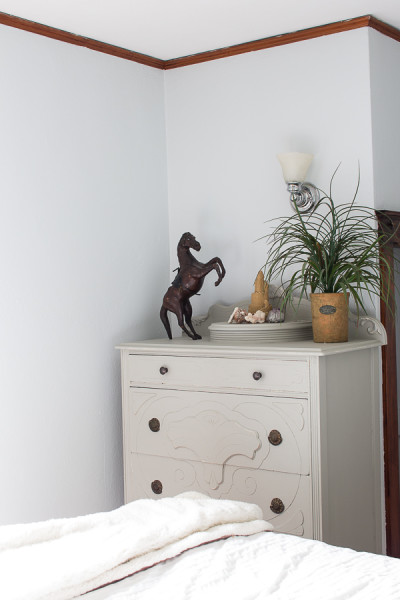 Coral and a sandcastle also found a home on tall bureau in here!
One can never have too many beach elements, I say!
I'm always drawn to coastal elements for our home by the sea. I always add more shells and coral to my collection. What do you like collecting?
This wall is one of my favorites! We stenciled it as part of the bedroom makeover. It is the parlor lace stencil by Royal Design Studio (affiliate link).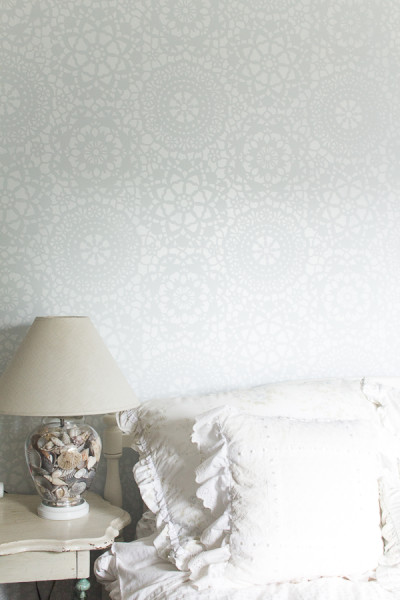 Well, there you have it a bit of a sea breeze in the guest room!

Sharing with: