Ahhh, I have a confession. My home is often messier than it appears on the blog. Perhaps, it would be tidier if it was just me on my own but with a husband who doesn't see mess or clutter (EVER) and two little boys and two dogs. Well, the house is often messier than I would like. Part of the problem is I always try to do too much and then when company is coming I cram things in closets and drawers. My organizing can do with a little, um, help…
This post contains a few affiliate links.
That's why I'm so excited about The Home Decluttering Diet!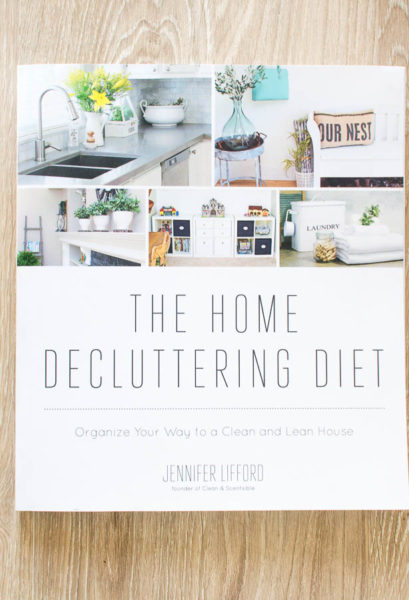 My friend Jenn just wrote an amazing book all about organizing and trimming the unwanted clutter in your home! You actually may already know Jenn from her blog Clean & Scentsible. Like me, Jenn is a busy mom with two boys and I can imagine her home also gets very messy.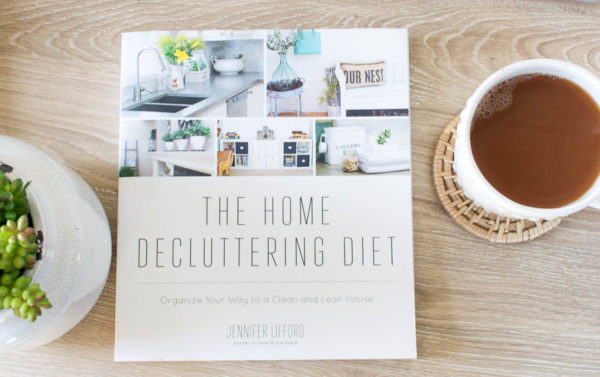 As you know, Luke and I are on a detox and are seeing great results with that. The plan we're following outlined everything and gave an easy to follow schedule.
Jenn's book does exactly the same thing! Let's think about it. Did your home get messy and cluttered overnight? No, it took weeks, months, maybe even years to be in the state it's in. If you're like me you might even have multiple junk drawers (shhhh! please don't tell anyone) or you maybe have the basement or attic from hell. Ha! Ha! Okay, I'm not laughing. Well, I am but it is a weird, uncomfortable, wish we weren't in this situation laugh…
The Home Declutting Diet makes it easy to maintain the chaos and start getting rid of all that stuff you don't need. Better yet it gives you a system to organize everything NOT just put it in the closet or drawers.
I love this section –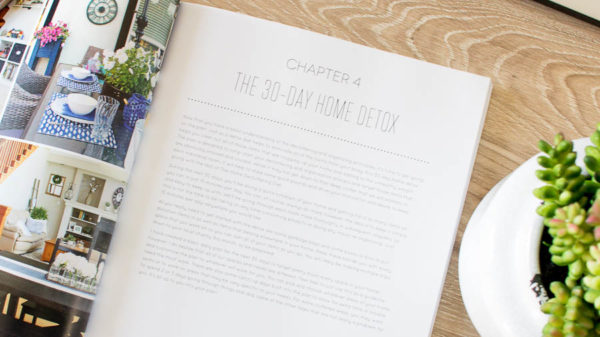 The 30 Day Home Detox. It's broken down into 15 minutes a day for 30 days. Each day focuses on a different room or area of your home. Day 1 is paperwork. I have so many "nests" of papers around our house, Day 2 Front Entry, Day 3 Purse… You get the idea. For 15 minutes, you organize that one area of your home. That's doable, right? Even if we're super busy we can do 15 minutes.
Jenn shares such great tips that work for her and her own family from good storage solutions for dry goods in the pantry to under the sink organization (this is always a problem area for me) to the proper way to fold a fitted sheet (those can always be tricky).
Not only is The Home Declutting Diet filled with tips and step by steps for organization but also has great DIYs for EVERY room in your home.
I really love this pipe shelf organization she did in her kids' bedroom: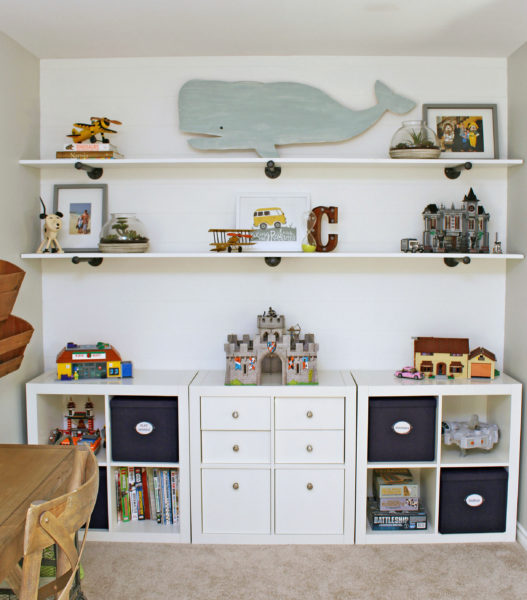 I also really liked this idea for storing make up in acrylic boxes. Jenn also shares how long make up is good for (something I'm always wondering about).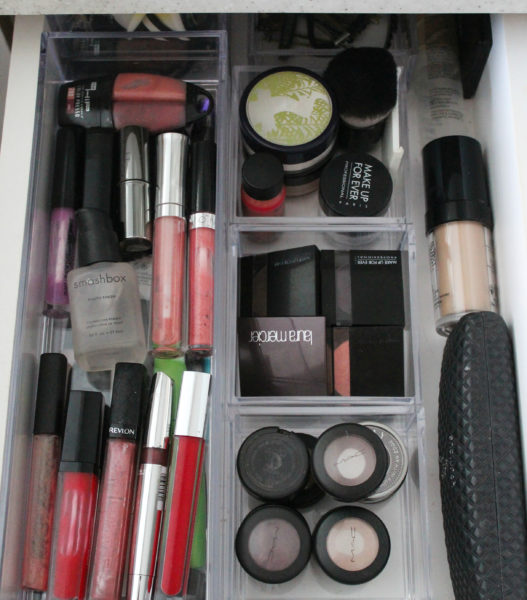 I'm closely following the 30 Day Detox and seeing great results around my own house. I feel so much lighter and happier (just like our food detox). Spring is always a great time to start reorganizing your home. When the birds are singing and it's warm enough to open the windows for fresh air, I can't help but want to make our home a bit more tidy and organized. I love washing the floors and windows but Jenn's book will help you go deeper than just surface cleaning.
So far I'm going through old linens and curtains – washing and folding them and getting them ready to sell or for donations accordingly.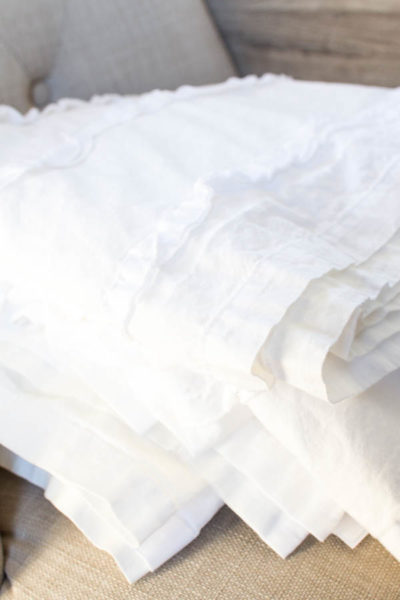 Right after New Year's we began tackling the basement which was a HUGE mess. You may remember that I organized and painted my home studio downstairs.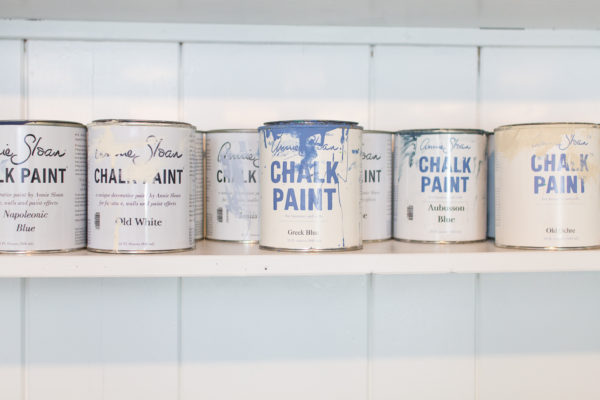 We've added some shelving down there from Ikea and going back to get a few more this weekend. I'm so glad Jenn's book gave me the push to continue to tackle the basement.
I think you'll love this book! It's jam packed with helpful advice from an expert organizer. I mean look at Jenn's kitchen.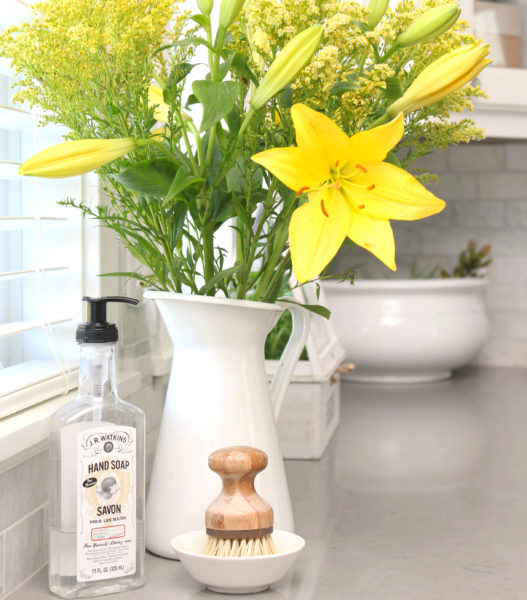 A must read for any home or DIY enthusiast. Oh, and it's currently on sale at Amazon. So scoop it up now, click here.